« More on Israel Lobby | Main | BBC (Temporarily) Adopts Partisan Terminology »
March 23, 2006
Footnote 40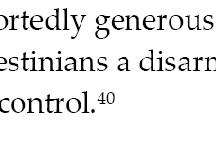 Rick Richman adds to the list of analyses pointing to flawed logic and scholarship in Mearsheimer and Walt's "Israel Lobby" paper.

Richman describes how footnote 40 of the study "misstate[s] primary sources and ignore[s] others"—a case of "academic malpractice."
He says:
... if one reads the entire Barak interview, or looks at the purported "map� [both cited in footnote 40], or reviews the primary sources Walt/Mearsheimer ignored, the point in the text is not only unsupported but demonstrably wrong. It is simply Arafat's lie, refuted long ago by the President of the United States, the Prime Minister of Israel, the Foreign Minister of Israel, and the Chief Negotiator for the U.S.
Read the whole thing here here. (Hat tip Michael J. Totten's blog.)
Footnote 40 isn't the only flawed reference in the "study." For comments on footnote 181 (and other problematic citations), see CAMERA's analysis.
Posted by GI at March 23, 2006 10:51 AM
Comments
Guidelines for posting
This is a moderated blog. We will not post comments that include racism, bigotry, threats, or factually inaccurate material.
Post a comment