« On the Cutting Room Floor of Ha'aretz's English Edition | Main | What Threat? »
November 17, 2005
Rice's Rewrite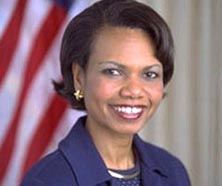 James Taranto points out on Best of the Web that in her speech announcing the Rafah agreement, Condoleeza Rice took a historical liberty when she stated:
For the first time since 1967, Palestinians will gain control over entry and exit from their territory. This will be through an international crossing at Rafah, whose target opening date is Nov. 25.
But, as Taranto points out:
Also noteworthy about Rice's statement is the curious reference to "the first time since 1967." That, of course, was the year Israel "occupied" Gaza and the West Bank. But the Palestinian Arabs never controlled border crossings--or, indeed, any territory--before 1967.

Before World War I, the entire region, including Israel and the disputed territories, was part of the Ottoman Empire. Between World War I and 1948, the British administered it. In 1948 the Arabs went to war rather than accept a U.N. partition of Palestine that would have created Jewish and Arab states. After that conflict and until 1967, Egypt controlled Gaza and Jordan controlled the West Bank.
Posted by TS at November 17, 2005 02:46 AM
Comments
Excellent piece by Taranto - except for one point. When not only European and American officials and politicians are the source of misleading and erroneous information, but also some of their Israeli counterparts - especially since the start of the Oslo negotiating process - it is the right of serious and honest cdommentators to point this out.
On this and other occasions Taranto should "second-guess" the Israeli decision-makers and spokespeople who may well try to present one-sided concessions as doing no real damage to Israel's vital interests.
Posted by: Paul at November 17, 2005 09:23 AM
It is always amazing to me that so many people think that the Palestinian people have a homeland! They never had a homeland and they never will regardless of what American officials think!
Posted by: Mele at November 23, 2005 04:08 PM
Guidelines for posting
This is a moderated blog. We will not post comments that include racism, bigotry, threats, or factually inaccurate material.
Post a comment