« Tortured Facts | Main | Another Erekat Whopper »
November 27, 2005
BBC Errs on Rafah Crossing
The deadline for submissions of critical reviews for BBC's Independent Panel investigating BBC coverage of Palestinian-Israeli affairs passed Friday, but the errors and distortions continue.
Yesterday's "In Pictures" section, for example, featuring the opening of the Rafah crossing in Gaza, contained the following erroneous caption:
For the first time in nearly 40 years, Palestinians took back control of the Rafah border crossing between Gaza and Egypt.
The Palestinians could never "take back" control of the crossing because it was never under their control. Forty years ago the crossing was in Egyptian--not Palestinian--hands.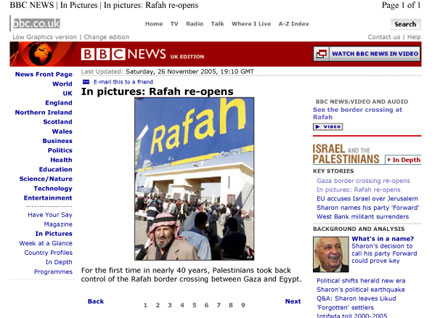 A BBC article yesterday more correctly noted:
More than 1,500 Palestinians have crossed freely from Gaza into Egypt via a border point controlled for the first time by Palestinian officials.
Posted by TS at November 27, 2005 02:32 AM
Comments
Guidelines for posting
This is a moderated blog. We will not post comments that include racism, bigotry, threats, or factually inaccurate material.
Post a comment