« Crying On Air for Arafat Brings Censure at BBC | Main | Ha'aretz Reports on the Apology That Never Was »
November 28, 2005
BBC Corrects Caption Error
Yesterday we noted the faulty BBC photo caption which incorrectly stated that Palestinians "took back" control of the Rafah crossing.
BBC has responded to CAMERA's request for a correction, and the following corrected version now appears on the Web site: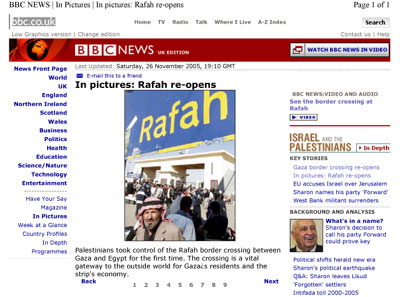 Posted by TS at November 28, 2005 08:39 AM
Comments
Guidelines for posting
This is a moderated blog. We will not post comments that include racism, bigotry, threats, or factually inaccurate material.
Post a comment