« October 2005 | Main | December 2005 »
November 30, 2005
Ha'aretz Lost in Translation
An article posted on Ha'aretz's Web site yesterday includes an internal contradiction, the apparent result of a poor translation. The English article begins:
Israel Religious Action Center on Tuesday morning petitioned the High Court of Justice with a request that immigrants who undergo Reform or Conservative conversion in Israel be recognized as Jews and entitled to Israeli citizenship under the Law of Return.

Only Orthodox conversions to Judaism in Israel are recognized today under the Law of Return. The Reform movement is asking the High Court to end this monopoly.
Scroll down towards the end of the article to find the contradiction:
Several months ago, the High Court issued a precedent-setting ruling that people who undergo non-Orthodox conversions to Judaism overseas are entitled to Israeli citizenship under the Law of Return, even if the converts are Israeli residents who traveled overseas solely for the purpose of converting.
Thus, contrary to the second paragraph of this article, Orthodox conversions performed in Israel, as well as non-Orthodox conversions performed abroad, are recognized under the Law of Return.
The English version is not a faithful translation of the original Hebrew, which reads:
In doing so, the petitioners are requesting that the High Court end for once and for all the Orthodox monopoly on conversions in Israel, and that it rule on one of the fundamental legal and social questions in Israel – "who is a Jew."
(Hat tip: A. Bell)
Posted by TS at 07:56 AM | Comments (0)
Ha'aretz Reports on the Apology That Never Was
Alain Finkielkraut never recanted his views, but that's not what Ha'aretz says
Writing yesterday in the New York Sun, Hillel Halkin addresses "a truth that anyone who has frequent dealings with journalists and the media knows well: They are often not to be trusted -- not only to get the facts straight, but even to want to."
His account, bookended by articles in the Israeli Ha'aretz, also includes some less than professional behaviour on the part of Le Monde .
In a Nov. 18 interview with Ha'aretz magazine, French-Jewish thinker Alain Finkielkraut "sharply criticized France's media, intellectuals, and politicians for viewing the riots as the understandable protest of a discriminated-against social and economic underclass while turning a blind eye to their true ethnic and religious nature," Halkin writes. He goes on:
On November 23, excerpts from it were published in the French liberal daily Le Monde in an article slanted to make Mr. Finkielkraut appear anti-Arab, anti-Muslim, and racist. A public outcry ensued and the prominent French civil rights organization MRAP threatened to take Mr. Finkielkraut to court for violating France's anti-racism laws. Mr. Finkielkraut then chose to defend himself in two more interviews, one to Radio Europe and one to Le Monde, in which he accused the November 23 article of selectively distorting his views. As he put it to Le Monde:
"The person portrayed by the [Le Monde] article would cause me to feel disdain and even disgust for him . . . . To my stupefaction, however, ever since [the article's publication] there are now two of us with the same name."

Although Mr. Finkielkraut did not recant his opinions -- on the contrary, he made it clear that he stood behind what he had said in Haaretz -- these remarks were taken by MRAP as an apology and the threatened lawsuit was dropped. At which point, Haaretz decided to get back into the act. On November 27, it ran a front-page article with the headline, "After Threats, The Philosopher Finkelkraut Apologizes." There followed a news story, explaining that, faced with a lawsuit and a vociferous criticism, Mr. Finkelkraut had expressed "disdain and disgust," not for LeMonde's distortion of his views, but for those views themselves. The clear -- and false -- implication was that he had buckled ignomiously under pressure.

Of all the parties involved in l'affair Finkieldraut, Haaretz undoubtedly comes out looking the worst. For the sake of a sensational and incorrect story, it vilified a man courageous enough to accept an invitation to be interviewed in its pages and express unpopular thoughts there.
Send requests for a correction to Ha'aretz publisher Amos Schocken at amoss@haaretz.co.il .
Posted by TS at 05:13 AM | Comments (0)
November 28, 2005
BBC Corrects Caption Error
Yesterday we noted the faulty BBC photo caption which incorrectly stated that Palestinians "took back" control of the Rafah crossing.
BBC has responded to CAMERA's request for a correction, and the following corrected version now appears on the Web site: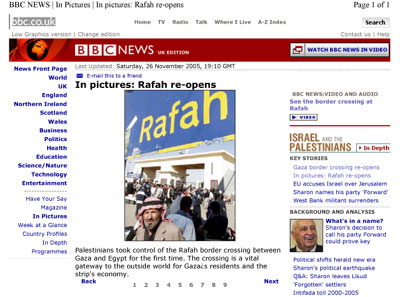 Posted by TS at 08:39 AM | Comments (0)
November 27, 2005
Crying On Air for Arafat Brings Censure at BBC
Barbara Plett told listeners that when she saw Arafat leave for medical treatment in Paris, "I started to cry without warning"

A piece of good news comes to us about the BBC. The British Telegraph reported yesterday:
BBC governors yesterday overturned the corporation's decision not to censure a correspondent [Barbara Plett] who admitted on air that she cried at Yasser Arafat's departure from Palestine.
(Hat tip: Terry M)
Posted by TS at 06:39 AM | Comments (0)
Another Erekat Whopper
Recall the whoppers that Palestinian negotiator Saeb Erekat told in the spring of 2002 about Israeli operations in Jenin? That the Israelis killed 500 Palestinians there and in Nablus? That Israel was burying Palestinians in mass graves and hiding the bodies of women and children?
When all these claims turned out to be lies, the media continued to use him as a credible source, quoting him and publishing him.
Today, the International Herald Tribune ran an Op-Ed by Erekat. Not one to disappoint, Erekat slipped in an itsy-bitsy falsehood:
Israel is a nuclear power boasting the fifth-largest military in the world . . .
Israel's army is not even the fifth largest in the Middle East, never mind the world. Egypt, Syria, Iran, Morocco and Turkey all have larger armies than Israel's (Anthony H. Cordesman, "The Military Balance in the Middle East, p. 11). And the armies of China, the United States, India, Russia, North Korea, South Korea, Pakistan, Vietnam, France and Germany are all larger than Israel's(Cordesman, "Trends in Western Military Efforts, 16).
CAMERA notified the IHT that NPR corrected the very same error last year. Let's see if the IHT will do the same.

Posted by TS at 05:03 AM | Comments (0)
BBC Errs on Rafah Crossing
The deadline for submissions of critical reviews for BBC's Independent Panel investigating BBC coverage of Palestinian-Israeli affairs passed Friday, but the errors and distortions continue.
Yesterday's "In Pictures" section, for example, featuring the opening of the Rafah crossing in Gaza, contained the following erroneous caption:
For the first time in nearly 40 years, Palestinians took back control of the Rafah border crossing between Gaza and Egypt.
The Palestinians could never "take back" control of the crossing because it was never under their control. Forty years ago the crossing was in Egyptian--not Palestinian--hands.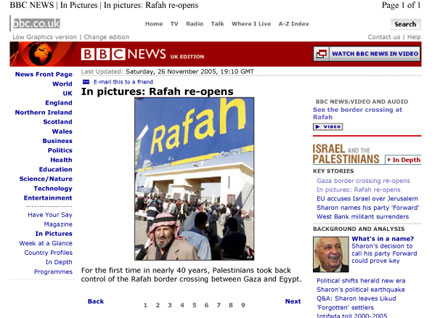 A BBC article yesterday more correctly noted:
More than 1,500 Palestinians have crossed freely from Gaza into Egypt via a border point controlled for the first time by Palestinian officials.
Posted by TS at 02:32 AM | Comments (0)
November 24, 2005
Tortured Facts
In a letter published Tuesday in the Los Angeles Times, Mary Hughes of Los Angeles alleged:
Sen. John McCain (R-Ariz.) and others need only read reports from human rights organizations such as Amnesty International and Israel's own B'Tselem to know that Israel continues to torture Palestinian men, woman [sic] and children on a daily basis.
Sen. McCain would have to dig pretty deep to find such a Btselem report. As Btselem spokeswoman Sarit Michaeli confirmed for CAMERA, the Israeli group has not issued any reports on Israeli alleged use of torture in more than four years.
Mary Hughes, also known as Mary Hughes-Thompson, was a volunteer with the International Solidarity Movement in 2002, and has published three other letters on Israel in the Los Angeles Times.
CAMERA has notified Times editors about the error. (Check back for a correction in a couple of days.) This wouldn't be the first time the paper has had to correct an error by a letter writer castigating Israel. Perhaps a tighter vetting process is in order?

Posted by TS at 07:47 AM | Comments (0)
November 20, 2005
Ha'aretz: Israelis Did--No, Didn't--No Did Evacuate Early
Israeli Husam Fathi Mahajna, killed in the Amman hotel bombings, was not evacuated before the attack
Ha'aretz is holding by its nonsensical claim that West Bank roads prohibited for Palestinians are "Jewish only," as if Israel's 20 percent non-Jewish minority is not even worthy of consideration.
Just as absurd is this series of articles having to do with the Radisson Hotel bombing in Amman:
1) First, on Thursday, Nov. 10, Ha'aretz's Yoav Stern and Zohar Blumenkrantz, report:
A number of Israelis staying yesterday at the Radisson SAS were evacuated before the bombing by Jordanian security forces, apparently due to a specific security alert. They were escorted back to Israel by security personnel.
2)Then, some 14 hours later, this is in from Stern:
There is no truth to reports that Israelis staying at the Radisson SAS hotel in Amman on Wednesday were evacuated by Jordanian security forces before the bombing that took place there.

The Israelis were escorted back to Israel by Jordanian security personnel only after the attacks had taken place, contrary to earlier reports.
Odd that Stern didn't mention that those unidentified "reports" actually originated with Ha'aretz, and were his very own. But, matters get even more bizarre with this final story:
3) A mere five hours after Stern has definitely clarified that there was "no truth to report of Israeli evacuations before Amman bombs," he and Blumenkrantz write:
Hours before the bombings, many Israelis were evacuated from the Radisson SAS, one of the hotels hit in the attacks, apparently due to a specific security alert.
(On the Ha'aretz website the word "evacuated" in this story is inexplicably linked back to story 2 stating there was no pre-bombing evacuation.) Questions? Confusion? Conspiracy theories, anyone? Write to Yoav Stern at stern@haaretz.co.il.
Corrections? Write publisher Amos Schocken at aschocken@haaretz.co.il.
(Hat tip: A. Bell)
Posted by TS at 03:18 AM | Comments (0)
November 18, 2005
What Threat?
The Nov. 12 issue of the Economist contained an article, entitled "The Hamas conundrum," which stated:
Such is Israelis' horror of Hamas that even the liberal Haaretz headlined the interview [with Hamas leader Mahmoud Zahar] "We will kidnap more Israelis is prisoners are not released", though Dr Zahar had not actually made such a threat;
So did Zahar make such a threat—implicitly if not explicitly?
You decide. See the text of the interview here. (Look for the section in which Zahar says: " [Israel] is holding 9,000 prisoners. If they are not released, kidnappings will increase.")
Zahar on Lebanese television, April 2005, reiterating Hamas' desire for the "liberation of ... all of Palestine, from the Sea to the River" (translation by MEMRI).
Posted by GI at 02:36 PM | Comments (0)
November 17, 2005
Rice's Rewrite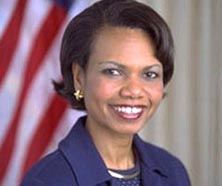 James Taranto points out on Best of the Web that in her speech announcing the Rafah agreement, Condoleeza Rice took a historical liberty when she stated:
For the first time since 1967, Palestinians will gain control over entry and exit from their territory. This will be through an international crossing at Rafah, whose target opening date is Nov. 25.
But, as Taranto points out:
Also noteworthy about Rice's statement is the curious reference to "the first time since 1967." That, of course, was the year Israel "occupied" Gaza and the West Bank. But the Palestinian Arabs never controlled border crossings--or, indeed, any territory--before 1967.

Before World War I, the entire region, including Israel and the disputed territories, was part of the Ottoman Empire. Between World War I and 1948, the British administered it. In 1948 the Arabs went to war rather than accept a U.N. partition of Palestine that would have created Jewish and Arab states. After that conflict and until 1967, Egypt controlled Gaza and Jordan controlled the West Bank.
Posted by TS at 02:46 AM | Comments (2)
November 16, 2005
On the Cutting Room Floor of Ha'aretz's English Edition
IMRA diligently reads both the Hebrew and the English versions of Ha'aretz, sometimes leading to some very interesting finds. For instance, IMRA notes that the Hebrew version of a Nov. 13 article by Amos Harel concerning a new book by an IDF officer about the failure of the Lebanon war contains some vital information which was omitted in the English edition. IMRA writes:
For some reason the folks at Haaretz handling the English edition decided not to share with their readers one of the key finding that was highlighted in the Hebrew edition: "In the territories it was possible to partially succeed against terror and guerillas - not in Lebanon. One of the conclusions is that it is difficult to win a war in an area when you sit outside. In Judea and Samaria we fight from inside, inside a delineated area, where we have a reasonable ability to prevent the movement of people and weapons." The editors of the Hebrew edition felt this was so important that they featured the lines "In the territories it was possible to partially succeed against terror and guerillas - not in Lebanon. One of the conclusions is that it is difficult to win a war in an area when you sit outside." as a headline in the article.
Posted by TS at 04:02 AM | Comments (0)
November 15, 2005
Reuters Report Reveals Anti-Jewish Attitudes in Saudi Arabia
A brief Sunday Reuters article noted:
A court in Saudi Arabia sentenced a teacher to 40 months in jail and 750 lashes for "mocking religion" after he discussed the Bible and praised Jews, a Saudi newspaper said on Sunday.
The article also pointed out the teacher was charged, among other things, with "saying the Jews were right."
Posted by GI at 11:13 AM | Comments (0)
November 14, 2005
Arafat's Legacy, Revisited
After Yasir Arafat's death one year ago this month, and in response to various timelines of Arafat's life that whitewashed his decades-long involvement in terror, CAMERA published its own inclusive timeline of the Palestinian leader's life. Read it here.
Also, a CAMERA op-ed that ran last year in the Seattle Post-Intelligencer pointed out that Arafat's career was characterized by violent rejection of Israel's existence. Read it here.
Posted by GI at 02:53 PM | Comments (0)
November 08, 2005
In New York Times, Hamas Attacks are "Armed Resistance"
In a very disturbing article last Friday (Nov. 4) about Hamas members running the municipality in Qalqilya ("Voted in, Hamas Sets a West Bank City Astir") Jerusalem bureau chief Steven Erlanger referred several times to Hamas's "armed" or "military resistance," thus employing Hamas's own preferred phrasing to invoke heroic language for the murder of children.

He [Mahmoud Abbas] thinks he can co-opt Hamas members into politics and away from armed resistance, hoping to persuade them to put down their arms after the elections
and
And what about Hamas's military resistance to Israel?
How can the bombing of a pizza shop, killing 15 people between the ages of 2 and 60 who were peacefully eating their lunches, possibly be construed as, in his words, "military resistance to Israel?" Or suicide bombings on the downtown streets and shopping malls of Netanya? Or the killing of two schoolboys waiting for a bus near a gas station? Or the car bombings at a pedestrian mall on Ben Yehuda where the primary victims were teenagers who had never served in the army? Or the bombing of a university cafeteria targeting both foreign and Israeli students? Or suicide bombings at a game club in Tel Aviv, a beachfront pub, a crowded cafe in Rehavia, a popular restaurant in Haifa, on buses throughout the country? Or the targeting of families with children and elderly grandparents holding Passover Seders at a Netanya hotel? These are just a few of the attacks against civilian targets since September 2000 for which Hamas has proudly taken credit. Over 350 people were killed in these attacks, including elderly Holocaust survivors, a bride and her father out for heart-to-heart talk before her wedding, college students, babies and toddlers. Over 2000 others were wounded and maimed in these attacks.
Echoing Hamas's own words that portray these attacks as something other than terrorism gives the terrorist agenda credence.

Hamas' "military resistance"
Posted by RH at 03:52 PM | Comments (3)
UPI's Annual Omission
It's almost Monday, Nov. 14, which means it's nearly time to mark guess what event. Don't know? Here's a hint: Check the UPI Almanac in a week.
For the last few years, at this time, UPI's Almanac has been dutifully noting that:
In 1984, former Israeli Defense Minister Ariel Sharon went to court in New York with a $50 million libel suit against Time magazine. He lost after a two-month trial.
Technically, true, but as UPI explained back on Sept. 26, 1985:
A six-member jury in New York found that Time's report was not true and had defamed Sharon. But the jury ruled the magazine had not acted with malice, which public figures must prove to win a libel suit.
There's nothing like giving just enough information to give readers the totally wrong conclusion.
Posted by TS at 06:38 AM | Comments (0)
The Aussies Were Duped
When Al Gore spoke at a Jewish National Fund event in Sydney yesterday, he drew a small pro-Palestinian protest and substantial media coverage, much of it based on a falsehood.
The Australian, a national daily paper, gave a platform to the Coalition for Justice and Peace in Palestine to spread a falsehood without challenge:
The Coalition for Justice and Peace in Palestine said the funds raised at the event would be spent supporting the construction of new Jewish settlements in disputed territories.

Jamal Daoud, interim convenor of the coalition, called on the Howard Government to put a stop to the Jewish fund's use of its status as a tax-deductible charity to support construction activity in the arid Bnei Shimon region in North Negev.

"We are concerned that tax-deductible money is going to finance illegal settlements in North Negev," Mr Daoud said.
Only Bnei Shimon is not in disputed territory, nor are its developments--Jewish and Bedouin--settlements, illegal or otherwise.
But Glen Barclay, identified by reporters Jennifer Sexton and Elizabeth Gosch as "an expert on Middle East politicals at the Australian National University," apparently didn't know that pesky little detail. Instead, Barclay took the opportunity to warn about the nefarious Jewish lobby:
"It would be political suicide for [Gore] to reject [an invitation to speak from a Jewish organization]," Dr. Barclay sai.

"Whether he has political or academic amitions, he doesn't want to be the target of denunciation by the Jewish lobby."
Geez, good thing they called in the big guns to clear that one up. Now, have a map of Israel anyone? Comments to Michael Stutchberry, the Australian editor, at editor@theaustralian.com.au.
Posted by TS at 05:37 AM | Comments (0)
November 06, 2005
Unsettling Times Error
This error appeared in a New York Times brief yesterday:
Israel began 10 days of commemorations on the 10th anniversary of the assassination of Prime Minister Yitzhak Rabin by a settler trying to block progress toward peace with the Palestinians.
And, a nearly identical version appeared in the International Herald Tribune:
Israel began a 10-day period of commemoration and soul-searching on Friday, the 10th anniversary of the killing of Prime Minister Yitzhak Rabin by an angry settler trying to block progress toward peace with the Palestinians.
But, as reported by Joel Greenberg on Nov. 5, 1995 for the New York Times:
Mr. Amir, a former combat soldier and security guard who carried a licensed gun, is single and lives in Herzilya, north of Tel Aviv.
For those unclear about the geography, Herzilya is not a settlement. CAMERA has contacted editors at the Times and IHT and we await a correction.

Posted by TS at 03:03 AM | Comments (1)
November 03, 2005
More on the Daily Vanguard
Caelan MacTavish, the columnist who has drawn criticism for a recent op-ed in the Portland State Daily Vanguard, is interviewed by Portland's Jewish Review
Read it here: http://www.jewishreview.org/Archives/Article.php?Article=2005-11-01-1787
Posted by GI at 04:59 PM | Comments (5)
November 02, 2005
For Washington Post Correspondent, Hurricane Is Like Israeli Bombs
Perhaps it was a visceral reaction to a family tragedy, a superficial analogy made under stress. But maybe the comparison of devastation caused by Hurricane Rita to "destruction in the Gaza Strip after Israeli bombs shattered neighborhoods" was a window into Washington Post correspondent Molly Moore's thinking.
Moore's feature article, "In La., Memories Stronger Than Rita" (Washington Post, October 31), begins:
I cover disasters for a living – hurricanes, earthquakes and wars in distant lands. As a foreign correspondent, I chronicle the plights of refugees, the destruction of villages, the deaths of the weak and helpless.

I recently came home to Lake Charles in southwestern Louisiana. Its disaster was Hurricane Rita, whose ruthless eastern eye wall sliced through the city like a buzz saw. The refugees were my family and friends. The destruction was in my front yard, and on every block .... The dead included my grandmother, one of the weak and helpless who didn't survive the chaotic evacuation ....

Fronts were ripped off stores and apartment buildings, exposing their insides like untidy dollhouses. I'd seen that kind of destruction in the Gaza Strip after Israeli bombs shattered neighborhoods [emphasis added], in Nicaragua after mudslides, in Afghanistan during its civil wars.
Hurricanes, like mud slides, earthquakes, tsunamis, blizzards or volcanic eruptions frequently make news. The destruction, injury and death they cause are random, unintentional, and often widespread. Their victims did not cause these natural disasters.
On the other hand, Israeli bombs or rockets in the Gaza Strip are not "natural disasters". They have damaged or destroyed individual or adjacent buildings in counter-terrorist attacks. They are man-made responses to man-made violence. Israeli bulldozers did, in limited areas including part of the town of Rafah along the Gaza-Egyptian border, level buildings used as cover for Palestinian smuggling tunnels and snipers. There is no accurate comparison between this and devastation caused by Hurricane Rita, no similarity between the injured and killed in a natural disaster and terrorists targeted by Israel, or even between non-combatants accidentally hurt in counter-terrorist operations, and Rita's victims.
Moore covered the Gaza Strip, West Bank (Judea and Samaria) and Israel for The Post's Jerusalem bureau for several years until moving to the Paris bureau last summer. CAMERA frequently criticized her reporting as one-sided, skewed toward the Palestinian Arabs. Her egregious comparison between storm damage and Israeli self-defense suggests one reason why her coverage so often was off the mark – an emotional misunderstanding of the conflict that crams it into familiar but false categories of weak and helpless refugees and destroyed villages. This perspective inverts aggressor and defender, rejection and accommodation.

Zionism may not be racism, but when it comes to the Palestinian Arabs, for one Washington Post reporter and her copy editors, Israel is a hurricane.
Posted by ER at 03:48 PM | Comments (0)
AFP Headlines: A Snapshot of Contrast
Two AFP headlines speak volumes about editorial judgment when it comes to the Israel-Palestinian conflict. They are:
Israeli army fires artillery at Gaza Strip

Israeli soldier shot dead in West Bank
When Israel is the perpetrator, the world should know right up front. But, when Palestinians are the perpetrator, well, why make it too obvious?
Posted by TS at 05:52 AM | Comments (0)
Anatomy of a Failure & Retraction
Yesterday the Daily Vanguard, the Portland State University campus paper, ran a column by public editor Leathan Graves-Highsmith describing the circumstances leading to the publication of the Oct. 18 opinion column by Caelan MacTavish, which "was factually inaccurate and made arrant overgeneralizations."
The column also discusses the editors' reasons for redressing the problematic column as they did.
Posted by TS at 03:39 AM | Comments (0)
November 01, 2005
Finkelstein's Book Reviewed
A book review in the Jerusalem Post by Isi Leibler deconstructs Norman Finkelstein's new anti-Israel book, Beyond Chutzpa, noting that "in sane political world one might have assumed that such trash would be relegated to the fringe. Not in todays frenzied anti-Israeli climate..."
Read it here.
For more on Finkelstein, see here.
Posted by GI at 07:13 PM | Comments (0)