« September 2005 | Main | November 2005 »
October 31, 2005
College Religion Dept. Confirms Anti-Semitism at Sabeel Conference
A recent item on CAMERA's main Web site discussed the Chicago Tribune public editor's statement that the harshly anti-Israel organization Sabeel does "classy work."
It seems the Department of Philosophy and Religion at Coe College, which recently sponsored a Sabeel conference, may disagree:
To: Rabbi Aaron Sherman and the Congregation of Temple Judah
From: the Dept. of Philosophy and Religion of Coe College [As issued by Prof. John Lemos, Chair] Date: Oct., 21, 2005

Re: The Sabeel Conference

The Dept. of Philosophy and Religion at Coe is aware that some anti-Semitic remarks were made at the recent Sabeel Conference held on our campus and which our department sponsored. We are also aware that here were other breaches of civility during the conference.

Let it be known that the members of our department find anti-Semitism of any kind to be deplorable and inexcusable, and that we also object to uncivil behavior.

...we want to make it clear that our sponsorship of this event should not be taken as an endorsement of the views or attitudes expressed by the speakers.
See the whole letter at Israpundit.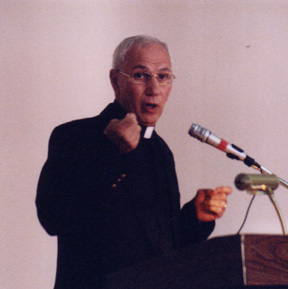 Sabeel founder Naim Ateek
Posted by GI at 12:53 PM | Comments (0)
Al Jazeera to Debut in English
The International Herald Tribune reports today that next year Al Jazeera will open a new channel, Al Jazeera International, an English network which will be marketed to cable and satellite distributors around the world.
What are the start-up's challenges? According to the IHT:
But Al Jazeera's approach complicates the job of selling the English-language service to broadcast outlets and potential advertisers. Only days after the [international trade] convention in Cannes, the Arabic-language channel broadcast a videotape from Osama bin Laden's No. 2 man, Ayman al-Zawahiri, the latest in a series of videos from Qaeda leaders shown on Al Jazeera. A Spanish court recently convicted one of the channel's reporters of collaborating with the terrorist organization, a decision that the broadcaster is appealing.
Yes, I suppose terrorist ties might put a dent in sales. But, to offset that disadvantage, Al Jazeera International has brought in prominent Western figures to make the network more "palatable" to Western consumption. They are David Frost, a veteran BBC reporter; CNN anchor Riz Khan; reporter David Foster of Sky News; and Josh Rushing, a former U.S. military spokesman in the current Iraq war.
Will these window dressings adopt the Al Jazeera policy of calling Palestinian terrorists who blow up innocent Israeli civilians "martyrs"? Stay tuned to find out.
Posted by TS at 04:36 AM | Comments (0)
October 30, 2005
JTA Exposé: Saudi-Backed Lessons in U.S. Public Schools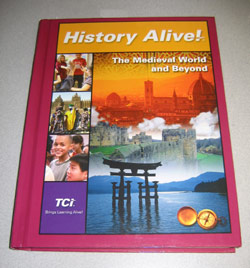 This textbook was pulled from a trial release in Arizona after a series of protests by parents concerned about the spin it put on Christianity, Judaism and Islam.
The Jewish Telegraphic Agency has released a multi-part investigative series about the Saudi government's influence on public education in America. The synopsis:
In thousands of public school districts across the United States, without ever knowing it, taxpayers pay to disseminate pro-Islamic materials that are anti-American, anti-Israel and anti-Jewish.

Often bypassing school boards and nudging aside approved curricula, teaching programs funded by Saudi Arabia make their way into elementary and secondary school classrooms.

These teachings enter school systems with the help of a federal program, Title VI of the Higher Education Act, that is now up for renewal.

Expert analyses of these materials have found them to be full of inaccuracies, bias and proselytizing. They also have found that many of the major history and social studies textbooks used in schools across the country are highly critical of democratic institutions and forgiving of repressive ones.

These materials praise and sometimes promote Islam, but criticize Judaism and Christianity and are filled with false assertions.

Most taxpayers don't know they're paying — at the federal, state and local levels — for the public schools to advance these materials.
Posted by TS at 04:56 AM | Comments (0)
October 27, 2005
The Washington Post's Odd Language from Syria
Behind a Damask Screen: The Washington Post's Odd Language from Syria
October 26, 2005
The Washington Post's Anthony Shadid won the Pulitzer Prize for international reporting last year for his coverage of the war in Iraq. But two of his recent dispatches from Damascus should win no awards.
Inaccurate, even peculiar word choice compromises "For Syrians, a Siege Mentality Sets In; U.N. Inquiry, Iraq War Feeding Anxiety Among Assad's Backers and Foes" (October 25) and "Assad Says Accused Syrians May Face Trial; Letter Is First Substantive Response to U.N. Reporting Implicating Officials in Hariri Killing" (October 26). As a result, both misrepresent in important ways recent Syrian history and current events in a capital under pressure as a result of the international investigation of the February assassination of former Lebanese Prime Minister Rafik Hariri.

In "For Syrians, a Siege Mentality Sets In," Shadid writes – or perhaps a misguided copy desk rewrites – "Since 1970, the state has weathered a revolt by Islamic activists, conflicts with Israel, crises with the United States and the collapse of its historic ally, the Soviet Union." This journalistic short-hand wrongly conflates events.

To be accurate, the same material should have been conveyed in two sentences reading something like: "Since 1970, the state brutally suppressed a revolt by Islamic fundamentalists and prolonged its declared state of war with Israel by rejecting several peace initiatives and sponsoring anti-Israeli Lebanese and Palestinian terrorist organizations. It also obstructed U.S. Middle East policy and maneuvered through the resultant crises while weathering the collapse of its historic ally, the Soviet Union."
Shadid also states that, among other things, Washington wants Damascus to end its "accommodation of militant Palestinian factions and the Lebanese Shiite Muslim movement Hezbollah." As noted above, Syria is not "accommodating" Palestinian "militant factions" including Islamic Jihad, the Popular Front for the Liberation of Palestine - General Command, and the Democratic Front for the Liberation of Palestine, plus the Lebanese Hezbollah. Rather, it hosts and/or shelters, helps fund, arm and train, and employs these terrorist organizations as surrogates.
Shadid correctly notes that "Syria is one of the region's most authoritarian states," but asserts that "its repression pales compared with the relentless brutality in Iraq during the rule of Saddam Hussein." The pairing as well as the wording is misplaced; a comparison would have been not the current Syria under Bashar Assad to the former Iraq under Saddam Hussein, but of Syria under Bashar's late father, Hafez Assad, to Iraq under Saddam.
The elder Assad's 30-year police state did at retail what Saddam's regime in Iraq did wholesale. The annual State Department Country Reports on Human Rights dealing with Hafez Assad's Syria made that clear. And the elder Assad, like Saddam, could massacre his own people en mass, as he did at Hama in 1982, slaughtering between 10,000 and 25,000 residents, mostly civilians, in a stronghold of the Islamic Brotherhood. Syria today under Bashar Assad should be contrasted with post-Saddam Iraq, which despite a bloody insurgency, might be evolving toward something better while Syria's police state under Bashar more closely resembles "Hafez-Lite."
In his next-day dispatch, "Assad Says Accused Syrians May Face Trial," Shadid commits only one word choice foul, but it is major, and peculiar: "There were at least two slightly different [emphasis added] versions of Assad's letter, diplomats said. The one with the pledge to bring to trial any Syrian implicated in Hariri's assassination was delivered to the United States, Britain and France, among others; another version, omitting the pledge, went to other Security Council members, the diplomats said." Omission of the pledge to try any Syrian implicated in the murder might be a deletion of only a few words, but it most definitely is not a "slight difference" – it is a major change. Why introduce such confusion at all, when merely dropping the adverb "slightly" increases accuracy, as in "there were at least two different versions of Assad's letter, diplomats said"?
For years, The Post's slogan was: "The Washington Post: If you don't get it, you don't get it." We got it, but we don't get it. – by Eric Rozenman, CAMERA Washington director.

Posted by ER at 05:30 PM | Comments (0)
October 26, 2005
European News Wires Rewrite Syria Report
Agence France Presse duped its readers in its recent coverage of a reported U.S. deal offer to Syria. Read about it here. Thanks to blogger TT-kritik, who also noticed the manipulation at TT, Sweden's national news wire. Read about it (in Swedish) here.
Posted by GI at 11:28 AM | Comments (1)
October 25, 2005
BBC to be Broadcast Across Arab World
BBC is creating a new Arabic-language satellite television channel, according to a Reuters story.
A BBC executive said that "the new Arabic channel would take advantage of the BBC's reputation for fairness and independence in the region."
For more on BBC's "reputation," click here and here.
Posted by GI at 12:47 PM | Comments (0)
"Stop Whispering"
A column in today's Jerusalem Post discusses the British media, anti-Semitism, and "silent diplomacy" vs. "saying it like it is."
The writer, Isi Leibler, notes:
While many Anglo-Jews insist that anti-Semitism is primarily a product of Muslim immigrants, the reality - as recently confirmed in a London police study - is that the core of anti-Semitism in England emanates from indigenous Britons. They are the ones demonizing Israel in the media. ... It is "white" British academics, not Muslim immigrants, who promote anti-Israeli boycotts and divestment campaigns. And, needless to say, the BBC which has evolved into one of the greatest global agents demonizing Israel is not run by Muslims.
And concludes:
If Jews will not fight back, they will soon have to ask themselves: Is this the sort of society in which our children and grandchildren are going to live?
Read the whole thing here.
And for more about "fighting back," click here.
Posted by GI at 10:36 AM | Comments (0)
October 19, 2005
Security Fence Being Built
Some relevant news that shouldn't be missed:
A fence is currently being built in the conflict-ridden Middle East to protect civilians against suicide bombers and other terror attacks. Certainly, the government building it has reason for concern—terrorists have taken the lives of many in this Middle Eastern country. Yet, the fence will force villagers and visitors to pass through checkpoints, and part of the fence will cut off Arabs in a neighboring town from their jobs.
Will the media, then, criticize the builders and call on them to dismantle the protective "wall"? Or will understanding be shown for a government's need to protect its citizens? How will world opinion look at this country... Egypt?
From BBC news:
Egypt has started to build a security fence around the Red Sea resort of Sharm al-Sheikh to try to stop attacks on the town, security officials say.

The officials said the fence would stretch for 20km (12 miles) and force vehicles wanting to enter the town to pass through one of four checkpoints.

More than 60 people were killed in July when suicide bombers launched attacks outside two hotels and a market. ...

A town resident told Reuters that one portion would cut off a nearby Bedouin settlement where many workers live.

A security official cited by AFP news agency said the fence was "not meant to stop any particular group of people but prevent terrorist attacks".
Hotels were destroyed in the Sharm al-Sheikh blasts (BBC)
Posted by GI at 01:23 PM | Comments (1)
Why Do They Hate the West?
There are probably a variety of reasons why some in the Arab or Muslim world hate Israel (or the U.S., or the West, as it may be).
There is religiously inspired incitement against Jews and other "infidels," to be sure. Alternatively, Western values and cultural norms may be anathema to some.
A column in today's Philadelphia Inquirer highlights another reason: Lies hatched by governments, and the willingness of people to believe them.
Trudy Rubin—whose columns, ironically, often show disdain for Israel—helps explain hatred of the West and Israel with her column today about five Bulgarian nurses on death row in Libya. The nurses are accused of intentionally infecting Libyan children with the AIDS virus:
This story exemplifies the tendency in the Arab world to hatch wild conspiracy theories to explain difficult problems. The tendency is hardly unique to Arab societies, but they produce more elaborate theories more often than any other society I've encountered. ...
The nurses are clearly not guilty. They traveled to Libya in the 1990s to find work at a time when the Bulgarian economy was in tatters. In 1999, an AIDS epidemic infected around 420 Libyan children, and the Libyans conveniently arrested the foreign medical workers. The women were tortured in an effort to extract confessions.

International AIDS experts and a World Health Organization team that visited Libya concluded the AIDS virus was being spread by unsanitary hospital practices. The experts included Luc Montagnier, the doctor who discovered the AIDS virus, and who was invited to Libya by Gadhafi's son, Seif El-Islam (a more modern man than his father). Montagnier found some of the children were infected before the nurses even arrived.

So why were the nurses charged? Clearly Libyan officials were trying to deflect public outrage over the infecting of children.

To further rouse Libyans' wrath against the foreign medical workers, the indictment charged them with working for the Mossad, Israel's intelligence service. That charge has been dropped. Perhaps it became an embarrassment after Libya concluded its deal with the Bush administration. But the charge probably still resonates with Arab audiences that believe Israeli agents carried out the World Trade Center bombings.
For more on incitement, click here.
Posted by GI at 09:46 AM | Comments (0)
October 18, 2005
Reuters Headline Equalizes Victims, Terrorists
Oz (Yisrael) Ben-Meir, 15, was one of three innocent Israeli civilians murdered Sunday
Three innocent Israeli civilians waiting at a hitchhiking stop,including a teenager, were gunned down by Palestinian terrorists on Sunday. The same day, a commander in the Islamic Jihad terrorist group opened fire on Israeli soldiers, who then shot him to death.
Not exactly comparable cases. Nevertheless, a Reuters headline on Sunday depicted them as such:
Three settlers, Islamic militant killed in W. Bank
Beyond the headline, the article by Nael Al-Shyouki fell into some of the tired examples of bias.
1) Al-Shyouki distorts the Palestinian "road map" requirement to disarm militants as an Israeli and U.S. demand:
Abbas has been under U.S. and Israeli pressure to rein in and disarm militants as a condition for road map negotiations on Palestinian statehood.
2) The article lacks critical context when it states:
Palestinians want Gaza and the West Bank for a future state and Arab East Jerusalem for a capital. All three were captured by Israel in the 1967 Middle East war.
Just to clarify, once we're (ostensibly) giving context: Israel captured Gaza and the West Bank (also eastern Jerusalem) from Egypt and Jordan respectively, not from the Palestinians. These territories were gained in a defensive pre-emptive war.
(Hat tip: Dave A.)

Posted by TS at 01:44 PM | Comments (0)
October 14, 2005
Reuters Wrong on Arab Boycott
IMRA's Dr. Joseph Lerner points out a factual error which appeared in a Reuters story:
In Haaretz' 12 Oct. '05 Reuters' story "Bahrain lawmakers reject Bahrain lifting ban on Israeli goods" Reuters notes:"...many Bahrainis ... like many ordinary Arabs, are angry at Israel's occupation of Arab lands and its treatment of Arabs." This suggests theat the boycott began after the 1967 Six Day War. Actually the boycott started before the establishment in 1948 of the State of Israel.

The Arab League boycott was declared on December 2, 1945.

It declared: "Jewish products and manufactured goods shall be considered undesireable to the Arab countries. [All Arab] Institutions., organizations, merchants commission agents and individuals [are called] upon to refuse to deal in, distribute, or consume Zionist products or manufacured goods."
Posted by TS at 04:56 AM | Comments (0)
Journalists Kidnapped, Released in Gaza
Dion Nissenbaum, right, an American reporter, and British photographer Adam Pletts, left, following their release at the Palestinian police headquarters in Gaza city, Wednesday. Photo: AP

Knight Ridder reported Wednesday night:
Palestinian gunmen in the Gaza Strip kidnapped a Knight Ridder correspondent and a British photographer working with him Wednesday but surrendered them to Palestinian Authority security officials after almost six hours.

Dion Nissenbaum, Knight Ridder's Jerusalem bureau chief and a U.S. citizen, said neither he nor freelance photographer Adam Pletts was harmed.
Posted by TS at 04:29 AM | Comments (0)
Ha'aretz's Fast (and Loose) Yom Kippur Figures
Yesterday IMRA noted:
Ha'aretz's Yom Kippur Eve edition (12 October) includes a headline reading "A quarter of Israelis will spend money on entertainment for Yom Kippur".

Buried in the article and also at the very bottom of the article in super fine print below an illustration of results, Haaretz mentions that the results are of a poll carried out by Geocartography that was limited to secular Israeli Jews. The poll found that 49% of secular Jews planned to fast and 76% had no plans to spend any money on entertainment (rent movies, etc.) for Yom Kippur.
Telephone poll carried out by New Wave of a sample of Israeli Jews for Yediot Ahronot Percent who said they planned to fast on Yom Kippur: Total: 70% Men 66% Women 73% Age 18-24: 77% Age 65+ 49% Education below high school 77% College educated 64% Yediot Ahronot 12 October 2005
Posted by TS at 04:08 AM | Comments (0)
October 12, 2005
Understanding Suicide Bombers
Snapshots has in the past referred to reports that cast doubt on the common claim that desperation or poverty instigates terrorism.
Here, from the Associated Press, is a report suggesting that terrorism is often instigated by... instigators.
AP's Nasser Shiyoukhi reports:


In another raid, the army arrested a 14-year-old Palestinian boy who told his interrogators that militants from the Al-Aqsa Martyrs' Brigades — which has ties to Palestinian leader Mahmoud Abbas' Fatah movement — pressured him to carry out a suicide bombing after he quarreled with his father.

Militant groups have increasingly turned to youths to carry out attacks in recent years, hoping the army would be less suspicious of them. The boy, identified by militants and his parents as Salah al Jitan, would have been one of the youngest Palestinian suicide bombers.

Salah's parents, who confirmed their son is 14, said that after they quarreled with him about a month ago, five armed Al-Aqsa militants came to their house to tell them to leave the boy alone. Last week, they came again, this time to take him away for a suicide bombing, said his father, Moussa al Jitan.

The father said Salah did not want to go, adding that he would not let them take him. The teenager did not leave the house until Israeli forces arrested him Monday, a move his parents welcomed.

"Good, he will be in jail. That's better than dying," said Sariel al Jitan, his mother.

The teenager said the militants threatened to kill him and tell everyone he was a collaborator with Israel if he didn't carry out the attack, the army said.
AP's Ali Daraghmeh adds:

The boy, a resident of the West Bank city of Nablus, told interrogators that Palestinian militants pressured him to carry out the attack after he quarreled with his father.

Military officials said the father was angry at the boy for stealing money. Militants suggested that carrying out an attack might make the father proud, and told the boy he had nothing to live for anyway, military officials said.
The alleged recruiters denied this account.
Posted by GI at 05:00 PM | Comments (1)
October 11, 2005
BBC Bias?
An earlier entry noted that the BBC, responding to concerns by UK activists, had revised its biased description of the series for the better.
Whether or not the problematic listing is merely a reflection of a biased program remains to be seen. But although a BBC official told one activist that the listing "was not written by a journalist and does not reflect the programme" and that "it will be changed," a Jerusalem Post story cites critics who feel that "the series appears to underline inherent problems in its approach to the Israel-Palestinian conflict..."
Read about it here.
For an overview of complaints about bias at the Beeb and news about the independent panel appointed to investigate the corporation's Middle East coverage, read here.
And for CAMERA's detailed looks at BBC coverage, click here.
Posted by GI at 02:27 PM | Comments (0)
Arafat Advisor: Arafat Planned the Intifada
Yet another Palestinian official has acknowledged in Arabic that, contrary to many misleading media reports, the Palestinian uprising against Israel was not a spontaneous event but rather carefully orchestrated and planned by Arafat.
MEMRI TV has just released a Sept. 28, 2005 clip from Al-Jazeera tv in which Arafat Advisor Mamdouh Noufal stated:
I think that [Arafat] planned an armed Intifada. He nurtured its militarization right from the start, because he thought that through militarization he could pressure Barak, and later Sharon, and force them to make concessions. He thought that there might be international intervention like in the Battle of the Tunnel, in the days of Netanyahu.
Posted by TS at 02:41 AM | Comments (0)
October 10, 2005
Readers' Rep: Paper Should Have Checked Story

Dick Rogers, the readers' representative at the San Francisco Chronicle, criticizes the paper's coverage of Palestinian claims that President Bush said he was motivated by God to fight terrorism in Afghanistan, end tyranny in Iraq and create a Palestinian state.
His column notes that the allegation, leveled by Palestinian leader Mahmoud Abbas and Foreign Minister Nabil Shaath, is included in a BBC TV documentary entitled "Elusive Peace: Israel and the Arabs," which will air tonight in the UK, and in the U.S. on PBS. Despite the fact that the documentary has not yet aired, the BBC, so tickled by this charge, last week sent out a press release announcing the unsubstantiated claim.
And, unfortunately, on Friday the Chronicle printed the claims without challenge or fact-checking. For this, Rogers rightfully castigates:
When writing about controversy, the least a paper can do is to let readers hear from the subject of the coverage.

Yet there was no comment from the White House, and no indication that the paper had tried to get comment. By failing to give voice to the administration, the paper came across as unfair -- biased in some minds. Readers were left to wonder why there was such a big hole in the story.

It's not that no one from the Bush camp was talking. By around 9:15 a.m. Pacific time last Thursday, presidential spokesman Scott McClellan had responded during the daily White House briefing. That was more than 20 hours before The Chronicle had landed on most porches.
Here is the exchange, according to the White House Web site:

Q: Have you ever heard the president say that God told him to invade Afghanistan and Iraq and --

Mr. McClellan: No, and I've been in many meetings with him and never heard such a thing.

Q: Are you aware of the -- there's a BBC broadcast tonight that's quoting the Palestinian prime minister and foreign minister as saying that they were in a meeting with the president in June of '03, and there are some very detailed quotes here, saying that the president said to them, "God told me, 'George, go and fight those terrorists in Afghanistan,' and I did," and then "God told me, 'George go and end the tyranny in the Iraq,' " and so forth and so on?

Mr. McClellan: No, that's absurd. He's never made such comments.

Q: Were you in the meeting when that took place?

Mr. McClellan: I've been in meetings with him with President Abbas; I didn't travel on that trip, if you're talking about to Jordan. But I've been in many meetings with the president with world leaders where he's talked about this.

Q: So you don't know about the June '03 meeting?

Mr. McClellan: No, I checked into that report and I stand by what I just said.

Decide for yourself whether the spokesman was covering for the president, whether Shaath was the one hearing voices or whether it's a tempest in a teapot. In any case, the official statement deserved to be part of the coverage.

"We screwed up," said Chronicle Executive Foreign-National Editor Andrew Ross.
Posted by TS at 07:21 AM | Comments (0)
October 09, 2005
Majoring in Israel Hatred
Dennis Prager
In an Op-Ed today in the Los Angeles Times, Dennis Prager laments:
Yet universities have become society's primary breeding ground for hatred of Israel. This hatred is often so intense that the college campus has become a haven for people who use anti-Zionism to mask their anti-Semitism. Moreover, anti-Zionism itself is a form of anti-Semitism, even if some Jews share it. Why? Because anti-Zionism is not simply criticism of Israel, which is as legitimate as criticism of any country. Anti-Zionism means that Israel as a Jewish state has no right to exist. And when a person argues that only one country in the world is unworthy of existence--and that happens to be the one Jewish country in the world--one is engaged in anti-Semitism, whether personally anti-Semitic or not.
For more on campus issues, see here.
Posted by TS at 05:57 AM | Comments (0)
UK Activists Prompt Change at BBC

What a difference individual citizens can make. In response to complaints from a few UK activists, BBC editors have removed a tendentious, editorialized television listing for a program airing tomorrow night, "Israel and the Arabs: Elusive Peace."
Before the activists weighed in, the listing stated:
The story of how Israel's Prime Minister Ehud Barak persuaded President Clinton to devote his last 18 months in office to helping make peace with Yasser Arafat. But Barak got cold feet twice. Then Ariel Sharon took a walk around Jerusalem's holiest mosques, and peace making was over.
And, after:
The story of how Israel's Prime Minister Ehud Barak persuaded President Clinton to devote his last 18 months in office to helping make peace with Yasser Arafat. But after tense negotiations the deal was never made.
Kudos to those who intervened. Let's just hope the documentary isn't as biased as its description was. (Hat tip: Terry M.)
Posted by TS at 04:57 AM | Comments (2)
October 06, 2005
New York Times on Corrections
We at CAMERA are often asked what the point is of getting a correction published in a newspaper after the damage has already been done by the initial error. An October 2 column, "A Letter From the Editor: It All Goes on the Permanent Record" by New York Times Editorial Page Editor Gail Collins gives one good reason:
The most important motive for correcting the minor glitches is history. These days, everything we publish is stored not only in the Times archives and commercially available archives, but in the files of an army of search engines. We don't want a college student of 2050 to come up with the wrong year for James Madison's death because of our error - particularly not when we have the means to amend the record.
Collins further announces her intention to categorize the errors in two separate sections—one for corrections of trivial slips and the other for corrections of material errors.
The news section of the paper publishes this kind of corrections [misspellings, wrong dates, etc.] in a separate For-the-Record listing. That seems like a good idea - particularly because it makes it easier for readers to notice the other kind of corrections, which really make a difference. Those shouldn't get lost amid the misspelled names and miscalculated dates. From now on, we're going to use a similar system. A "For the Record" column of errata will run under the editorials whenever it's appropriate. That seems like a good idea - particularly because it makes it easier for readers to notice the other kind of corrections, which really make a difference. Those shouldn't get lost amid the misspelled names and miscalculated dates.
Still, despite the column's somewhat self-congratulatory tone—"We correct all errors, from heart-stoppingly egregious to sublimely insignificant, because we believe that The Times should take its reputation for accuracy seriously"—the Times has been far from diligent in correcting editorial page errors. Read:
"The Worst of Times"
"New York Sun Hits Tom Friedman Distortions"
"More Times Tomfoolery"
Posted by RH at 08:57 AM | Comments (0)
AFP's Remedial 'Road Map' Reporting
Palestinian negotiator Saeb Erakat falsely claims that the "road map" requires Israel to release Palestinian prisoners
Since Palestinian negotiator Saeb Erakat's credibility took a good hit with his Jenin "massacre" fabrications in 2002, you would think that journalists carefully fact-check any of his claims, right? Wrong.
In an article on the wire today, entitled "Palestinians want results from Mideast summit: Erakat," an unidentified AFP journalist reports a false allegation by Erakat without challenge:
The commitments made by both sides to the largely moribund internationally drafted Middle East roadmap peace plan would feature prominently, [Erakat] said.

"As far as we are concerned, the commitments unique to the Palestinian Authority are monopoly of arms, pursuing the electoral process and halting anti-Israeli violence," he said.

"As for Israelis, they must also stop violence against the Palestinians, end settlement activity, release prisoners and not take any steps to hinder the Palestinian legislative elections," on January 25, Erakat added.
In fact, the "road map" says nothing at all about Palestinian prisoners.
Shortly after the Quartet's Middle East "road map" was released in the spring of 2003, CAMERA faulted journalists for falsely reporting that the document required Israel to release Palestinian prisoners.
Two years later--plenty of time for Middle East correspondents to study up on the multilateral agreement--and the AFP is still getting it wrong. Does the"road map" learning curve have the same longevity as the "Erekat credibility" learning curve?
Updated: In response to CAMERA communication with AFP, editors commendably set the record straight in subsequent stories.

Posted by TS at 06:54 AM | Comments (0)