« Wall Street Journal Exposes the Bogus Basis of AUT's Boycott | Main | Palestinian Leader Criticizes Israel for Demanding Palestinian Terrorists Be Reigned In »
May 04, 2005
No Terrorism in Oprah's Israel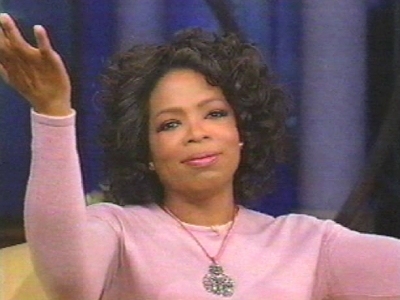 The hugely popular Oprah Winfrey show aired a short segment focusing on a Palestinian woman (Joline) and an Israeli woman (Ronit) who are "working to end the conflict" in the April 25 show "Oprah Takes You Around the World." Neither woman explained how they are helping to end the conflict except by their "unique" friendship.

The show casts Israel as militaristic and the Palestinians as weak and burdened. While nearly every image includes Israelis carrying guns, not a single shot depicts Palestinians carrying weapons except for rocks. Palestinian children are shown confronting Israeli guns and tanks with mere stones. No reference or image of terrorism was included in the segment.
Joline and Ronit
Ronit: Shalom Oprah. My name is Ronit and I'm 27 years old. I'm an Israeli citizen living in Jerusalem. Chances are if you're a woman my age you've already spent two years in the army.

Joline: My name is Joline. I'm 24 years old. I'm Palestinian from Jerusalem. Most of my family cannot visit me here because the Israeli government restricts where Palestinians can travel. But I have the Jerusalem ID card which allows me to enter Tel Aviv and other major cities.

Ronit: Our peoples have been at war for the more than 50 years which is why it is so unique that we're friends.

Joline: We are working together so that people will stop choosing sides and start working for resolutions.

Ronit: Pretty much wherever you go in Israel there are soldiers and security guards carrying guns. It's the norm.
Joline and Ronit represent the organization Just Vision which seems to be comprised of Israelis and Palestinians who are harsh critics of Israel. One Israeli woman Michal Zak describes herself as a non-Zionist. Gila Svirsky who is active in the group is a well-known anti-Israel detractor.
Oprah ends the segment by claiming that resolution will come from "peaceful minds coming together." Apparently, blaming Israel and ignoring Palestinian terrorism makes one of "peaceful mind."
Posted by CameraBlog at May 4, 2005 10:24 AM