« No Terrorism in Oprah's Israel | Main | ... And Two Steps Back »
May 04, 2005
Palestinian Leader Criticizes Israel for Demanding Palestinian Terrorists Be Reigned In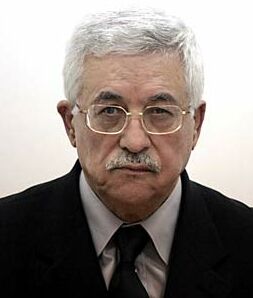 Palestinian Leader Mahmoud Abbas
As we noted yesterday, Palestinian terrorism is on the rise. Not only has Mahmoud Abbas continued Arafat's "revolving door policy" and refused to confront terrorists, but he has now decided to take the offensive. He is criticizing Israel for daring to demand he comply with Road Map obligations to clamp down on terrorists, and is even placing a priori conditions upon Israel.
With an Israeli-Palestinian truce growing shakier by the day, Palestinian leader Mahmoud Abbas criticized Israel for pressuring him to confront militants and accused it of looking to spill Palestinian blood.

In a meeting with business people, academics and public officials on Tuesday, Abbas also promised a referendum on any final peace deal, and said Palestinians "would not accept anything less" than Israel's return to the borders it held before the 1967 Mideast war, the official Palestinian news agency WAFA reported.
Among the Palestinian's unmet obligations under Phase I of the
Road Map
:
Palestinians declare an unequivocal end to violence and terrorism and undertake visible efforts on the ground to arrest, disrupt, and restrain individuals and groups conducting and planning violent attacks on Israelis anywhere.
Posted by RH at May 4, 2005 10:31 AM