« April 2005 | Main | June 2005 »
May 31, 2005
AFP Whitewashes Palestinian Terror Groups
One expects reporters and editors to at least get the basics right.
But at Agence France Presse, the major French wire service, journalists don't seem to understand the basic goals — the clearly stated goals — of terrorist groups such as Hamas and Islamic Jihad, which openly seek to destroy the Jewish state (despite what you might read in the NY Times).
A May 31 AFP dispatch states:
... Israel has lashed out at Abbas for not dismantling armed groups fighting the Jewish state's near 40 year occupation of Palestinian land, despite a de facto truce that has largely been observed by militants since January.
"Near 40 years" refers to Israel's presence in the West Bank and Gaza Strip. So again: Hamas and Islamic Jihad are not fighting Israel's "near 40 year occupation." The groups themselves are very clear about their goals. They are fighting against "the Jews," they are fighting against the existence of Israel, they are fighting to form a theocracy in "any land the Moslems have conquered by force because ... the Moslems consecrated these lands to Moslem generations till the Day of Judgement."
Extent of Islamic Caliphate (in purple), 750 AD/CE
Posted by GI at 04:38 PM
Calls to Sack Israeli Anchorman
Israel's veteran anchorman, Chaim Yavin of IBA's Channel 1, has sparked a controversy in Israel over his five-part series, "Land of the Settlers," which lashes out at settlers and Israel's settlement policy. Filming the series by himself with a hand-held video camera, Yavin apparently used his celebrity as "Mr. TV" to market a personal attack on settlements. His own Channel 1 refused to broadcast the series (it will be broadcast on another station starting tonight, Tuesday, May 31.)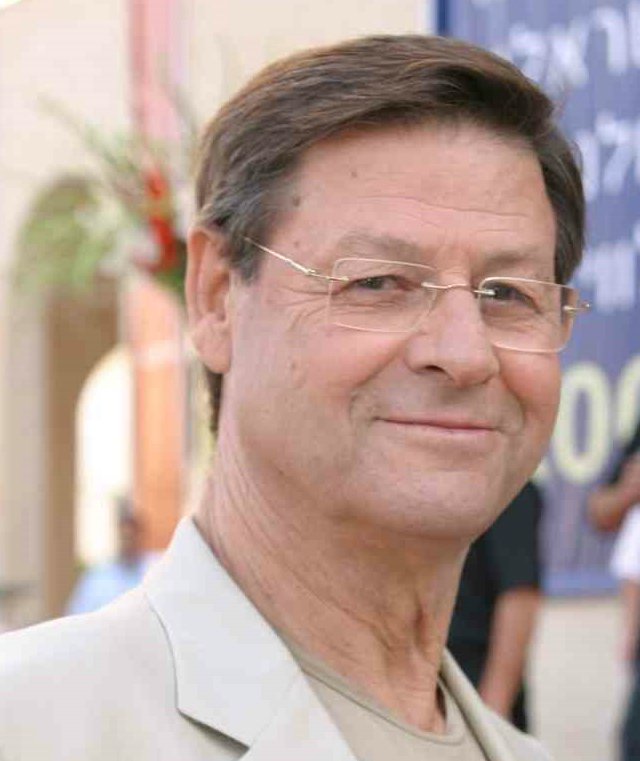 Chaim Yavin, at center of controversy
Today's New York Times provided what could essentially be described as a promo for Yavin's series in an article entitled "Israel's 'Mr. TV' Faults Settlements in Documentary."
"Since 1967, we have been brutal conquerors, occupiers, suppressing another people," he says in the documentary, "Yoman Masa,"' ("Diary of a Journey"), which he filmed by himself, with a hand-held video camera and without a crew, in the West Bank and Gaza Strip over the last two and a half years.

He speaks to settlers, Palestinians and soldiers. While Israel is planning to pull its 9,000 settlers out of Gaza this summer, Mr. Yavin sees no end to the Israeli occupation of the West Bank, where more than 230,000 Israelis live beyond the 1967 boundary lines, plus 200,000 or so in East Jerusalem, annexed by Israel after that lightning war, in which he fought.

Talking of the missed chances of many governments, both Labor and Likud, to end or reduce the steady occupation of the West Bank, Mr. Yavin says astringently: "This merrymaking will never be stopped."
And on and on. The nearly 1000-word article is made up Yavin's quotes, but no critic of Yavin nor any settler representative is quoted. And not mentioned in the Times is the fact that settlers are now demanding that the Israel Broadcasting Authority (IBA) fire Mr. Yavin.
Settler council leader Benzi Lieberman appealed Monday to temporary Israel Broadcasting Authority director Yair Aloni to terminate Chaim Yavin's role as a Channel 1 newscaster, charging that Yavin's "Land of the Settlers" five-part documentary which debuts Tuesday on Channel 2 constitutes a "one-sided," negative portrayal of the settlers bound to create widespread antagonism in the viewing public.

"To preserve public faith in Channel 1's news coverage, we demand that Mr. Yavin immediately cease to present the Mabat news program," Lieberman wrote.

"Even if his opinions and the manner in which he presents them may be considered legitimate, his continued serving in the objective newscaster's position constitutes a blow to media ethics and professional integrity," he added.
Why did the Times quote Yavin at length spouting his anti-settlement views, without quoting his detractors?
Posted by RH at 03:52 PM
May 30, 2005
Dvorkin's Conflict of Interest
Ken Bode and William Schulz, two newly appointed ombudsmen hired by the Corporation for Public Broadcasting to monitor NPR and PBS in response to concerns about liberal bias as well as imbalanced Middle East coverage, were barred from becoming full members of the Organization of News Ombudsman. Who was instrumental in keeping out the CPB ombudsmen?
None other than NPR ombudsman Jeffrey Dvorkin whose own work is to be examined by Bode and Schulz. Dvorkin was ONO's president until last week when his term ran out. As the New York Times reports, fellow ombudsmen are crying foul:
Mr. Dvorkin's meeting with Mr. Bode drew criticism itself from at least two other members of the ombudsmen organization, who saw his involvement as a conflict of interest. The corporation not only oversees funding for NPR, but their ombudsmen are in position to review Mr. Dvorkin's adjudications.

One of the critics of Mr. Dvorkin's handling of the matter was Jamie Gold, the readers' representative at The Los Angeles Times, who protested by quitting her post as the organization's treasurer, resigning from its board and declining to attend the conference.

"It was the ONO president's attempt to manipulate the CPB ombudsmen's application process from the beginning that I objected to," Ms. Gold wrote in an email. "ONO values transparency. Jeffrey Dvorkin could have taken steps early on to make the entire process–their membership application, their request to attend the conference–transparent by recusing himself and handing it over to the ONO board. He didn't." . . . .

Mr. Dvorkin said he came to realize that he had a conflict of interest. . . .
On a separate note, Dvorkin said he had blocked the CPB representatives from joining ONO because "We want members who are responsive to readers, not to governments or lobby groups." Only Dvorkin himself is demonstrably not responsive to readers, insulting them rather than listening to their substantive concerns.

Posted by TS at 04:48 AM
May 28, 2005
Family: Boy Bomber "Brainwashed"
The family of a Palestinian boy sent into Israel last week with a pipe bomb, apparently by the Al Aqsa Martyres Brigade, spoke out against his dispatchers, complaining that they "brainwashed" the young boy. (The boy was stopped at a checkpoint by IDF troops and taken into custody.)
"I hope that he will come back home," [the boy's father] added. "He's a child; he can't differentiate between good and bad. And he and others like him were brainwashed. I don't know what they were promising them or telling them - they didn't know what they were going to do and this is what happened with him."

... His wife, Dalal, was far more critical of the dispatchers. "They are criminals," she complained. "They are not human beings. This is a crime - they have no feeling, no religion. They don't fear God. He's just a child. If he was a child from a rich family they would not have sent him there. But because he is poor and he's from the refugee camp they play with his head. I hope that God will avenge this." ...The one who sent him is an adult and he probably has children - why did he not send his own children? His children are dear to him, but other people's children don't matter."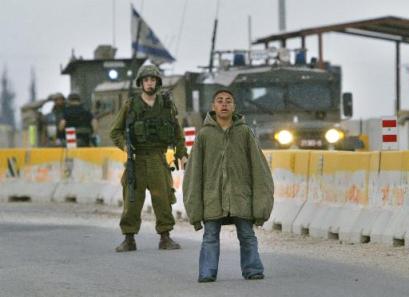 16-year-old Palestinian boy caught last year with explosives belt
Posted by GI at 12:27 PM
May 26, 2005
Sanity Prevails
Academics voted today to overturn their controversial boycott of Israeli universities, sources said.

Delegates were said to have voted overwhelmingly in favour of abandoning the boycott at a special meeting of the Association of University Teachers in London.

The union provoked international outrage after backing the boycott of Bar-Ilan and Haifa universities at its annual conference last month.
Posted by GI at 11:54 AM
May 25, 2005
Unlike Europe, Australia Steadfast Against Terrorism
While much is being said about the European trend of cozying up with terror groups, Australia continues to not tolerate groups which aim to kill civilians.
From Australian Associated Press newsfeed:
The government has relisted four terrorist organisations which it believes remain a threat to Australia.

The organisations are Hamas's Izz al-Din al-Qassam Brigades, Hizbollah External Security Organisation, Lashkar-e-Toiba, and Palestinian Islamic Jihad.

Under Australian laws, a terror listing expires two years after it is originally made.

Attorney-General Philip Ruddock said the government believed the organisations were still a threat to Australia.

"The government continues to be satisfied on reasonable grounds that they are directly or indirectly engaged in preparing, planning, assisting in or fostering the doing of a terrorist act," he said.
"The relisting confirms the government's commitment to ensuring that involvement in these organisations will not be tolerated."
Posted by GI at 05:59 PM
"Voices of International Appeasement"
Amnesty International (AI) released its 2005 report which takes aim at the U.S.-led war on terror.
The "war on terror" appeared more effective in eroding international human rights principles than in countering international "terrorism."
The US-led "war on terror" continued to undermine human rights in the name of security, despite growing international outrage at evidence of US war crimes, including torture, against detainees.
LGF's Charles Johnson refers to the organization as "the voice of the international appeasement left," and points out that:
...as usual, when one of these hard-left groups condemns the United States, it's accompanied by a similar attack on Israel.
AI and another "voice of international appeasement" — Human Rights Watch — have consistently directed their righteous ire at Israel, sparing the real human rights abusers.
Posted by RH at 01:01 PM
May 24, 2005
Israel and the Media
Gideon Meir, deputy director-general for media and public affairs at Israel's Ministry of Foreign Affairs, wrote the following in today's Jerusalem Post:
The justice of Israel's case is not rooted in simplistic slogans but in more complex arguments based on history, logic and security interests - but the public abroad is not so ready to invest its time and energy in trying to understand this ...

...it is not Israel's spokespeople who determine the priorities, agenda, and views of the media, but the media itself. It can be clearly shown how in many ways, over the years, the media has increasingly become a third party to the conflict - not just an objective observer and reporter, but an active interpreter and participant with its own biases, stakes and way of doing things.
We agree. The Ministry understands, as does CAMERA, that the media plays an incalculable role in conveying — or suppressing — such "complex arguements." If the public is "not so ready to invest its time and energy in trying to understand," it means they rely on what they're told by newspapers, internet, tv and radio. For that reason, it's vital that the media get it right. That's what CAMERA is about.
Posted by GI at 05:30 PM
BBC -- Striving for Journalistic Integrity?
Mediacrity , discussing coverage of BBC's labor problems, points out the news agency's propensity for "self-serving platitudes."
Brendan Barber, TUC general secretary, said of the [job] action: "It matters because broadcasting excellence, programme quality and journalistic integrity - all of the values the BBC strives for - are at risk if these cuts go ahead as proposed."
BBC has long claimed to "set the standard for accurate and impartial journalism."
One does not have to be a media buff to realize this claim is far from the truth.
Posted by RH at 01:41 PM
May 23, 2005
Who Wants a Two State Solution?
According to Reuters, every single Palestinian in the territories seeks a two-state solution:
Israeli Jews question the loyalties of Arab citizens who are related to or empathise with the 3.6 million Palestinians seeking statehood in the West Bank and Gaza, lands Israel occupied in the 1967 Middle East War.
Not true, according to a recent poll of Palestinians. The JMCC found in May 2005 that the Palestinian population is almost evenly split between those who seek a two-state solution and those who insist on the dissolution of Israel. Only 54 percent of the population — closer to 1.9 million Palestinians — prefer a two-state solution:
Posted by GI at 10:45 PM
AP Editorializes: Israeli Pledge "Shallow"
Journalists' opinions do not belong in news stories. It is a basic ethical principal in journalism that opinions should be set apart as editorials, columns, or news analysis pieces.
Yet, AP writer Jim Krane and his editors found it appropriate to publish Krane's opinion as news:
Dahlan and Olmert embraced as a public seal of their vows - Dahlan's pledge to halt attacks on Israel after it turns the Gaza Strip over to Palestinian control, Olmert's promise for ``substantial, tangible changes'' in Israel's economic blockade of Palestinians in the Gaza Strip.

But the public displays of goodwill changed to finger-pointing at a later session. Asked privately whether he thought Dahlan's pledge was genuine, Olmert shrugged and said the Palestinian official had made two similar promises that proved ineffective.

And Olmert's pledge to allow Palestinians to revitalize their economy appeared shallow when he was pressed for specifics during an interview with The Associated Press.
Krane and his editors would do well to heed to the APME Statement of Ethical Principles — the AP's code of ethics — which clearly notes: "Editorials and expressions of personal opinion by reporters and editors should be clearly labeled."
That is, save your opinions for opinion pieces.
Posted by GI at 11:55 AM
Dense on Gaza Population
Labor MK Amram Mitzna has an Op-Ed in Ha'aretz today in which he errs:
A million-and-a-quarter Palestinians living in the most densely populated area in the world, and in terrible poverty across the way from the red rooftops of Gush Katif, are victims.
Gaza is not the "most densely populated area in the world." According to the Statistical Abstract of the United States: 2004-2005, the population per sq. mile for 2003 in the Gaza Strip is 8,666. Gaza is less densely populated than numerous places around the world, including Monaco (41,608), Singapore (17,751), Gibraltar (11,990), Hong Kong (17,833), and especially Macau, which is nearly ten times more densely populated than the Gaza Strip (71,466).
CAMERA staff have already urged Ha'aretz editors to correct the error, but given the newspaper's less than stellar record on correcting factual errors (see, for example, here and here), Snapshot readers are encouraged to send feedback to Ha'aretz at editor@haaretz.co.il


Amram Mitzna errs
Posted by TS at 03:53 AM
May 20, 2005
CSM, LA Times Correct Error
The Christian Science Monitor and the Los Angeles Times have corrected their error
Posted by GI at 12:35 PM
Free Pass from Britain
TS commented yesterday on the free pass given to Palestinian terror, often coupled with criticism leveled at Israel's response to the same terror.
The Independent, a British daily, provides another example of this phenomenon. (hat tip M. Segal)
"Israeli missile attack endangers truce," announced a headline assigned to a story about Wednesday's violence.
Again, the first paragraph of the story shows how inappropriate (i.e. biased against Israel) the headline is:
A four-month-old Middle East truce came under renewed strain yesterday as an Israel missile attack killed a Palestinian militant after a barrage of mortar attacks on Jewish settlements in Gaza.
Yet it's the missile strike, and not the mortars, which is described as endangering the truce.
Footage of the missile strike, released by the IDF, makes the absurdity of this headline even more clear. Click here to see it. (The footage shows Hamas terrorists firing round after round of mortars towards Israeli villages. An Israeli missile eventually stops them before they succeed at killing any civilians.)
Palestinians carrying mortar rounds
Posted by GI at 09:13 AM
Reader Comment on Sermon
Reader Diana M. comments on belated coverage of the anti-Semitic sermon:
NPR / Morning edition also carried a story about the PA crackdown on the broadcasting authority after the sermon ran on May 19. The problem is that listeners take away an impression of PA moderation, not of continuing inctement and hate-mongering.
Posted by GI at 09:01 AM
May 19, 2005
Free Pass for Palestinian Violence
When Palestinians attack Israelis and Israelis retaliate, it's not uncommon to see journalists unfairly postulate that the Israeli retaliation threatens whatever truce is on at the moment. In this formulation, while the original Palestinian violent incident is apparently not a threat to the truce, the Israeli response is.
A particularly stark example of this phenomenon came today by way a headline in the Centre Daily Times of State College, Pennsylvania. The headline reads: "Israeli airstrike threatens to start wave of violence."
One has to read the first paragraph of the Associated Press story to see just how biased this headline is. It states:
A sharp flare-up of violence Wednesday, including two Palestinian militants killed, an Israeli airstrike against Hamas and the shelling of Jewish settlements, threatens to collapse a truce and derail efforts to restart Mideast peace talks.
In other words, according to this headline writer, the Israeli airstrike and the death of the Palestinians threaten to start a wave of violence, while the Palestinian mortar shellings do not.
(Incidentally, this Ibrahim Barzak story contains an error which has already been corrected in an updated wire story, thanks to CAMERA's prompting. Barzak wrongly blames "Israeli soldiers killing a 22-year-old Hamas militant on the Gaza-Egypt border." But, as the updated story noted, the circumstances of the Hamas man's death are disputed. Why doesn't the Centre Daily update its site to reflect the correction?)
While we're on AP, Jerusalem bureau chief Steven Gutkin did not fair much better on the Palestinian free pass test. In an article today, he wrote:
The fragility of a four-month cease-fire was brought home Wednesday when an Israeli aircraft fired at Hamas militants who launched more than a dozen mortar shells at a Jewish settlement in Gaza.
So, while the dozen Hamas-launched mortar shells apparently did not bring home the fragility of the cease-fire, the (self-defensive) Israeli airstrike did.
Posted by TS at 04:11 PM
Thomas Friedman - Clarity and Confusion
Yesterday's column by Thomas Friedman in the New York Times raised some noteworthy points about the retracted Newsweek report and subsequent riots.
The Muslim world's silence about the real desecration of Iraqis, coupled with its outrage over the alleged desecration of a Koran, highlights what we are up against in trying to stabilize Iraq
However, when it comes to Friedman's comments on the situation in Israel, the columnist — again — is well off target.
He states:
If the Arab world, its media and its spiritual leaders, came out and forcefully and repeatedly condemned those who mount these suicide attacks, and if credible Sunnis were given their fair share in the Iraqi government, I am certain a lot of this suicide bombing would stop, as happened with the Palestinians.
If only Friedman's delusion were a reality. Far from it.
A May 2005 JMCC poll shows that 49.7 percent of Palestinians still support suicide bombings (vs. 48 percent who oppose them). This plurality of Palestinians in favor of suicide bombings underscores the fact that there is no "forceful" and "repeated" condemnation of such attacks in the Palestinian media and by spiritual leaders.
Suicide bombings tapered off long before democratic reforms started taking hold in the PA. On July 1, 2004, while Arafat was still overseeing anti-Israel violence as despot of the PA, the Israeli government noted that terror attacks had decreased by 90 percent in areas where Israel's security fence had been erected.
That is, Palestinian suicide bombings have slowed not because of Palestinian condemnation, but because of Israeli measures to protect its citizens, including the security barrier, targeted killings of terrorist leaders, etc.
Posted by GI at 03:54 PM
Israeli and Palestinian Universities Against Boycott
A joint statement by the presidents of Hebrew University and Al-Quds University in response to the AUT boycott was signed today in London. Read it here.
Posted by GI at 12:36 PM
Front Page News?

There appear to be serious news judgment problems at the Bergen County Record. The paper prominently featured an Associated Press non-story by Mark Lavie on its front page. The story reported on the interrogation of a few Jewish extremists who briefly discussed attacking the Al Aqsa mosque before abandoning the plan.
But not only did the Bergen Record inflate the importance of a non-event, it also omitted key information from the original story.
The Record reported that:
Three Jewish extremists considered firing a missile into Islam's third-holiest shrine in hopes of unleashing mayhem across the Middle East and halting Israel's planned withdrawal from the Gaza Strip and part of the West Bank this summer, police said Monday.

Officials admitted that hard evidence in the case was weak...

The plot apparently did not progress past the stage of discussion.

But the paper deleted this sentence from from Lavie's original story:
Israel's Justice Ministry said the suspects would not be indicted because there was no evidence they carried out any part of the plot, and they had second thoughts about it even before they were detained.
The Record exaggerated potential actions by Israelis while ignoring real incitement by the Palestinians.
Posted by CameraBlog at 10:56 AM
AP Finally Covers (Palestinian Response to) Anti-Semitic Sermon
Almost a full week after Sheik Ibrahim Mudeiris' virulently anti-Semitic sermon was broadcast on official PA television, the Associated Press finally joined Reuters in belatedly covering the incident.
Apparently, a broadcast to the Palestinian people calling Israel a "cancer," the Jews a "virus resembling AIDS," and encouraging Muslims to "finish off every Jew" is not newsworthy in and of itself.
It seems that only when a Palestinian minister speaks out against the incident — only when the AP can run a story showing the PA "taking its strongest stand yet against anti-Semitic incitement" — does the wire service take notice.
That the American people are finally being told about the incident is a good thing. The fact that the AP and Reuters didn't cover the story until it was possible to describe the "conciliatory move" of the supposed PA crackdown, however, raises some troubling questions.
Ibrahim Mudeiris during his May 13, 2005 sermon
Posted by GI at 10:43 AM
Bogus CAIR Report Exposed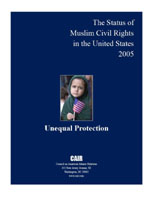 Media outlets are citing without question the findings of a report by the Council on American-Islamic Relations (CAIR). The report, Unequal Protection: The Status of Muslim Civil Rights in the United States 2005, alleges that hate crimes against Muslims have increased dramatically in recent years.
It made headlines in the New York Times, the Washington Post, and the Los Angeles Times. But, as Daniel Pipes and Sandra Chadha revealed in a FrontPageMagazine.com article, many of the alleged incidents are not all as CAIR represents them. They write, for example:

1. CAIR cites the July 9, 2004 case of apparent at a Muslim-owned grocery store in Everett, Washington. But investigators quickly determined that Mirza Akram, the store's operator, staged the arson to avoid meeting his scheduled payments and to collect on an insurance policy. . . .

2. CAIR also states that "a Muslim-owned market was burned down in Texas" on August 6, 2004. But already a month later, the owner was arrested for having set fire to his own business. . . .

3. CAIR lists the March 2005 lawsuit filed by the Salmi family for the firebombing of their family van as one example of a hate crime reports it received in 2004. However, the crime named in the lawsuit occurred in March 2003, was already reported by CAIR in 2003, and should not have been tabulated again in the 2004 report.

4. CAIR reports that "a home-made bomb exploded outside of the Champions Mosque in the Houston suburb of Spring, Texas," staking its claim on eyewitness reports that on July 4, 2004, "two white males" were seen placing the bomb. We inquired about the incidents and found that Spring's sheriff department could not locate any police files about an explosion. Further inquiries to the mosque and an e-mail to CAIR both went unanswered. There is scant evidence that any crime even occured.
Pipes and Chadha wonder:
[W]hy do journalists report the results of CAIR's surveyes--as though it came from a source without a viewpoint bias, as though past studies had been reliable, as though its polls are scientific, as though it has not been party to threats against an American Muslim dissident. . . and as though it is not named as a defendant in 9/11 terror lawsuit.
Why, indeed?
Posted by TS at 04:32 AM
May 18, 2005
Palestinian Incitement Ignored by Media Except...
On May 13, 2005, Palestinian Authority television broadcast a hate-filled, inflammatory sermon by Sheik Ibrahim Mudeiris, a paid employee of the PA, in which he labelled Israel a "cancer," the Jewish people a "virus resembling AIDS," and called upon Muslims to "finish off every Jew."
With the exception of the National Post and Fox News which carried excerpts, none of the mainstream media saw fit to mention this Palestinian incitement.
All of a sudden—five days later—Reuters finally mentions the sermon. Why? Because Palestinian Minister of Information Nabil Shaath is in damage control mode and Reuters is helping.
Palestinian Minister of Information Nabil Shaath told Reuters he had asked the Muslim Waqf and Religious Affairs Ministry, who employ the cleric, "to suspend him, investigate him and prevent him from delivering further sermons on Fridays."

It was one of the strongest signs of action from President Mahmoud Abbas's Palestinian Authority against incitement, following criticism from Israel that it is not doing enough on that front to ensure confidence and allow peacemaking.
Reuters did not touch the story until it could be spun as some positive development for the PA. And the article makes sure to end on a note of false moral equivalency.
Abbas has also accused Israel of unspecified incitement.
Similarly, the New York Times has failed to report on Palestinian incitement unless it could be spun as a fringe problem on the wane. And then, like Reuters, it imposes a false symmetry between Palestinian incitement and supposed Israeli incitement.
Most of the media is still mum about the sheik's sermon (including the New York Times.) For more on the media's failure to report on Palestinian incitement, click here.
Posted by RH at 01:52 PM
May 17, 2005
Updated: Christian Science Monitor Falls Prey to Miller's Mistake
5/20 update: The Christian Science Monitor has corrected the error
An earlier entry dealt with an erroneous claim in an L.A. Times op-ed by Aaron David Miller. Miller wrongly stated that Israeli Arabs are "without access to military or national service."
Funeral for Israeli Druze soldier Samer Hussein in Hurfesh, Israel. Hussein was killed at the Erez crossing in the Gaza Strip. (Yaron Kaninsky/AP Photo)
As first noted in Mediacrity, the Christian Science Monitor published the same op-ed on May 17, and with it, the error.
The Monitor should know better. The paper itself ran a feature covering mourning in the Israeli Arab town for their own Sgt.-Maj. Grifat, killed while serving in Gaza. The Nov. 19, 2002 piece by Nicole Gaouette explores the status of Israeli Arabs and discusses in detail their service in the military:
As Arab citizens of Israel, the villagers aren't required to serve in the army. They go by choice....

Almost every family in the village has a member in the local military
cemetery....

A soldier from the village [Omar Souad] was kidnapped by the Shiite Muslim group in October 2000 and is still missing...."
Posted by GI at 05:38 PM
Note to Media: It's Not Just an Israeli Demand.
As was the case with the Oslo accords, some in the media just can't seem to get it right when it comes to the road map peace plan.
Again, an Associated Press dispatch notes Israel's obligations under the road map, while redefining the Palestinian obligations as Israeli demands.
Palestinian officials have criticized the "disengagement" plan, saying Israel has refused to coordinate the pullout with them and demanding that it be incorporated into the internationally backed "road map" peace plan, which envisions the creation of a Palestinian state by the end of the year. ...

Israel has demanded the Palestinians crack down on militants, but Palestinian officials have favored using persuasion to maintain the truce.
The road map envisions the creation of a Palestinian state in 2005, yes. But this target date is contingent on certain actions being taken first. As the plan states:
The plan establishes a realistic timeline for implementation. However, as a performance-based plan, progress will require and depend upon the good faith efforts of the parties, and their compliance with each of the obligations outlined below. ... Non-compliance with obligations will impede progress.
Which means we have to get through Phase I first. Phase I of the plan states:
Rebuilt and refocused Palestinian Authority security apparatus begins sustained, targeted, and effective operations aimed at confronting all those engaged in terror and dismantlement of terrorist capabilities and infrastructure. This includes commencing confiscation of illegal weapons ....
It's not just an Israeli demand.
Posted by GI at 04:34 PM
More on Boycott of Academics: AUT Threatened with Lawsuit
Haifa University has threatened to sue AUT for defamation because of its boycott resolution.
...Our client has been defamed by a resolution passed at your annual Council Meeting. This resolution now appears on your website. The defamation is therefore a continuing one...

...The resolution received the most perfunctory debate, it was held at a time that made it impossible for most Jews to attend, requests for the rescheduling of the debate were refused, and no delegates were allowed to speak against the resolution...

...The AUT has, both by the assistance it gave to the resolution's sponsors and by its publication of the resolution on its website, defamed the University of Haifa. Our client is entitled to seek damages, a retraction, and an undertaking against further publication of the defamations. It reserves its position in this regard...
The letter exposes the bogus nature of AUT's accusations against Haifa University and sets out the facts.
Read the whole thing.
Posted by RH at 04:09 PM
Satire Passes for News at AP
Had I been trying to write a satire of journalistic double-speak, I could not have done any better. In an article yesterday about Israel's decision to begin building the security barrier around Maaleh Adumim, Ramit Plushnick-Masti of the Associated Press contradicted herself:
A separate bypass road will be built to allow Palestinians free access between West Bank cities, and a small entrance to Jerusalem will be left open for Palestinians traveling from Jericho, the officials said.

However, West Bank Palestinians will be cut off from the more than 200,000 Palestinians who live in east Jerusalem.
Got that? A road will lead from the Palestinian town of Jericho (in the West Bank) to Jerusalem, yet West Bank Palestinians will be cut off from Jerusalem.
Posted by TS at 05:21 AM
May 16, 2005
Onslaught of Palestinian Incitement - Pt. I
PA preacher, Sheik Ibrahim Mudeiris
From MEMRI and Palestinian Media Watch (via IMRA).
The weekly sermon (May 13, 2005) on Palestinian Authority television speaks for itself. Here are some excerpts:
Allah has tormented us with 'the people most hostile to the believers' – the Jews.

...Israel is a cancer spreading through the body of the Islamic nation, and because the Jews are a virus resembling AIDS, from which the entire world suffers.

You will find that the Jews were behind all the civil strife in this world. The Jews are behind the suffering of the nations.

Ask Britain what it did to the Jews in the early sixth century. What did they do to the Jews? They expelled them, tortured them, and prevented them from entering Britain for more than 300 years. All this was because of what the Jews did in Britain. Ask France .... Ask Portugal .... Ask Czarist Russia, which welcomed the Jews, who plotted to kill the Czar - so he massacred them.

But don't ask Germany what it did to the Jews. It was the Jews who provoked Nazism to wage war against the entire world, when the Jews, using the Zionist movement, got other countries to wage an economic war on Germany and to boycott German merchandise. ...

But they are committing worse deeds than those done to them in the Nazi war. Yes, perhaps some of them were killed and some burned, but they are inflating this in order to win over the of the media and gain the world's sympathy. ...

We have ruled the world before, and by Allah, the day will come when we will rule the entire world again. The day will come when we will rule America. The day will come when we will rule Britain and the entire world – except for the Jews. The Jews will not enjoy a life of tranquility under our rule, because they are treacherous by nature, as they have been throughout history. ... The stones and trees will want the Muslims to finish off every Jew.
Will the media again overlook this incitement?
Posted by GI at 10:09 PM
Onslaught of Palestinian Incitement - Pt. II
On May 16, after Reuters described an incident where a knife-wielding Palestinian was shot by Israeli troops as he was attacking a soldier.
The Palestinian public were not told about the knife, though, and were told that Israel "blew up" the body of the attacker after shooting him for no reason. The official Palestinian news agency (WAFA) states:
Israeli Occupation Forces (IOF) killed Monday morning a Palestinian citizen near Tulkarem, witnesses said.

They told WAFA that Israeli soldiers, stationed at al-Kafriyyat checkpoint, south of Tulkarem, opened fire at Omar Asrawi 22, and killed him on the spot, and blew his body up by a robot.

"After killing Asrawi, the soldiers prevented Palestinian ambulance to evacuated him. Then they used a robot and blew up his body," eyewitness told WAFA reporter. ...
Voice of Palestine radio did mention the knife, but aggrandized the attacker as a "heroic martyr."
Meanwhile, both Palestinian President Mahmoud Abbas and Prime Minister Ahmed Qurei have reemphasized their calls for the return of Palestinian refugees to Israel — widely understood to mean the destruction of Israel via demographic means.
Will the media again overlook this incitement?
Posted by GI at 10:08 PM
New York Times: CPB to Investigate NPR Bias
According to a New York Times article that ran on the front page of the business section article, CPB has announced its intention to examine National Public Radio's Middle East coverage for evidence of bias.
In one of several points of conflict in recent months, the chairman of the Corporation for Public Broadcasting, which allocates federal funds for public radio and television, is considering a plan to monitor Middle East coverage on NPR news programs for evidence of bias, a corporation spokesman said on Friday...

...Top officials at NPR and member stations are upset as well about the corporation's decision to appoint two ombudsmen to judge the content of programs for balance...
CAMERA has, for years, carefully documented bias in NPR's Middle East coverage The public is already well aware of NPR's notorious partisan reporting.
Posted by RH at 02:44 PM
In a Word, Bias
Sometimes, it requires no more than a word in a news story to achieve a favorable or unfavorable slant.
Consider the Associated Press' choice of words when describing "collaborators" or "whistleblowers." By definition, these two words have unfavorable and favorable connotations, respectively. The American Heritage Dictionary defines collaborator as follows:
2. To cooperate treasonably, as with an enemy occupation force in one's country.
And whistleblower:
One who reveals wrongdoing within an organization to the public or to those in positions of authority ...
It may come as no surprise, considering the AP's history, how the wire service uses these words to editorialize in its coverage of Israel:
A May 15 dispatch states:
The Shin Bet has played a key role in Israel's all-out campaign against Palestinian militants in more than four years of fighting, obtaining information from a network of Palestinian collaborators and by interrogating thousands of Palestinians rounded up in Israeli arrest sweeps.
On the other hand, hundreds of AP dispatches refer to Mordechai Vanunu as a whistleblower, for example:
Israel's interior minister on Tuesday extended a travel ban on nuclear whistleblower Mordechai Vanunu for another year, officials said.
So the AP tells readers that Palestinian informants, individuals who tell the authorities about the activities and locations of terrorists planning to murder civilians, are acting "treasonably";
whereas Vanunu, an individual convicted of treason and espionage for revealing sensitive state secrets and distributing photographs of an Israeli military installation, in violation of a country's laws and an official contract he signed as condition of employement, is deemed by the AP to be a virtuous "One who reveals wrongdoing."
Should it not be the other way around?
Furthermore, by using the word "whistleblower," the AP also editorializes that Israel's nuclear program is "wrongdoing" despite the fact that it is a legal program, like that of the United States.
Convicted nuclear spy Mordechai Vanunu
The AP's use of the word "moderate" — according to American Heritage, "Being within reasonable limits" — to describe the Labor Party is another example of improper editorializing.
Posted by GI at 01:21 PM
The Deadly Mistaken Periscope
As if American media critics needed any more fodder to press their case about substandard journalism practices, it came by way of an explosive report in Newsweek's Periscope section which touched off violence around the Muslim world in which more than a dozen died.
The Los Angeles Times reports today:
Newsweek magazine acknowledged Sunday that there were errors in a story reporting that U.S. interrogators had desecrated the Koran while attempting to extract intelligence from Muslim prisoners at the Guantanamo Bay detention facility. The report led to a series of violent anti-American protests and at least 14 deaths in Afghanistan.

In its issue set to hit U.S. newsstands today, Newsweek said its source for the story backed away from an assertion that investigators had concluded that military personnel had flushed a Koran down a toilet. The finding was supposedly included in an upcoming report. . . .

The admission is likely to focus further scrutiny on the American press, already suffering from revelations that reporters from major publications fabricated material, lifted quotations or used questionable material from unidentified sources.
A comment from Ibrahim Hooper of the Council of American-Islamic Relations underscores the particular danger of sloppy reporting when it comes to the Muslim community. "Unfortunately relations are so bad at this point that the perception will linger, no matter what the truth of the matter," he was quoted in the Times. "Many people won't believe it. They'll believe the magazine was pressured into doing a retraction."
Indeed, in the conspiracy theory-prone Muslim world, revelations debunking reported abuse of Muslims by non-believers don't generally get a fair shake. The Mohammed al-Dura case, in which evidence has emerged disproving France 2 Television's report that Israel killed the boy, is a case in point.


Newsweek editor Mark Whitaker apologizes in today's issue: "We regret that we got any part of our story wrong, and extend our sympathies to victims of the violence and to the U.S. soldiers caught in its midst."


Posted by TS at 04:08 AM
May 15, 2005
LA Times: Israeli Arabs Don't--No, Do--No, Don't Serve
Israeli Arabs can serve in the army, the Los Angeles Times noted in a Feb. 1, 2004 correction on an Op-Ed by George Bisharat, a professor at the University of California's Hastings College of Law. The correction accurately stated:
Israeli Arabs — A Jan. 25 Opinion article by George Bisharat, "Right of Return" stated that Israeli citizens who are Palestinians cannot serve in the Israeli armed forces. In fact, although they cannot be drafted and most choose not to serve, Israeli Palestinians can enlist in the service.
The Times Op-Ed editors must be suffering from short-term memory loss, though, because Aaron David Miller wrote this in the paper last Wednesday:
Without access to military or national service and constantly under suspicion as a potential fifth column, the status of Israeli Arabs is indeed nation-dividing. (Emphasis added.)
CAMERA awaits word as to whether the paper will set the record straight. Again.

A few of the many Israeli Arabs killed serving in the line of duty for Israel. From left: Yusef Madhat, Madin Grifat and Omar Souad
Posted by TS at 06:16 AM
JCPA Posts Andrea Levin Interview
CAMERA Executive Director Andrea Levin discusses the organization's goals, tools, strategies and successes in an in-depth interview conducted by Manfred Gerstenfeld of the Jerusalem Center for Public Affairs. Levin observes:
Often media coverage of the Middle East is distorted and even more importantly, there are no enforceable codes of professional conduct that apply to members of the media. One can thus elicit change only through private appeals to accuracy, balance, and fair play or through public exposés of journalistic malfeasance
Posted by TS at 04:02 AM
May 14, 2005
Times. BBC. Halper. Hezbollah.
Some new articles on the CAMERA Web site include:
Posted by GI at 12:49 PM
May 13, 2005
Israeli-American Two-way Relationship
Yoram Ettinger debunks the presumption that Israel is the only country to benefit from the Israeli-American relationship. Ettinger lists just a few ways Israel has promoted American interests.
Statements made by and the conduct of Israel's leaders since 1993 create the false impression that Israeli-American ties constitute a one-way relationship...

However, Former Secretary of State and NATO forces commander Alexander Haig refuted this claim, saying he is pro-Israeli because Israel is the largest American aircraft carrier in the world that cannot be sunk, does not carry even one American soldier, and is located in a critical region for American national security...

Senator Daniel Inouye recently argued Israeli information regarding Soviet arms saved the U.S. billions of dollars. The contribution made by Israeli intelligence to America is greater than that provided by all NATO countries combined...

Israel's utilization of American arms guarantees our existence, but at the same time gives U.S. military industries a competitive edge compared to European industries, while also boosting American military production, producing American jobs, and improving America's national security...

In 1967, Israel held back a radical Arab, pro-Soviet offensive, which threatened to bring about the collapse of pro-American Arab regimes and disrupt oil supply, thus severely undermining the American standard of living...

In 2005, Israel provides America with the world's most extensive experience in homeland defense and warfare against suicide bombers and car bombs. American soldiers train in IDF facilities and Israeli-made drones fly above the "Sunni Triangle" in Iraq, as well as in Afghanistan, providing U.S. Marines with vital intelligence.
Posted by CameraBlog at 04:10 PM
Suicide Bombers are Recruited
More problems for those columnists and pundits who falsely claim suicide bombers murder Jews only because they've been brutally oppressed by Israel and driven to desparation.
The AP reported yesterday on the third meeting of would-be suicide bombers organized "by the Headquarters for Commemorating Martyrs of the Global Islamic Movement, a shadowy group that has sought volunteers for attacks in Iraq and Israel since last year."
The recruits, who aside from killing Jews also apparently seek to kill British author "apostate Salman Rushdie" and American troops in Iraq, chanted Islamic slogans — "Allahu akbar" or "God is great" — along with fundamentalist slogans — "Death to America!"
Since neither Israeli Jews nor Salman Rushdie are among those who brutally oppress Iranians, it looks like we need a new way to explain these potential suicide bombers.

AP photo of Iranian suicide volunteers
Posted by GI at 01:27 PM
May 12, 2005
The Hypocrisy of Joseph Massad
A boycott electronically signed by Columbia University's Joseph Massad includes the following call to action:
This boycott entails a pledge not to support or participate in any conference, cooperative research, grant writing or grant evaluation, or other supportive activities, such as academic exchanges or visits, held at or involving Israeli universities and other state institutions. ... Meanwhile, we encourage dialogue with people (internationally and in Israel) who demonstrate readiness to participate in realizing these objectives.
This is the same Joseph Massad, one assumes, who bellows about "McCarthyism" (mentioned 3 times on his Web page), "Witch-hunts" (mentioned 9 times) and "academic freedom" (mentioned 23 times) to all who would listen.

So on one hand, Massad feels comfortable crying "McCarthyism" and "academic freedom" to protect himself from being held accountable for his intimidations and distortions; and on the other, he finds it appropriate to call for a McCarthyite political litmus test before granting academic freedom to Israeli academics.
Posted by GI at 11:26 PM
Columbia's Hamid Dabashi: How Dare You Call Me Shrill!
Professor Hamid Dabashi of Columbia

The Nation ran an article by Scott Sherman about the Columbia controversy which was largely sympathetic to Columbia's Middle East Studies department. Yet, the professors involved still felt the magazine misrepresented them and was not supportive enough. Professor Hamid Dabashi took issue with Sherman for claiming that he "at a minimum, is guilty of shrill and careless writing." His letter, which appeared in the May 16 edition of the Nation, in fact, provided Sherman with even more fodder:
Failing to understand that, and then accusing me of "shrill" writing at a time when from Boston to Philadelphia, from New York to Jerusalem, and from the United States to Israel, militant mobs like the one organized at Columbia Business School; multimillion-dollar establishments like Hillel at Columbia; complicitous presidents like Bollinger and Shapiro, supported by their boards of trustees and militant millionaire clubs among the Columbia and Barnard alumni; advocates of torture like Alan Dershowitz; racist propagandists like Daniel Pipes; anti-intellectual vigilantes like Martin Kramer; organized cells at Columbia medical, business and law schools; a bagful of tabloids in Manhattan; Jack-the-Ripper journalists like Douglas Feiden and Jacob Gershman; a deceitful propaganda machine like the Goliath Project; a minister and his ministry in Israel; city, state and federal politicians seeking higher office here in the United States are all ganging up and calling for the heads of two Arabs and a Muslim in post-9/11 New York is quite an achievement for The Nation, one that I will not forget or forgive.
In the same letter, Dabashi attempts to justify the following quote about Israelis which appeared in a 2004 article in Al-Ahram:
There is an endemic prevarication to this machinery, a vulgarity of character that is bone-deep and structural to the skeletal vertebrae of its culture. No people can perpetrate what these people and their parents and grandparents have perpetrated on Palestinians and remain immune to the cruelty of their own deeds.
Dabashi offers this convoluted response to explain why his earlier statement cannot be construed as "anti-Semitic":
As I repeatedly explained to Sherman, if characterization X is attributed to varied people caught in conditions A, B and C, then by logical conclusion none of these people are essentially characterized, but their common condition analytically diagnosed. The passage in question is not a "sweeping characterization of an entire people"; it is a reading of a people's body politics when trapped in a systematically militarized state apparatus. Dabashi does not miss the point. Sherman confuses the premise.
The Nation did not bother to publish a single letter in support of the students involved in the controversy. It ran letters by Edward Said's widow and Joseph Massad along with Dabashi's response. But according to the site Columbians for Academic Freedom, an organization founded by students involved in the controversy, they submitted a letter to the magazine which was not published, but can be read on their site. One student, Ariel Beery even claims he challenged Scott Sherman to a public debate on the issue. But, so far, Sherman has not accepted. Based on the magazine's choice of letters, it seems the Nation is interested in only one side of the "debate".
Posted by CameraBlog at 01:17 PM
May 08, 2005
Guardian Editor Lauds Rachel Corrie
A play based on the writings of ISM activist Rachel Corrie and written by an editor at the British Guardian newspaper is currently running at a London theater. The play shows the Middle East conflict through Corrie's eyes, engendering — or reinforcing — hostile British attitudes towards Israel, and spreading the message of a young girl who hadn't grown out of seeing things as black and white, hero vs. villain.
A Jerusalem Post review of the play states:
My Name Is Rachel Corrie, written by Guardian Weekend magazine editor Katharine Viner (who herself is Jewish) and actor/editor Alan Rickman, is based on Corrie's diary and e-mail messages ...

... not a single reference is made to the traumas suffered throughout the four-and-a-half-year terror campaign against the Israeli population.

Robin Stamler, who has recently completed a PhD at Birckbeck College and is a member of the Academic Friends of Israel group, told The Jerusalem Post that the play is being used by leaders of Britain's media who are hostile to Israel as a vehicle to delegitimize the country.

"The play openly serves to promote an anti-Israel narrative that is already entrenched in important parts of British society," said Stamler, adding: "This is a play written by a Guardian editor, heavily promoted by that newspaper, produced by one of the top British actors, and staged at the leading venue for political theater. Pro-Israel Jews won't find a comfortable home in this section of British society, and it is a section with great influence and power."
Surely, the Guardian editor understands the differences between her role as writer of an anti-Israeli play and her role at a respected newspaper?
Maybe not. She herself has asserted:
| | |
| --- | --- |
| | As the process went on, the difference between my usual job, journalism, and theatre, became obvious: stagecraft is what makes theatre what it is, and there was no point creating scenes that read well on the page if the actor playing Rachel, Megan Dodds, could not perform them. |
So the only difference, according to Viner (pictured above), is that the each medium has different limitations. Apparently the goal of a journalist and a playwright is the same — demonizing Israel.
Posted by GI at 11:10 AM
May 06, 2005
Note to LA Times: Save Space for Makdisi on the Corrections Page
On Jan. 16, 2005, the Los Angeles Times was forced to run a correction on an Op-Ed by Saree Makdisi about Israel's security barrier. (Unfortunately, the error itself couldn't get the facts straight). You would think that the Times would be reluctant to invite back a guest contributor who earlier erred, but guess again. Makdisi has actually become a favorite of the Times, having since published two more times.
Has Makdisi, an English prof at UCLA and the nephew of Edward Said, become more careful with the facts? Are Times editors exercising more rigorous fact-checking of their contributor with a sullied record? No and no.
His most recent piece, published Wednesday, has at least one factual error, as noted by Middle East scholar Martin Kramer in his blog Sandbox. Kramer writes the Times:
Saree Makdisi ("Neocons Lay Siege to the Ivory Towers," May 4) purports to establish a linkage between the state-level "Academic Bill of Rights" (SB5 in California), and the federal-level International Studies in Higher Education Act (HR3077 in the last Congress). After falsely associating the two (and calling me a "pro-Israel agitator"), he claims that I am "among the active proponents of the 'bill of rights' legislation at the state level."

This is false. I have never expressed any opinion on the "bill of rights" legislation, and I am not a proponent, active or otherwise, of such legislation. . . .
Posted by TS at 01:25 PM
May 05, 2005
Words Matter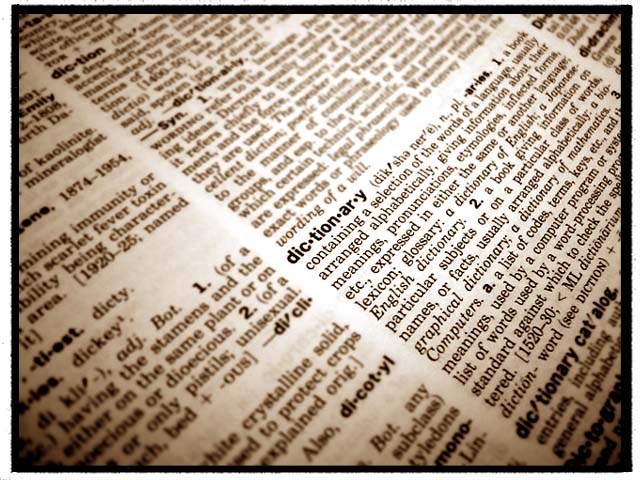 Michael Freund has an op-ed in the Jerusalem Post emphasizing the importance of using accurate terminology to describe the Arab-Israeli conflict.
It is the "War of the Words," or of terminology. It is a battle to define and describe Israel's conflict with its neighbors, and it is time that we started thinking ahead and fighting back.

Glance at any major Western newspaper and it quickly becomes clear who is winning the linguistic tussle in the Middle East. The territories are "occupied," Jews living there are "settlers," their supporters are "extremists," while those trying to kill them are mere "activists" or "militants."

On the whole, the language is clearly loaded, helping to shape public opinion against the Jewish state. And thanks to repeated use over the years, these terms have come to be accepted in nearly all public discourse regarding the Middle East.

Needless to say, this is far more than just a struggle over semantics. It is about influencing international opinion and shaping policy. Words, after all, are an instrument of persuasion. As George Orwell noted in his 1946 essay "Politics and the English Language":"If thought corrupts language, language can also corrupt thought."
Also, read CAMERA's Dictionary of Bias, a guide designed to assist those seeking to avoid partisan language which frequently crops up in Western news reports.

Posted by CameraBlog at 11:37 AM
May 04, 2005
... And Two Steps Back
Yesterday I mentioned that the Associated Press might be "moving in the right direction" regarding its reporting of Palestinian violations of the road map peace plan.
I spoke too soon.
Mediacrity has pointed out a new AP dispatch which describes the Palestinian Authority's refusal to disarm terrorist groups as a rebuff of "Israeli and U.S. demands."
Rather than describe the PA refusal as a violation of the road map, the reporter instead chose to describe Israel's reaction to this violation in negative terms.
He says that Israel's refusal to hand over more towns until terrorist groups are disarmed comes despite an Israeli pledge, and blames Israel for "add[ing] tension to an already shaky atmosphere."
Read more at Mediacrity.
Palestinian militants patrol the streets of Khan Younis refugee camp, southern Gaza Strip May 4, 2005. (Reuters photo and caption)
Posted by GI at 04:08 PM
Palestinian Leader Criticizes Israel for Demanding Palestinian Terrorists Be Reigned In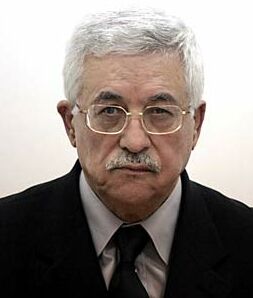 Palestinian Leader Mahmoud Abbas
As we noted yesterday, Palestinian terrorism is on the rise. Not only has Mahmoud Abbas continued Arafat's "revolving door policy" and refused to confront terrorists, but he has now decided to take the offensive. He is criticizing Israel for daring to demand he comply with Road Map obligations to clamp down on terrorists, and is even placing a priori conditions upon Israel.
With an Israeli-Palestinian truce growing shakier by the day, Palestinian leader Mahmoud Abbas criticized Israel for pressuring him to confront militants and accused it of looking to spill Palestinian blood.

In a meeting with business people, academics and public officials on Tuesday, Abbas also promised a referendum on any final peace deal, and said Palestinians "would not accept anything less" than Israel's return to the borders it held before the 1967 Mideast war, the official Palestinian news agency WAFA reported.

Among the Palestinian's unmet obligations under Phase I of the Road Map:
Palestinians declare an unequivocal end to violence and terrorism and undertake visible efforts on the ground to arrest, disrupt, and restrain individuals and groups conducting and planning violent attacks on Israelis anywhere.
Posted by RH at 10:31 AM
No Terrorism in Oprah's Israel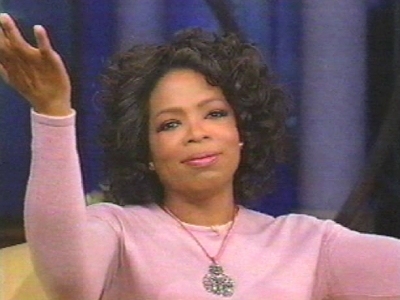 The hugely popular Oprah Winfrey show aired a short segment focusing on a Palestinian woman (Joline) and an Israeli woman (Ronit) who are "working to end the conflict" in the April 25 show "Oprah Takes You Around the World." Neither woman explained how they are helping to end the conflict except by their "unique" friendship.

The show casts Israel as militaristic and the Palestinians as weak and burdened. While nearly every image includes Israelis carrying guns, not a single shot depicts Palestinians carrying weapons except for rocks. Palestinian children are shown confronting Israeli guns and tanks with mere stones. No reference or image of terrorism was included in the segment.
Joline and Ronit
Ronit: Shalom Oprah. My name is Ronit and I'm 27 years old. I'm an Israeli citizen living in Jerusalem. Chances are if you're a woman my age you've already spent two years in the army.

Joline: My name is Joline. I'm 24 years old. I'm Palestinian from Jerusalem. Most of my family cannot visit me here because the Israeli government restricts where Palestinians can travel. But I have the Jerusalem ID card which allows me to enter Tel Aviv and other major cities.

Ronit: Our peoples have been at war for the more than 50 years which is why it is so unique that we're friends.

Joline: We are working together so that people will stop choosing sides and start working for resolutions.

Ronit: Pretty much wherever you go in Israel there are soldiers and security guards carrying guns. It's the norm.
Joline and Ronit represent the organization Just Vision which seems to be comprised of Israelis and Palestinians who are harsh critics of Israel. One Israeli woman Michal Zak describes herself as a non-Zionist. Gila Svirsky who is active in the group is a well-known anti-Israel detractor.
Oprah ends the segment by claiming that resolution will come from "peaceful minds coming together." Apparently, blaming Israel and ignoring Palestinian terrorism makes one of "peaceful mind."
Posted by CameraBlog at 10:24 AM
May 03, 2005
Wall Street Journal Exposes the Bogus Basis of AUT's Boycott
Ilan Pappe
A commentary in the Wall Street Journal (May 2/05) by Haifa University's Fania Oz-Salzberger, a self-described peacenik, exposes the bogus basis of AUT's boycott. AUT voted to boycott Haifa University because it maintains the university sent Professor Ilan Pappe "a letter notifying him that he faced trial and possible dismissal from his position" because of his
...efforts to defend a 55 year old graduate student, Teddy Katz, whose Master's thesis was under attack by an Israeli veteran's organization because it documented a massacre of 200 unarmed civilians by the Haganah (the pre-state army of Israel) at a village called Tantura, near Haifa.
This is "patently false" says Oz-Salzberger.
...Mr. Katz's thesis was based almost solely on transcriptions of oral interviews he conducted with elderly Palestinian former residents of Tantura, who allegedly witnessed a massacre of their kin by Jewish soldiers. When veterans of the Israeli army force that attacked Tantura sued Mr. Katz for libel, a district court ruled that the empirical evidence was grossly manipulated in the course of transliterating the tapes. Mr. Katz had put words in the mouths of his interviewees that were never uttered. He agreed to apologize to the veterans, telling the media that radical activists -- including Dr. Pappe -- had led him astray.

On the basis of this ruling, the University of Haifa decided to reverse the impressive "97" grade already awarded to the thesis, and, in a mood of appeasement, asked Mr. Katz to rectify and resubmit his work. It was then sent out to five external examiners, a majority of whom failed it. It is fair to note that all examiners wished to remain anonymous.

Dr. Pappe, Mr. Katz's unofficial mentor, is an anti-Zionist scholar of great political energies who has been calling for a boycott of Haifa, his own university, for several years. He was, indeed, challenged by a colleague to an internal university disciplinary hearing, not for his connection to the Katz affair but for his enduring efforts to sabotage the institution for which he worked. Dr. Pappe's academic freedom was never on the agenda, and the university authorities did not dismiss him. ..
Ms. Oz-Salzberger points out that:
All this seems to have escaped the fact-finding capabilities of our British colleagues. The AUT disregarded not only the methodological nature of the decision to fail Mr. Katz's thesis, but also the meticulous judicial investigation. (In fact, the AUT ought to have called for an international ban on contact with the Israeli judiciary, for having ruled that Mr. Katz had libeled Israeli veterans.) What is worse, the AUT never sent anyone to check out the facts at Haifa, and, I am told, never asked the university for its response. Minimal standards of due process were not met.
Posted by RH at 12:17 PM
Palestinian Terror Attacks on Rise as Revolving Door Policy Continues
As Israeli leader Ariel Sharon prepares to evacuate Jews from the Gaza Strip and the Palestinian leader is reported to be cracking down on terror, the Israeli media reports an increase in terrorist attacks in April.
A 54 percent increase in terror attacks was noted from March to April, with 205 attacks counted in April, as opposed to 133 in the previous month.
Hamas terrorists launching rockets
The most notable change was in the amount of mortars fired at Israeli targets, an increase from 10 in March to 67 in April.
Meanwhile, no sooner does the international media report that Palestinian leader Mahmoud Abbas is cracking down on Palestinian terrorism...
Palestinian police have arrested two Hamas Islamic militants on their way to fire rockets into Israel after a gunfight in the Gaza Strip, the Palestinian Authority said on Tuesday.
...than the revolving door policy of prisoner release continues:
Palestinian police released a Hamas rocket squad operative Tuesday, despite a pledge to get tough with those who break a non-formal cease-fire with Israel.
Same old, same old...
Posted by RH at 11:01 AM
AP Road Map Update
An earlier entry pointed out a double standard in Associated Press reporting on violations of the road map peace plan. The AP was quick to point out that proposed Israeli building in Maaleh Adumim would be a violation of the peace plan, but didn't even mention the plan when reporting on a Palestinian rocket being fired into Israel — a clear road map violation.
A new AP report about PA reluctance to disarm Hamas shows that while the wire service is moving in the right direction, the double standard remains.
The journalist does (eventually) note that the PA is required to disarm Hamas under the road map:
In the first stage of the three-phase road map peace plan, Palestinians must dismantle militant groups and Israel must freeze construction in Jewish settlements. Neither side has done so. ...

"According to the road map, all terrorists must disarm and all terrorist groups must be dismantled and Hamas is a terrorist group and so they must disarm whether or not they join the political process," said Paul Patin, spokesman for the U.S. Embassy in Tel Aviv.
It's interesting, though, that in this story about a Palestinian violation of the road map, the journalist points out both the Palestinian and the Israeli violation of the peace plan.
This wouldn't be a problem if it was a consistent AP practice. But in AP stories which focus on Israeli building (for example, the AP reports linked to in our earlier entry), both sides' violations are not highlighted — only Israeli ones.
(In fact, one AP report on Palestinian arms smuggling — a road map violation — didn't mention the road map at all, except when discussing Israeli building.)
Posted by GI at 10:08 AM
May 02, 2005
BBC Moderator Bias
BBC apparently displays bias not only in its reporting but in moderating its Messageboard. Melanie Phillips points out BBC's double standard in moderating messages about the Israeli-Palestinian conflict. A curious Messageboard reader tested the moderator. Noticing references to Israel as an "apartheid state" that practices "ethnic cleansing", he posted messages referring to "apartheid-seeking, racist Palestinians". While the derogatory messages about Israel were allowed to stand, the messages referring to the Palestinians were immediately removed.
This seemed to be a clear case of double standards. The moderator allowed the same generalisation about 'Israelis' as he had disallowed about 'Palestinians'. In reply, the moderator said the following;

'The distinction here lies between one post referring to a state (ie.
it's government and their policies) and another referring to a
population. If a user wishes to argue that Israel is a racist state based its government's policies, whether you agree with this opinion or not it is legitimate point for debate. To refer to Israelis as racists is a huge generalisation that cannot be justified and is likely to cause great offence to other messageboard users. As such, posts of this nature will be removed from the messageboards.'
But as Ms. Phillips points out:

...While it is demonstrably true that the Palestinians are not yet a recognised state, it is demonstrably untrue that they do not have a state apparatus.
And this "state aparatus" is instrumental in promoting violence through PA-controlled media, religious exhortations by imams, schools, summer camps, etc.
In any event, the BBC moderator appears to have disregarded his own rules. The following post was subsequently allowed:

'It is easy to play the victim, while the zionists are the victimizers. Israel has to leave the Palestinian territories right now, as Syria did in Lebanon. What goes around comes around!'

While the following post was removed:

'It's easy to be concerned when Islamists are the Terrorisers'.
Posted by RH at 05:12 PM
Updated: AUT Boycott Leader's "Link" to Anti-Semitism


Update: Blackwell has since removed the offending link from her Web site.








Sue Blackwell, one of the main proponents of the AUT boycott of Israeli universities, claims that she does not link from her Web site to any sites that promote racism. Jerusalem Post correspondent Yaakov Lappin exposes this as false, pointing out Blackwell's links to the MarWen Media Web site, which he says is run by "an anti-Semitic neo-Nazi activist," Wendy Campbell.

A look at Campbell's Web site makes clear that these charges are not spurious:




(This is only a partial list of disturbing statements by Campbell on her Web site)
Zionists also push and often succeed for Jewish supremacy in many areas of American politics, media and culture to serve their narrow interests, often at the expense of non-Jewish Americans. American Zionist Jews tend to place their first loyalty to Israel, over and above any loyalty to America. ...

By the way, Hanukkah is a minor holiday in the Jewish religion, yet it has been elevated by Zionist Jews in order to compete and even at times to dominate over the most holy day for Christians, the holiday of Christmas, a time that is now simply referred to as "The Holidays".

Zionist Jews relentlessly seek to promote programs to educate Americans about their version of the Holocaust, which by the way, claimed many non-Jewish victims including the ones who gave their lives to end the war although this is not emphasized by Zionists. As they seek to bring Jewish culture to mainstream America, Zionists often display insensitivity if not hostility towards others' religions, including Christianity, as well as others' nationalities, in particular for example, Germans, Austrians and all Arabs.

Jewish Dominance On Street Signs
Another example of Zionist hegemony over mainstream America in Miami could be seen in the street signs. Many streets such as 12th Street, 15th Street. 16th Street or 20th Street had Jewish names over them, such as Abe Resnick, Bernard Horowitz and Irving Meyer. Abe Resnick is on the board of the Holocaust Memorial in Miami, by the way. We saw no other names over South Beach Miami street signs besides Jewish names—no Hispanic names, not even English names.

... The compelling question is this: if it is true as the Zionists' claim that there were six million Jews killed during the Holocaust under Hitler during WWII, then why has there been no complete central compilation of the victims' names? Surely, with all the research and Holocaust "scholarship", along with the claims and litigation that came in for compensation and reparations from Germany, Switzerland and other European countries, along with the aid of modern computers, there must be a central database with all of the names of the victims. But apparently, to the best of our knowledge, there is not. Why not? Could it be that Zionists know that such a compilation would possibly come up far shorter than six million Jewish victims? Could it be that this would lead to an open discussion of all the claims that Zionists make about the Holocaust? Could it be that this would lead to the lifting of the taboo against questioning Zionist claims about the Holocaust? Although we all know the Holocaust was a heinous occurrence in history, the Zionists insist that it is the worst occurrence in all history of mankind in their own chauvinistic, ethnocentric fashion, when in actuality, any genocidal, ethnic cleansing of any people is equally abhorrent, and that applies to what the Zionists are now supporting in Israel against the non-Jewish Palestinians who are the indigenous people of the Holy Land.

[Note: I have discovered that there is one database with the names of victims of the Holocaust at the largest Holocaust museum in the world. It's the one in Israel, and it apparently has 3 million names, not 6 million names.]
At one point in this article, Campbell criticises a Miami museum placard, accompanying a Nazi poster on display, for not bashing Jews like the poster does:
The Role of Jews in the Bolshevik Revolution Airbrushed Away

...We found one poster that was printed in 1942 in the Nazi-occupied Netherlands to be especially interesting. The text read "BOLSJEWISME IS MOORD!" which translates, according to the placard beside it, as "BOLSHEVISM IS MURDER!". However, there was no reference to the fact that the letters "J-E-W" were inserted into the word or why it was. It's something that most people would most likely not notice. Most people don't have a clue about the fact that Jews were prominent leaders in the Bolshevik revolution in Russia. Was this omission an oversight or further evidence of the unwritten rule against offending certain powerful sensibilities?

The placard explained how the poster graphically featured the horrors of a young girl raped, a man tortured and murdered, and Christianity under attack, as shown in the shattered crucifix on the ground, committed at the hands of the Bolsheviks. This was designed by the Nazi Germans to play on the Europeans' anxiety of the savageness of Red Army of the Communist Soviet Union. What is interesting is that, just like in the overall American and European discourse, the role of Jews, many of whom were leaders in the brutal Bolshevik Communist Soviet Union, has been airbrushed out of history, just like it was deleted out of the placard at the museum, even while staring you in the face from the poster. In fact, a couple of top German politicians were recently publicly admonished for making a public reference to the significant role that Jews played during the Bolshevik Revolution and Communist Soviet Union.

WE BELIEVE that there should be "affirmative action" in the media world, specifically with regards to having more reporters and owners of media outlets who are more representative of the widely diverse backgrounds of the majority of Americans. As it is, the representation of those who are Jewish Americans / Israeli-Americans reporting in US media, especially with regards to US foreign policy, is hugely disproportionate to their percentage of the US population. We don't believe that is an accident, and we also believe that perhaps it is time to pass laws that require US media be more representational of its diverse population.
About the rise in terrorist attacks across the world, Campbell asserts that some
may in fact be Israeli "false flag" operations designed to increase anti-Muslim sentiment
She laments that
Jewish donors and activists (not to mention party bosses and a disproportionate number of candidates) basically comprise the new Democratic establishment. On the Republican side we've seen the emergence of Christian Zionists who, while lacking the political savvy and strategic thinking of their Jewish counterparts, compensate for this deficit by sheer numbers.
...and then procedes to give a partial list of the Jewish members of congress.
She adds:
Speaking of 'fear', consider these contemporary American customs: while it's acceptable to discuss the "Jewish vote" in mainstream media, real Jewish influence comes not from their miniscule numbers (Jews allegedly comprise no more than 3% of the U.S. electorate) but from Jewish wealth, solidarity, determination and position. This extraordinary phenomenon (unless it's being debunked) is altogether off limits for analysis. Expect CBS (or NBC-ABC-CNN-FOX) to run another "white supremacists meet in Idaho" segment, or air a story about the Vatican's 'failure to speak out" during The Holocaust, long before this disturbing political fact is ever even acknowledged.

Among our governing elites, this Judeo-centric worldview is so prevalent that the failure to pledge unconditional allegiance to Israel virtually assures political oblivion. ...

Why should it be of no interest that so many American editors, publishers, producers and opinion-makers (Thomas Friedman, Mort Zuckerman, Charles Krauthammer Marty Peretz, David Frum, and Bill Safire, to name a just a few) qualify for Israeli citizenship?
("Qualify for Israeli citizenship" is Campbell's way of saying that they are Jewish)
Posted by GI at 07:06 AM
May 01, 2005
Soraya Nelson's Blinders
An article on CAMERA's Web site points out major flaws in a story by Philly Inquirer's Soraya Sarhaddi Nelson.

Compare some of Nelson's problematic comments to more accurate and balanced reporting in a recent story by AP's Steve Weizman...
Nelson:
Abbas has an assertive side. His hard-won cease-fire, which key Palestinian extremist factions agreed to on paper for the first time, is holding, even though Israeli soldiers have killed a number of Palestinians ...
Weizman:
Palestinian militants have been firing mortar and rocket barrages at Gaza settlements in recent weeks in an effort to make it appear that they are pushing Israel out of the volatile coastal strip. Israel plans to pull out of Gaza this summer.
Nelson:
On April 19, Abbas told Israeli media during a rare meeting that his government had collected weapons from all wanted men in Jericho and Tulkarm and would do so in every other city Israel returns to Palestinian control, state-run Israel Radio reported.
(Nowhere in the story does Nelson give Israel's perspective on the supposed collection of weapons.)
Weizman:
Israel pledged to turn over five West Bank towns to Palestinian security control as part of a Feb. 8 cease-fire agreement, but only Tulkarem and Jericho have actually been transferred. Israeli Defense Minister Shaul Mofaz said last week he was putting further handovers on hold until the Palestinian Authority fulfilled a pledge to disarm militants in the two towns they already control.
Posted by GI at 06:25 PM