« "If You are Anti-Israel, You Will Get an Award" | Main | Boycott of Israeli Universities »
April 22, 2005
Road Map Double Standard — AFP Style
Israeli Prime Minister Ariel Sharon has delivered another blow to the roadmap peace plan by demanding a complete halt to Palestinian violence before he begins implementing the troubled blueprint.
This doesn't come from an anti-Israeli editorial. It's actually the opening paragraph of an Agence France Presse news story, and yet another example of the media's road map double standard.
Sharon's insistence that the Palestinians end violence is definitively called "another blow to the roadmap" — yet readers aren't told that the continuing Palestinian violence is itself a flagrant violation of the road map.
Only later in the piece does the reporter hint that violence might be a problem, saying that Israelis are "accusing the Palestinians of violating the blueprint by failing to stop attacks by militant groups." [emphasis added]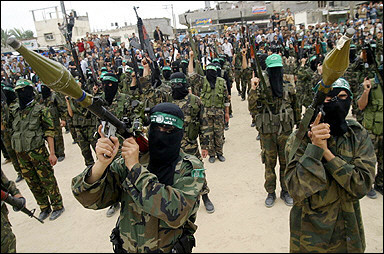 AFP caption: Masked Palestinian members of Al-Qassam Martyrs Brigades, the military wing of the radical Islamic Hamas movement, march during a military parade in the Rafah refugee camp in the southern Gaza Strip.
Posted by GI at April 22, 2005 11:22 AM