« Hypocrisy on Display | Main | Obligation or Suggestion? »
April 14, 2005
PA Still Controls the Media
Palestinian journalists are protesting the PA's authoritarian control over the media, Jeruslaem Post's Khaled Abu Toameh reports.
"Too many officials around [PA Chairman Mahmoud] Abbas are interfering with our work," one journalist told the The Jerusalem Post. "They think the station should serve as their private public relations department."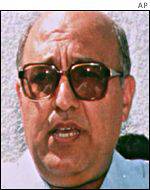 Nabil Sha'ath
PA Information Minister Nabil Sha'ath is tightening his control over Palestinian media.
In a move that has alienated many Palestinian journalists, the PA recently decided to unify all government-controlled mass media under the jurisdiction of Shaath's ministry. The PA also decided to establish an "executive media council" headed by Shaath to oversee the work of the media – a move seen by Palestinian journalists as an attempt by the Palestinian leadership to tighten its grip on newspapers and TV and radio stations.
As CAMERA has documented, PA "control" of the media has included intimidation of journalists, including that against Abu Toameh himself.
Posted by RH at April 14, 2005 09:57 AM