« Editor's Note: Shalom Denies Allegation | Main | More on the Palestinian Media »
April 17, 2005
Modi'in Not in Israel??
Arch Miller of Arcadia, Calif., whose letters obsessively condemning Israel with misinformation have regularly appeared in the Los Angeles Times since the 1980s, has appealed to the Times to issue a "correction" stating that Modi'in, a city of 60,000 people in central Israel, is a settlement built on "Palestinian land."
His letter to the Times was prompted by CAMERA's letter published in the paper Friday educating readers on West Bank contiguity issues. The far-left Women in Black group, circulated Miller's appeal to the Times as if it were credible. It follows:
Editor:

Letter-writer Tamar Sternthal identified herself as Director, Israel Office, Committee for Accuracy in Middle East Reporting in America, Modi'in, Israel.

As the following April 8, 2005 article from a leading Israeli newspaper, Haaretz, makes clear Modi'in is a settlement and not part of Israel.

In the ultra-Orthodox settlement of Modi'in Illit, adjacent to the Green Line, there is no building freeze: Some 2,500 units are currently under construction, and another 12,000 units have received all the necessary permits, meaning that construction can begin at any time.

Modi'in Illit is the largest settlement in the territories, with 33,000 residents.
Therefore, in the interest of accuracy in Middle East reporting, please run the correction stating that Modi'in is a settlement; otherwise the Los Angeles Times has just permitted Israel to annex Palestinian land.

Sincerely,

Arch Miller
Arcadia
Tamar Sternthal, a resident of Modi'in since November, informed Times editor that Modi'in is fully within Israel, west of the Green Line. Modi'in Illit, also known as Kiryat Sefer, is an ultra-Orthodox settlement a few kilometers north-east of Modi'in just over the Green Line. Modi'in is about 20 percent religious, with very few ultra-Orthodox Jews.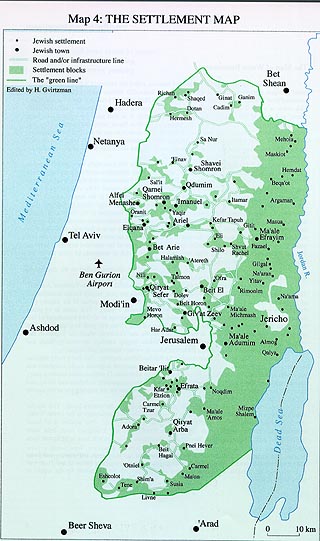 Map source:
BESA
Posted by TS at April 17, 2005 03:05 AM