« AP's Double Standard on the Road Map | Main | Frontline's 'Israel's Next War?' »
April 10, 2005
Globe and Mail Headline Writer Takes Sides
A Toronto Globe and Mail home page subheadline on events in Gaza yesterday is contradicted by the accompanying story itself. Apparently, the Globe and Mail headline writer has decided to side with the Palestinian version of events, despite the fact that the Associated Press story posted on the site makes clear that the circumstances are under dispute and apparently cannot be determined. The headline for the AP story, posted 5:55 p.m. yesterday on the Globe and Mail site, and still appearing as of 5:40 a.m. EST this morning, states: "Israeli troops kill three Palestinians: Death of three youths playing soccer in Gaza threatens ceasefire."
Playing soccer, were they? The Associated Press makes clear that this is simply a Palestinian claim disputed by Israelis. The article states:
Alib Abu Zeid, a 22-year-old Rafah resident, said the teens were playing soccer when the ball was kicked toward a border fence. "The kids ran after it, and that's when we heard gunfire," he said. Palestinians hospital officials said two of the dead youths were 15, and a third was 14.

The Israeli army, however, said the youths were involved in smuggling across the border.

An Israeli commander at the scene said the youths were spotted crawling on their stomachs deep inside a closed military zone. He said three of the youths got to their feet and began running toward the border. The teenagers were about 250 yards into the closed area when they were shot on a military patrol road, he said.

"These kids were not playing soccer," said the commander, whose name was withheld under military regulations. "You don't get there by accident."

Tawfig Abu Khoussa, a spokesman for the Palestinian Interior Ministry, called the Israeli account "completely false."
To send feedback, click here.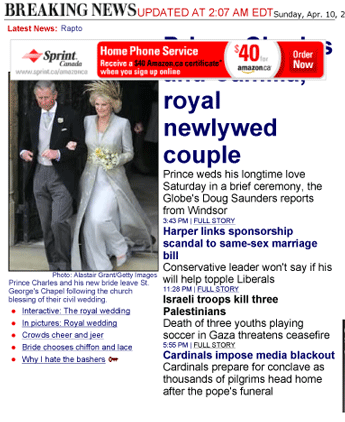 Posted by TS at April 10, 2005 06:00 AM