« AP: Israeli Politicians Exploit Holocaust | Main | IDF Chief of Staff Comes Down on Israeli Media »
April 20, 2005
Columbia University Honors Anti-Semitic Poet...Again
Campus Watch reports that Columbia University's Middle East Institute is honoring the poet Amiri Baraka (formerly known as LeRoi Jones) of "Somebody Blew Up America" notoriety.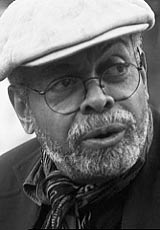 Amiri Baraka
Baraka, born LeRoi Jones, is known for his writings on jazz, but more for his Marxism and anti-Semitism. As the poet laureate of New Jersey Baraka created a firestorm with his poem "Somebody Blew Up America," a diatribe accusing Israelis of having been warned of the destruction of the World Trade Center on September 11, 2001. When Baraka rebuffed calls for his resignation, New Jersey lawmakers responded by abolishing the position of poet laureate.

Baraka's anti-Semitism and anti-Zionism reach far back into the 1960s, as does his violent animosity to whites, American society, and the West as a whole.
This is not the first time the university has honored an anti-Semitic poet. Tom Paulin, notorious for his own anti-Israel and anti-Semitic comments was honored with a visiting professorship shortly after he told Al Ahram that Israel was a "historical obscenity" and that Brooklyn-born Jewish settlers "should be shot dead."
Tom Paulin
Posted by RH at April 20, 2005 02:21 PM