« Pope John Paul II's Vatican Denounced Anti-Zionism | Main | Globe and Mail Headline Writer Takes Sides »
April 07, 2005
AP's Double Standard on the Road Map
The Associated Press has always been quick describe Israeli building in disputed territories as a violation of the road map peace plan:
* Expansion of Israeli settlements runs counter to the "road map" peace plan, which calls for a complete freeze on settlement construction, including that resulting from natural population growth. Israel and the Palestinians accepted the plan in 2003 but its implementation has stalled amid violations by the sides. (AP, 3/20/05)

* The U.S-backed "road map" peace plan calls on Israel to freeze all settlement construction in the West Bank. (AP, 3/26/05, in an report about Palestinians smuggling Stella missiles into the Gaza Strip)

* The U.S.-backed "road map" peace plan bans all construction in settlements, but Israel claims it has an understanding with the U.S. allowing building inside the settlements. (AP, 4/6/05)
But when a Palestinian Kassam rocket was fired today into Israel — a clear breach of the road map — the AP made no reference at all to the peace plan in its coverage of the event.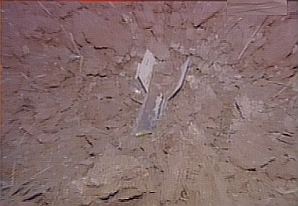 Photo: Channel 2, Israel via Jerusalem Post
Posted by GI at April 7, 2005 03:15 PM