« March 2005 | Main | May 2005 »
April 30, 2005
Choudhury Released
Shoaib Choudhury, topic of an earlier blog entry, has been released from prison.
Here's more, via IMRA:
Earlier today, Salah Uddin Shoaib Choudhury, the Muslim journalist jailed after publishing articles that urged his nation of Bangladesh to recognize Israel, advocated interfaith dialogue, and condemned terrorism and the growing power of radical Islamists in the non-Arab Muslim world, was released at about 7pm Dhaka time.

Throughout 2003, Choudhury wrote articles countering the biased news about Israel and the Jews, interviewed Israeli professor and Nobel Peace Prize nominee Ada Aharoni, and helped Zionist Richard Benkin publish material in the Bangladeshi press. All of this sparked debate and discussion where there had been none before. But as he was about to leave for an historic address in Tel Aviv, Choudhury was taken away by police. ...
Posted by GI at 08:49 PM
April 29, 2005
Oxford's Dr. Emanuele Ottolenghi: Boycott Me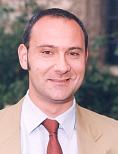 Dr. Emanuele Ottolenghi, Research Fellow at St. Anthony's College at Oxford University's Middle East Centre, weighs in on the AUT boycott in an open letter to Sally Hunt:
----- Original Message -----

From: Emanuele Ottolenghi
To: sally.hunt@aut.org.uk
Sent: Thursday, April 28, 2005 1:02 PM
Subject: AUT boycott

For Publication

To: Sally Hunt,
General Secretary, The Association of University Teachers
United Kingdom


Dear Sally Hunt,

Regarding the AUT recent decision to boycott Haifa University and Bar Ilan University in Israel, I am shocked to learn that, in addition to a call for boycott, the AUT is ready to offer a waiver to scholars on condition that they publicly state their willingness to conform to the political orthodoxy espoused by the academics who sponsored your motion.

Oaths of political loyalty do not belong to academia. They belong to illiberal minds and repressive regimes.

Based on this, the AUT's definition of academic freedom is the freedom to agree with its views only. Given the circumstances, I wish to express in no uncertain terms my unconditional and undivided solidarity with both universities and their faculties. I know many people, both at Haifa University and at Bar Ilan University, of different political persuasion and from different walks of life. The diversity of those faculties reflects the authentic spirit of academia. The AUT invitation to boycott them betrays that spirit because it advocates a uniformity of views, under pain of boycott.

In solidarity with my colleagues and as a symbolic gesture to defend the spirit of a free academia, I wish to be added to the boycott blacklist. Please include me. I hope that other colleagues of all political persuasions will join me.

Sincerely,

Dr Emanuele Ottolenghi
The Middle East Centre
St Antony's College
Oxford University
See also Hebrew U Faculty Member: Boycott Me
Posted by GI at 06:15 PM
British Intellectuals Protest AUT's Boycott
Sue Blackwell of Birmingham University
While author of the motion to boycott Israeli Universities Sue Blackwell called the British Association of University Teacher's vote to adopt the boycott a "Victory!...to academic intifada," other British intellectuals are highly critical of the decision.
Melanie Philips quotes several thoughtful responses to the boycott including one by Howard Jacobson from the Evening Standard in which he explains the connection between anti-Semitism and anti-Zionism.
One thing is clear: in the case of Israel, as in countless instances in Jewish history, an exception has been made of Jews…the vilification of Israel of which the academic boycott is but the latest example rests upon contextlessness, Israel's every act an unprovoked aggression, at every turn the doer and not the done to, all mention of war waged by the other side expunged. Here too I recognise the age-old strategies of antisemitism… Like the Jews who founded it in their image Israel — alone among nations — stands outside history. But then for Sue Blackwell the argument of history is only circular anyway. It is no defence of Israel that it has had to fight against being driven into the sea, because the sea, in her view, is where it belong.
University of Liverpool mathematics professor Adam Logan rejects the resolution because:
It is connected with a movement that promotes the destruction of a sovereign, independent country; because it is inconsistent with the basic principles of academic freedom; because it is based on statements of fact which are incorrect, strongly contestable, or irrelevant; and because it was adopted by an undemocratic procedure.
The Jerusalem Post reports that fifteen academics from the Board of the London-based Leo Baeck Institute signed a letter denouncing the AUT's decision and noting the organization's hypocrisy and double standard.
Israeli universities, notably the three targets of the boycott, represent the best ideals of the university as a place of tolerance and the free exchange of views, in which Jews, Muslims and Christians study and work together.
Meanwhile, Palestinian Universities continue to preach hatred of Israel. On the day of student council elections, students at Bir Zeit University passed out leaflets glorifying terrorism:
The banner of resistance and jihad—our banner
A banner that rejects humiliation, disrespect and defeatism
The banner of loyalty to the blood of the shahids (martyrs) and the prisoners and to the suffering of the millions
The banner of loyalty to Jerusalem , to the land and to the refugee camps
Being a terrorist is an honor for you
Will Sue Blackwell and the AUT urge a boycott of Palestinian schools promoting terrorism against Israel?
Posted by CameraBlog at 04:52 PM
Dershowitz on Boycott
Alan Dershowitz weighs in on the British AUT boycott:
The British Association of University Teachers has now created a blacklist against Jewish Israeli academics -- really a blue and white list -- reminiscent of the worst abuses of McCarthyism. And just as McCarthyism was a barrier to peace between the U.S. and the Soviet Union - by contributing to a dangerous atmosphere in which each side vilified and threatened the other - so too does the British lecturers' boycott endanger the progress now being made toward peace between the Israelis and Palestinians.
Read more here.
Posted by GI at 03:53 PM
Orla Guerin's Award-Winning Reporting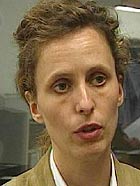 An earlier entry referred to BBC's Orla Guerin receiving an award for "outstanding service to broadcasting," despite reporting that many say is characterized by a blatant anti-Israeli bias.
A BBC Radio 4 broadcast from April 28 provides a good example of Guerin's "award-winning" work.
In the broadcast, Guerin joins the virulently anti-Israeli Jeff Halper — a proponent of a one-state solution — to paint Israel in a negative light, repeating old canards along the way.
Guerin describes the half of Jerusalem formerly occupied by Jordan — which includes the Jewish Quarter, the ancient Jewish cemetery on Mount Olives, the most sacred Jewish site, and a Jewish population almost equal to the Arab population — as "Arab East Jerusalem." In this way she endorses Arab claims to the disputed area, and ignores the Jewish connection.
She erroneously claims the newly approved neighborhood in Maaleh Adumim "will block the Palestinians of East Jerusalem from the remainder of their notional state, the cities and towns of the West Bank," and suggests that it will "split the West Bank in two, north and south." These claims are false, as CAMERA has noted.
Guerin also stands by silently as Halper claims that "Jerusalem is being grabbed and turned into a Jewish-only suburb," even though Arab home construction has actually outpaced Jewish building since Israel unified the city in 1967.
It's appalling that the this type of reporting is considered "outstanding service to broadcasting" in the U.K.
TS adds:
Guerlin's partisanship is evident in her reliance on Jeff Halper, whom she admiringly whitewashes:
This Israeli anthropologist is an impassioned defender of human rights, and a critic of his own government's policies.
But, as mentioned by GI, Halper is not merely a "critic of his own government's policies"--he is also opposed to the very existence of his state. NGO-Monitor provides a detailed report on Halper's justifying terrorism, his demonizing Israel as an "apartheid" state guilty of "war crimes," his advocacy of a one-state solution, and his support for sanctions and boycotts of Israel.
Posted by GI at 10:39 AM
April 28, 2005
Daniel Okrent is Criticized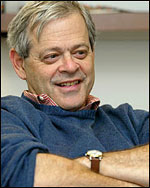 Dan Okrent, outgoing New York Times' Public Editor (ombudsman) has written a column on "the hottest button" issue -- Times' coverage of the Israeli-Palestinian conflict. In it, he quoted CAMERA's Andrea Levin praising the Times' "precise language [describing] the perspectives of the parties, the contents of resolutions, the terms of international conventions."
Left out of the column, however, was CAMERA's specific criticism of the Times' coverage. CAMERA has expressed concern and disappointment with Mr. Okrent's column and its false symmetry.
...Okrent's April 24 ("The Hottest Button: How The Times Covers Israel and Palestine") commentary on Middle East coverage disappointed on many counts, omitting or glossing over tough issues and resorting ultimately to platitudes about how difficult it is for the paper to "walk down the middle."
Read the full critique.
Others have criticized the column, as well. Mediacrity had this to say:
Palestinian polemicists constantly find nits to pick at the Times, the Guardian and other media outlets, for the purpose of keeping them on their toes and also, most importantly, to give these newspapers the ability to claim that they are "criticized by both sides." The Guardian will always tell you that. They "get hate mail from both sides." It is convenient to have such critics.

So, naturally enough, Okrent digs out some nutjob at an organization no one has ever heard of who criticizes the Times for "ignoring the deaths of Palestinian children" (as if Times reporters wouldn't be garrotted if they did that). He uses that to counteract the genuine critcism, the nonconvenient criticism, that comes in from the Israeli side.
Mediacrity's later entry faults Okrent for dialoguing about the racist suggestion by extremist Alison Weir that the New York Times exclude Jewish reporters from covering the Middle East conflict unless they are balanced by Muslim reporters.
The proper response from Okrent, if he had even the tenth of the guts usually found in a salamander, should have been, "Get the hell out of my office, you anti-Semitic piece of crud." Or, if he wanted to be polite, he could have said "The Times does not discriminate on the basis of race, religion, or ethnic origin" and then pitched her head-first out of his office.

Alison Weir
Posted by CameraBlog at 11:18 AM
Reality of "Right of Return"
Syndicated columnist Ray Hanania, in his April 22 column, "Palestinians must accept the reality of the 'right of return,'" acknowledges some important facts. (Unfortunately he also repeats many of his familiar distortions.) (hat tip: JCPA Daily Alert)
He acknowledges Arab responsibility for the continuing refugee problem:
For years, Palestinian refugees have been fed endless empty promises from the Arab countries that they will someday return. It's the main reason why most have lived and died in refugee camps rather than relocate and assimilate into the Arab world.
(Why doesn't he also spell out that Arab countries prevented assimilation by refusing to give citizenship to Palestinian refugees?)
He recognizes that some Palestinians "use the right of return as a political bludgeon to prevent Palestinian moderates from compromise with Israel," and argued that "Palestinians have no choice but to accept a compromise."
The most important fact he acknowledges is also the most obvious: "To remain a Jewish state," he states, "Israel cannot take the refugees back," and that a Palestinian compromise "on the right of return is fundamental to achieving a two-state solution."
This comment highlights the disingenuousness of those "peace activists" who insist on the "right of return." These activists don't seek peace, but rather the destruction of Israel and the end of Jewish self determination.
To see a critique of the column's distortions, click below.
Hanania speaks of "millions of Christian and Muslim Palestinians forced into exile as refugees by Israel in 1948."
Millions? The official British Survey of Palestine estimated only 1.7 million Jews, Christians, Muslims, and others living in Palestine in 1944. There weren't "millions" of people living in Palestine; let alone millions of Christians and Muslims; so obviously there weren't millions of Christians and Muslims living in the part of Palestine that became Israel in 1948; and so there clearly weren't millions who became refugees; and so there certainly couldn't have been millions "forced into exile ... by Israel," even if Israel did expel some of the refugees.
(Later in the same column, Hanania states that "The 1947 war sent more than 700,000 Palestinians into exile." So why does refer in his first sentence to "millions"?)
Hanania also falsely suggests that the return of Palestinians is "supported by clear and irrefutable international laws."
He further states that "Fifty-five years later, Palestinians have no choice but to accept a compromise, which Israel has yet to embrace."
But what is there for Israel to embrace if the Palestinians haven't accepted a compromise? Israel has on numerous occasions offered to take in up to 100,000 Palestinians refugees, but these attempts at compromise were rejected by the Palestinians.
Elsewhere he asserts: "Surveys show that despite the uncompromising Al-Awda movement, most refugees do not expect to return to their original homes or lands."
This covers up the reality that most Palestinians in the West Bank and Gaza Strip are unwilling to compromise on the right of return. According to a November 2004 Palestinian Center for Public Opinion poll, 72.2 percent of Palestinians said they are unwilling to waive their claims or a right of return, "even if consequently no peace agreement would be concluded with Israel."
Posted by GI at 09:24 AM
April 27, 2005
Palestinians Dispatch Teens for Terror
Palestinians continue to dispatch young teens to carry out terrorist attacks against Israel. Yediot Aharonot reports that the boys apparently planned to stage an attack at the checkpoint.
Two Palestinian youngsters aged 16 and 15 carrying 11 pipe bombs and improvised weapons were detained at the Jalameh roadblock north of the West Bank town of Jenin Wednesday.

Initially, the army said the boys, Mohammed and Hamam Daragmeh, were 12 and 13 years old.

Sappers later blew up the explosive devices in a controlled detonation. The youngsters apparently planned to stage an attack at the checkpoint, the IDF said.>
This follows a similar arrest two weeks ago and represents a disturbing example child abuse by Palestinian terrorist groups. All of this can be traced to the underreported incitement to violence that is part of mainstream Palestinian society.
As CAMERA has long indicated:
The PA's relentless incitement campaign employing television, newspapers, summer camps, textbooks, and rallies to foment hatred of Jews, and to encourage violence and "martyrdom" is strictly forbidden under the 1989 Convention on the Rights of the Child..." (November 16, 2002)
Posted by RH at 12:52 PM
Rashid Abu Shbak
Reuters describes the newly appointed head of the PA's Preventive Security Service, Rashid Abu Shbak, as "a tough new commander for Palestinian internal security who helped lead a 1990s crackdown on Islamic extremists."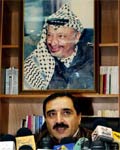 The reporter seems to have selective memory.
The Jerusalem Center for Public Affairs put together this summary of some of Abu Shbak's more recent activities:
* In November 2000, a bomb targeted a school bus just outside the Jewish settlement of Kfar Darom in the Gaza Strip, killing two adults and maiming three children for life. Israeli security sources accused Rashid Abu Shbak of preparing the bomb. (Jerusalem Report)

* Among the Fatah leaders in Gaza, Rashid Abu Shbak is playfully dubbed the "father of mortars," as he had patronized mortar manufacturing in the resistance. (Frontline-India)

* Rashid Abu Shbak is wanted by Israel for his personal involvement in terrorist attacks that have led to the murder of Israelis. (Jerusalem Post)

* After the handover of Gaza and Jericho to the PA, Rashid Abu Shbak referred to pre-1967 Israel when he told Yediot Ahronot on May 29, 1994: "The light which has shone over Gaza and Jericho will also reach the Negev and the Galilee." (Ministry of Foreign Affairs)
Posted by GI at 11:37 AM
April 26, 2005
Hebrew U Faculty Member: Boycott Me
Gadi Taub, faculty member in the Department of Communications & The School of Public Policy at The Hebrew University of Jerusalem, slammed the British boycott of two Israeli universities.
Here are some highlights:
... I am hard-pressed to explain the affair without taking anti-Semitism into account.

... The Israeli occupation gives Britain's educated classes a rare opportunity to reconcile two equally deep currents that would otherwise clash: a self-image of British academics as defenders of human rights, civilizing agents of the world, and the seemingly opposite, deep-seated prejudice against Jews.

... It is as if the British liberal conscience wants to tell itself that it now knows why it has always hated the Jews. It has always hated them because Jews are, by nature, racists. Such visceral, twisted logic must be enormously gratifying: primitive, racist instincts given full expression under a civilized, humanist guise. ...

I MYSELF am not affected by the boycott. My university, the Hebrew University of Jerusalem, has thus far been excluded from the gag rule, and I also qualify under the exception clause, having been publicly critical of my government. But I'll opt in anyway. I have no wish to be excluded from the boycott because I don't consider these exclusions honest. As a Jew, not just an Israeli, I prefer henceforth not to accept any invitations from British universities participating in the boycott. And I urge my fellow Jewish academics around the world to do the same.

If, as I suspect, some British academics prefer their academy Judenrein, it seems fitting and proper to grant them their wish, and not go to those universities where the boycott is in force and where we Jews are not welcome.
Read the whole thing here.
Posted by GI at 09:44 PM
New New York Times Road Map Confusion
Journalists at the New York Times still seem to be confused about the road map peace plan.
New York Times' Greg Myre wrote on Sunday:
Progress toward talks, as envisioned under the Middle East peace plan known as the road map, has been minimal, but there are signs the pace could be picking up. ...

The last question is the most complicated: how can [Abbas] pacify the armed Palestinian factions?

The Israelis insist that he confront and dismantle them, but Mr. Abbas is moving cautiously. He negotiated temporary pledges from Hamas and other factions to halt attacks, and started a pilot project to absorb them into his security forces. [emphasis added]
But "Progress toward talks, as envisioned under the Middle East peace plan known as the road map" will not happen until Abbas fulfils his requirements under the plan to confront and dismantle terrorist groups.
It is not merely an Israeli demand. It is a international demand and a Palestinian requirement under the road map plan.
Posted by GI at 09:35 AM
April 25, 2005
Boycott of Israeli Universities
While this piece of news isn't directly related to Mideast news reporting, it's hard to believe that the decision isn't to a large degree a result of hypercritical treatment of Israel in the British media.
From today's Jerusalem Post:
Haifa and Bar-Ilan, universities targeted in a boycott by Britain's biggest university teachers' union, condemned the decision on Monday, calling it shameful and a blow to academic freedom. ...

The [Association of University Teachers] union, which approved the decision at its annual conference on Friday, said the two Israeli universities had undermined Palestinian rights and academic freedom. It said it would soon issue guidance to its members on what the boycott would forbid.

Sally Hunt
General Secretary
Association of University Teachers
Later in the article, a silver lining:
Jewish AUT members have begun to secede from the union, and calls for mass resignations have been issued.

In addition, Al-Quds University in eastern Jerusalem also came out against the academic boycott of Israel.

"We are informed by the principle that we should seek to win Israelis over to our side, not to win against them," said the university, which is headed by Dr. Sari Nusseibeh.

"Therefore...we believe it is in our interest to build bridges, not walls; to reach out to the Israeli academic institutions, not to impose another restriction or dialogue-block on ourselves." ...

Both Israeli universities said they are beacons of diversity in Israel, welcoming students and faculty of all religious, political and ethnic backgrounds. Haifa University, for instance, said 20 percent of its student body are Arab Israelis.
(One wonders if the AUT will boycott these Arab Israelis, too, or only focus on Jews?)
UPDATE: A separate JPost article quotes a University of Haifa statement regarding the boycott:
In lieu of evidence to support the singling out of Israeli academia, the authors of this campaign have chosen to adopt a three-year-old urban legend. We are astounded by the fact that the AUT never requested our response prior to adopting their resolution, and did not allow our position to be presented by members of the AUT who are familiar with the facts.

The case against Israeli academia, in general, and the University of Haifa in particular, is devoid of empirical evidence and violates the principle of due process. Driven by a prior and prejudicial assumption of guilt, the AUT has refused to confuse itself with facts.
Posted by GI at 08:06 PM
April 22, 2005
Road Map Double Standard — AFP Style
Israeli Prime Minister Ariel Sharon has delivered another blow to the roadmap peace plan by demanding a complete halt to Palestinian violence before he begins implementing the troubled blueprint.
This doesn't come from an anti-Israeli editorial. It's actually the opening paragraph of an Agence France Presse news story, and yet another example of the media's road map double standard.
Sharon's insistence that the Palestinians end violence is definitively called "another blow to the roadmap" — yet readers aren't told that the continuing Palestinian violence is itself a flagrant violation of the road map.
Only later in the piece does the reporter hint that violence might be a problem, saying that Israelis are "accusing the Palestinians of violating the blueprint by failing to stop attacks by militant groups." [emphasis added]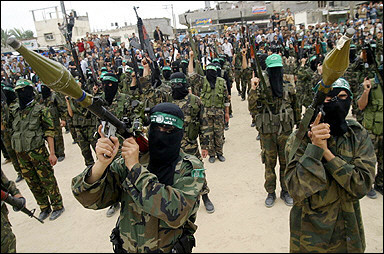 AFP caption: Masked Palestinian members of Al-Qassam Martyrs Brigades, the military wing of the radical Islamic Hamas movement, march during a military parade in the Rafah refugee camp in the southern Gaza Strip.
Posted by GI at 11:22 AM
April 21, 2005
"If You are Anti-Israel, You Will Get an Award"
The Jerusalem Post reports:
Israeli officials expressed dismay this week that BBC reporter Orla Guerin, who has come under sharp attack for what some perceive as an anti-Israeli bias in her coverage, will receive an MBE honor from the British government for "outstanding service to broadcasting."
Guerin's anti-Israeli reporting has prompted a number of complaints, including from Israeli lawmaker Natan Sharanksy, who stated that "It is very sad that something as important as anti-Semitism is not taken into consideration" by those who awarded Guerin with the prize.

Another Israeli official told the Jerusalem Post: "It seems if you are anti-Israel, you will get an award."
The BBC's long history of anti-Israeli reporting has led Israel to sever ties with the media giant, though the relationship has since improved.
Posted by GI at 05:10 PM
April 20, 2005
More on Columbia University

The Columbia Spectator ran an op-ed in which human rights major Deena Guzder falsely accuses Israel of "slaughtering" Arabs in Jenin, a lie debunked by the UN .

Jacobs revealed his real bone of contention with Columbia when he stated, "The Dirks Committee simply evades the main issue: how to deal with the teaching of lies and propaganda by Arabist professors who so demonize Israel that defenders of the Jewish state find themselves in a hostile environment in their classes." Let's pause to decipher Jacob's highly charged language. Jacobs equates teaching students that the Jews slaughtered Arabs in Jenin to "blood libel, anti-Semitic provocation, deception, and Arabist propaganda." Dozens of human rights groups have documented the Jenin killings. This is simply an outrageous inversion of reality.
The article serves as an extended attack on Charles Jacobs, the founder of the David Project. In her apparent overzealousness to suggest Jacobs is a racist, the Ivy League student points to his use of the word "Arabist" instead "Arab."
Furthermore, Jacobs uses the term "Arabist" opposed to "Arab" without explanation (his term conveniently rhymes with "terrorist")...
It is surprising that a Columbia student would not recognize the term "Arabist." Perhaps the "human rights" major should consult the dictionary before she writes her next column.
Ar·ab·ist n.


1. A specialist in the Arabic language or culture.

2. One who is favorably disposed toward Arab concerns and policies.

Posted by CameraBlog at 04:17 PM
IDF Chief of Staff Comes Down on Israeli Media
| | |
| --- | --- |
| | An Israeli military official lashed out today at the Israeli media, saying that it is ignorant, manipulative and shallow, the Jerusalem Post reports. |
Outgoing Chief of Staff Lt.-Gen. Moshe Ya'alon lashed out at the Israeli media, accusing it of being ignorant, manipulative, shallow and lacking in ethics; he declared "we have turned into a nation of spins."

Speaking before the annual Israel Media Assocation gathering at Ben Gurion University on Wednesday, Ya'alon recalled the "fabricated" headlines that appeared in one of the newspapers ....

The Israeli media fails to stick to the facts and operates out of foreign interests, he said. ...

Living in a reality of constant media flow of "shallowness, ignorance and manipulations called spins, we have turned into a nation of spins," Ya'alon said.
It seems ironic that Israel's Ha'aretz newspaper also covered the story, considering the paper's own ethical problems.
CAMERA has recently noted that Ha'aretz provided false information about an Israeli garbage dump, whitewashed Hanan Ashrawi's MIFTAH organization, erased years of Palestinian violence, and refused to correct even a prominent front page error.

Posted by GI at 04:14 PM
Columbia University Honors Anti-Semitic Poet...Again
Campus Watch reports that Columbia University's Middle East Institute is honoring the poet Amiri Baraka (formerly known as LeRoi Jones) of "Somebody Blew Up America" notoriety.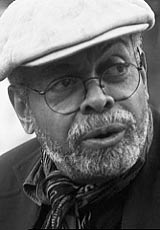 Amiri Baraka
Baraka, born LeRoi Jones, is known for his writings on jazz, but more for his Marxism and anti-Semitism. As the poet laureate of New Jersey Baraka created a firestorm with his poem "Somebody Blew Up America," a diatribe accusing Israelis of having been warned of the destruction of the World Trade Center on September 11, 2001. When Baraka rebuffed calls for his resignation, New Jersey lawmakers responded by abolishing the position of poet laureate.

Baraka's anti-Semitism and anti-Zionism reach far back into the 1960s, as does his violent animosity to whites, American society, and the West as a whole.
This is not the first time the university has honored an anti-Semitic poet. Tom Paulin, notorious for his own anti-Israel and anti-Semitic comments was honored with a visiting professorship shortly after he told Al Ahram that Israel was a "historical obscenity" and that Brooklyn-born Jewish settlers "should be shot dead."
Tom Paulin
Posted by RH at 02:21 PM
AP: Israeli Politicians Exploit Holocaust
The Associated Press objectively covered the ceremonies commemorating the 60th anniversary liberation of the German concentration camp, Bergen-Belsen.

AP caption: Unidentified survivors of the Bergen-Belsen Nazi concentration camp and other guests take part in a commemoration service held in the former camp in Bergen-Belsen, northern Germany, on Sunday, April 17, 2005. Some 70,000 people lost their lives in the camp. Ceremonies at Bergen-Belsen mark the 60th anniversary of its liberation by British troops in 1945. (AP Photo/Fabian Bimmer)
But days earlier the wire service found it perfectly acceptable to include in a news story the derogatory editorialization that Israeli politicians exploit the memory of the Holocaust to justify its actions against Palestinians.
Posted by GI at 12:08 PM
April 19, 2005
Media Continues to Misrepresent Construction West of Ma'aleh Adumim
As the media echoes critics of Israel's building west of Ma'aleh Adumim with the claim that it bisects a future Palestinian state and cuts off its contiguity, CAMERA continues to press for media accuracy on the subject. Below is a map by the Palestinian Academic Society for the Study of International Affairs (PASSIA) demonstrating the proposed E1 corridor which would include the housing units that are being discussed.

In fact, a senior researcher at the Jerusalem Institute for Israel Studies confirmed to CAMERA that the residential building being criticized would cover no more than 30-35% of this hypothetical plan. Much of the remainder would remain open space with a garbage collection site in the southern part that would serve both Palestinians and Israelis.
Read more about the contiguity double standard.
Posted by RH at 05:50 PM
Two Editor's Notes and One Correction Point to Fabricated News
Editor's Notes in the Boston Globe and the Los Angeles Times about fabricated news reports which ran in those newspapers, and an apology by a Detroit Free Press sports columnist about his own fabrication, highlight the importance of careful media monitoring.
The Editor's Note in the April 15 Globe states:
Editor's Note : An article by a freelance writer based in Halifax, Nova Scotia, in Wednesday's Globe said that the season's hunt for baby seals off Newfoundland had begun the previous day. In fact, the hunt did not begin that day; it was delayed by bad weather, and is scheduled to begin today, weather permitting. The article included details of the day's hunt as if it had taken place and without attribution or other sourcing, as if the writer had witnessed the scene personally. Details included the number of hunters, a description of the scene, and the approximate age of the cubs. The author's failure to accurately report the status of the hunt and her fabrication of details at the scene are clear violations of the Globe's journalistic standards. Because the freelancer was not reporting from the scene, Globe editors should have demanded attribution for any details she provided about the hunt itself. The story should not have been published in the Globe, and the Globe has discontinued use of the freelancer.
And in today's L.A. Times:
Editor's Note: On March 31, The Times published a correction of four errors in a March 29 article about controversies arising from fraternity hazing at Cal State Chico. At the same time, editors began a full review of the story, which was published on the front page of the California section. Based on that inquiry, which included a visit to Chico by a Times editor, the paper has concluded that the article fell far short of Times standards.

Beyond the specific errors, the newspaper's inquiry found that the methods used in reporting the story were substandard. The quotations from anonymous sources and from two named sources, a Mike Rodriguez and a Paul Greene, could not be verified.

Additional inaccuracies found during the investigation include the following:

* In describing a hazing death this year, the article said that the victim died after drinking five gallons of water from a "rubber bladder bag." The Butte County district attorney reported that the amount of water exceeded five gallons and that it came from a plastic jug, not a bladder bag.

* The story also reported that the victim was alone at the time of his death. The D.A. reported that this was not the case.

* The article attributed to "medical examiners" the idea that the victim may have experienced a moment of euphoria shortly before his death. That belief has been expressed by the victim's father, who told the Chico Enterprise Record that he based it on his own research. Butte County's district attorney said it does not appear in any medical reports related to the current case.

* The article said that the parents of Adrian Heideman, a hazing victim who died in 2000, showed their son's day planner to hazing expert Hank Nuwer. Nuwer informed The Times' readers' representative that he was not shown Heideman's day planner by his parents; he heard it described by Heideman's father over the phone.

Separate from the March 29 article, a review of an earlier story on the same subject revealed another error. On March 5, The Times reported that eight fraternity members had been charged with involuntary manslaughter. In fact, eight were charged with hazing, and four of them were also charged with involuntary manslaughter.

The writer of both articles, Eric Slater, has been dismissed from the staff.
And in the April 7 Detroit Free Press, a correction, as well as this:
... You can't write that something happened that didn't, even if it's just who sat in the stands. Perhaps, it seems a small detail to you -- the players still love their teams, they are still nostalgic, they simply decided not to go after the column had been filed -- but details are the backbone of journalism, and planning to be somewhere is not the same as being there.

So I owe you and the Free Press an apology, and you have it right here. ...
The following day, Free Press Published and Editor Carole Leigh Hutton followed up with a letter to readers. It states:
Dear readers,

As a newspaper, our credibility is paramount.

On Thursday, we reported that a Mitch Albom column in Sunday's editions misled readers by saying that two ex-Michigan State basketball players were at Saturday night's Final Four game.

They were not. The column was written Friday, for a section that was printed before the game was played.

Albom was wrong to report that the athletes were there when the game had not yet been played. And the Free Press was wrong to publish it.

Albom has built an unparalleled reputation in 20 years as a Free Press columnist. Still, the Free Press is undertaking a thorough review of the situation, as is our policy.

We will report on that investigation just as we do with other investigations you read about in the Free Press. ...
For more, see "Simple fact-checking saves newspapers a lot of grief," by the Salt Lake Tribune's Readers' Advocate.
And to read about Middle East fabrications, click here and here.
Posted by GI at 03:42 PM
April 17, 2005
Obligation or Suggestion -- part II
Commenting on the earlier blog entry, Obligation or Suggestion, CAMERA's TS has pointed out another example of road map double standard in the New York Times.
"In a news analysis today, Times reporter Steven Weisman also fell into the 'road map' double standard trap--Israeli steps under the "road map" are designated as such, whereas Palestinian steps are simply noted as an Israeli demand."
Weisman writes:
Whatever happens, however, the United States is certain to come under another round of pressure to keep make sure [sic] that a Gaza withdrawal leads to a resumption of talks to create a contiguous Palestinian state, as called for in the "road map" peace plan.

The Israelis say that further steps will have to be contingent on Mr. Abbas disarming militant groups and dismantling the "terrorist infrastructure," the same prerequisites that have impeded negotiations so far.
Posted by GI at 10:57 AM
More on the Palestinian Media
An April 16 Jerusalem Post editorial follows up on the paper's earlier piece on (lack of) freedom of press in the Palestinian Authority.
The editorial astutely notes:
Though some argue that a free press will be exploited by hate-mongers of the Hamas ilk, we should remember that the PA's government-controlled press continues to refer to suicide bombers as "martyrs," even though Mahmoud Abbas has presumably committed to ending incitement.

Without a free press, there is simply no hope for more moderate voices to come to the fore. And if the Palestinian press is truly free and continues to propagate only vicious hatred of Jews and Israel, then at least there should be no argument over whether this people is truly ready for peace with the Jewish state.

It is strange and disturbing, therefore, that the lack of Palestinian press freedom not only fails to top the Western agenda for democratic reform, but seems somewhere off the radar screen.
Posted by GI at 10:48 AM
Modi'in Not in Israel??
Arch Miller of Arcadia, Calif., whose letters obsessively condemning Israel with misinformation have regularly appeared in the Los Angeles Times since the 1980s, has appealed to the Times to issue a "correction" stating that Modi'in, a city of 60,000 people in central Israel, is a settlement built on "Palestinian land."
His letter to the Times was prompted by CAMERA's letter published in the paper Friday educating readers on West Bank contiguity issues. The far-left Women in Black group, circulated Miller's appeal to the Times as if it were credible. It follows:
Editor:

Letter-writer Tamar Sternthal identified herself as Director, Israel Office, Committee for Accuracy in Middle East Reporting in America, Modi'in, Israel.

As the following April 8, 2005 article from a leading Israeli newspaper, Haaretz, makes clear Modi'in is a settlement and not part of Israel.

In the ultra-Orthodox settlement of Modi'in Illit, adjacent to the Green Line, there is no building freeze: Some 2,500 units are currently under construction, and another 12,000 units have received all the necessary permits, meaning that construction can begin at any time.

Modi'in Illit is the largest settlement in the territories, with 33,000 residents.
Therefore, in the interest of accuracy in Middle East reporting, please run the correction stating that Modi'in is a settlement; otherwise the Los Angeles Times has just permitted Israel to annex Palestinian land.

Sincerely,

Arch Miller
Arcadia
Tamar Sternthal, a resident of Modi'in since November, informed Times editor that Modi'in is fully within Israel, west of the Green Line. Modi'in Illit, also known as Kiryat Sefer, is an ultra-Orthodox settlement a few kilometers north-east of Modi'in just over the Green Line. Modi'in is about 20 percent religious, with very few ultra-Orthodox Jews.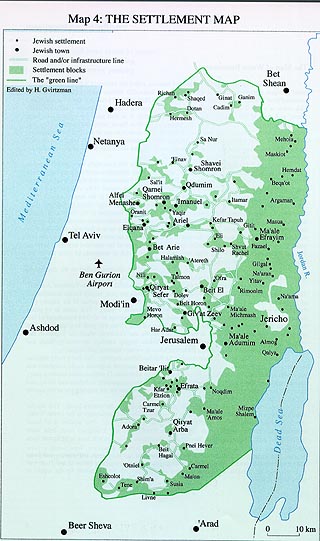 Map source:
BESA
Posted by TS at 03:05 AM
Editor's Note: Shalom Denies Allegation
The International Herald Tribune printed the following Editor's Note today noting that Israeli Foreign Minister denied allegations reported earlier that he was responsible for an embarrassing political leak:
An article on March 26 about increased American displeasure with Israel's intention to expand a West Bank settlement near Jerusalem reported on a leak of confidential remarks by Daniel C. Kurtzer, the U.S. ambassador.

The remarks were seen as embarrassing to Prime Minister Ariel Sharon because they suggested that Sharon and President George W. Bush had never reached an understanding on Israeli retention of large settlement blocks on the West Bank, which had been regarded as an important political accomplishment of Sharon.

The article quoted unidentified American officials and a senior adviser to Sharon as saying the leak was part of an effort by Foreign Minister Silvan Shalom, a rival to Sharon in the Likud party, to undermine him. The article should have noted that the New York Times tried unsuccessfully to reach Shalom and his aides by telephone for comment on the allegation. Shalom denied the allegation on March 27.
An almost identical Editor's Note ran Friday in the Times for the March 26 article by New York Times Jerusalem bureau chief Steven Erlanger.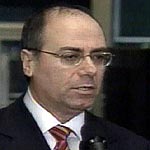 Pictured above: Silvan Shalom
Posted by TS at 02:39 AM
April 15, 2005
Major Lapse at Reuters
On Aug. 31, 2004, two Hamas terrorists simultaneously detonated their bombs on separate buses in Beersheva, killing 16 and wounding 100. Almost all of those killed were women; one was a 3-year-old boy.
(Incidentally, less than a week after this bombing the Associated Press served as a platform for a senior Hamas official to say: "Women and children are not a target for Hamas.")
Due to some unimaginable slip-up at media giant Reuters, its news report of that incident was dispatched again today, as if it happened last Tuesday. (hat tip: Toni)
UPDATE: The above link no longer works. It seems someone discovered the snafu.
UPDATE II: Mark from Auterrific mentions that Indy Media Watch found a screenshot of the Reuters story here.
Posted by GI at 09:00 AM
April 14, 2005
Obligation or Suggestion?
In another example of double standards by New York Times editorialists, the author of yesterday's editorial treats Israeli and Palestinian obligations under the road map peace plan differently.
The April 13 editorial suggests Israel should take certain actions, and clearly notes that these actions are required under the road map:
But Mr. Bush was absolutely correct in publicly chiding Mr. Sharon by saying the "road map clearly says no expansion of settlements."
But doesn't the road map also call on Palestinians to end violence and dismantle terrorist groups? You wouldn't know from reading the editorial, which presents these obligations simply as sage advice from the Times editorial board:
Mr. Abbas would do well to rein in Palestinian extremists... it would behoove [the Palestinians] to act sensibly.
(The Associated Press similarly has ignored Palestinian obligations under the peace plan while focusing on Israeli ones.)
Posted by GI at 05:25 PM
PA Still Controls the Media
Palestinian journalists are protesting the PA's authoritarian control over the media, Jeruslaem Post's Khaled Abu Toameh reports.
"Too many officials around [PA Chairman Mahmoud] Abbas are interfering with our work," one journalist told the The Jerusalem Post. "They think the station should serve as their private public relations department."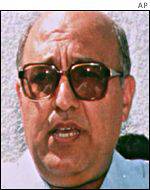 Nabil Sha'ath
PA Information Minister Nabil Sha'ath is tightening his control over Palestinian media.
In a move that has alienated many Palestinian journalists, the PA recently decided to unify all government-controlled mass media under the jurisdiction of Shaath's ministry. The PA also decided to establish an "executive media council" headed by Shaath to oversee the work of the media – a move seen by Palestinian journalists as an attempt by the Palestinian leadership to tighten its grip on newspapers and TV and radio stations.
As CAMERA has documented, PA "control" of the media has included intimidation of journalists, including that against Abu Toameh himself.
Posted by RH at 09:57 AM
Hypocrisy on Display
In a letter published in the New York Times today, National Public Radio Ombudsman Jeffrey Dvorkin writes about the function of news outlets' ombudsman and the need for "greater public accountability." One wonders if Ombudsman Dvorkin is subconsciously commenting on his own professional failures when he writes:
While the presence of an ombudsman is not an automatic guarantee of better journalism, it is an indication that a news organization is prepared to take its sense of civic obligation more seriously than its obligation to shareholders.
Indeed, Dvorkin did nothing to promote "better journalism" when a disgruntled NPR listener recently approached him with substantive concerns about the network's Mideast coverage. Rather than deal with the substance of the listener's concern, Dvorkin responded with obfuscation and insults.
The public will not be so easily deceived into thinking that a media organization "takes its sense of civic obligation more seriously" simply because it hires an ombudsman whose apparent function is to defend the institution at all costs, including "better journalism" and civility.
Posted by TS at 06:32 AM
Christian Exodus Reconsidered
Media reports about Bethlehem's Christian diminishing population frequently omit the major reason Christians are leaving Bethlehem--official and unofficial Muslim discrimination against Arab Christians due to increasing Islamism in the Palestinian areas, not to mention across the Middle East. Therefore, it was a pleasant surprise to read the following in Ken Ellingwood's story in the Los Angeles Times today ("Strife Spurs Slow Exodus of West Bank Christians"):
Christians face serious challenges throughout the Middle East, experts say, including harassment, their relatively low birthrates and the rise of Islamic fundamentalism. Guy Bechor, a Middle East specialist at the Interdisciplinary Center in Herzliya, north of Tel Aviv, said the last pope bears some blame for not acting forcefully on behalf of Christian communities in the Arab world.

"The Vatican was perhaps the only element that could have united the Christian interests in the Middle East, but [it] just . . . abandoned its flock," Bechor wrote recently in the Israeli daily Yediot Ahronot.
The article also includes the usual allegations that Israeli measures against Palestinian terrorism are the primary cause of the Christian exodus. For instance, Ellingwood writes:
Residents say the answer to the slow disappearance of Christians in Bethlehem is peace with Israel and an end to the barriers and travel restrictions that Israel says are necessary to keep out suicide bombers.
However, even if Israel were to remove all the barriers and restrictions, Bethlehem Christians would still be subject to land theft by Muslim gangs in cooperation with the Palestinian Authority, as well as Muslim violence and discrimination.
Posted by TS at 05:24 AM
April 13, 2005
Book Review: "Buried by the Times"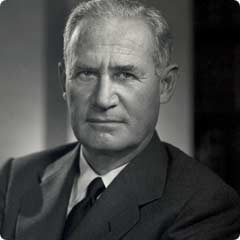 A review of Laurel Leff's new book ("Buried by the Times: The Holocaust and America's Most Important Newspaper") criticizing the New York Times for downplaying news of the Holocaust appears in today's New York Sun. Reviewer Ira Stoll describes it as "a fascinating biography of the man [Arthur Hays Sulzberger]who ran the Times during World War II and presided over what the paper has since acknowledged was its own botched coverage of the Nazi extermination of European Jewry". Read more about how a man clearly uncomfortable with his heritage managed to negatively influence crucial news coverage of that catastrophical time.
Posted by RH at 02:12 PM
Bangladeshi Muslim Writes About Media
| | |
| --- | --- |
| | Shoaib Choudhury was editor of the Bangladeshi Magazine Weekly Blitz, and was on his way from Bangladesh to Tel Aviv to give a lecture entitled "The Role of the Media in Establishing Peace," when he was arrested and eventually charged with sedition, a capital offense. Choudhury and others feel that he is being prosecuted for his views. |
An Op-Ed by Choudhury in today's Jerusalem Post relay some of his thoughts about the media:
Islam does not endorse terrorism, the killing of innocents or even destruction of property. Under normal conditions, Muslims would not do so either. And yet so few Muslims object to what is being done in the name of their religion. Opportunists don an Islamic mask to justify their misdeeds, and our media support them and, thereby, our own impoverishment, ignorance and oppression.

Only a strong countervailing media presence will make for positive change, as our initial efforts in Bangladesh suggest. Our weekly tabloid, Weekly Blitz, is about the only place in the Muslim world where people can read positive things about Israel. ...

But our efforts are feeble and tentative compared to the great noise heard day after day from the other media giants. Muslims need to hear more voices of dissent, of reason, of decency. And a democracy like Bangladesh just might offer us a beachhead to join this epic battle.
Posted by GI at 08:40 AM
April 12, 2005
Talking in Code
Is Sharon violating the Road Map by building in Ma'ale Adumim? Or is Bush sending Israel contradictory messages about the settlements?
Herb Keinon of the Jerusalem Post explains the different interpretations of the road map and deciphers the diplomatic code used by the two leaders when they discuss Israeli settlements.
Posted by RH at 04:37 PM
Another Child Bomber in Israel
From the Jerusalem Post Web site:
A 15-year-old Palestinian was caught at the Hawara checkpoint south of Nablus on Tuesday afternoon carrying five pipe bombs.

The teenager reached the checkpoint and unsuccessfully attempted to detonate one of the bombs. Soldiers aroused by his suspicious behavior aimed their weapons at him prompting him to drop the four other bombs that he had in his possession.
The AP has already picked up the story. The reporter commendably reminds readers:
In April 2004, soldiers arrested a 16-year-old Palestinian boy with a suicide bomb strapped to his body at the same checkpoint. That boy, Hussam Abdo, later told an Israeli newspaper he was on a mission to kill Israeli soldiers.
Will this be in U.S. newspapers tomorrow?
Will the Boston Globe continue to assert that Abbas "has succeeded in suspending attacks on Israelis," as it claimed in the April 9 editorial?
Posted by GI at 12:35 PM
Boston Globe Chooses Palestinian Terminology
March 22 Boston Globe:
Prime Minister Ariel Sharon's government has given final approval for the building of 3,500 new housing units in Maaleh Adumim, already the most populous Jewish settlement in the West Bank, Israeli officials said yesterday. The expansion is the largest single housing project on occupied Palestinian territory in years. (Dan Ephron)
April 2 Boston Globe:
Nasser recalled that the pope ... criticized the barrier Israel is constructing on Palestinian territory. (Charles M. Sennott)
Twice recently, the Globe referred to disputed areas as "Palestinian territory," in effect advocating Palestinian claims to the land at the expense of Israeli claims, Israeli security, and Israeli contiguity.
By contrast, the Globe seems willing to refer to the Shebaa Farms along Israel's northern border with Lebanon as "a disputed area."
Other recent inaccurate language at the Globe:
A factbox in a March 18 story which describes Fatah and Hamas tiptoes around the groups' terrorism.
Israeli authorities have accused Fatah of terrorist attacks ...

Hamas is divided into two wings: ... an armed military wing carries out terrorist attacks designed to drive Israeli forces from the occupied territories ..."
This language is skewed. Fatah groups have proudly claimed responsibility for many terrorist attacks; and Hamas doesn't seek to "drive Israeli forces from the occupied territories," but rather to destroy Israel in its entirety.
Posted by GI at 09:46 AM
April 10, 2005
Frontline's 'Israel's Next War?'
On April 5th, PBS's Frontline aired a one hour documentary, "Israel's Next War?" which focused on a small group of Jewish terrorists. The film did state that the group's actions are condemned by the vast majority of secular and religious Israelis, and that the Israeli government has consistently and firmly worked to stop them. The documentary also made clear Israel has arrested and convicted individuals where there was sufficient evidence and noted that authorities have kept other suspects under surveillance.
However, the broadcast blurred the line between the terrorists and people who may share their ideological viewpoint but would never support or engage in violence. The result was a vague and misleading implication of many more potential violent participants than is the case. The film included mention that the communities in which the terrorists lived condemned the attempted terror attack on the Arab girls' school and even showed a father of one of the terrorists expressing his outrage over his son's actions. But, again, the film never clearly explained just how tiny the terror group was and it never made clear that even those who support Meir Kahane's ideas about the transfer of Arabs out of Israel and the territories don't necessarily support terrorist violence against Arabs. Executive producer Zvi Dor-Ner acknowedged the difference in an online "chat," but failed to make it clear in the film.

Wrongly implying
Wrongly implying large numbers of Jewish terrorists is especially problematic given the reality that on the Palestinian side there are, in fact, substantial numbers advocating and enacting terror and the terrorists are generally admired and accepted in mainstream Palestinian society -- as martyrs. Viewer comment posted on Frontline's Web site after the broadcast indicates some people readily took the program's message to mean there is little difference between the two sides.
The related Frontline Web site "background information" is much more problematic than the actual film. The "chronology" page frames the entire Israeli-Palestinian conflict as related to Israel's settlements and in one of the related links depicts violence as a "cycle" and strongly implies a moral equivalence between Arab terror attacks against civilians and Israel's military strikes against terrorists.
Producer Dan Setton adds further distortion to both the discussion board and an online interview. He responds to questions/comments about how small the group of Jewish terrorists is by inaccurately writing: "They [the Jewish terrorists] are a small minority, but it only takes a few to change the course of history. We saw what happened when one man assassinated Prime Minister Rabin [Yigal Amir]. It stopped the peace process, changed its course. It took a while until it was resumed again." [emphasis added]
As most people are aware, it was Palestinian terrorism that "stopped the peace process," not Rabin's death. Rabin was succeeded by Shimon Peres, a dovish and concession-oriented prime minister who handed over West Bank towns ahead of schedule, pushing the peace process at full speed until unprecedented terrorism in February/March 1996 compelled him to slow the pace. He was defeated in May 1996 because of the magnitude of violence Israelis were experiencing.
If you didn't see the Frontline film, you can watch it online. We encourage you to add your comments to the discussion board on Frontline's web site for the documentary. Frontline should be encouraged to devote an entire program to the ideology of Hamas and Palestinian Islamic Jihad and their genocidal goals.
Posted by LG at 01:53 PM
Globe and Mail Headline Writer Takes Sides
A Toronto Globe and Mail home page subheadline on events in Gaza yesterday is contradicted by the accompanying story itself. Apparently, the Globe and Mail headline writer has decided to side with the Palestinian version of events, despite the fact that the Associated Press story posted on the site makes clear that the circumstances are under dispute and apparently cannot be determined. The headline for the AP story, posted 5:55 p.m. yesterday on the Globe and Mail site, and still appearing as of 5:40 a.m. EST this morning, states: "Israeli troops kill three Palestinians: Death of three youths playing soccer in Gaza threatens ceasefire."
Playing soccer, were they? The Associated Press makes clear that this is simply a Palestinian claim disputed by Israelis. The article states:
Alib Abu Zeid, a 22-year-old Rafah resident, said the teens were playing soccer when the ball was kicked toward a border fence. "The kids ran after it, and that's when we heard gunfire," he said. Palestinians hospital officials said two of the dead youths were 15, and a third was 14.

The Israeli army, however, said the youths were involved in smuggling across the border.

An Israeli commander at the scene said the youths were spotted crawling on their stomachs deep inside a closed military zone. He said three of the youths got to their feet and began running toward the border. The teenagers were about 250 yards into the closed area when they were shot on a military patrol road, he said.

"These kids were not playing soccer," said the commander, whose name was withheld under military regulations. "You don't get there by accident."

Tawfig Abu Khoussa, a spokesman for the Palestinian Interior Ministry, called the Israeli account "completely false."
To send feedback, click here.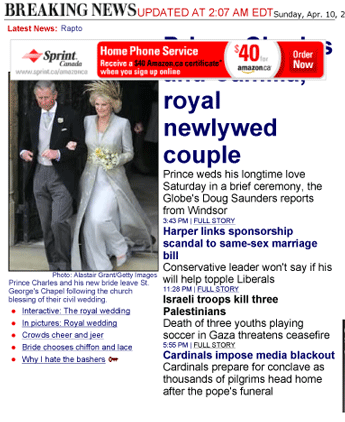 Posted by TS at 06:00 AM
April 07, 2005
AP's Double Standard on the Road Map
The Associated Press has always been quick describe Israeli building in disputed territories as a violation of the road map peace plan:
* Expansion of Israeli settlements runs counter to the "road map" peace plan, which calls for a complete freeze on settlement construction, including that resulting from natural population growth. Israel and the Palestinians accepted the plan in 2003 but its implementation has stalled amid violations by the sides. (AP, 3/20/05)

* The U.S-backed "road map" peace plan calls on Israel to freeze all settlement construction in the West Bank. (AP, 3/26/05, in an report about Palestinians smuggling Stella missiles into the Gaza Strip)

* The U.S.-backed "road map" peace plan bans all construction in settlements, but Israel claims it has an understanding with the U.S. allowing building inside the settlements. (AP, 4/6/05)
But when a Palestinian Kassam rocket was fired today into Israel — a clear breach of the road map — the AP made no reference at all to the peace plan in its coverage of the event.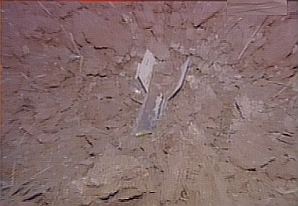 Photo: Channel 2, Israel via Jerusalem Post
Posted by GI at 03:15 PM
April 06, 2005
Pope John Paul II's Vatican Denounced Anti-Zionism
Much has been written about Pope John Paul II's youthful friendships with Jewish neighbors in Poland and, much later, his landmark visit to the Western Wall in Jerusalem. Unmentioned in media coverage has been an important Vatican statement issued in July 2004 articulating the church's strong repudiation of the notion that anti-Zionism is legitimate and different from anti-Semitism.
The Vatican declared: "We oppose anti-Semitism in any way and form, including anti-Zionism that has become of late a manifestation of anti-Semitism."
A strong denunciation of terrorism accompanied the statement: "Terror is a sin against man and against God. Fundamentalist terrorism in the name of God has no justification and cannot be justified."
Pope John Paul II's many postive contributions to Catholic-Jewish relations are an important part of his remarkable legacy.
Posted by CameraBlog at 01:34 PM
Return of the "Jewish Hezbollah"
In October 2004, syndicated columnist Thomas L. Friedman stunned many by referring to the Israeli far right as "the Jewish Hezbollah." (Does Friedman really believe that the Israeli far right is a semi-autonomous army nurtured by dictatorships to kill, kidnap, and destablize in cross-border raids?)
In yesterday's Boston Globe, Sam Allis also makes a false moral equation between Israeli extremists and a terrorist group in his review of a PBS "Frontline" segment about Israeli extremists:
A rough symmetry within their respective societies between Israeli extremists bent on murder and Hamas, the Palestinian terrorist group, is inescapable. And while Hamas has been far more lethal thus far, the impending threat from these Israelis looms ominous.

At the end of the day, there is reason to be worried about Israeli terrorism as well as its Palestinian counterpart, each primed to explode if and when the two sides ever near a true settlement.
Allis seems to suggest it is coincidence that Hamas has "thus far" been more lethal than Israeli extremists; but in fact, the terrorist group has been more lethal because there is no "symmetry," rough or otherwise, between them and Israeli extremists.
Hamas was given free reign by the Palestinian Authority to carry out its deadly attacks on Israeli civilians, with the support of a majority of Palestinians. Its suicide bombers are celebrated by "martyr posters" in Palestinian schools and streets.
There is no such free reign or support for any fringe Israeli extremists supposedly "bent on murder." As PBS acknowledges, "most Israelis reacted with shock and horror" to news that two Israelis set out to bomb a Palestinian schoolyard, and "a small minority refused to condemn them"
Posted by GI at 10:47 AM
April 05, 2005
A Blow to the ISM
In a blow to the ISM tactic of obscuring its true agenda, IMRA reports that the libel lawsuit brought by ISM activist Radhika Sainath against Jerusalem journalist Judy Lash Balint was dismissed.
Sainath was arrested repeatedly for breaking Israeli law and interfering with the IDF's pursuit of terrorists, but maintains that as a volunteer for ISM, she and her group are committed to non-violent opposition to what she calls "the illegal occupation of the West Bank and Gaza." To stem criticism, Sainath attacked her critics and sued for libel, claiming Balint defamed her with the "blatantly false" suggestion that her ISM activities involved close contact with Palestinian terrorists.
ISM founders Adam Shapiro and Huwaida Arraf clearly encouraged Palestinian armed violence against Israel in a January 29, 2002 article in Palestine Journal.

[T]he use of nonviolence is about control and power — those who maintain nonviolence and exploit the use of violence by the oppressor maintain control and power, which is something that can be manipulated to present a story, a case or an image.

... we accept that the Palestinians have a right to resist with arms ... Palestinian resistance must take on a variety of characteristics– both nonviolent and violent...
And ISM members have outrightly
admitted
to and justified working with terrorists.
In fact, [ISM activist Susan] Barclay said in an interview with the Seattle Post-Intelligencer, she knowingly worked with representatives from Hamas and Islamic Jihad -- terrorist groups that sponsor suicide bombings and exist, according to their charters, to demolish the Jewish state entirely.

Barclay acknowledged that in organizing a non-violent February march on an Israel-imposed gate that divided eastern and western Nablus, she worked with representatives from the two groups.

"We are open to working with any political party as long as they are interested in non-violent resistance," Barclay said. "It's almost irrelevant who is participating."
Barclay was an ISM volunteer arrested after sheltering a top Islamic Jihad terrorist in ISM's Jenin office.

...on March 27, [2003, when] IDF forces launched a manhunt for a top Islamic Jihad terrorist in Jenin.

Intelligence information led the IDF to believe that Shadi Sukia was being hidden in a Jenin compound that holds a bank, a Red Cross office and the ISM office.

After combing the entire building and finding nothing, the soldiers asked two ISM activists if they could search their offices.

ISM coordinator Susan Barcley refused. The soldiers insisted, forcing their way in.

The intelligence information proved correct: Sukia had taken shelter with the ISM. Both he and Barcley were arrested.

Wallace claims that Barcley found Sukia wet and shivering outside the ISM office, "and asked the boy to come in."

According to the IDF, Sukia is no boy.

"He is a grown man, one of the highest ranking members of the Islamic Jihad in Jenin, responsible for recruiting several suicide bombers, planning bombings himself, laying mines and sniping," an IDF official said.

Posted by RH at 11:41 AM
April 04, 2005
Jews in Eastern Jerusalem
In the "Distorted through Gross Lack of Context" category, we have a paragraph about eastern Jerusalem from Greg Myre's April 4th article in the NY Times, "Mystery of the 2 Hotels Embroils Greeks, Jews and Arabs." Myre writes:
Israel annexed East Jerusalem after capturing it from Jordan in 1967, but the move has never been recognized internationally. While no Israelis were living in East Jerusalem in the years before the war, they now outnumber Arabs there, according to the Israeli government.
There were no Israelis in eastern Jerusalem only between 1948 and 1967 because in 1948, the Jordanians killed or expelled all the Jews living there, as well as destroying over 50 synagogues and Jewish institutions, many of which were hundreds of years old. In 1967, after being attacked by Jordan, Israel was victorious in pushing the Jordanians back, and in reuniting the eastern section of Jerusalem with its western side. Jews were once again able to live in eastern Jerusalem, as they had for thousands of years.
Posted by LG at 04:30 PM
Undeserved Self-Congratulations for "Nightline"
"People don't necessarily want to hear both sides of the story, which is what 'Nightline' did best," Leroy Sievers, who was until last November an executive producer at NBC's "Nightline," opined today in the Washington Post. He reiterates this sentiment in an op-ed today in the Los Angeles Times:
Gone are the days when someone might actually want to hear the "other side," maybe because people are worried about hearing something that might actually make sense--or worse yet, something that might cause them to reconsider their opinions.

No, it's much simpler to denigrate, to throw charges of "bias" at their heads, brush them back. Now just covering the "other side" is seen as damning evidence of bias, if not treason.
Sievers' praise for "Nightline" supposedly covering "both sides of the story" despite audience preference for a one-sided account is disconcerting, to say the least, in light of CAMERA's documented evidence of "Nightline"'s overwhelmingly one-sided coverage of the Israeli-Palestinian conflict.
For instance, an 18-month study , from January 2003 until June 2004, demonstrated that the broadcasts overwhelmingly were focused--almost always critically--on Israeli conduct, policies and influence, while coverage of Palestinian issues was minimal, and only tentatively critical. In addition, one-third of the speakers on the Israeli side spoke against Israel or its policies. In contrast, there was virtually no internal discord on the Arab side.
Sievers, now a visiting professor at USC's Annenberg School for Communication, has it all backwards. All along, critics were urging "Nightline" to examine "the other side" of the Israeli-Palestinian conflict, while "Nightline" kept on dishing out a one-sided story, airing Palestinian grievances and ignoring Israeli views.
On a related note, recent news reports reveal that "Nightline" anchor Ted Koppel will be leaving the show in December after 25 years, and the program's future is uncertain.
Posted by TS at 04:06 PM
Philadelphia Inquirer Notices Israeli Concerns
This shouldn't be so unusual that it warrants surprise. But it is.
The Philly Inquirer paid more than passing attention to serious Israeli security concerns in a story today by Soraya Sarhaddi Nelson.
The article goes into some depth about smuggling from Egypt into the Gaza Strip:
... what happens below the surface, in secret tunnels that connect the two Rafahs, will help determine the fate of Israeli Prime Minister Ariel Sharon's plan to withdraw from the Gaza Strip this summer. Before the July deadline to withdraw Israeli soldiers and Jewish settlers from Gaza, Egyptian forces will have to stop smugglers from using the tunnels to ship weapons to extremists on the Palestinian side of the border crossing.

The arms smuggling from Egypt has given some Israelis pause about trusting the job to the Egyptians. Israeli media reported late last week that Palestinian extremists had received antiaircraft missiles capable of reaching planes over Israel through the tunnels. And the Israeli military announced Wednesday that its soldiers had arrested four armed Palestinians overnight who were trying to smuggle 53 handguns, 11 assault rifles, and dozens of ammunition clips from Egypt to Gaza. ...

There is international pressure on Israel to withdraw from the Egypt-Gaza crossing to help lay the foundation for a viable Palestinian state. One proposal would transfer patrol duties to a joint Egyptian-Palestinian force.

But Israel refuses to leave without assurances that Egyptian Rafah won't become a transit point for assailants targeting Israel, less than an hour's drive away. While Egyptian police here are quick to crack down on anti-Israeli protests by Rafah's 40,000-plus residents, Israeli officials complain that Egyptian forces haven't done enough to curb the steady flow of weapons to Palestinian extremists through tunnels dug beneath the border.

"The most important thing is we want to pull out of Gaza and not go back again," Israeli Foreign Ministry spokesman Mark Regev said. "We've seen in the past that Jihadist groups try to smuggle in weapons - high-grade explosives and rockets - through the Egyptian border, and they will continue to do that.

"We want a situation where the border is sealed to prevent this smuggling... . We have a long border with Jordan, and the Jordanians do a very good job of preventing the illegal smuggling of weapons. ..."
Why is this "so unusual that it warrants surprise"?
Comments by an anonymous media critic in Jerry Verlin's Brith Sholom Media Watch Alert help answer this question:
This past week there were major stories coming out of Israel and the Palestinian-controlled areas that were either given very short shrift or totally ignored by the Inq. Might this be because they showed just how much the Palestinian Arabs are bent on destroying Israelis and Jewish ties to the land of Israel?

The story of Egypt illegally allowing deadly heat-seeking missiles to be passed through tunnels that begin in its country into waiting hands in the Gaza Strip was but a blip in the Inq [pars. 13-15 of 16, Mon, 3/28/05, A3, AP]. This despite the fact that they can be used to bring down a passenger jet flying into or out of Ben-Gurion Airport, and the AP's own assessment [par. 14]: "If true, the missiles could change the strategic picture."

And why did the Inq not mention at all the writing on the wall - "Allah," half-a-yard high on the Temple Mount wall? The Palestinian Authority's Wakf (religious authority) controls the Temple Mount area (a prize concession from the Israeli government) and is therefore responsible for any acts of vandalism to the Jewish holy site. The Wakf has also been 'excavating' the Temple Mount, destroying and removing millennia of Jewish history. Are you outraged yet?" DQ

Add to the list of DQ's Inq omissions this week the Inq's standing omissions of the Jewish refugees from Arab lands, Jerusalem's century long Jewish majority, the Palestine Mandate and Partition as opposed to "Israel's creation," and that the human rights groups which criticize Israel condemn the terrorists' [sic] acts as crimes against humanity.
Posted by GI at 12:25 PM
April 03, 2005
What is "Palestinian Land"?
In an editorial today, the Los Angeles Times twice refers to settlements built on "Palestinian land" ("A Time to Move, and Move On"). While Los Angeles Times editors might believe West Bank and Gaza land where Jewish settlements are located should become Palestinian, it cannot now be accurately described as such. The territory is disputed. It has not been annexed by Israel, nor has it been allotted to the Palestinians in any agreement between the two sides. It never belonged to any Palestinian state, and had previously (1948 to 1967) been illegally occupied by Jordan and Egypt, respectively.
The last legal sovereignty over the territories was that of the League of Nations Palestine Mandate, which stipulated the right of the Jewish people to settle in the whole of the Mandated territory. According to Article 6 of the Mandate, "close settlement by Jews on the land, including State lands not required for public use" was to be encouraged. (Article 25 allowed the League Council to temporarily postpone the Jewish right to settle in what is now Jordan, if conditions were not amenable.) Article 80 of the U.N. Charter preserved this Jewish right to settlement by specifying that: "nothing in the [U.N. Charter's chapter on the administration of Mandate territory] shall be construed ... to alter in any manner the rights whatsoever of any states or peoples or the terms of existing international instruments." (This updated version of the quote corrects an earlier typographical error.)
The editorial writer goes on to posit: "Most outside Israel consider it unlawful to hold land seized in war." Really? Presumably, Texans and Floridians, both residents of states conquered by war, would disagree.
Posted by TS at 03:59 PM
April 01, 2005
Child Terrorists
P.W. Singer, a senior fellow at the Brookings Institution, wrote in USA Today about child soldiers around the world ("Tragic challenge of child soldiers," March 31). Calling the phenomenon "the world's largest, but least understood, case of child abuse," he acknowledged that Palestinian terrorist groups are involved in this abuse:
Groups such as Hamas and Palestinian Islamic Jihad have pulled children into the terrorism game. More than 30 suicide bombings since 2000, according to Time magazine, have been carried out by children ...
Singer deserves credit for not whitewashing Palestinian terror as others sometimes do. It may be that space constraints prevented Singer from probing deeper, but to help readers better understand the child abuse in the Gaza Strip and West Bank, they could have been told about government-sanctioned incitement in the Palestinian Authority.
As CAMERA's Deborah Passner wrote in a St. Petersburg Times op-ed:
The PA's relentless incitement campaign employing television, newspapers, summer camps, textbooks, and rallies to foment hatred of Jews, and to encourage violence and "martyrdom" is strictly forbidden under the 1989 Convention on the Rights of the Child..." (November 16, 2002)
Posted by GI at 02:27 PM