August 10, 2021
AFP Arabic Stops Mislabeling Northern Israeli Communities 'Settlements"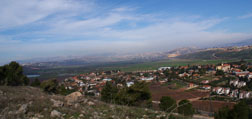 A view of Metulla, northern Israel (Photo by Hadar Sela)
After failing to set the record straight last May when Agence France Presse's Arabic service repeatedly referred to Jewish communities in northern Israel as "settlements," the Arabic-language wire reports no longer misidentify these locales within Israel's pre-1967 lines.
Throughout last week's round of escalation between Israel and Lebanon, AFP's Arabic coverage consistently refrained from using this term when mentioning Kiryat Shmona, calling it "a town" instead. In comparison, between May 14 and 19, AFP referred to nearby Metula as "a settlement" no less than three times.
Notably, in recent months CAMERA Arabic prompted several Arabic news outlets to correct the "settlement" terminology with regards to Jewish communities inside Israel's internationally recognized territory: BBC, Reuters and EuroNews.
Posted by TS at 12:05 PM | Comments (0)