« Boston TV Station WCVB Teamed Up With Terrorist Supporter CAIR | Main | NY Times Praises Ilhan Omar's Book While Glossing Over Her Antisemitism »
August 11, 2020
When TV Interviews of Ilhan Omar Constitute Journalistic Malpractice
Rep. Ilhan Omar's (D-MN) documented animosity toward Jews and Israel was ignored in recent interviews by MSNBC and C-SPAN.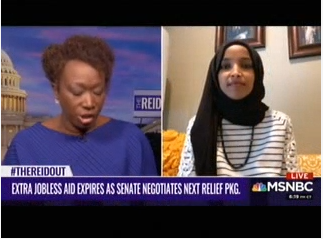 MSNBC's The Beat for July 23, 2020 included host Ari Melber's 10-minute conversation at 6:16 pm EST with Omar (screenshot above left).
MSNBC's The Reidout with Joy Reid for July 24, 2020 provided a 15-minute conversation at 7:18 pm EST with Omar (screenshot above right).

C-SPAN's BookTV program aired on July 26, 2020 a 35-minute conversation between host Peter Slen and Omar about her book, "This Is What America Looks Like" dealing with "her journey from Somalia as a refugee to becoming one of the first Muslim women elected to the U.S. Congress."
These interviews provided Omar with valuable public exposure during an election season, but they failed to note her history of antisemitism.
Ilhan Omar's problem with Jews and Israel
• In July 2020, an Omar campaign mailer accused her congressional opponent of being "in the pocket of Wall Street" and mentions three Jewish donors by name. The mailer references only the three donors, plus "Michael, a donor from Scarsdale, New York." This echoes the anti-Semitic trope that Jews exercise excessive political influence through use of outsize wealth.
• In February 2019, Omar employed the anti-Semitic dual loyalty trope while referring to American Jewish supporters of Israel: "[There is] the political influence in this country that says it is okay to push for allegiance to a foreign country."
• In February 2019 Omar tweeted, "It's all about the Benjamins, baby!" in response to a report about AIPAC, a pro-Israel organization. Omar's tweet echoed a longstanding anti-Semitic trope — the implication that Jewish political influence operates entirely ("all about") through money as well as the implication that Jews exercise undue political influence. The tweet refers to the fact that a representation of Benjamin Franklin is on the $100 bill, the largest U.S. dollar bill in circulation.
• In March 2019 Omar stated: "some people [who] did something" — in describing the Islamist terrorists who killed thousands of Americans on Sept. 11, 2001.
• In a November 2012 tweet, Omar accused Israel of "hypnotizing the world," while insinuating that her fellow lawmakers are purchased by Jewish money, and that the Jewish Americans among them have dual loyalties. Her comments meet the widely accepted International Holocaust Remembrance Alliance (IHRA) definition of antisemitism, used by the U.S. State Department and others.
Is there any other prominent ethnic/religious/national group that would be so egregiously overlooked or slighted as in these interviews on MSNBC or C-SPAN or, for that matter, any other major network?

Posted by MK at August 11, 2020 03:30 PM
Comments
Guidelines for posting
This is a moderated blog. We will not post comments that include racism, bigotry, threats, or factually inaccurate material.
Post a comment