« When Palestinians Like Checkpoints | Main | Harper's Magazine Echoed Palestinian Propaganda Condemning Israel And America »
June 02, 2020
Reuters Arabic Misidentifies Dome of Rock
The following photo and caption appeared in the Arabic version of an article by Reuters' Stephen Farrell, published on April 24 and dedicated to the opening Friday of Ramadan in the Old City of Jerusalem: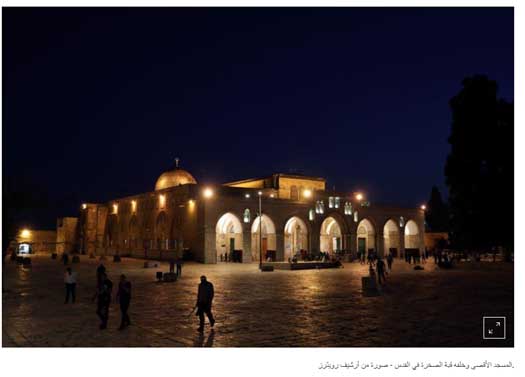 The Arabic reads: "Jerusalem's Al-Aqsa Mosque with the Dome of the Rock behind it – a picture from the Reuters archive."
However, the dome shown in the back of the photo belongs to the mosque itself, while the Dome of the Rock does not appear at all in the picture as is located behind the camera.
Notably, the English version of the same article is accompanied by a different photo and does not contain the error.
Given the great importance of both buildings to Muslims worldwide, it is rather striking that editors of Reuters' Arabic service made this error. CAMERA had notified editors of the error, and yet they have failed to correct.
Posted by TS at June 2, 2020 08:24 AM
Comments
Guidelines for posting
This is a moderated blog. We will not post comments that include racism, bigotry, threats, or factually inaccurate material.
Post a comment