« December 2019 | Main | March 2020 »
January 07, 2020
Seattle Media Oblivious To Imam's Hateful Indoctrination Condemning Jews
The Masjid Ar-Rahmah mosque teaching – that Allah transformed Jews into apes and pigs for disobeying him – delivered by Imam (prayer leader) Mohamad Joban – was posted online by mosque personnel. This December 2019 indoctrination at the Seattle, Washington area mosque was mainly in English.
This inflammatory anti-Semitic rhetoric is an Islamist trope used to attack Jews and the Jewish state. Note that the "apes and pigs" teaching has long been a staple of Palestinian anti-Israel propaganda. Here is an example from Palestine Today (Palestinian news agency) via Palestinian Media Watch (PMW):
Headline: "The will of Martyr Omar Al-Abd who carried out the stabbing operation next to Ramallah"
"You [Israeli Jews], the sons of apes and pigs, if you do not open the gates of the Al-Aqsa Mosque, I am certain that after me will come a man who will strike [you] with an iron hand, I warn you! I know that I'm going there and I'll never come back here; rather I'll come back to Paradise, in the embrace of Allah's mercies. How good and pleasant is death and Martyrdom (Shahada) …"
The Joban video clip was posted to the Free Speech Video Platform site (3speak). P L A Y: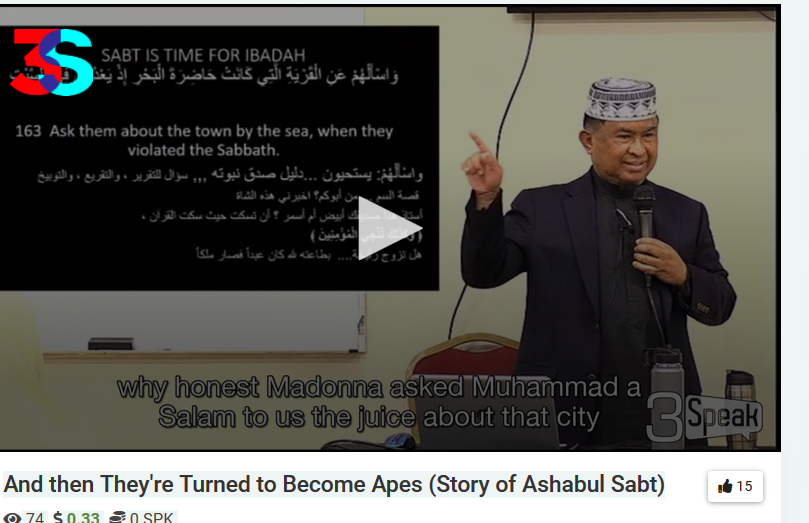 Excerpts from the nearly hour-long presentation

[…]

The question now Is whether they [the Jews who turned into apes] continued to have generations [of apes] after their death. The scholars have two opinions. He [one] said that after a while, all of them died. Because Allah made them monkeys as a punishment, they died already. But some say: "No, they have generations…"

[…]

Allah just wanted to tell us what Allah told you a long time ago that people turned into monkeys and that this is true. It is religion, look at them, some of them stayed apes and pigs …

Media covering Joban's teaching
The only Washington media entity, that could be found, reporting the event is little-known MyNorthwest which nevertheless extracted an apology from the mosque but the apology appears nowhere else (yet).
The question is why didn't leading local or state media outlets report about such anti-Semitic incitement in the form of a publicized sermon by a local mosque? Why didn't these outlets — such as the Seattle Times, Spokane Spokesman-Review, The Herald, News Tribune or Seattle TV stations KING (NBC), KIRO (CBS), KOMO (ABC), KCPQ (Fox), KCTS (PBS) — consider this matter to be newsworthy?
It's disturbing that during the current period of greatly increased violence victimizing Jews, local and state media outlets failed to inform the public of this instance of incitement to such violence.
Posted by MK at 01:07 PM | Comments (0)