« In English, Haaretz Whitewashes Temple Mount Killings | Main | Again, NY Times Silent on Islamic Jihad Terror Designation »
November 05, 2019
Reuters Errs on Administrative Detention For 'Anti-Israel Activity'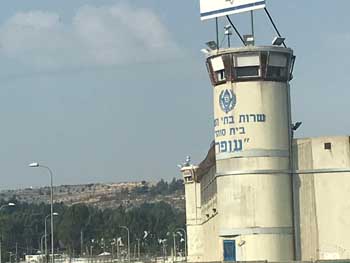 The Ofer Prison, near Ramallah (Photo by Tamar Sternthal)
A Reuters article today egregiously misrepresents administrative detention, erroneously asserting that it is mainly applied to "Palestinians suspected of anti-Israeli activities," when in fact the Israeli practice applies in cases of suspected security offenses. The Nov 4. article ("Jordan says two citizens held in Israel to return 'before the end of the week'") errs:
Israel mainly uses "administrative detention", or imprisonment without trial, against Palestinians suspected of anti-Israeli activities. (Emphasis added.)
The identical error also appears in this earlier Oct. 29 article.
Israel does not mainly use administrative detention against Palestinians suspected of "anti-Israeli activities" generally. Rather, the measure may only be applied in cases of suspicion regarding security-related offenses.
Thus, B'Tselem, an NGO highly critical of Israeli government policies and activity in the West Bank, explains:
In the West Bank (not including East Jerusalem), administrative detention is carried out under the Order regarding Security Provisions. The order empowers the military commander of the West Bank, or another commander to whom the power has been delegated, to place individuals in administrative detention for up to six months at a time, if the commander has "reasonable grounds to believe that reasons of regional security or public security require that a certain person be held in detention".
The Associated Press, another leading wire service, accurately described administrative detention yesterday, stating that the two Jordanian citizens to be released later this week
are being held in administrative detention, an Israeli policy that allows for open-ended detentions without filing charges against people suspected of security offenses.
CAMERA has contacted Reuters to request a clarification. Stay tuned for an update.

Posted by TS at November 5, 2019 07:38 AM
Comments
Guidelines for posting
This is a moderated blog. We will not post comments that include racism, bigotry, threats, or factually inaccurate material.
Post a comment