May 14, 2019
Rashida Tlaib Says Palestinians "Provided" Jewish Haven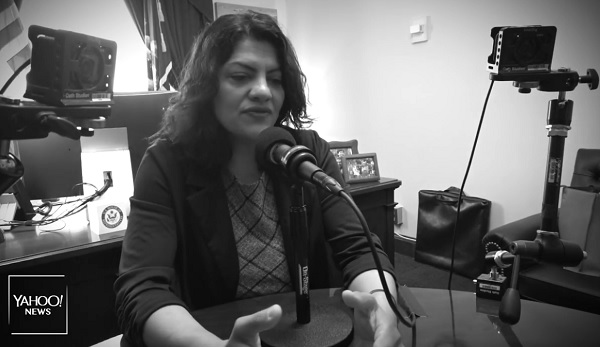 As is often the case in politics, much of the back and forth over Rashida Tlaib's latest inflammatory comments — this time about the Palestinians and the Holocaust — seemed to be about partisan point-scoring more than the basic accuracy of her claims.
No, Tlaib didn't say that the Holocaust per se makes her feel good.
And no, criticism of Tlaib's comments isn't driven by a smear campaign motivated by her religion, skin color, or party affiliation.
In her appearance on the Skullduggery podcast, Tlaib promoted the argument that her Palestinian ancestors suffered "in the name of trying to create a safe haven for Jews" after the Holocaust. She also said she got a "calming feeling" when thinking about the Holocaust because, in her words, "I love the fact that it was my ancestors that provided that [safe haven] — right? — in many ways."
But as many critics pointed out, Tlaib's revisionist account of history conceals and upends what actually happened. In the Atlantic, Benny Morris reminds readers that, far from "providing" shelter, the Palestinian leadership violently opposed a safe haven for Jews, and even collaborated with Hitler:
The Palestinians indirectly, and in some ways directly, aided in the destruction of European Jewry.

After Hitler's accession to power in Germany in 1933, German and then Eastern European Jews sought escape and safe havens. But all the Western countries, including the United States and Britain and its dominions, closed their doors to significant Jewish immigration. Palestine emerged as the only potential safe haven. In 1932, the British allowed 9,500 Jews to immigrate to Palestine. In 1933, the number shot up to 30,000, and in 1935, it peaked at 62,000.

But from 1933 onward, Palestine's Arabs—led by the cleric Muhammad Haj Amin al-Husseini, the grand mufti of Jerusalem—mounted a strident campaign to pressure the British, who governed Palestine, to bar all Jews from entering the country. To press home their demand, in 1936 they launched an anti-British and anti-Zionist rebellion that lasted three years. Apart from throwing out the British, the rebellion's aim was to coerce London into halting all Jewish entry into Palestine.

Moreover, the anti-Jewish violence, which claimed the lives of hundreds of Jews and wounded many more, itself served to deter would-be emigrants from seeking to move to Palestine. British entry certificates for Jews to Palestine declined to 30,000 in 1936, 10,000 in 1937, and 15,000 in 1938. Those who couldn't get in were left stranded in Germany, Poland, Hungary, and elsewhere. Almost all died in the Holocaust, which the Germans unleashed in 1941.

But the Palestinians' contribution to the Holocaust was also more direct. Husseini, having fled Palestine during the revolt, helped pro-Nazi generals launch an anti-British rebellion in Iraq in 1941 (which itself engendered a large-scale pogrom against Baghdad's Jews, the Farhoud). When that rebellion failed, he fled to Berlin, where he was given a villa and a generous monthly salary, and lived in comfort until the end of the world war. During the war, he helped recruit Muslims from the Balkans for the German army and the SS, and in radio broadcasts exhorted Middle Eastern and North African Arabs to launch jihad against the British and "kill the Jews."
Posted by gi at 03:50 PM | Comments (0)