« Reuters Falsely Links Jerusalem Embassy, Two-State Solution | Main | Palestinian Malevolent Indoctrination Exposed; Mainstream Media Are Indifferent »
February 04, 2019
Did WCC Activists Attend A Birthday Party Promoted by Palestinian Extremist Organization?
The video is a bit fuzzy and grainy.
But the footage of birthday party for Shadi Farar, a 12-year-old Palestinian boy who spent three years in an Israeli jail on charges of intent to murder, indicates that at least one member of a so-called peacemaking organization was present. The birthday party took place in Hebron late last year.
At about four and a half minutes into the video, there's a few frames' worth of someone wearing a vest seems to be one of the vests worn by activists associated with the Ecumenical Accompaniment Program in Palestine Israel or EAPPI. This organization, which is part of the World Council of Churches, has a long-history of promoting anti-Israel propaganda and affiliating with anti-normalization extremists in the West Bank.
Instead of working to promote peace between Jews and Arabs living in the West Bank, EAPPI works to undermine the prospects of peace between the two communities.
If it weren't for EAPPI's history of demonizing Israel and violating Israeli law (more about that here and here), we would be obligated to give the organization the benefit of doubt. There would simply no way that a responsible Christian peacemaker would visit a birthday party promoted on Facebook by Younes Arar, who leads an organization called, "Palestinian Human Rights Defenders."
To get a sense of the organization's agenda, take a look at its logo, which can be seen on its Facebook page: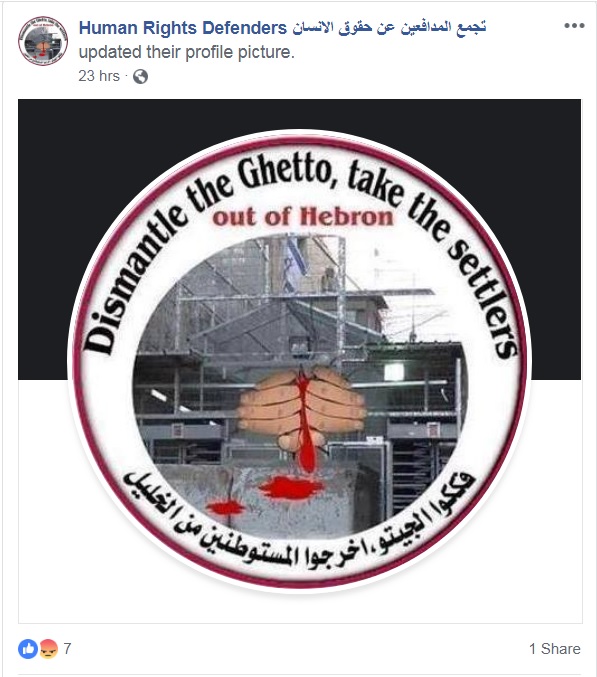 There's a lot of blood in that logo, which seems to indicate that the organization's underlying agenda is not a peaceful one. And then there's the slogan: "Dismantle the Ghetto, Get the Settlers Out of Hebron."
The last time someone worked to get Jews out of Hebron was in 1929, when Palestinian terrorists incited by the Grand Mufti of Jerusalem, Haj Amin Al-Husseini, murdered 69 Jews. The Grand Mufti would probably love the logo!

This is why it is so troubling that WCC and EAPPI officials have not responded to queries posted on Twitter regarding the party. The question is a pretty simple one: Did EAPPI activists attend a propagandistic birthday party promoted by Palestinian Human Rights Defenders, an anti-normalization organization that seeks to drive Jews from their homes in Hebron?
If the answer is no, great!
If the answer is yes, well, then the WCC owes Israel and its citizens an apology for allowing its peace activists to affiliate with people who promote hatred and hostility toward Jews in the Holy Land in clear contradiction of the organization's stated opposition to antisemitism and violence.
This would not be the first time EAPPI activists have associated with promoters of hatred in the West Bank. They made regular visits to Hasan Breijieh, coordinator for the Committee Against the Wall and spokesperson for the Popular Front for the Liberation of Palestine (PFLP), which was designated a terrorist organization by the U.S. State Department in the 1990s.
Watch this video here to see Breijieh being accompanied by two EAPPI activists as he harasses Jews outside their homes — on shabbat no less — in the West Bank. He's also written a poem that looks forward to the murder of Jews living in the West Bank. (You can see the text of that poem in the description of the Youtube video linked above.)
Breijieh has gotten regular visits from EAPPI activists. Here are three photos from Breijieh's Facebook page documenting these visits.

Clearly, EAPPI activists have been hanging out with people they shouldn't be hanging out with. In light of this evidence, it seems reasonable to ask the WCC a few questions, such as:
1. Did EAPPI activists go to the birthday party mentioned above? Yes or no?
2. What type of oversight does the WCC exert on EAPPI activists?
3. Who's in charge of the actions of EAPPI activists once they're in the field?
4. Have EAPPI activists ever visited the homes of Israeli Jews who have lost their loved ones to Palestinian acts of terror?
5. Has the WCC taken any actions whatsoever to prevent the EAPPI program from being hijacked by Palestinian extremists? Have they ever stood in opposition to Palestinian violence?
Until the WCC and EAPPI start answering questions like this, Israelis and Jews throughout the world have every reason to be suspicious of the organizations' agenda.
Posted by dvz at February 4, 2019 03:38 PM
Comments
Guidelines for posting
This is a moderated blog. We will not post comments that include racism, bigotry, threats, or factually inaccurate material.
Post a comment