« January 2019 | Main | March 2019 »
February 28, 2019
Diminishing the Horrors of Nazism
There is an unfortunate tendency by some who possess a pulpit -- whether media or otherwise -- to embellish valid (or invalid) points by flippantly tossing out the epithet "Nazis".
For example, MSNBC's Velshi & Ruhle program recently featured journalist Elise Labott demonizing far-right wing parties in Israel as "neo-Nazis" in her discussion of Israeli Prime Minister Netanyahu's alliance with them. She said:
A lot of these right wing parties which Netanyahu has been cozying up to ...[are] the extremist parties that have some kind of neo-Nazi tendencies, white Supremacist tendencies, if you will...
What she was criticizing was Netanyahu's widely-condemned alliance with the right-wing Jewish Home and National Union parties that formed a voting bloc with the controversial Otzma Yehudit (Jewish Power) party.
While the first two are simply nationalist parties on the right, Otzma Yehudit has its roots in the late Rabbi Meir Kahane's Kach party, established in 1971 and eventually banned because of its racist platform. Otzma Yehudit's
radical platform
includes establishing a theocracy in Israel, taking over the Temple Mount and encouraging the emigration of the "enemies of Israel" from the country, which they take to mean most Arabs, or at least those who oppose a Jewish state.
Whatever one may think about the party's platform --illiberal, undemocratic, or racist -- it is a gross overstatement to compare it to Nazism, a movement that considered Jews, Gypsies and others inherently inferior--sub-humans to be starved, tortured and brutally mass-murdered. To call Jewish Home, National Union, or even Otzma Yehudit akin to Nazis is to abuse the memories of the milliions who were slaughtered by Hitler's followers.
Posted by rh at 05:01 PM | Comments (0)
February 26, 2019
Palestinian Malevolent Indoctrination Exposed; Mainstream Media Are Indifferent

Palestinian Media Watch (PMW), an Israel-based non-governmental organization, analyzes and presents in English to the world the ongoing inflammatory indoctrination of Palestinians in Arabic particularly via Palestinian Authority (PA) television (West Bank). PMW is a unique resource in this regard; even the New York Times has occasionally used it as a source for some statistic.
But the Times and its media colleagues fail to recognize the significance of this usually Islamist-related indoctrination that sharply contrasts with the benign portrayal presented in English to the world by the Palestinians, their supporters and often the mainstream media. Clearly, the indoctrination (including that via mosque messages) motivates Palestinians to commit extreme violence against Jews.
An indication of the honored position of Islamist terrorists in Palestinian society is the fact that the PA has announced that it will cut all PA public employees' salaries but not "pension stipends and the allowances of the families of the Martyrs, the wounded, and the prisoners [of Israel], which will be paid in full." PA television said, "Our Martyrs and prisoners are the source of our glory and pride. They are more honorable than all of us."

A recent indoctrinating message (Feb. 9, 2019) shows Palestinians joyfully singing on TV about the brutal murder of an Israeli by a Palestinian. As Israel grieves a brutal murder, PA TV sings:


From the music video:
"We are not afraid of the enemy –
a bone in the throat of the Zionists…
Victory is certain, it's inevitable…
We have given them a taste of grief."
The singer points to a young child he is holding as if to say, 'this child is the future terrorist'
PMW's Itamar Marcus and Nan Jacques Zilberdik wrote about the music video: "Two days after the brutal murder [by a Palestinian] of the 19-year-old Israeli woman Ori Ansbacher, official Palestinian Authority TV broadcast a song celebrating that Palestinians cause Israelis grief… While singing the words promising more prisoners, the singer points to a young child he is holding as if to say: This child is the future terrorist; this child is the future prisoner. The song's message is that today's children are the future terrorists and prisoners …" This is not the first time PA TV broadcast this particular song.
According to the Jerusalem Post, the Palestinian man now in Israeli custody for murdering Ori Ansbacher, Arafat Irfaiya, informed interrogators that he wishes to become a martyr. This indicates that he's an Islamist.
PMW study of PA inculcation
The findings of Kill A Jew–Go To Heaven, an extensive study containing more than 100 examples are:
PA teaches an ideology of virulent hatred of Jews and Israel that mandates the killing of Jews solely because they are Jews. The murder of Jews is presented not only as beneficial to Muslims and Arabs, but as necessary for all humankind. These findings are based on a thorough study and analysis of eight years of official PA television and PA controlled daily newspapers. This report documents how this hate ideology has been taught for years, well before the war started in September 2000, and continues even after the death of Yasser Arafat.
The roots of the hatred
PA President Mahmoud Abbas has shown that the hatred is related to Islamism. As is noted in a Wall Street Journal report on Oct. 18, 2015, Abbas is shown on PA television saying,
We bless every drop of blood that has been spilled for Jerusalem, which is clean and pure blood, blood spilled for Allah, Allah willing. Every Martyr will reach Paradise, and everyone wounded will be rewarded by Allah. The Al-Aqsa [Mosque] is ours, the Church of the Holy Sepulchre is ours, and they [the Jews] have no right to defile them with their filthy feet. We will not allow them to, and we will do everything in our power to protect Jerusalem.
How do the media justify ignoring the pervasive Islamist-related hate as a crucial factor in the Israeli-Palestinian conflict?
Posted by MK at 12:09 PM | Comments (0)
February 04, 2019
Did WCC Activists Attend A Birthday Party Promoted by Palestinian Extremist Organization?
The video is a bit fuzzy and grainy.
But the footage of birthday party for Shadi Farar, a 12-year-old Palestinian boy who spent three years in an Israeli jail on charges of intent to murder, indicates that at least one member of a so-called peacemaking organization was present. The birthday party took place in Hebron late last year.
At about four and a half minutes into the video, there's a few frames' worth of someone wearing a vest seems to be one of the vests worn by activists associated with the Ecumenical Accompaniment Program in Palestine Israel or EAPPI. This organization, which is part of the World Council of Churches, has a long-history of promoting anti-Israel propaganda and affiliating with anti-normalization extremists in the West Bank.
Instead of working to promote peace between Jews and Arabs living in the West Bank, EAPPI works to undermine the prospects of peace between the two communities.
If it weren't for EAPPI's history of demonizing Israel and violating Israeli law (more about that here and here), we would be obligated to give the organization the benefit of doubt. There would simply no way that a responsible Christian peacemaker would visit a birthday party promoted on Facebook by Younes Arar, who leads an organization called, "Palestinian Human Rights Defenders."
To get a sense of the organization's agenda, take a look at its logo, which can be seen on its Facebook page: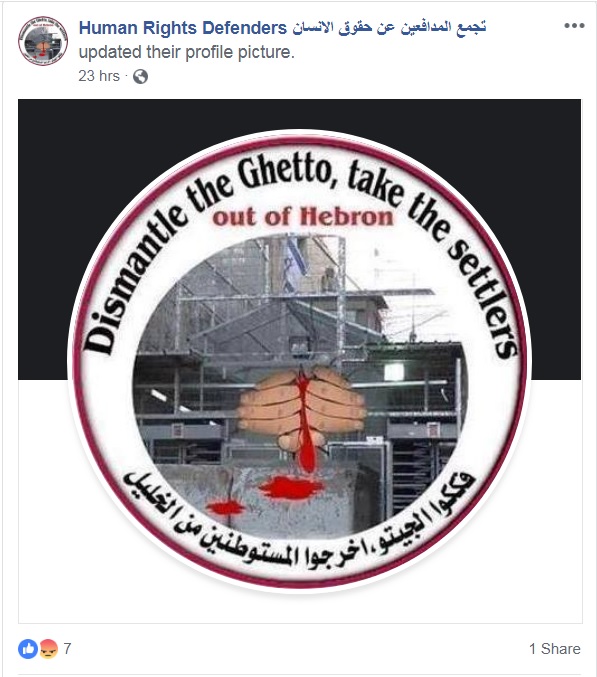 There's a lot of blood in that logo, which seems to indicate that the organization's underlying agenda is not a peaceful one. And then there's the slogan: "Dismantle the Ghetto, Get the Settlers Out of Hebron."
The last time someone worked to get Jews out of Hebron was in 1929, when Palestinian terrorists incited by the Grand Mufti of Jerusalem, Haj Amin Al-Husseini, murdered 69 Jews. The Grand Mufti would probably love the logo!

This is why it is so troubling that WCC and EAPPI officials have not responded to queries posted on Twitter regarding the party. The question is a pretty simple one: Did EAPPI activists attend a propagandistic birthday party promoted by Palestinian Human Rights Defenders, an anti-normalization organization that seeks to drive Jews from their homes in Hebron?
If the answer is no, great!
If the answer is yes, well, then the WCC owes Israel and its citizens an apology for allowing its peace activists to affiliate with people who promote hatred and hostility toward Jews in the Holy Land in clear contradiction of the organization's stated opposition to antisemitism and violence.
This would not be the first time EAPPI activists have associated with promoters of hatred in the West Bank. They made regular visits to Hasan Breijieh, coordinator for the Committee Against the Wall and spokesperson for the Popular Front for the Liberation of Palestine (PFLP), which was designated a terrorist organization by the U.S. State Department in the 1990s.
Watch this video here to see Breijieh being accompanied by two EAPPI activists as he harasses Jews outside their homes — on shabbat no less — in the West Bank. He's also written a poem that looks forward to the murder of Jews living in the West Bank. (You can see the text of that poem in the description of the Youtube video linked above.)
Breijieh has gotten regular visits from EAPPI activists. Here are three photos from Breijieh's Facebook page documenting these visits.

Clearly, EAPPI activists have been hanging out with people they shouldn't be hanging out with. In light of this evidence, it seems reasonable to ask the WCC a few questions, such as:
1. Did EAPPI activists go to the birthday party mentioned above? Yes or no?
2. What type of oversight does the WCC exert on EAPPI activists?
3. Who's in charge of the actions of EAPPI activists once they're in the field?
4. Have EAPPI activists ever visited the homes of Israeli Jews who have lost their loved ones to Palestinian acts of terror?
5. Has the WCC taken any actions whatsoever to prevent the EAPPI program from being hijacked by Palestinian extremists? Have they ever stood in opposition to Palestinian violence?
Until the WCC and EAPPI start answering questions like this, Israelis and Jews throughout the world have every reason to be suspicious of the organizations' agenda.
Posted by dvz at 03:38 PM | Comments (0)