« New Yorker's Ostensible Accuracy on Gaza Fisherman | Main | Founder of Women's March Distances Herself from Linda Sarsour and Other Haters »
November 19, 2018
More Hypocrisy and Anti-Semitism From Linda Sarsour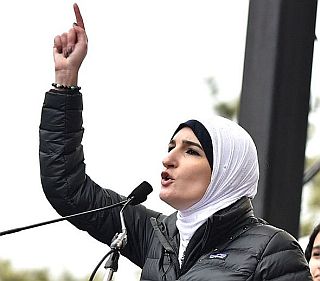 In an earlier CAMERA exposé, we pointed out the self-serving allegiances and disgraceful hypocrisy of Linda Sarsour (of Women's March fame). We demonstrated how she poses as a universal activist who embraces all marginalized people while excluding those minorities whose views do not totally align with hers; she poses as a black and Muslim feminist,while trying to silence other black and Muslim feminists who expose oppression against women; she poses as an opponent of anti-Semitism and a proponent of racial justice who fights for Palestinian national self-determination, while denying Jews the same right; she demands free speech for herself and for her BDS campaign, while shutting down the free speech of anyone who disagrees with her.
In her latest example of hypocritical anti-Semitism, she attacks as Israel-firsters those progressive American Jews who exercise their democratic and free speech rights by criticizing BDS-supporter and politician Ilhan Omar. Sarsour turns truth on its head by accusing them of "put[ting] allegiance to Israel over democracy and free speech" merely because they disagree with positions expressed by Omar.
Of course, when Palestinian-American Rashida Tlaib danced with a Palestinian flag, rather than an American flag at her victory party following her election to Congress, Sarsour made no such accusations of her compatriot being a "Palestinian-firster" or placing other allegiances over her American allegiance.
This is History. Watch every second of this.

Rashida Tlaib, the first Palestinian and Muslim American congresswomen, proclaims victory.

Share widely, and be inspired. #ElectionNight pic.twitter.com/oP7qWJyHJK

— Khaled Beydoun (@KhaledBeydoun) November 7, 2018
In short, there is no better personification of hypocrisy than "Linda Sarsour"!
Posted by RH at November 19, 2018 11:44 AM
Comments
Guidelines for posting
This is a moderated blog. We will not post comments that include racism, bigotry, threats, or factually inaccurate material.
Post a comment