« More Hypocrisy and Anti-Semitism From Linda Sarsour | Main | AFP Headline Casts Palestinian Assailant as Victim »
November 20, 2018
Founder of Women's March Distances Herself from Linda Sarsour and Other Haters
Teresa Shook, founder of the Women's March, has asked Linda Sarsour and other haters to step down as co-chairs of the movement.
In her Facebook posting, Ms. Shook laments that Sarsour and others -- Bob Bland, Tamika Mallory, and Carmen Perez -- "have steered the Movement away from its true course..." and recognizes that "in opposition to our Unity Principles, they have allowed anti-Semitism, anti- LBGTQIA sentiment and hateful, racist rhetoric to become a part of the platform by their refusal to separate themselves from groups that espouse these racist, hateful beliefs".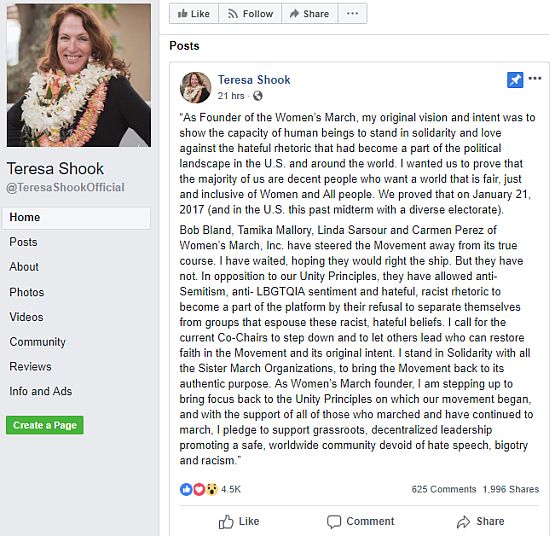 Posted by rh at November 20, 2018 10:14 AM
Comments
Guidelines for posting
This is a moderated blog. We will not post comments that include racism, bigotry, threats, or factually inaccurate material.
Post a comment