« Founder of Women's March Distances Herself from Linda Sarsour and Other Haters | Main | Think Tank: Iran Was Closer to Building a Bomb Than Previously Thought »
November 21, 2018
AFP Headline Casts Palestinian Assailant as Victim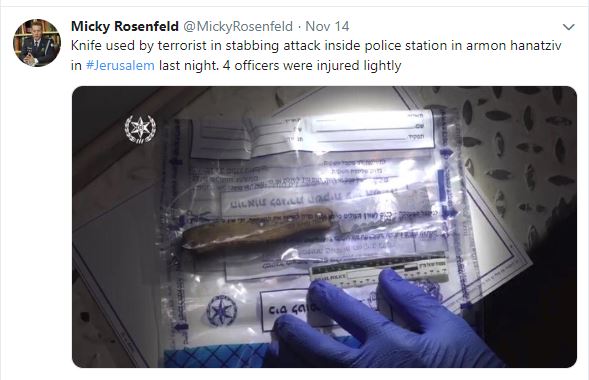 Agence France Presse yesterday published a throwback headline, bringing us back to the period almost two years ago in which media outlets serially produced headlines which depicted Palestinian attackers as the victims.
The wire agency's grossly misleading English-language headline yesterday was:
Palestinian in Jerusalem police station attack dies of wounds
As the article itself states, the Palestinian was actually the assailant -- basic information that should have been made clear in the headline. The article begins:


A Palestinian teenager shot last week after attacking Israeli officers at a police station in annexed east Jerusalem died of his wounds on Tuesday, a hospital said.

"The terrorist from the incident in the Armon Hanatziv police station has died," the Shaare Zedek hospital in Jerusalem said in a statement.
AFP's French headline, in contrast, clearly identifies the Palestinian as the perpetrator of the Jerusalem police station attack. It states: "Jerusalem: a Palestinian assailant succumbs to his wounds (hospital)." (Translation by InfoEquitable.) The original French headline is:
Jérusalem: un assaillant palestinien succombe à ses blessures (hôpital)
Posted by TS at November 21, 2018 07:19 AM
Comments
Guidelines for posting
This is a moderated blog. We will not post comments that include racism, bigotry, threats, or factually inaccurate material.
Post a comment