« July 2018 | Main | December 2018 »
November 29, 2018
The Washington Post Ignores Antisemitic Attack in Los Angeles
The Washington Post has warned about a "rising tide of antisemitism." But as CAMERA has highlighted, The Post's coverage of antisemitism has frequently been selective and is often politicized. More recently, the newspaper even ignored a high-profile antisemitic attack.
On the night of Nov. 23, 2018 a Mogadishu-born man named Mohamed Mohamed Abdi used a rented car to try to run over two Jewish men outside of a Los Angeles synagogue. Authorities arrested Abdi who reportedly "made anti-Semitic remarks" at the Jewish men and made several U-turns in his attempts to target them.
Los Angeles Police and the FBI are investigated the incident as a hate crime. Several major U.S. news outlets, including ABC, Fox News, and others reported on the crime. Some, such as The Los Angeles Times, obfuscated on Abdi's antisemitic motivations.
As the journalist Armin Rosen noted in Tablet Magazine:
"Readers had to hack through this thicket of self-contradiction that begins a Nov. 26 Los Angeles Times report on the incident: 'Authorities are trying to determine the motivations and background of a 32-year-old Seattle man who allegedly tried to run down two men outside of a synagogue in Hancock Park last week in an attack that police have described as a hate crime.'"
The motivations, however, seem clear enough: Abdi had "yelled several expletives at the victims referencing their Jewish heritage," according to the LAPD's deputy chief.
As Rosen pointed out, The Los Angeles Times's report was "perhaps, an improvement on The New York Times and Washington Post's coverage of the attack"; both papers failed to provide readers with original reporting on the incident.
The Washington Post, for all of its professed concern about rising antisemitism, merely reprinted an Associated Press brief.
Posted by SD at 12:53 PM | Comments (0)
November 23, 2018
Think Tank: Iran Was Closer to Building a Bomb Than Previously Thought
A Nov. 20, 2018 report by a Washington D.C.-based think tank, the Institute for Science and International Security (ISIS) argues that Iran's illegal nuclear weapons program was "more advanced than Western intelligence agencies and the International Atomic Energy Agency had thought." ISIS analyzed documents seized by Israeli intelligence operatives in a daring raid for their study.
That raid, first revealed by Israeli Prime Minister Benjamin Netanyahu in an April 30, 2018 speech, resulted in thousands of documents being taken from Tehran's nuclear archive. The documents were subsequently authenticated by the United States.
As CAMERA noted in a Nov. 8, 2018 Daily Caller Op-Ed, several commentators — many of them supporters of the Joint Comprehensive Plan of Action, popularly known as the "Iran deal" — immediately claimed that Israel's findings revealed "nothing new."
For example, a May 3, 2018, CNN report by CNN was headlined "Israel reveals nothing new about Iran's nuclear program, experts say." But these "experts" made their claims —which were uncritically parroted by nearly every major Western news outlet — without having viewed any of the thousands of documents.
The Institute's study, however, proves that they were wrong. In fact: analysts are "still sifting through the archive," according to David Albright, the organization's executive director. The archive is more than 10,000 pages long and covers the period from 1999 to 2003.
Iran, the ISIS report said, "made more progress" towards creating nuclear weapons than was "known before the seizure of the archives."
ISIS noted that the documents show that Iran had planned to manufacture 5 nuclear warheads, to acquire highly enriched uranium (HEU) from abroad, to achieve the ability to carry out underground nuclear tests, and to produce HEU via constructing a "parallel fuel cycle."
The archive also showed that Iran had created a "Supreme Council for Advanced Technologies" to "oversee these efforts." The Supreme Council made the decision in late 1999 or early 2000 to create nuclear weapons. Hassan Rouhani, Iran's current president who is frequently labeled a "moderate" by the media, was serving on that Council at the time in his post as the National Security Council Secretary General.
According to ISIS:
"Mr. Rouhani was a central, on-going figure in the nuclear weapons program in the late 1990s and early 2000s. It is difficult to find evidence that his support for nuclear weapons ever ended. If anything, he seems to offer continuity for finding ways to deflect international pressure while continuing the program, awaiting a day when Iran can decide whether the program should fully re-emerge and build nuclear weapons."
The Institute pointed out that prior to their analysis of the captured documents, the world—including the International Atomic Energy Agency (IAEA), a watchdog agency tasked with ensuring compliance—did not know how many nuclear weapons Iran planned to make, or how it was going to do so. But now, "the IAEA has access to much, if not most, of the content of the Iranian archives seized by Israel in Tehran."
Troublingly, ISIS noted, "there is no visible indication that the IAEA is yet acting on the new information."
ISIS's report can be found here.
Posted by SD at 10:41 AM | Comments (0)
November 21, 2018
AFP Headline Casts Palestinian Assailant as Victim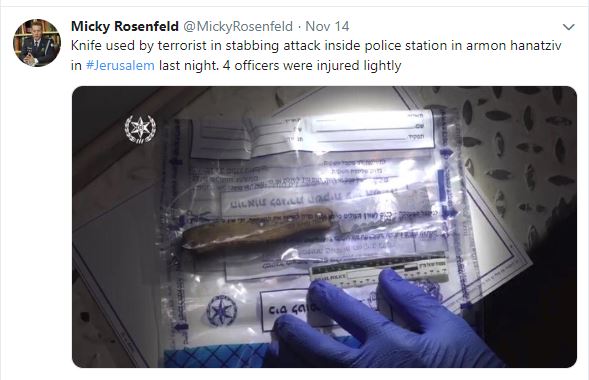 Agence France Presse yesterday published a throwback headline, bringing us back to the period almost two years ago in which media outlets serially produced headlines which depicted Palestinian attackers as the victims.
The wire agency's grossly misleading English-language headline yesterday was:
Palestinian in Jerusalem police station attack dies of wounds
As the article itself states, the Palestinian was actually the assailant -- basic information that should have been made clear in the headline. The article begins:


A Palestinian teenager shot last week after attacking Israeli officers at a police station in annexed east Jerusalem died of his wounds on Tuesday, a hospital said.

"The terrorist from the incident in the Armon Hanatziv police station has died," the Shaare Zedek hospital in Jerusalem said in a statement.
AFP's French headline, in contrast, clearly identifies the Palestinian as the perpetrator of the Jerusalem police station attack. It states: "Jerusalem: a Palestinian assailant succumbs to his wounds (hospital)." (Translation by InfoEquitable.) The original French headline is:
Jérusalem: un assaillant palestinien succombe à ses blessures (hôpital)
Posted by TS at 07:19 AM | Comments (0)
November 20, 2018
Founder of Women's March Distances Herself from Linda Sarsour and Other Haters
Teresa Shook, founder of the Women's March, has asked Linda Sarsour and other haters to step down as co-chairs of the movement.
In her Facebook posting, Ms. Shook laments that Sarsour and others -- Bob Bland, Tamika Mallory, and Carmen Perez -- "have steered the Movement away from its true course..." and recognizes that "in opposition to our Unity Principles, they have allowed anti-Semitism, anti- LBGTQIA sentiment and hateful, racist rhetoric to become a part of the platform by their refusal to separate themselves from groups that espouse these racist, hateful beliefs".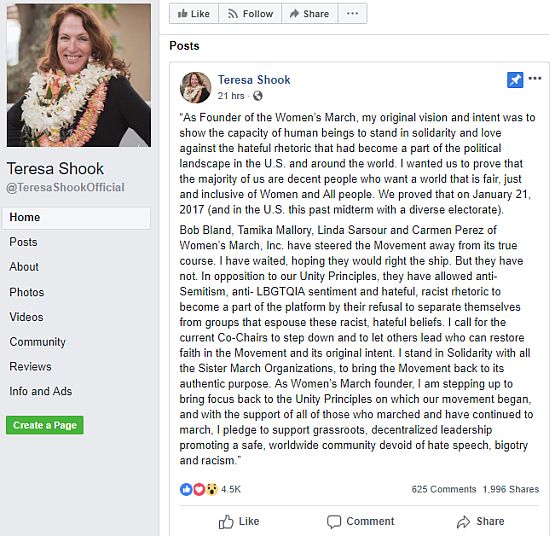 Posted by rh at 10:14 AM | Comments (0)
November 19, 2018
More Hypocrisy and Anti-Semitism From Linda Sarsour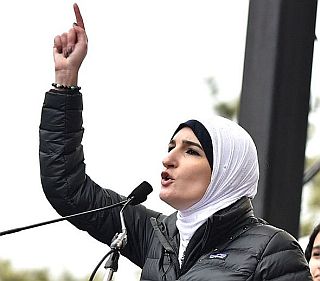 In an earlier CAMERA exposé, we pointed out the self-serving allegiances and disgraceful hypocrisy of Linda Sarsour (of Women's March fame). We demonstrated how she poses as a universal activist who embraces all marginalized people while excluding those minorities whose views do not totally align with hers; she poses as a black and Muslim feminist,while trying to silence other black and Muslim feminists who expose oppression against women; she poses as an opponent of anti-Semitism and a proponent of racial justice who fights for Palestinian national self-determination, while denying Jews the same right; she demands free speech for herself and for her BDS campaign, while shutting down the free speech of anyone who disagrees with her.
In her latest example of hypocritical anti-Semitism, she attacks as Israel-firsters those progressive American Jews who exercise their democratic and free speech rights by criticizing BDS-supporter and politician Ilhan Omar. Sarsour turns truth on its head by accusing them of "put[ting] allegiance to Israel over democracy and free speech" merely because they disagree with positions expressed by Omar.
Of course, when Palestinian-American Rashida Tlaib danced with a Palestinian flag, rather than an American flag at her victory party following her election to Congress, Sarsour made no such accusations of her compatriot being a "Palestinian-firster" or placing other allegiances over her American allegiance.
This is History. Watch every second of this.

Rashida Tlaib, the first Palestinian and Muslim American congresswomen, proclaims victory.

Share widely, and be inspired. #ElectionNight pic.twitter.com/oP7qWJyHJK

— Khaled Beydoun (@KhaledBeydoun) November 7, 2018
In short, there is no better personification of hypocrisy than "Linda Sarsour"!
Posted by rh at 11:44 AM | Comments (0)
New Yorker's Ostensible Accuracy on Gaza Fisherman
Nov. 20 Update: New Yorker Corrects on Gaza Fisherman's Death
After severely tripping up in its Gaza coverage earlier this year, The New Yorker -- a publication ostensibly "known for its high standards" in fact-checking -- once again failed to deliver accurate coverage.
In his Nov. 15 "Daily Comment," Bernard Avishai wrote ("The Ceasefire in Gaza: A Turning Point for Hamas and Netanyahu"):
Yet it is anything but clear that the ceasefire will hold: during the agreement's first hours, Israeli naval forces reportedly killed a young Gazan fisherman, ostensibly for sailing past the six-mile limit. (Emphasis added.)
Yet, according to both the Israeli military and the Hamas-controlled Gaza Health Ministry, Nawaf Ahmed Mohammed al-Attar was shot dead while on the beach. According to the Israeli military, he was shot dead for approaching the security fence. According to the Gaza fishermen's union, he was shot dead while he was working on the beach. According to the Palestinian Center for Human Rights, on the other hand, he was in the water 100 meters off from the shore -- well within the six nautical mile fishing zone -- a claim contradicted by both the IDF and the Gaza Health Ministry. (There are 1,852 meters in a nautical mile.)

The Associated Press reported the day of the incident ("The Latest: Group says strikes damaged dozens of Gaza homes"):


4:40 p.m.




The Israeli military says a Gaza fisherman was killed by Israeli fire in northern Gaza Strip was illegally advancing toward the security fence dividing Gaza and Israel.




The military said in a statement that the army shot him Wednesday in adherence with military protocol for anyone approaching the fence at that range.




The fishermen's union says the 20-year-old man was working on the beach near the land-maritime fence separating Gaza from Israel when he was shot in the stomach.
According to the Times of Israel:


A Gaza man was shot dead by Israeli troops Wednesday after approaching the security fence on the Israeli border, according to the Hamas-controlled Gaza health ministry, as tensions persisted after a ceasefire Tuesday ended some of the heaviest fighting in years.

The Israeli military confirmed that soldiers opened fire as a group of Palestinian men were spotted walking toward the border fence in the northern Gaza Strip, near the Israeli community of Kibbutz Zikim.

According to media reports, the suspect was shot as he continued approaching the fence despite warning shots being fired. . .

Palestinian media outlets reported that al-Attar had been killed at sea — something the IDF denied.
CAMERA has contacted The New Yorker to request a clarification. Stay tuned for an update.
Posted by TS at 05:45 AM | Comments (0)
November 15, 2018
Small Steps: Improved NY Times Language on Target of Hamas Rockets
Earlier this week, we pointed out how a New York Times article about fighting between Israel and Hamas neglected to inform readers that Palestinian rockets were fired indiscriminately toward civilians in Israeli towns and cities.
This was part of how the newspaper created a false equivalence between Hamas's rocket attacks against civilians, each one a war crime, and Israel's counterstrikes against Hamas assets in Gaza. Instead of being clear about where those rockets were aimed, the report said only that they were fired "into Israel" or "across much of southern Israel." It even suggested Israel's civilians were unintended targets: "On both sides of the Gaza border," wrote David Halbfinger, the newspaper's Jerusalem bureau chief, "civilians caught up in the fighting said they felt terrorized by it." Israel's civilians weren't "caught up" in the fighting. They were targeted in the fighting.
With an article published today, entitled "With Small Steps, Palestinians and Israelis Try to Tackle Gaza's Ills," the same author took a… small step in the right direction. This article makes clear, at least, that the fighting involved "hundreds of rockets raining down on Israeli cities." It might not sahre that Hamas is viewed internationally as a terror organization, or that indiscriminately firing into cities is a violation of international law. But rockets raining on cities is certainly more informative than rockets fired into Israel.
Posted by at 12:22 PM | Comments (0)
November 09, 2018
AP Avoids Calling Farrakhan Comments "Anti-Semitic"
For some mysterious reason, the Associated Press felt Louis Farrakhan's mutterings on international relations deserve close attention. "Louis Farrakhan, in Iran, warns Trump a Mideast war possible," a Associated Press headline announced, as if the firebrand anti-Semite's views on Persian Gulf tensions are any more newsworthy than David Duke's overview of China's transportation infrastructure.
The subject of the news article, though, wasn't the only thing funny about it. Here's how AP's anonymous author addressed Farrakhan's long history of anti-Semitism:
The 85-year-old Farrakhan, long known for provocative comments widely considered anti-Semitic, criticized the economic sanctions leveled by Trump against Iran after America's pullout from the nuclear deal between Tehran and world powers.
His "provocative" comments are "considered" anti-Semitic. Those comments include descriptions of Jews as "termites," as a "synagogue of Satan," and as responsible for "filth and degenerate behavior," the 9/11 attacks, and evil in general. They are as straightforwardly anti-Semitic as it gets.
So did AP avoid straightforwardly describing Farrakhan's anti-Semitism as "anti-Semitic" due to some journalistic constraint — a disciplined refusal to editorialize or even characterize?
No. A look back at the archives proves the agency's journalists are certainly willing to pass such judgment, for example about David Horowitz who an AP reporter described as "known for anti-Muslim rhetoric." Not known for provocative comments considered anti-Muslim. Just anti-Muslim.
If @AP's style allows them to decide whether rhetoric is "anti-something," there's absolutely no excuse to distance themselves from forthrightly & directly characterizing Farrakhan. Also, there's no excuse to give a damn about the bigot's IR musings. https://t.co/c5PAOfRf4l

— Gilead Ini (@GileadIni) November 8, 2018
Farrakhan is newsworthy. Not for his prognosticating about Iran, but because he is at the center of an ongoing controversy involving appointed leaders of the Women's March and their expressions of support for Farrakhan. It's particularly important, then, that AP get it right — and be forthright.
Posted by at 04:03 PM | Comments (0)