« AFP Captions Call Jerusalem Parade Participants Settlers | Main | Bahrain Says Israel Has a Right to Self-Defense, and the Media Shrugs »
May 15, 2018
Reuters Backgrounder on Jerusalem Misleads on Holy Sites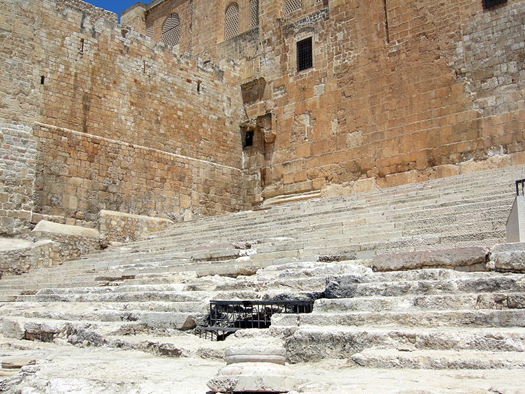 Steps leading to the Temple Mount entrance on the southern side, one of several above ground remains of the Temple complex
A Reuters feature yesterday meant to explain and unpack the complexities of Jerusalem misleads on the city's holy sites ("The U.S. is opening an embassy in Jerusalem. Why is there a furor?")
First, about the Temple Mount/Haram al-Sharif, the article states: "Muslims regard the site as the third holiest in Islam, after Mecca and Medina." While noting that the site is the third holiest in Islam, the article fails to note that the very same site is the most sacred in Judaism. In the past, Reuters has commendably fixed this egregious oversight.
In addition, the same article errs that the Temple Mount "was home to the Jewish temples of antiquity but all that remains above ground is a restraining wall for the foundations built by Herod the Great." In fact, there are several surviving above ground remains in addition to the western, southern, eastern and northern retaining walls. Extant features abutting the southern wall include a broad stairway leading up to the Temple Mount's entrance and two gates, known as Huldah Gates, which provided access to the Temple Mount (Hershel Shanks: Jerusalem: An Archeological Biography, p. 143). Some of the interior part of the Herodian Double Gate (which is one of the Huldah Gates) is also still intact. In addition, an area called "Robinson's Arch," in the south-western corner of the Temple complex, still remains. In his book, Shanks provides details concerning numerous other remnants.
CAMERA has contacted Reuters editors to request a correction. Stay tuned for an update.
Posted by TS at May 15, 2018 05:11 AM
Comments
Why does Camera not respond to the NAKBA story by arguing the case of the UN partition plan, unaccepted by the Arabs with well known consequences. The NYT appears blind to this.
Posted by: Nathan Levin at May 15, 2018 11:10 AM
Guidelines for posting
This is a moderated blog. We will not post comments that include racism, bigotry, threats, or factually inaccurate material.
Post a comment