« Poll: Majority of Palestinians Fear Their Own Government | Main | After Six Corrections, LA Times Again Errs on 'Palestine' Terminology »
April 24, 2018
AFP Calls Eastern Jerusalem Palestinian Territory
The influential news agency Agence France Presse has taken it upon itself to redraw the map, placing eastern Jerusalem in the Palestinian territories. In the April 22 article ("No boycott fear, say organisers of 'Giro' in Israel"), AFP errs:
In a bid to avoid political tensions, the routes [of the Giro d'Italia cycling contest] carefully avoid the Palestinian territories, namely east Jerusalem and the West Bank.
Eastern Jerusalem is not and never was Palestinian territory. Since 1967, eastern Jerusalem has fully been under Israeli control. From 1948 to 1967, it was occupied by Jordan. Before, that it was part of the British Mandate. The Nov. 29, 1947 partition plan had called for Jerusalem to be a corpus separatum, an international city administered by the UN for 10 years, at which point the city's status was to be decided in a referendum. Before the British Mandate, the city was under Ottoman control, and so on. Going back through history, at no point was any part of the city "Palestinian territory."

The Associated Press corrected the very same error this past February. The February 21 correction stated:


In a story Feb. 21, The Associated Press reported that east Jerusalem is Palestinian territory occupied by Israel since 1967. The story should have made clear that this was quoting a speech by Palestinian President Mahmoud Abbas to the U.N. Security Council. The Palestinians claim east Jerusalem as the capital of a future state, a position backed by most of the international community. Israel considers the entire city, including the eastern sector, to be its undivided capital.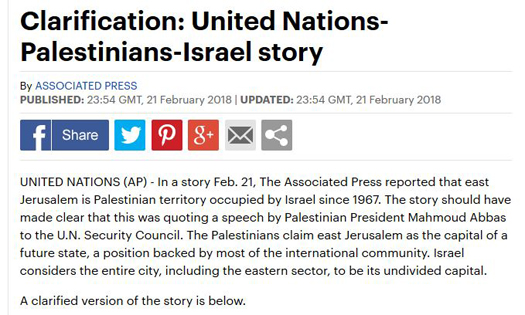 The AFP article is also partially wrong regarding the West Bank, of which only areas A and B are under total or partial Palestinian Authority rule. Area C is completely under Israeli rule. Area C was never under Palestinian rule, and Areas A and B came to be the Palestinian territories for the first time in history thanks to the Oslo Accords in the 1990s. (The West Bank's pre-1967 history parallels that of eastern Jerusalem.)
An AFP statement at the bottom of the article promises "accurate" coverage. If that's the case, AFP should follow the AP's commendable lead and correct the erroneous claim that eastern Jerusalem is part of the Palestinian territories.
May 2 Update: AFP Removes Reference to Jerusalem as 'Palestinian Territories'
In an April 30 article ("Israel hopes for revelation by hosting start of Gyro cycling race"), AFP did not again misidentify eastern Jerusalem as part of the Palestinian territories. The improved, though still flawed, language refers to "mainly Palestinian east Jerusalem, which Israel occupied over 50 years ago and later annexed in a move not recognised by the international community."
Posted by TS at April 24, 2018 03:19 AM
Comments
Guidelines for posting
This is a moderated blog. We will not post comments that include racism, bigotry, threats, or factually inaccurate material.
Post a comment