« Where's the Coverage? Israel Offered to Help Iranian and Iraqi Earthquake Victims | Main | CAMERA Featured Letter-Writer »
November 20, 2017
NBC's Anachronism: Israel's 'Ongoing Occupation' of Gaza
Nov. 21 Update: NBC Corrects About 'Ongoing Occupation' of Gaza
NBC's Vivian Salama seems to be stuck some dozen years in the past. In her Nov. 15 news story ("'An open secret': Saudi Arabia and Israel get cozy"), she writes:
An Israeli-Saudi alliance would also be vastly unpopular on the Arab street given the ongoing occupation of the West Bank and Gaza. (Emphasis added.)
In 2005, Israel withdrew every last one of its citizens, both living and dead (having exhumed remains from the cemeteries), as well as all of its soldiers, from the Gaza Strip in 2005, ending its occupation of the territory.
Following the 2005 withdrawal, then Secretary of State Rice said in a May 1, 2006 briefing:
And in fact, the Israelis do not any longer occupy Gaza; it is Palestinian territory. And that is in no small part thanks to the tireless efforts of Jim Wolfensohn, who worked day and night to make certain that that could happen. (Emphasis added).
While the United Nations and Human Rights Watch regard Gaza as still occupied, Hamas' Mahmoud Zahar disagrees, stating in 2012: "Against whom could we demonstrate in the Gaza Strip? When Gaza was occupied, that model was applicable."
In addition, a number of legal scholars disagree with the NGO position that Gaza is still occupied.
Indeed, after similarly stating that Gaza is occupied, The Los Angeles Times last year commendably published the following correction, the paper's second correction on this topic: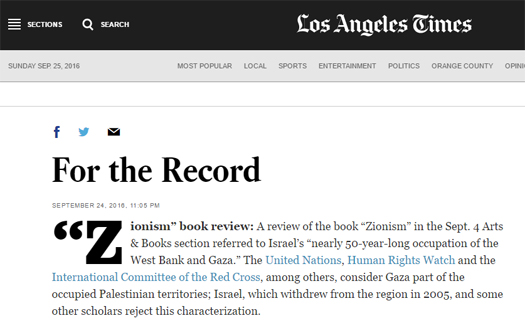 In addition, last month The Evening Standard also corrected this point.
CAMERA has contacted NBC to request a correction.
Posted by TS at November 20, 2017 03:21 AM
Comments
Guidelines for posting
This is a moderated blog. We will not post comments that include racism, bigotry, threats, or factually inaccurate material.
Post a comment