« Politico: Convicted Palestinian Terrorist is an 'Urbane Diplomat' | Main | New York Times Downplays Clash as Demonstration »
May 21, 2017
Reuters Marks Six Day War Jubilee With Skewed Jerusalem Infographic
May 23 Update: Reuters Corrects Six Day War Jerusalem Infographic, But Leaves Flawed Original in Place
Reuters marks the 50th anniversary of the Six Day War with an infographic in English, French and Spanish which explicitly states that east Jerusalem "is home to Islam's third holiest site," but which ignores the fact that the area is also home to Judaism's holiest sites. The Temple Mount is Judaism's holiest site, and the nearby Western Wall is the holiest site where Jewish prayer is permitted.
Reuters' skewed reference to the holy status of Jerusalem in Islam, while ignoring the city's even more significant sacred status in Judaism, directly counters the 2015 reassurance from a Reuters editor that "[w]hen we say that the Al Aqsa mosque compound (or Noble Sanctuary) is the holiest site in Islam outside Saudi Arabia, or that it is the third holiest site in Islam, we also point out that the Temple Mount is the holiest site in Judaism."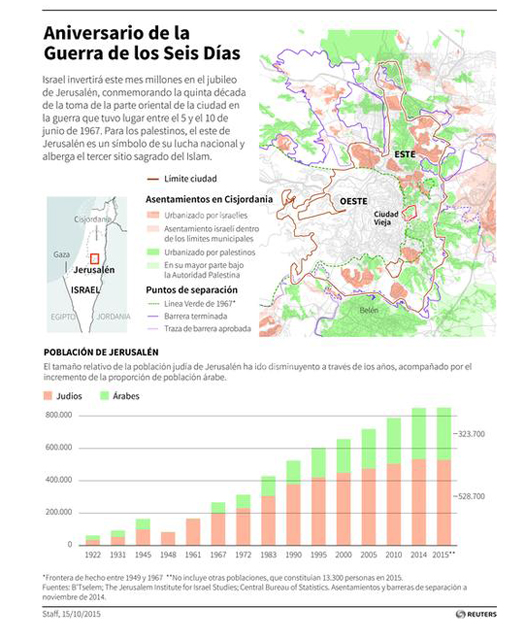 CAMERA last week contacted Reuters editors to request that they amend this tilted infographic, but they have failed to do so. Contact Reuters here to request that they add that east Jerusalem is home to Judaism's holiest sites.
Posted by TS at May 21, 2017 01:52 AM
Comments
In 1948 the number of Arabs in Jerusalem was far more than zero. Reuters is a terrorist support group
Posted by: Gee at May 21, 2017 11:00 AM
Gee, excellent point about Reuters ignoring the city's Arab population in 1948 and 1961 (over 65,000). We address it here, and Reuters has corrected that as well, though the agency has yet to replace the misleading original in their images archive.
Posted by: TS at May 23, 2017 03:45 AM
Posted by: Dan Livni at May 24, 2017 12:30 AM
Guidelines for posting
This is a moderated blog. We will not post comments that include racism, bigotry, threats, or factually inaccurate material.
Post a comment