« October 2016 | Main | December 2016 »
November 30, 2016
Let Him Who Is Sinless Throw The First Stone
Writing in Haaretz ("Netanyahu Fights Fire With Ire", 28.11), Odeh Bisharat warns readers that "Suspicion always haunts the guilty mind.� The Op-Ed is a warning to Israelis not to hurl premature accusations against Palestinians and Arab-Israelis. Fair enough. However, Bisharat then employs some reductio ad absurdum to psychoanalyze the Israeli public:
"After all, if you don't steal your neighbor's land and don't embitter his life, you have no reason to suspect that he will "rise up against us and annihilate us� – as the extremists here like to repeat day and night.

But if you feel deep down that, despite assuming the identity of the victim, you are harming your neighbor, then even if there's an earthquake you'll blame him for deliberately playing with some underground button. And if there's a deluge from the heavens that will close the country's highways, you will say he deliberately left the tap in the skies open. Truly, "Suspicion always haunts the guilty mind.�
Would Israelis really blame Palestinians for an earthquake or a flood? Doubtful. However, what isn't in doubt is that the reverse has certainly happened.
A conspiracy theory that Israel might generate an artificial earthquake to harm the Al-Aqsa mosque has been making the rounds for years. For example in 2011:
And again in 2012 by the President of the Supreme Islamic Court and Chairman of the Supreme Council for of Islamic Laws:
There are many more examples on Google.
Earthquakes aside, what about floods? Did the Palestinians ever claim Israel left "the tap in the skies open"? In 2015 AFP and Al-Jazeera ran a story claiming Israel had opened dams in Southern Israel, thereby flooding Gaza. Only after CAMERA pointed out that aside from the Palestinian popular imagination, there were no dams in the area did AFP and Al-Jazeera retract their stories.
Posted by gs at 03:51 AM | Comments (2)
November 29, 2016
Where's the Coverage? Palestinians Attack Palestinian Security Forces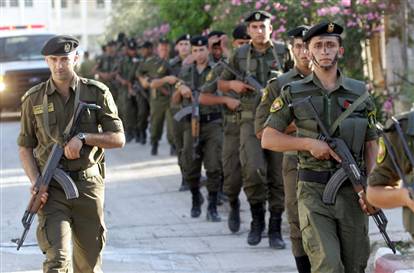 A group of Palestinians shot at and bombed Palestinian Authority (PA) security forces in a little reported incident on Nov. 17, 2016.
According to Palestinian Ma'an News Agency, "a group of Palestinian youth…shot live fire and locally made bombs at Palestinian security forces near the al-Faraa refugee camp…� Al-Faraa is located in the West Bank (Judea and Samaria).
The incident began when Palestinians closed a main street in the camp. Ma'an stated that the street was closed "in protest of Palestinian security forces continuing to detain youth from the camp without charge or trial.� PA security forces that arrived on scene were attacked with explosives and responded with gunfire.
A Lexis-Nexis search of U.S. print news outlets, including The Washington Post, The Washington Times and USA Today, showed not a single mention of the clash.
As CAMERA has frequently highlighted (see, for example "The Washington Post Evicts Context on Palestinian Village Without Electricity,� Nov. 2, 2016) many in the Western media fail to provide coverage of internal Palestinian conflicts or events.
In a recent Op-Ed in The Wall Street Journal, two analysts of Palestinian politics, Jonathan Schanzer and Grant Rumley, noted the tenuous nature of Palestinian politics ("The Fragile State of the Palestinian Authority,� Sept. 8, 2016). Schanzer and Rumley, both of the Washington D.C.-based think tank Foundation for Defense of Democracies, emphasized that riots, protests, governmental corruption, and canceled elections are all factors in creating an atmosphere ripe for instability in areas ruled by the authority.
The Post's priorities are demonstrated by what it devotes more space on its pages to cover. For example, the newspaper ran a lengthy piece on Chinese tourists purportedly being overcharged at an Israeli restaurant. However, the PA's decision to postpone municipal elections scheduled for Oct. 8, was apparently deemed not sufficiently important to warrant coverage in the print version of the paper.
In failing to report internal Palestinian events and politics—and by often viewing them solely through the lens of the Israeli-Palestinian conflict—The Washington Post and other media that cover Israel and the Palestinians in a similar manner fail to inform their readers about some very important trends and developments.

Posted by SD at 02:06 PM | Comments (0)
November 23, 2016
The Washington Post Gets CAIR-Less, Again


The Council on American Islamic Relations (CAIR) portrays itself as a U.S. civil rights organization. However, as numerous terrorist analysts and the U.S. government itself has noted, CAIR is an unindicted co-conspirator in the 2009 Holy Land Foundation (HLF) retrial, the largest terrorism financing case in the country's history. Yet, The Washington Post has frequently failed to disclose CAIR's history.
The Post's "Hate crimes against Muslims hit highest mark since 2001� (November 14) by reporter Matt Zapotosky, quoted Ibrahim Hooper, a CAIR spokesman, who claimed that anti-Muslim rhetoric was responsible for an increase in hate crimes. Zapotosky did not, however, inform readers about relevant information regarding Hooper, other CAIR employees, or CAIR itself.
As a CAMERA Washington Times Op-Ed pointed out ("CAIR's cries of 'Islamophobia,'� Aug. 9, 2016), at least five former staff or lay leaders from CAIR have been indicted, arrested or deported on weapons or terrorism-related charges. In an out of court settlement with the website www.anti-cair-net.org, the council did not contest assertions that it was founded by Hamas members, founded by Islamic terrorists and was funded by Hamas supporters. Hamas is a U.S.-designated terrorist group that rules the Gaza Strip. The movement's charter calls for the destruction of Israel and the genocide of Jews.
CAMERA has made The Post aware of CAIR's history via several unpublished letters to the editor and in correspondence to the papers' reporters. CAMERA has sent it's Special Report "The Council on American Islamic Relations: Civil Rights or Extremism?� (July 2009) which noted, among other things, CAIR's connections to the HLF retrial. Additionally, CAMERA has sent The Post documents such as FBI Assistant Director Richard Powers' statement to members of the U.S. Congress, which stated that the bureau was ceasing official cooperation with CAIR or its executives until it could resolve "whether there continues to be a connection between CAIR or its executives and Hamas.�
Nonetheless, The Post often omits CAIR's background (see, for example "Washington Post CAIR Cover-Up Fails Readers,� CAMERA, May 3, 2016). The decision to trust Hooper's claims regarding rampant Islamophobia is questionable. As CAMERA's Special Report highlighted, "critics have charged that the council has shown a tendency to embellish statistics about hate crimes� against Muslims. The historian Daniel Pipes, a former U.S. State and Defense Department employee, has noted "an earlier CAIR hate crimes report in 2005…discovered that of twenty "anti-Muslim hate crimes� in 2004 that CAIR cited, at least six are invalid.�
Hooper has made several curious statements in the past, which Post readers should have been appraised of. For example, he was quoted as saying that he "would not want to create the impression that I wouldn't like the government of the United States to be Islamic sometime in the future.�
Other CAIR officials have made similarly outrageous statements. The organization's executive director, Nihad Awad, stated in 1994, "I am in support of Hamas.�
Indeed, a mere five days before The Post's latest uncritical CAIR quotation, the head of the council's Los Angeles office, Hussam Ayloush, made a questionable statement in response to news that Donald Trump was elected President of the United States. Ayloush took to Twitter, tweeting "Ok, repeat after me: Al-Shaab yureed isqat al-nizaam. (Arab Spring chant). As Pipes noted in National Review Online, the second line of Ayloush's tweet is Arabic for "The people wants to bring down the regime.� "In other words,� Pipes said, "Ayloush unambiguously and directly called for the overthrow of the U.S. government.�
Pipes hoped that Ayloush's tweet would "help awaken the press to CAIR's true Islamist identity.� Early returns, however, aren't encouraging.
(Note: An earlier version of this post stated that Pipes was a consultant to the U.S. Departments of State and Defense. In fact, he was an employee.)
Posted by SD at 03:31 PM | Comments (2)
November 21, 2016
BREAKING: InterVarsity Press in United States to Cease Publication of Stephen Sizer's Books
Earlier this week, Harry's Place (hurryupharry.org) reported that IVP, an Evangelical publishing house announced that it would no longer publish books written by the controversial anti-Zionist Rev. Dr. Stephen Sizer, an Anglican priest from England. As of this writing, (November, 21, 2016) the website is down, but information about IVP's decision can be found at this link.
IVP reported to Harry's Place the following:
"The Stephen Sizer books have been in print for over 10 years and we understand and are very mindful of the sensitivities around this subject and author. We have decided to remove these titles from our list and the rights have reverted back to the author. Our website no longer lists these titles, though book retailers may well still be carrying stock and online retailers will continue to list these books for unsold and second-hand copies.�
Upon learning of IVP UK's decision, CAMERA called InterVarsity Press in the U.S. to see if it would follow the decision of its sister publishing house in England.
The answer is yes. InterVarsity Press has stated that it will not be printing any more copies of the book and that the rights have reverted to the author. Sizer's books have been officially declared out of print by their American publisher.
CAMERA lauds both IVP and Intervarsity Press for this decision. Sizer is the author of two virulently anti-Israel texts about the Arab-Israeli conflict. The first is Christian Zionism: Road Map to Armageddon? which was published in 2004. The second text is Zion's Christian Soldiers: The Bible, Israel and the Church which was published in 2007. In the 2004 book, Sizer encouraged his readers to check out a news article that suggested Israel was responsible for the 9/11 attacks. He later denied that he thought the Israelis were involved in the attack.
For more background about Rev. Dr. Sizer's work, please read articles here and here. For more information about Inter-Varsity Press in England, and InterVarsity Press in the United States, please read this article.
November 22, 2016 Update: Sizer's books remain on IVP America's website because they are a few copies of both books left in the warehouse. The texts however have been declared out of print and the rights have reverted back to Stephen Sizer. The books will soon no longer be available for sale on the house's website.
Posted by dvz at 04:05 PM | Comments (0)
Analyst: The U.S. Should Cut Aid to Lebanese Armed Forces

The U.S. Congress should "immediately defund the Lebanese Armed Forces,� a recent Weekly Standard article argues ("The Lebanese Army Is Misusing U.S. Aid,� Nov. 14, 2016).
In his commentary, Lee Smith, a senior editor at The Weekly Standard and a senior fellow at the Washington D.C.-based think tank, Hudson Institute, stated that U.S. aid may be winding up in the hands of Hezbollah, a Lebanese-based, Iranian-backed U.S.-designated terrorist organization.
Smith cited "pictures of a Hezbollah parade in the Syrian city of Qusayr [that] showed Hezbollah fighters using American-made armored personnel carriers (APCS). If the vehicles were transferred by the Lebanese Armed Forces [LAF], a recipient of U.S. aid and equipment, to Hezbollah, as some analysts have speculated, the consequences could be significant.�
The purpose of U.S. aid to the LAF according to the most recent Congressional appropriations bill, is to "professionalize the LAF and to strengthen border security and combat terrorism, including training and equipping the LAF to secure Lebanon's borders, interdicting arms shipments, [and] preventing the use of Lebanon as a safe haven for terrorist groups.�
Yet, Lebanon itself remains a state that is, to a great extent, controlled by Hezbollah. In many important respects, the country is a vassal state of the mullahs in Tehran, a trend that is perhaps likely to continue with the recent election of Hezbollah ally Michel Aon to the presidency.
As CAMERA's backgrounder on Hezbollah pointed out, several United Nations Security Council resolutions have called for the terror group to disarm. Despite this fact, Hezbollah has dramatically increased its weaponry and capabilities and continues to routinely call for the destruction of Israel and the West.
According to Smith:
"Lebanon is the fifth largest recipient of American military aid, receiving $220 million in 2016, including an August shipment that included 50 armored vehicles.� Smith noted if any U.S.-made weapons are transferred from the LAF to Hezbollah, the U.S. State Department is required to notify Congress.
Smith noted that although Washington believes funding and supporting the LAF is one of its few options in Lebanon, "it is no longer possible to see the army as anything but a Hezbollah asset.�
Hezbollah, as CAMERA has written, was, until the Sept. 11, 2001 terror attacks by al-Qaeda, responsible for more American deaths than any other terrorist organization.
Despite this, one is far more likely to encounter an Op-Ed calling for cutting U.S. aid to Israel—a key U.S. ally.
Lee Smith's Weekly Standard article can be found here.
Posted by SD at 03:36 PM | Comments (0)
November 16, 2016
Where's the Coverage? Incitement in Palestinian Textbooks

Since the "knife intifada,� as it's become known, began in the fall of 2015, we've been hearing the narrative that says that "Palestinian despair� or "Palestinian frustration� over Israel's military administration of the West Bank is the cause. As CAMERA and CAMERA's affiliate BBC Watch have noted before, this is a PLO-endorsed talking point. Yet, it's been adopted by the mainstream American media.
Last month, for example, at the Washington Post, William Booth wrote that "the year-long wave of Palestinian violence against Israeli soldiers and civilians has been carried out mostly by teenagers armed with knives or adults who use their families' cars to ram into pedestrians. Palestinians are frustrated by the almost 50-year military occupation and motivated by personal, religious and nationalist reasons to attack Israelis.�
In July, after two deadly attacks in the West Bank – the stabbing to death of Hallel Yaffa Ariel and the shooting of Rabbi Michael Mark – the New York Times wrote, "the recent attacks by Palestinians have been fueled in part by incendiary posts on social media and by militant groups urging more violence. But they also reflect growing despair by young Palestinians in particular over lives constrained by Israel's decades-long military occupation and their own rudderless leadership.� Although the article did quote Israeli government officials blaming incitement, this sentence was in the reporter's voice.
The month prior, after a shooting at a Tel Aviv café killed four Israelis, Rory Jones at the Wall Street Journal wrote, "The shooting reflected the despair young Palestinians feel over the lack of concrete steps toward establishing a Palestinian state, relatives of the men said.�
So fixated on this myth are they, that when actual evidence is uncovered to contradict this version of events, the media can't even see it.
Last week David Bedein of the Israel Resource News Agency discussed the results of a review of 240 Palestinian children's textbooks used in 400 UNRWA schools, including in the West Bank and east Jerusalem, as well as in Gaza. According to the Jerusalem Post, he found that the books "prepar[e] … children for war.�
The Post reported that Bedein found, for example, "a math word problem asking students to use variables, including the number of Jews killed during the first and second intifadas,� as well as this poem:
Hearing [weapons] clash is pleasant to my ear
And the flow of blood gladdens my soul
As well as a body thrown upon the ground
Skirmished over by the desert predator
By your life! This is the death of men
And whoever asks for a noble death – this is it!�
These books, moreover, have been approved by the US government.
"In all the books you have right of return and armed struggle being taught. Even in math books,� the Jerusalem Post quoted Bedein saying. Another scholar who worked on the study, Dr. Arnon Groiss, told the Post that the books, including books on history, geography, Islamic education, and language exercises, "encourage violent struggle for the liberation of Palestine, which they consider all of Israel – including Haifa and Jaffa – and the right of return….�
None of the above-mentioned news outlets have seen fit to prominently cover Bedein's findings -- findings that undermine their narrative. Is it any wonder that the media finds itself in crisis of late?

Posted by kabe at 01:14 PM | Comments (0)
November 13, 2016
International Business Times Pulls a UNESCO on Temple Mount
In a headline and accompanying first paragraph, The International Business Times takes a page from UNESCO's book on the Temple Mount, casting Judaism's holiest site as Islamic only. "Israel Wants Jews To Pray at Muslim Mosque in Jerusalem: Temple Mount Tensions Grow in Middle East" is the grossly misleading headline about some Israeli lawmakers (not "Israel") who seek Jewish prayer rights at Judaism's holiest site.
Likewise, the article's first sentence depicts the site as Muslim only, ignoring the reason why Jews would want to pray there:
Some Israeli lawmakers want to allow Jews to pray at an Islamic holy site in Jerusalem, a contentious proposal that is opposed by Middle Eastern leaders and could stroke tensions between Jews and Muslims in the Israel. Israel Parliament speaker Yuli Edelstein joined three cabinet ministers and three lawmakers Monday to demand Israeli Prime Minister Benjamin Netanyahu "open the gates� to the religious complex and rescind a year-long ban on Israeli lawmakers from visiting the site, the Times of Israel reported.
Not until the end of the second paragraph does reporter John Walsh acknowledge: "The compound sits on tops of the Western Wall in Jerusalem and is considered to be Judaism's holist [sic] site." How many readers, however, will make it past the misleading headline and first paragraph to get to the key information that the Israeli lawmakers are seeking Jewish prayer rights at the site because it is Judaism's holiest site?
Other media outlets which reported on Jewish visits to or aspirations to pray at the Temple Mount, while describing the site as Islamic only and ignoring its status as Judaism's holiest place, include Agence France Presse, The New York Times, The Telegraph and Times of London, all of which subsequently amended their misleading passages thanks to CAMERA and its British blog, UK Media Watch.
Ironically, The International Business Times article, with its skewed headline and first paragraph, is accompanied by an IBTvideo about UNESCO's decisions which ignore Judaism's connection to the site.
CAMERA urges The International Business Tribune to amend its headline and first paragraph to reflect the fact that some Israeli lawmakers are seeking Jewish prayer rights at the Temple Mount because it is Judaism's holiest site, and not because it is a "Muslim mosque."
Posted by TS at 03:25 AM | Comments (3)
November 09, 2016
German Authorities Investigate Facebook for Allowing Holocaust Denial

German officials are investigating four Facebook executives, including the company's founder Mark Zuckerberg, over allegations that the social media network tolerates hate speech, Holocaust denial and incitement—violating Germany's national hate speech laws.
A report by United Press International (UPI) ("Facebook's Mark Zuckerberg investigated in Germany for allegedly allowing hate speech,� Nov. 7, 2016), noted that a lawyer named Chan-jo Jun filed a complaint with German courts listing 438 offensive posts that were not deleted by Facebook despite repeated requests from users. Prosecutors in Munich subsequently took action and announced their investigation on Nov. 4, 2016.
In addition to Zuckerberg, three other top Facebook executives are named in the suit: chief operating officer Sheryl Sandberg, European policy director Richard Allan and Eva-Maria Kirschsieper, the company's head of public policy in Berlin.
As UPI pointed out, "German law bans hate speech targeting groups, glorification of the Nazi regime and Holocaust denial.� As such, Heiko Maas, Germany's Federal Minister of Justice and Consumer Protection, said that Facebook has until March 2017 to comply with demands to address the problems noted in the suit. After that point, Maas said he would take action, according to UPI.
Facebook's rules forbid bullying, harassment and threatening language. However, the social media organization has been criticized for failing to remove antisemitic posts and apologia and propaganda from terrorist groups. In one January 2014 example that CAMERA documented, an image posted on Facebook celebrated Nazi violence against civilians; perversely using Nike's swoosh logan and slogan "Just Do It.� Initially, Facebook refused to remove the image, stating that it didn't violate "community standards.� Eventually, the organization reversed course, removing the post and banning the user ("Facebook Admits the Obvious,� Jan. 9, 2014).
Facebook has also been used by Palestinian terrorist groups to organize and plot attacks against Israelis, as CAMERA noted in an Aug. 17, 2016 article ("Israel Busts Terror Cells Sponsored by Hezbollah, Recruited via Facebook�).
A company spokesman responded to the investigation: "We are not commenting on the status of a possible investigation but we can say that the allegations lack merit and there has been no violation of German law by Facebook or its employees.�
A previous complaint by Jun was rejected by Hamburg on the grounds that the regional court lacked jurisdiction because Facebook's European operations are based in Ireland. Yet, Bavarian Justice Minister Winfried Bausback disagreed with the Hamburg ruling, The Jerusalem Post reported ("Germany probing Facebook over lack of removal of Nazi, hate postings,� Nov. 5, 2016).
The ramifications of the current investigation by Munich authorities will, perhaps, reverberate beyond Facebook's extensive holdings and influence. Stay tuned for updates.
Posted by SD at 01:33 PM | Comments (0)
November 06, 2016
In Haaretz Headline, Alleged Attack Becomes Fact
Not for the first time, a Haaretz headline upgrades an unproven Arab allegation to fact.
A page-one print headline in the English edition today states as fact: "Palestinians harvesting olives attacked by settlers."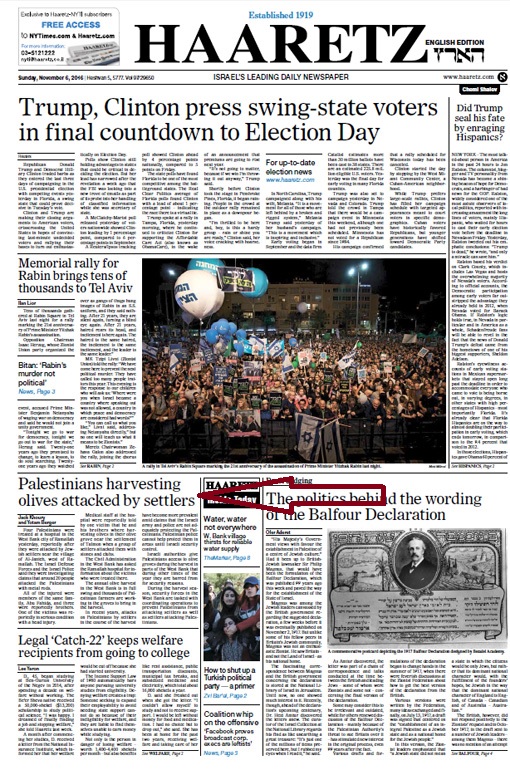 But as the accompanying article itself makes clear, Palestinians allege that settlers attacked olive harvesters, but that claim is under investigation and has not yet been confirmed. Jack Khoury and Yotam Berger wrote:
Four Palestinians were treated at a hospital in the West Bank city of Ramallah yesterday, reportedly after they were attacked by Jewish settlers near the village of Al-Janieh, west of Ramallah. The Israel Defense Forces and the Israel Police said they were investigating claims that around 20 people attacked the Palestinians with metal rods. (Emphases added.)
In addition, the headline and subheadline of the digital version of the article also makes clear that the claim is just that: "Palestinians Harvesting Olives Reportedly Attacked by Settlers Near Ramallah: Israeli authorities are investigating allegations that twenty assailants attacked four Palestinians west of Ramallah." (Emphasis added.)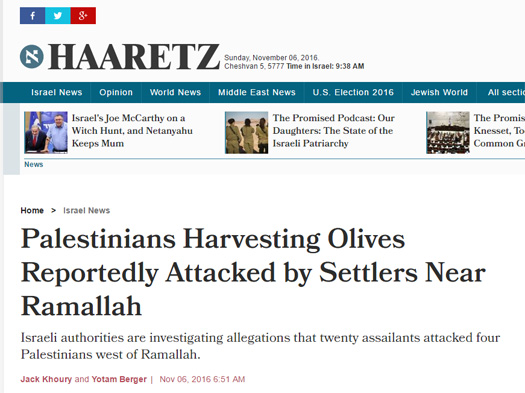 The page-one headline in the Hebrew print edition is likewise clear that the alleged incident has not been established as fact. It states (CAMERA's translation): "Suspicion: Settlers Attacked Palestinians with Metal Rods and One Was Seriously Injured."

CAMERA has contacted Haaretz to request a clarification of the print headline.
There is precedent for Haaretz publishing a print correction regarding a headline which wrongly presented an unsubstantiated claim as fact. A May 29, 2012 correction stated: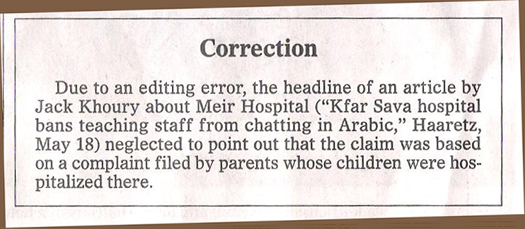 Stay tuned for an update.
Nov. 7 Update: For Second Day in Row, Page One Headline Depicts Palestinian Claim As Fact
For the second day in a row, Haaretz's English print edition depicts an unverified Palestinian claim about a settler attack as fact: "Palestinians file police complaint over weekend assault by settlers."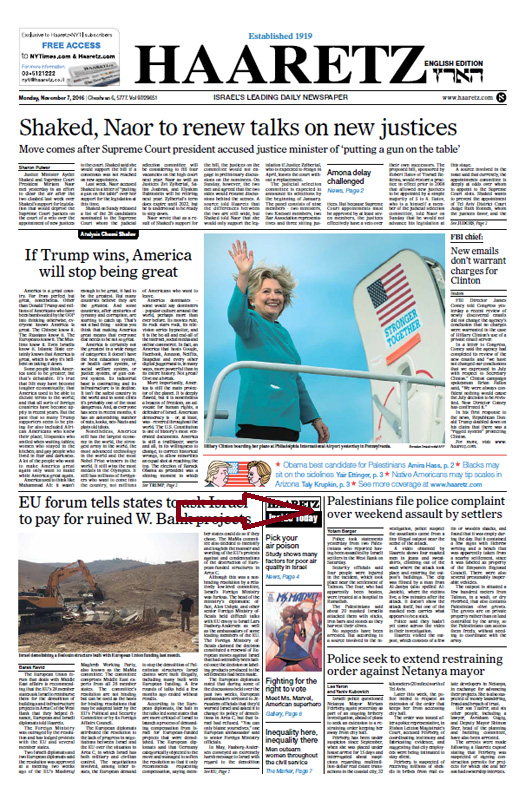 Like yesterday, Haaretz reporter Yotam Berger again today carefully presents the allegation that settlers assaulted Palestinian olive harvesters as just that -- an allegation. He writes:
Police took statements yesterday from two Palestinians who reported having been assaulted by Israeli settlers in the West Bank on Saturday.
Moreover, the Hebrew edition (but not the English) adds (CAMERA's translation):
Until now, no additional information has reached the police in the course of the investigation aside from the testimony of those who were attacked.
Moreover, once again, the English online headline and subheadline, as well as the Hebrew edition headline (online), carefully identified the reported incident as a Palestinian claim: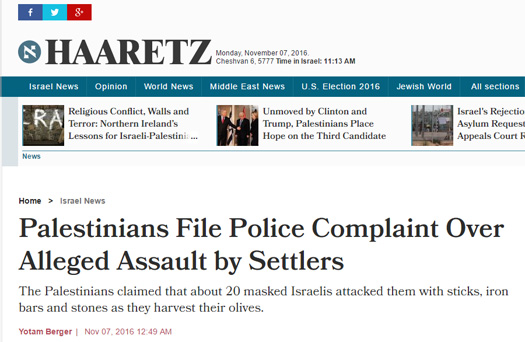 It would have been easy enough, and there is certainly enough space, to have printed the headline: "Palestinians file police complaint over alleged assault by settlers" as opposed to what had appeared: "Palestinians file police complaint over weekend assault by settlers." The accurate headline has exactly the same number of characters as the inaccurate headline.

A police investigation may very well determine in that end that settlers did assault the olive harvesters Saturday, but until that information has been determined, it is premature, and therefore wrong, for Haaretz to depict the unverified charge as fact.
Posted by TS at 03:45 AM | Comments (0)
November 04, 2016
PA Official: Honoring Terrorists is Our Culture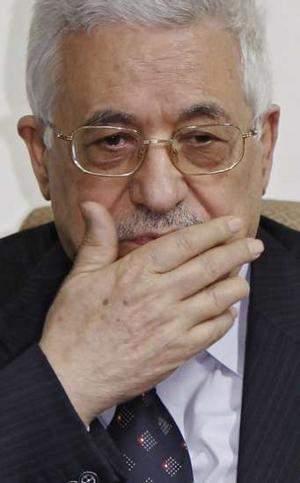 PA President Mahmoud Abbas

A Palestinian Authority (PA) official, Issam Abu Bakr, has defended the authority's decision to name a school after an arch-terrorist.
Palestinian Media Watch (PMW), a non-profit organization that monitors Arab media in eastern Jerusalem, the Gaza Strip and the West Bank (Judea and Samaria), highlighted Bakr's defense of the authority's decision to name a school in Tulkarem after Salah Khalef. Khalef was one of the planners of the 1972 Munich Olympic Games massacre, in which 11 Israeli athletes were murdered.
Bakr, the District Governor of Tulkarem, took umbrage at PMW for their reporting of his decision to name an educational institution the "Martyr Salah Khalef School.� Bakr told Ma'an News Agency:
"The occupation [Israel] is deluded if it thinks that the Palestinian people can change its culture and forget its leaders, Martyrs Yasser Arafat, Khalil Al-Wazir (Abu Jihad), Salah Khalaf, and a great number of the fighters who sacrificed their blood for the freedom, independence, and establishment of the independent Palestinian state whose capital is Jerusalem.�
PMW noted that later that same week, Fatah, the movement that dominates the PA, honored another Palestinian terrorist who took part in the Munich massacre. In an Oct. 24, 2016 post on their official Facebook page, Fatah called Muhammad Daoud, aka Abu Dauod, "one of the leader's of Fatah's Black September organization and the main planner of the Munich operation that executed the Israeli Olympic delegation in 1972 in the heart of Germany.� A picture of Daoud, surrounded by doves, was displayed with Fatah's post.
Major U.S. print news outlets failed to report Fatah's decision to glorify Daoud and Khalef.
As CAMERA pointed out in a July 6, 2016 Washington Examiner Op-Ed entitled "Missing the Palestinian after-terror after party,� Western media frequently omit the glorification of anti-Jewish violence that permeates Palestinian society.
Posted by SD at 10:38 AM | Comments (0)
November 03, 2016
Where's the Coverage? Palestinian Police Officer Commits Terror Attack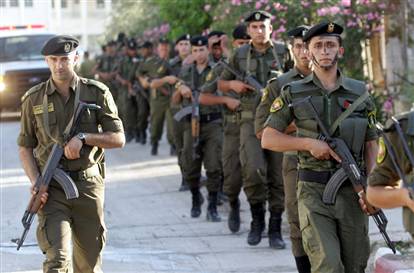 PA Security Forces

A Palestinian Authority (PA) police officer attacked and wounded three Israeli Defense Force (IDF) soldiers on Oct. 31, 2016. The terrorist assault, by PA security forces officer Muhammed Turkeman, went ignored by major U.S. news media outlets.
According to The Times of Israel, Turkeman approached an IDF checkpoint called Focus that is outside of the Jewish community of Beit El, and "opened fire with an AK-47 assault rifle at the troops stationed there ("Palestinian cop wounds 3 IDF soldiers in a shooting attack,� Oct. 31, 2016).� Turkeman was shot and killed by IDF forces, but not before he had managed to wound three of them, one seriously.
A Lexis-Nexis search of U.S. print news media, including The Washington Post, USA Today, The Washington Times and USA Today, showed not a single mention of the terrorist attack.
Fatah, the movement that dominates the PA and is often labeled "moderate� by many in the Western press, celebrated the terror attack. In a Nov. 1, 2016 report, Palestinian Media Watch (PMW), a non-profit organization which monitors Arab media in eastern Jerusalem, the Gaza Strip and the West Bank (Judea and Samaria), pointed out that on their Facebook page Fatah praised Turkeman as a "heroic martyr� and a "martyr police officer.�
PMW noted that Fatah also shared an image on social media of Turkeman in his police uniform and carrying an AK-47. Additionally, "A picture of the Al-Aqsa Mosque appeared together with photos of the terrorist in one of the posts. This connects the terrorist and his attack to the 'defense and protection' of the Al-Aqsa Mosque, perpetuating the Palestinian Authority's libel that the al-Aqsa Mosque is in danger from an Israeli attack.�
Hamas, the U.S.-designated terrorist group that rules the Gaza Strip, also lauded Turkeman's assault. Further, Hamas "encouraged members of the Palestinian security services to carry out similar attacks,� The Times of Israel reported.
This is not the first instance of PA security forces perpetrating a terrorist attack.
As CAMERA noted, a PA intelligence officer named Mazen Hassan, attempted to murder IDF soldiers at the Hizma checkpoint on Dec. 3, 2015 ("Where's the Coverage? Palestinian Official Shoots Israeli Soldier�) before he was shot and killed. That incident also received scant media coverage.
The United States, other Western countries and the European Union have supported PA security forces with money, training and equipment as a result of the 1990s Olso accords that led to the establishment of the authority and limited self-rule—provided that Palestinian leaders recognized and sought to make peace with Israel.
According to a March 18, 2016 United States Congressional Research Service (CRS) report, U.S. Foreign Aid to Palestinians, that security aid is "aimed at countering� U.S.-designated terrorist organizations, such as Hamas and Palestinian Islamic Jihad and "establishing the rule of law for an expected Palestinian state.�
What that Palestinian state might look like can perhaps be discerned from its institutions and apparent values and those tasked with upholding them.
Posted by SD at 03:23 PM | Comments (0)
UAE Supported Film That Demonizes Israel Shown at Museum of Fine Arts in Boston
The Dubai Entertainment and Media Organization, which runs the Dubai Film Festival, co-produced Leila Sansour's film "Open Bethlehem," which was recently shown at the Museum of Fine Arts in Boston as part of the Palestine Film Festival. Dubai, the largest city in the United Arab Emirates, is well known for employing foreign workers in slave-like conditions. (Screenshot from DVD.)
This past weekend, The Palestine Film Festival hosted a showing of "Open Bethlehem: A Big Film About a Small Town� at the Museum of Fine Arts in Boston.
The film is a documentary produced by Leila Sansour, a pro-Palestinian activist who spent her childhood in the city.
The film, which was shown at the MFA on Saturday, October 29, 2016, is about what you can expect from pro-Palestinian human rights activists. It highlights the impact of the security barrier on the residents of Bethlehem without providing any detail about the suicide bombings that prompted its construction early in the last decade. The movie is intended to make Israel look bad and the Palestinians to look innocent. (Apparently, we should all know by now that nothing is ever the fault of the Palestinians.)
Die-hard anti-Israel activists will love the movie, but as a source of usable and meaningful information about the Arab-Israeli conflict and the choices Palestinians must make for their lives to improve, the movie fails, and fails miserably.
The film, which lasts 90 minutes, is pretty self-referential, to the point of narcissism. It's all pretty underwhelming. Nevertheless, the film got a four-star review from The Guardian in 2014.

Aside from documenting Sansour's efforts to disguise anti-Zionist activism in Bethlehem as an effort to promote tourism to the city, the real drama in the story does not have much to do with life in the city itself but whether she is going to be able to get foreign donors to foot the bill for her activism and allow her to stay in the city. Eventually, after living in the city for a few years, Sansour has to leave because well, the money runs out.
The narrative is frankly, kind of contrived. The audience is supposed to cheer when the then-mayor of Bethlehem Victor Batarseh gives his blessing to Sansour's project. "There needs to be an intimate relationship between Open Bethlehem and the City Council,� he says.
Batarseh's declaration is kind of prosaic for a man who, prior to becoming Mayor of Bethlehem, was a member of the PFLP, a terror organization responsible for terror attacks against Israeli citizens.
Viewers aren't told about Batarseh's connection to the PFLP, which was responsible for the murder of Leon Klinghoffer, a wheel-chair bound American Jew who had the misfortune to be a passenger on the Achille Laurel in 1985 when the PFLP terrorists hijacked the vessel, shot him and then pushed his body over the rails into the Mediterranean Sea.
Viewers are supposed to be impressed when travel reporter Jeremy Head tells Sansour just how shocked he was to see just how big the security barrier was when he first was confronted with it. Head, whose blog says he was a "guest of Open Bethlehem� during his trip to the city, responds to the group's hospitality by describing the barrier as "this incredibly physical obstacle� that's "completely and utterly mind-blowing.�
Head's commentary, which is supposed to come across as incisive, is just silly. Of course the barrier is "physical!�
If it wasn't "physical,� it wouldn't be able to stop terror attacks from the West Bank into Israel. And what is so "mind-blowing� about a security barrier built in response to suicide bombers killing Israeli civilians in shopping centers, open air markets, restaurants, and bus stations?
It would be mind-blowing for such a barrier not to be built and any journalist worth his salt would understand this, but apparently not Head.
The audience is supposed to be impressed when Sansour is able to get a bunch of Bethlehem passports printed and hands them out to foreign dignitaries who applaud her for her efforts to bring attention to the plight of the city's inhabitants, as if the residents of Bethlehem haven't been getting a disproportionate share of the world's attention every Christmas for more than a decade. (If only the folks in Aleppo had the PR that Mitri Raheb, Sami Awad and the folks at Bethlehem Bible College have generated for their city!)
And viewers are supposed to feel bad for Sansour when she complains about the difficulty of raising money for her Open Bethlehem Project. "Palestine,� she says, "survives almost entirely on international aid. But there's the problem. Aid money comes with conditions. You cannot be overtly political. So what were we supposed to say we were doing?�
Eventually the problem is solved, at least for a while, when the Swiss Development Agency gives Sansour $160,000, making her "the boss of a tourism initiative.� Eventually, the money dries up and Sansour explains what happens as follows: "The political nature of our work had become so obvious that we no longer disguised it when we spoke to donors. The Swiss, like all the others, nodded, saw our problem and then disappeared.�
Sansour, in effect, admits to duping the Swiss government into giving her project money, despite the fact that she's going to use it for propagandistic purposes.
The Swiss weren't the only folks she duped. At one point, Sansour sits down with some unnamed Jews who are visiting Bethlehem and agree to speak to her on camera. The leader of the group blithely tells her, "It's very striking to me that you choose to meet with a group of Jewish Americans. Given what you showed us about the wall, it would be very easy to demonize Israel, Israelis, Jews altogether. So I'm very struck by your choice to proactively meet with Jewish groups.�
In response, Sansour says earnestly, "I always believe that we will be able to see the true values that we all share.�
In fact, despite what the Jewish leader from the U.S. said on camera, Sansour does demonize Israel — in the very film in which he appeared.
She does this by relentlessly documenting the impact of the security barrier on the residents of Bethlehem without acknowledging the lives lost to Palestinian terror attacks during the Second Intifada. It was these deaths that legitimized the security barrier in the minds of the average Israeli citizen. One could chide the Jewish leader for unwittingly cooperating with this demonization, but the ultimate responsibility for the charade lies with Sansour, who by the way, is not above engaging in some suspicious editing.
At about 17 minutes in, the film shows Sansour surveying a group of olive trees that had been cut down, presumably by Israeli soldiers. In a voice over, Sansour says "I was afraid of what I would see next. Scenes like these, and even worse, were unfolding all over Bethlehem, along the route of the wall.�
As she says this in the voiceover, Sansour looks up the hill from where she is standing and the next image is that of a bulldozer destroying a home at the top of a hill.
Combined with her voiceover, the jump between Sansour looking up the hill and the destruction of the home at the top of a hill gives viewers the impression that she witnessed the demolition as it took place.
But did she? The quality of the footage showing Sansour looking up the hill and the demolition is markedly different (as is the weather in the two scenes), strongly suggesting that the two events took place at different times. If Sansour did mess around with the footage to give viewers a false impression, it wouldn't be the first time a Palestinian filmmaker did something like this. Such a technique was used in Five Broken Cameras.
It is also troubling that Sansour — and so many other Palestinian propagandists — cannot acknowledge that Palestinian leaders of all stripes insist on their right to a sovereign state while at the same time embracing an ideology that denies the Jews their rights to a sovereign state. Until this contradiction in Palestinian ideology is confronted, and corrected, the conflict will continue and the security barrier will be necessary to protect Israeli lives.
But Sansour would have her audience believe that we must acknowledge Palestinian suffering, rights — and agency — without holding them accountable for the decisions they make. This is a common problem in the so-called peace and justice community's efforts to bring peace to the Middle East.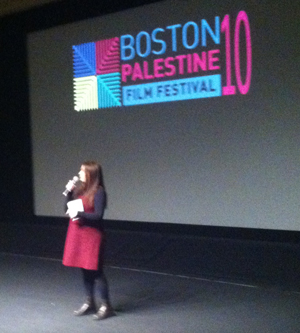 After the movie was shown and Sansour took the stage to bathe in the applause and answer questions from a fawning and sympathetic audience (photo above), one attendee asked if she was able to show the movie to "neutral Jews.�
The questioner said this was necessary because Jews regularly send money to Israel making the country even more powerful. She also said that she regularly asks Jews why they do the Palestinians what they say the Germans did to them. "Of course, I never get an answer,� the questioner declared.
The hostility directed at Israel by the film, and its impact on audiences who see it, might help explain why Sansour's movie was co-produced by the Dubai Entertainment and Media Organization. This entity operates the Dubai Film Festival. Dubai is the largest city of the United Arab Emirates or UAE for short.
If you ask people who are knowledgeable about human rights issues in the Middle East the first thing they think about when they hear the word "Dubai,� one likely answer you will get is "slavery.�
"Slavery� might be a bit polemical to describe the working conditions of foreign workers who work construction in Dubai, but how else can you describe things when employers take possession of the passports of foreign workers, work them to the bone, house them in terrible conditions and not allow them to leave until they've paid off the cost of their plane ticket?
Now, if the word "slavery� is not the first word that comes to mind when people hear the word Dubai, it is because another word — antisemitism — popped into their head. Recently, the head of Dubai's police force, Lt. Gen. Dhahi Khalfan Tamim, ranted on Twitter about Jews controlling countries and stated in one tweet that ""Jews need psychologists to analyze their personality.� In 2010, Tamim announced that Jews would not be allowed into UAE and that security personnel in UAE would be trained to recognize Jews from their features.
In 2014, UAE made the ADL's list of the top 10 most antisemitic countries in the world. In 2013, the ADL documented the sale of anti-Semitic books such as The Protocols of the Elders of Zion at a book fair in the UAE.
Despite all this, we don't hear the chants "Don't Buy Dubai!� or "UAE? Not For Me!� at human rights rallies because when it comes to targeting a country in the Middle East with boycotts, divestment and sanctions, well that's reserved for Israel.
No one in the audience at last weekend's showing asked Sansour if it was ethical for her to use help from the UAE to produce her movie, nor did anyone ask exactly how much the folks from Dubai contributed to the production of her film.
But one way or another, Sansour was helped by folks from Dubai — the largest city in a deeply antisemitic country with one of the worst human rights records in the world — in the making of her movie about Israel. Of course, there's a problem here.
By taking help from the UAE, a deeply repressive nation that mistreats women and foreigners in an undeniable way, Sansour reveals herself to be a hypocrite of the first order.
Hopefully, Sansour's reliance on help from the UAE will be a subject of questions at future screenings of her movie.

Posted by dvz at 02:41 PM | Comments (1)
November 01, 2016
Kudos to the Boston Globe on UNESCO Commentary
The malice and lies about Israel that emanate from the United Nations and its various bodies are endless and frequently ignored by the media as well as officials and pundits. Last week's Arab/Muslim-led resolution effectively negating Jewish religious and historical ties to the Temple Mount touched a nerve -- perhaps because the lie is so bizarre.
A November 1 Boston Globe editorial strongly denounced the assault on history and Israel's legitimacy, saying:
The United Nations' animus toward Israel took a truly deplorable turn last week with the passage of a resolution implicitly denying the Jewish people's historic connection to the holiest site in Judaism.

That site is Jerusalem's Temple Mount, so named for the two Jewish temples that stood on the site for almost nine centuries — the first built by King Solomon nearly 3,000 years ago, the second destroyed by the Roman legions under Titus in 70 A.D. One needn't be a Bible scholar or a historian to know that the cultural, religious, and emotional bonds that link the Jews to Jerusalem are unparalleled. For millennia, Jerusalem and the Temple Mount have been central to Jewish self-awareness — and thus to Christianity as well, since the Temple figures prominently in the Gospels' account of the life of Jesus.
The Globe further noted:
Malicious distortions of history are not trivial. In the Middle East as elsewhere, such falsifications have triggered wars and incited bloodshed. So it is reassuring that the UNESCO resolution has been vigorously denounced, and not only by Israel. Crystal Nix-Hines, the US ambassador to UNESCO, slammed the organization's pronouncements on Jerusalem as "continuously one-sided and inflammatory� and regretted that the latest resolution wasn't defeated. In Prague, Czech parliamentarians voted overwhelmingly to repudiate the UNESCO resolution. Even Ban Ki-moon, the outgoing UN secretary-general, issued a rebuke, warning that dishonest revisionism "will only feed violence and radicalism.�
The Globe did its own important part too in reiterating for readers the facts -- and the immorality of using lies to harm and isolate Israel.

Posted by AL at 10:42 PM | Comments (1)
Palestinian Peace Negotiator and Media Favorite Honors Terrorists
Saeb Erekat

Top Palestinian Authority (PA) official and perennial media favorite, Saeb Erekat, recently proclaimed his "admiration� for imprisoned terrorists.

According to Palestinian Media Watch (PMW), a non-profit organization that monitors Arab media in eastern Jerusalem, the Gaza Strip and the West Bank (Judea and Samaria), Erekat offered words of praise terrorists in an Oct. 19, 2016 edition of Al-Hayat Al-Jadida, the official PA daily newspaper.
Erekat, referring to Palestinians imprisoned by Israel for committing acts of terrorism, said:
Our brave prisoners, who gave and sacrificed their freedom for Palestine and its freedom, are worthy of aid, support, and constant activity by us in order to release them and put an end to their suffering. The prisoners' cause is a national and central cause, and we bow our heads in admiration and honor of the prisoners' sacrifices, for their acts of heroism, and for their ongoing battle with the occupation.
As CAMERA has highlighted before, many Palestinian officials consider all of Israel to be an occupation on what they believe should be only Muslim-ruled lands.
Al-Hayat Al-Jadida also stated that the release of imprisoned Palestinian terrorists is "at the head of the priorities� of PA President Mahmoud Abbas. PMW noted that terror-masterminds Abdallah Barghouti, Ibrahim Hamed and Abbas al-Sayid were among the terrorists whom drew Erekat's admiration. Those three terrorists alone were found by Israeli courts to be responsible for the murders of more than 120 Israelis in terror attacks during the Second Intifada (2000-05).
Erekat served as chief negotiator for the Palestinian Authority when Israel and the United States offered a two-state solution to the Palestinians in exchange for peace and recognition in 2000 at Camp David and 2001 at Taba. He also served as chief negotiator when Israeli Prime Minister Olmert a Palestinian state with its capital in eastern Jerusalem in 2008 following the Annapolis Conference. Each offer was rejected without a counter proposal, by Palestinian Arab leadership.
Despite his rejections of peace and praise for terrorists, many in the press often mislabel Erekat as a moderate, treat him as a reliable source and provide him with a platform to push his propaganda.
The Washington Post, for example, published an Op-Ed by Erekat—a mere five days after his praise for terrorists—in which he blamed Israel for the lack of peace and a Palestinian state ("As long as Israel continues its settlements, a two-state solution is impossible,� October 24, online). Erekat claimed that Israeli "settlements,� are expanding. In fact, as CAMERA has pointed out most of the expansion within these Jewish communities in the West Bank is due to natural population growth; high birth rates and not newcomers from other parts of Israel (see, for example, Washington Post Treats State Department, Palestinian Allegations as Facts, Aug. 4, 2016).
Erekat, decrying what he views as the Obama administration's inability to confront what he calls the problem of "settlement expansion,� tells ,I>Post readers that "strong statements� alone by the U.S. administration "are not going to move us toward� a two-state solution.�
Erekat does not offer an explanation as to how bestowing honors for terrorists advances the cause of peace or a two-state solution. Unfortunately, The Post failed to ask this question as well.
Posted by SD at 11:27 AM | Comments (2)