« September 2016 | Main | November 2016 »
October 30, 2016
AFP's Error, Editorializing and Omissions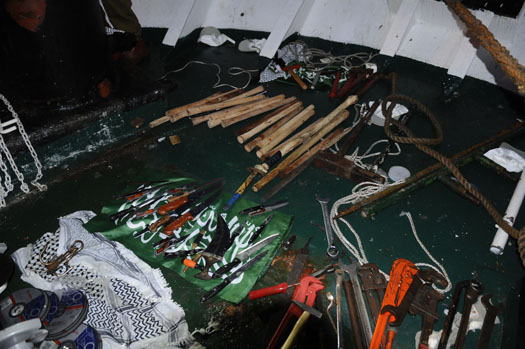 Weapons recovered from the "Mavi Marmara," which AFP identified as an "aid ship" though it carried no aid (Photo from Israel Defense Forces)
Agence France Presse, an influential news service, ran two articles yesterday which between them contained a factual error, key omissions, and editorializing.

In a factual error, the first sentence of yesterday's article ("Gaza flotilla raid victims' kin vow legal battle against Israel") incorrectly characterized the "Mavi Marmara" as "a Gaza-bound aid ship."

The "Mavi Marmara" was not an "aid ship� at all. As documented in the UN's Palmer Report (p. 47), it carried 546 passengers but no humanitarian aid supplies for the people of the Gaza Strip:


If the flotilla had been a purely humanitarian mission it is hard to see why so many passengers were embarked and with what purpose. Furthermore, the quality and value of many of the humanitarian goods on board the vessels is questionable. There were large quantities of humanitarian and construction supplies on board the Gazze 1, Eleftheri Mesogeio and Defne-Y. There were some foodstuffs and medical goods on board the Mavi Marmara, although it seems that these were intended for the voyage itself. Any "humanitarian supplies� were limited to foodstuffs and toys carried in passengers' personal baggage. The same situation appears to be the case for two other of the vessels: the Sfendoni, and the Challenger I. There was little need to organize a flotilla of six ships to deliver humanitarian assistance if only three were required to carry the available humanitarian supplies. The number of journalists embarked on the ships gives further power to the conclusion that the flotilla's primary purpose was to generate publicity.
Earlier this month CAMERA's BBC Watch prompted correction of the identical error, and CAMERA has contacted AFP to request that the wire service likewise correct.
Moreover, while "Mavi Marmara" passengers were not carrying aid, they were carrying weapons and they used these weapons to violently attack Israeli soldiers who boarded the ship, facts entirely ignored in the 633-word article.
In another serious omission, the article refers to "the Turkish Islamic Charity IHH that organised the flotilla." At no point does the article note the IHH's reported ties to the Turkish regime and terrorist organizations. The Meir Amit Intelligence and Terrorism Information Center reported that IHH in Germany has been designated a terrorist group and that the United States also has examined the possibility of making a similar designation due the organization's "past support for global jihad," its involvement in the filed terrorist attack on Los Angeles International Airport in 2000, its extremists anti-Western and anti-Israeli Islamist character "and the support it gives to Hamas, which is designated as a terrorist organization by the United States."
A separate AFP article yesterday, about a Palestinian ramming attack ("Palestinian attacker shot by Israeli troops: army"), leaves out key information about Palestinian fatalities in the last year of Palestinian attacks. The article ends:
Since October last year, the violence has claimed the lives of 235 Palestinians, 36 Israelis, two Americans, a Jordanian, an Eritrean and a Sudanese, according to an AFP account.
The story leaves out the key information included in most other AFP stories (most recently, for example, on Oct. 26) that Israel identified most of those killed as assailants:
Most of the Palestinians killed were carrying out knife, gun or car-ramming attacks, according to Israeli authorities.

Others were shot dead during protests or clashes, while some were killed in Israeli air strikes on the Gaza Strip.
Finally, like several earlier AFP articles, this article uses the highly problematic formulation pitting "analysts" as a whole against Israel. About the causes of Palestinian violence, yesterday's article states:
Analysts say Palestinian frustration with the Israeli occupation and settlements-building in the West Bank, comatose peace efforts and their own fractured leadership have fed the violence.

Israel says incitement by Palestinian leaders and media is a leading cause.
As CAMERA's Gilead Ini documented, it isn't only Israel that describes Palestinian incitement as a problem. Plenty of analysts do, too, as does the Quartet, John Kerry, and countless others.
That's a lot of bad reporting for one Saturday from the wire service who employs as a reporter Nasser Abu Baker, the chairmen of the Palestinian Journalists Syndicate, the leading force for the boycott of Israeli journalists and media.
Posted by TS at 06:47 AM | Comments (0)
October 19, 2016
CAMERA Letter-Writers Prompt National Geographic to Correct on Gaza Zoo Closure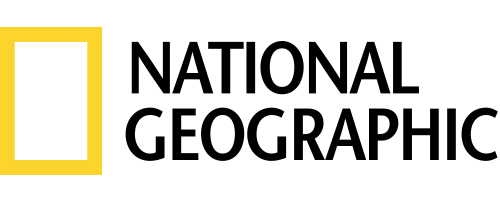 National Geographic recently ran a feature about closing down the "world's worst zoo,� located in Gaza. Initially, the article politicized a story that was ostensibly about animal welfare and used it to take gratuitous and one-sided digs at Israel.
After editors heard from CAMERA letter-writers, however, significant revisions to the article were made. The editors said that the story "came through our digital staff, not our magazine operation" and that they "are putting into place more checks to try to ensure that such pieces do not slip through our digital editing process."
In the original article, after describing how zoo owner Abu Diab Oweida taxidermied 50 dead animals in the zoo, author Richard Tenorio had initially quoted Oweida saying that he did it "to prove to the whole world that even animals have been affected and [killed] by the Israeli occupation after the three [recent] wars in the Gaza Strip.� The bracketed word "killed� appeared to have been inserted into the quote by the reporter. That language has now been deleted, along with Oweida's reference to the "Israeli occupation.�

As CAMERA letter-writers pointed out to National Geographic editors, Israel completely withdrew from Gaza in 2005, removing both civilians and soldiers from the territory. A second quote from Oweida attributing his problems to the "Israeli occupation� was removed as well, and new language was added to clarify the current relationship between Israel and Gaza.

Editors also added significant background about the 2014 war between Israel and Gaza's Hamas rulers, including Hamas's kidnapping of three Israeli teens that ignited the 2014 hostilities, and the fact that Hamas fired into civilian areas within Israel. They clarified that although the animals died during the 2014 conflict, the zoo itself was not bombed and the precise cause of the animals' death was unclear.
A seven-week conflict in 2014 hastened the decision to close the zoo. The conflict stemmed from the kidnapping and killing of three Israeli teenagers on the West Bank. Israel linked the crimes to Hamas, and began making hundreds of arrests in the case, including many of Hamas' West Bank leaders. Hamas later began firing rockets at civilian areas in Israel, which retaliated by bombing sites in Gaza. The United Nations reported that nearly 2,200 people were killed in the conflict, more than 2,100 of them Palestinians.

It's unclear precisely what led to the animals' deaths at the zoo. The zoo itself was not bombed during the 2014 conflict, and animal-welfare groups say it had a troubled history of caring for animals. Abu Diab Oweida, the Palestinian businessman who owned the zoo, said many animals died during that conflict, and that the mummifications were an effort by the zoo's staff "to prove to the whole world that even animals (were) affected.� Oweida previously blamed a 2009 conflict for the death of several animals in the zoo, some of which also were mummified.
Finally, editors made clear that the IDF strikes that were carried out in August of this year, while the animal rescue was being carried out, were against military targets in Gaza, and were not indiscriminate, as was previously implied.
CAMERA commends National Geographic for the corrections.

--kb
Posted by SC at 08:47 PM | Comments (0)
October 10, 2016
Media Fact-Check Tim Kaine on Iran Deal Claims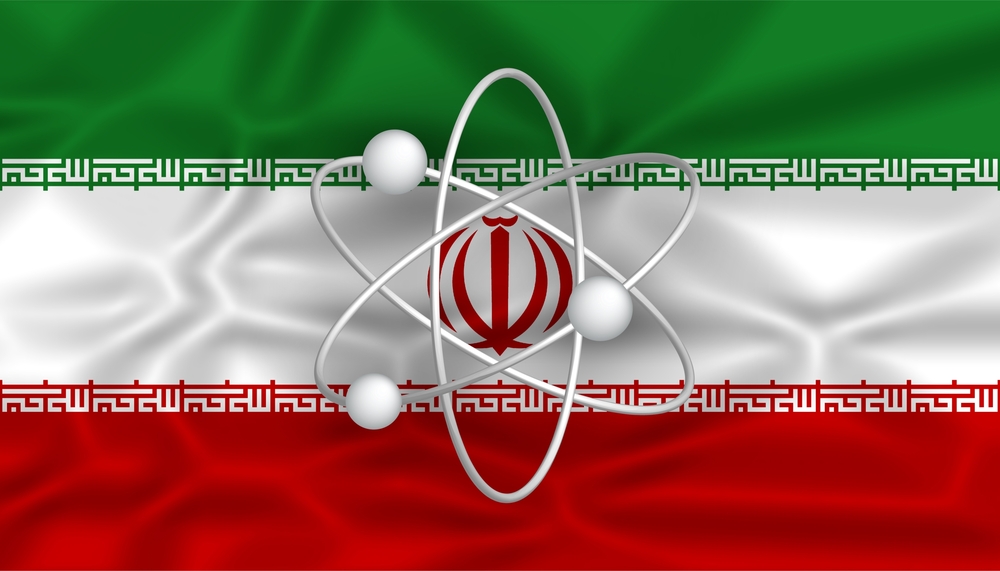 In last week's Vice Presidential debate, Democratic nominee Tim Kaine claimed that, as Secretary of State, Hillary Clinton "worked a tough negotiation with nations around the world to eliminate the Iranian nuclear weapons program without firing a shot.�
The National Review called Kaine's claim "preposterous,� and Commentary Magazine said of Kaine's various claims about the JCPOA, also known as the Iranian nuclear deal, that they are "not only largely false, but frightening in themselves.�
But lest those critiques be dismissed as coming from "conservative� outlets, other so-called "mainstream� media also said that Kaine's claims simply weren't true.
ABC News rated Kaine's statement as "False�:
The nuclear agreement reached between six world powers and Iran last year does not completely eliminate the Iranian nuclear program. Its major achievement, as told by the Obama administration, was getting Iran to commit to reduce its stockpile of nuclear material and cease further enrichment, effectively extending the time it would take Iran to build a bomb.
The Washington Post wrote:
Kaine leans way over on his skis here. The Iranian nuclear agreement was actually negotiated by Clinton's successor, John Kerry, though Clinton helped tee up the negotiations by increasing sanctions on the Islamic Republic. The deal, which has been sharply criticized by Republicans, did increase the amount of time that Iran would need to build a nuclear weapon by reducing its centrifuges for uranium enrichment and its stockpile of enriched uranium. But the deal expires in 15 years, and Iran's nuclear infrastructure remains in place.

While Iran has insisted it has no interest in building nuclear weapons, the deal does not eliminate the risk that it will obtain nuclear bombs.
Even NPR denied that the JCPOA eliminates Iran's nuclear program:
HORSLEY: Well, Tim Kaine stretched the facts in a couple of ways here - first, on Hillary Clinton's role in the Iran nuclear deal. Certainly, she did help put in place the very tough international sanctions that helped bring Iran to the bargaining table. But the deal itself was hammered out not by Clinton, but by her successor at the State Department, John Kerry.

Secondly - and this is behind that skepticism you hear from Mike Pence - on the effect of the Iran nuclear deal, it does not eliminate Iran's nuclear program. What it does do is put strict limits on that program and stretches out the time it would take Iran to develop a nuclear bomb. Before the deal, that so-called breakout time was estimated at around two months. It's now at least a year, and it's expected to stay year for at least a decade.

GREENE: OK. So we might not know the true impact of this deal for some time, it sounds like.

HORSLEY: That's right. But not eliminated.

GREENE: Not eliminated.
The JCPOA did not eliminate Iran's nuclear weapons program. And to their credit, media outlets are reporting this.
Unfortunately, Hillary Clinton repeated a variation on the claim in Sunday's debate, when she said,
I've stood up to Russia, I've taken on Putin and others, and I would do that as President. I think wherever we can cooperate with Russia that's fine, and I did as Secretary of State, that's how we got a treaty reducing nuclear weapons, it's how we got the sanctions on Iran that put a lid on the Iranian nuclear program without firing a single shot.
Let's see if the media fact-check this as well.
--kb
Posted by SC at 12:35 PM | Comments (0)
October 09, 2016
Deutsche Welle Misreports Latest Terrorist Attack in Jerusalem
Deutsche Welle is Germany's international news service providing news in multiple languages online, on satellite TV and radio. Judging, however, from their report on the latest terrorist attack in Jerusalem, they cannot be trusted to report accurately in an unbiased fashion. Consider this headline and lede:
Was this indeed a case of a trigger-happy, brutal police force assassinating a "suspect" without giving him the benefit of a trial? This is the likeliest conclusion to be drawn from Deutsche Welle's distorted report.
But, in fact, the terrorist -- 39-year-old Mousabah Abu Sabih of the eastern Jerusalem Silwan neighborhood, who had been previously indicted for incitement to terrorism and who was reportedly supposed to begin a 4-month incarceration today for assaulting a policeman-- went on a shooting spree and was in the midst of a murderous rampage when he was shot dead by border police. He had just critically wounded a Yasam special patrol officer, who later died of his wounds in hospital, as well as wounding a second officer. This came after he had critically shot a 60-year-old woman who later died of her wounds-- and wounded many others as he shot at people from the window of his car. He was not a "suspect" in an incident that was in dispute, but an active shooter who was in the midst of trying to kill as many people as he could.
The terrorist was reportedly a member of Hamas, whose spokesman, Fawzi Barhoum, praised the attack and called it a confirmation of the intifada, urging an escalation in attacks. Islamic Jihad praised the attack, as well, while Fatah honored the terrorist as a "martyr".
But, of course, Deutsche Welle, reported none of this, spinning the story-- drawn from Reuters, AFP, and AP -- in an entirely different direction,and in the process revealing itself as more of a propaganda site than a legitmate news agency.
Posted by rh at 06:12 AM | Comments (2)