« August 2016 | Main | October 2016 »
September 29, 2016
Australian Broadcasting Corp. Vilifies Israel While Writing About its Humanitarian Efforts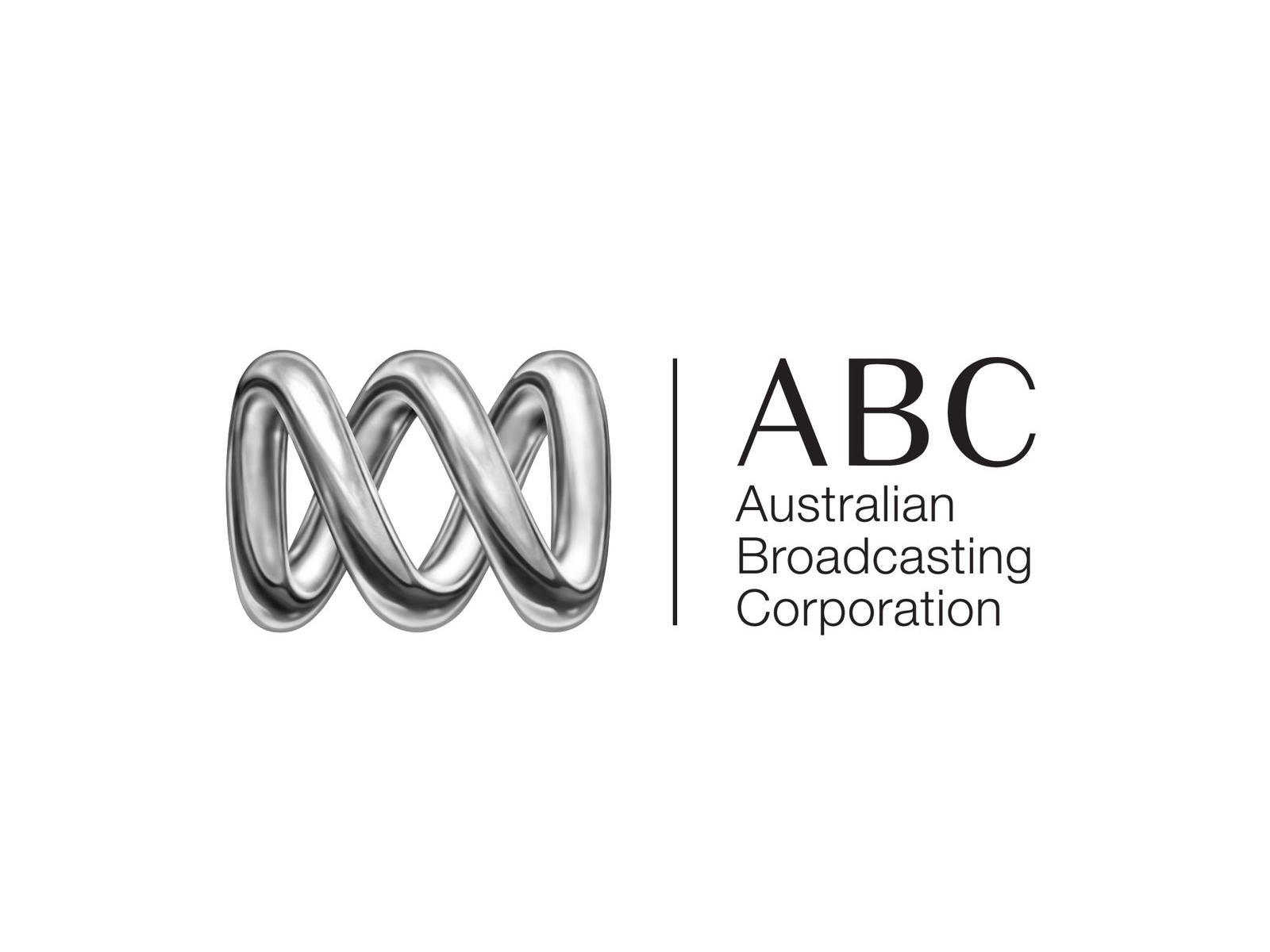 Last week journalist Sophie McNeill published a heartrending story about Gazan babies and toddlers with cancer at the Australian Broadcasting Corp. This is a topic that is bound to stir up deep emotions on the part of readers. By omitting important information about the context within which these children are receiving treatment, however, McNeill manages to vilify Israel while writing about its humanitarian efforts.
McNeill focuses her story on four children that have traveled to Israel or the West Bank for cancer treatment accompanied either by grandparents or older family friends, and on the fact that their parents were not permitted to accompany them. She omits, however, that terrorists have, in the past, attempted to exploit entry permits granted for medical reasons. In December of 2014, for example, Israeli forces discovered and stopped a woman who planned to obtain an entry permit from the West Bank for medical reasons, and then disguise herself as being pregnant in order to detonate a suicide bomb.
McNeill does not inform her readers about Hamas actions that may contribute to the lack of available or appropriate medical care within Gaza. She fails to discuss that during Operation Protective Edge in 2014, Hamas and other terrorist groups used hospitals to launch attacks into Israel, and omits that in some cases medical facilities were damaged by misfired rockets from within Gaza. Moreover, while billions of dollars in international aid flow into Gaza, the IDF reported in July that "Hamas spends hundreds of thousands of dollars each month on tunnel infrastructure.�
These omissions are compounded by two factual errors in the story. First, McNeill claims that Israel's blockade on Gaza is almost ten years old. The blockade was actually imposed in 2009, two years after Hamas took control of the strip, and it was found to be legal in a U.N. Report. McNeill also writes that "to exit Gaza, you need permission from the Israeli authorities.� Egypt, however, controls the Rafah crossing at one of Gaza's borders.
Maybe more can be done for Gaza's sick children... mostly by Hamas that rules the territory and ill-treats its residents.

--KB
Posted by SC at 04:57 PM | Comments (0)
September 27, 2016
WCC Invites Israel-Hating Conspiracy Theorist to Interfaith Event in Switzerland
This is his Excellency Professor Dr. Ahmad al-Tayyeb, Grand Imam and Shayk of al-Azhar University. Tayyeb, who has said nasty things about Jews, will be speaking about interreligious dialogue and "peace" at an event organized by the World Council of Churches. (Wikimedia Commons.)
The World Council of Churches, a Christian ecumenical institution with a long history of beating up on Israel while giving jihadists and killers like Syrian President Bashar al Assad a pass, has invited an antisemitic conspiracy theorist to lecture at an upcoming celebration of interfaith dialogue at an event held near the WCC's headquarters in Switzerland.
The event will take place at the WCC's Bossey Institute, located outside of Geneva. The speaker is His Excellency Professor Dr. Ahmad al-Tayyeb, Grand Imam and Shayk of al-Azhar University.
His lecture, titled "The Responsibility of Religious Leaders for Achieving World Peace,� will take place at 4 p.m. on Saturday October 1, 2016.
Tayyeb's talk is part of the Bossey Institute's celebration of 70 years of interfaith dialogue at the institution which describes itself as the "international center for encounter, dialogue and formation of the World Council of Churches (WCC).�
For a man asked to speak about the role religious leaders can play in promoting "peace" Tayyeb has said some pretty hateful things.

In September 2014, Tayyeb declared in reference to ISIS that "fundamentalist terror groups, whatever their names, and their backers are colonial creations that serve Zionism in its plot to destroy the Arab world." Earlier in 2014, Tayyeb dishonestly accused Israel of committing genocide in the Gaza Strip.
And in February 2015, The Telegraph quoted Tayyeb as follows:


"We face major international plots targeting Arabs and Muslims,� he said. The plots wanted to break up society "in a way that agrees with the dreams of the new world colonialism that is allied with world Zionism, hand in hand and shoulder to shoulder.

"We must not forget that the only method used by new colonialism now, is the same that was used by colonialism in the past century, and its deadly slogan is 'divide and conquer'.�
In 2013, Tayyeb complained to an interviewer in Egypt that "Since the inception of Islam 1,400 years ago, we [Muslims] have been suffering from Jewish and Zionist interference in Muslim affairs. This is a cause of great distress for the Muslims."
More recently, Tayyeb has declared apostasy a crime punishable by death.
After Tayyeb gives his talk, conference attendees will break for dinner and then listen to Gregorian chants and bible readings.
Posted by dvz at 02:01 PM | Comments (1)
September 21, 2016
LA Times' Joshua Mitnick Casts Palestinian Attackers as Victims
In his report today on recent Palestinian violence, The Los Angeles Times' Joshua Mitnick obscures the fact that all of the Palestinians killed in the last few days, along with the majority of those killed in the last year, were attackers ("Israeli military says teenager killed after trying to stab soldier").
He writes:
Since Friday, Israeli security forces have reported at least nine knifing and car ramming attacks on targets in the West Bank and Jerusalem. Some six Palestinians and a Jordanian citizen have been killed in the violence, and several Israelis have been injured, including a 38-year-old border policewoman stabbed Monday morning outside Jerusalem's Old City.
In this passage, Mitnick fails to make clear who were the perpetrators (Palestinians) of the knifing and ramming attacks and who were the targets (Israelis),
Further muddling the basic question of who were the attackers and who were the targets, the Times correspondent does not note that all six Palestinians killed, along with the Jordanian, were the perpetrators of the aforementioned knifing and ramming attacks. In at least a couple of the incidents (involving the Jordanian and an attack Saturday in Hebron) there is video evidence substantiating the Israeli information that the Palestinian fatalities were assailants. The Jordanian was responsible for the attack Monday in which the 38-year-old border policewoman was gravely injured, and her colleague was moderately injured. But Mitnick does not say so. Readers are left to their own to draw the conclusion that the six Palestinians and Jordanian carried out the stabbings and car rammings -- or not.
Mitnick's grossly misleading phrase "six Palestinians and a Jordanian citizen have been killed in the violence" is nearly as skewed as this egregiously distorted Los Angeles Times headline last year which editors corrected following CAMERA's complaint: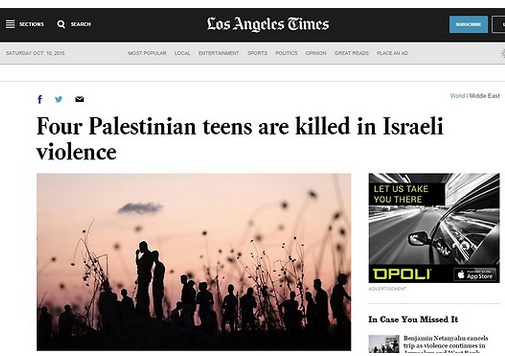 Indeed, aside from two specific incidents -- an attack Tuesday morning along with the murder of 13-year-old Hallel Ariel last June -- nowhere does Mitnick specify that it is Palestinians who are responsible for the ramming and stabbing attacks of the last year.
Thus, he refers to "the string of stabbings, car attacks, and shootings that started during the same [holiday] period last year," without specifying that Palestinians were the perpetrators. Again, readers may, or may not, deduce this information.
Mitnick again casts Palestinian perpetrators as victims, writing:
The wave of daily violence that started a year ago left more than 200 Palestinians and several dozen Israelis dead, though in the spring and summer the incidents subsided substantially.
In a gross omission, he ignores the fact that most of the more than 200 Palestinians killed were attackers, according to Israel. It is standard practice for media outlets across the board to include this information, and The Los Angeles has done so numerous times in the past.
CAMERA has raised these concerns with Times editors. Stay tuned for an update.
Posted by TS at 03:58 AM | Comments (1)
September 19, 2016
As Abbas Denies Palestinian Incitement, US State Department Attests to Phenomenon
On Sunday, Mahmoud Abbas insisted that the latest wave of Palestinian terror attacks against Israelis is a natural consequence of despair. "Don't trust those who say there are efforts to push them or incite them," he said of Palestinian attackers. "Rather, they have lost hope."
This argument, which shifts responsibility for Palestinian violence away from the attackers and toward the victims, is favored by some journalists and activists (even when the facts show something else).
But only days before Abbas's comments, a U.S. State Department notice announcing sanctions on a Hamas terror leader attested to the alarming reality of Palestinian incitement. The notice focused on Fathi Ahmad Mohammad Hammad, who is responsible for, among other terrorist activity, inciting the next generation of Palestinians to hate and kill.
According to the State Department, Hammad "established Al-Aqsa TV, which is a primary Hamas media outlet with programs designed to recruit children to become Hamas armed fighters and suicide bombers upon reaching adulthood."
No wonder Hamas officials have dismissed the idea that Palestinian attackers are driven by despair. They work hard to inspire anti-Jewish terror attacks and, unlike their Fatah counterparts (who also incite attacks and also focus on indoctrinating Palestinian youth), are not shy about publicly admitting it.
CAMERA has previously faulted the news media for ignoring or downplaying Palestinian incitement. After John Kerry pointedly said incitement was to blame for the murder of Jews praying at a synagogue, for example, New York Times journalists initially reported on the Secretary of State's newsworthy comments, but then scrubbed all reference to them from their article. And a recent article by AFP pitted "analysts," who according to the wire service don't name incitement as relevant to Palestinian violence, against "Israel," which claims it is — this despite the fact that plenty of analysts agree that incitement fuels violence.
Posted by at 12:28 PM | Comments (0)
September 18, 2016
Bad Headlines Follow Palestinian Terror
Update, 4 p.m. EST: Forward, Voice of America Correct Headlines on Palestinian Attacks
The spate of terror attacks in Israel over the weekend was accompanied by additional examples of the usual bad headlines depicting the assailants as victims. Here is an example from Voice of America:
Similarly, the The Forward headline for the accompanying Reuters article was:
Strikingly, the original Reuters headline was perfectly straightforward, clearly noting that Israel identified the three killed Palestinians as attackers: "Israeli forces say killed three assailants in Jerusalem, West Bank."
This is not the first time that The Forward changed a perfectly clear Reuters headline about a Palestinian attack to obfuscate the facts.
Based only on the Voice of America and Forward headlines readers would not understand that the Palestinians killed were reportedly assailants, killed while carrying out attacks. In the case of the incident described in the Voice of America article, the moment of the attack was captured by security cameras, leaving no doubt as to the circumstances:
The Voice of America article, like the Reuters article which appears at The Forward, as well as Reuters' original headline, correctly identifies the Palestinians as suspected assailants.
CAMERA has contacted editors at both media outlets to request corrections. Stay tuned for an update.
Posted by gs at 05:53 AM | Comments (2)
September 17, 2016
CAMERA Letter Writers Have Impact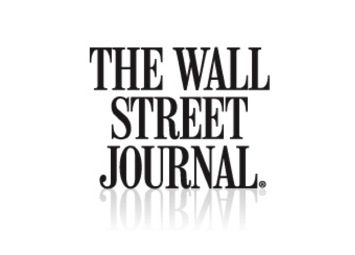 In the weekend WSJ, four letters were published pointing out the hypocrisy and counter-productive nature of the BDS movement that seeks to destroy Israel. All four were written by outstanding CAMERA Letter Writers. To sign up for our letter writing team, please click here.
The Outrage of BDS Is Suspiciously Selective The BDS movement diverts attention from human-rights abuses inflicted by the Palestinian Authority and Hamas against the Palestinian people.

Allison Brown and Patrick Connors claim that the Boycott, Divestment and Sanctions movement is part of a long, honorable continuum (Letters, Sept. 12). I beg to differ. There is nothing honorable about the BDS movement's goal of preventing dialogue between Palestinians and Israelis who try to forge paths of mutual understanding and respect. Nor is there anything honorable about BDS's attempts to shutter businesses in Judea and Samaria that provide good-paying jobs to Palestinians. BDS's support of entrenched Palestinian rulers leave Palestinians with little hope of escaping the oppression of their corrupt leadership. Furthermore, the BDS movement diverts attention from human-rights abuses inflicted by the Palestinian Authority and Hamas against the Palestinian people.

Hatred for the "other� deflects responsibility away from autocratic regimes' neglect and abuse of their people. Israel is the "other� for the Palestinian Authority and Hamas, as America is the "other� for North Korea. Supporters of BDS buttress the despots who deny their people basic rights such as freedom of the press, inclusion for the LGBTQ community and other minorities, justice for women and children and freedom to worship—or not to.

Lynn C. Koss
Fayetteville, N.Y.

The target of these New York campaigners, like the rest of the BDS advocates, is the existence of Israel itself. Omar Barghouti, a leading founder of the BDS movement, stated it with full clarity: "definitely, most definitely we oppose a Jewish state in any part of Palestine.� That means all of Palestine—no Israel.

Meanwhile, Palestinians have a higher standard of living in Israel than in any Arab country. And they have full democratic rights.

Barry Salwen
Wilmington, N.C.

Regarding those victims of Israel: The Palestinian Authority September elections suddenly have been scrubbed. Fatah fears Hamas's West Bank gains. Hamas is horrified at a surging Fatah in Gaza. An increasingly despotic Palestinian Authority President Mahmoud Abbas continues in the 12th year of a four-year term.

Richard D. Wilkins
Syracuse, N.Y.

Cooperating with BDS can be illegal per the federal statutes outlawing cooperation with the Arab League boycott of Israel, namely the 1977 amendments to the Export Administration Act and the Ribicoff Amendment to the 1976 Tax Reform Act.

Daniel H. Trigoboff
Williamsville, N.Y.
Posted by SC at 01:12 PM | Comments (0)
UPDATED: Anti-Anti-Israel News

Last week, two significant anti-Israel programs were blocked within 24 hours of being publicized.

The first was a pro- Boycott Divestment and Sanctions (BDS) event scheduled to take place on Friday, September 16th on Capitol Hill, with support from an anonymous congress member. The presentation was to feature speakers who are active in the notorious BDS campaign against Israel, which is considered by many to be an anti-Semitic movement.

The event was announced Monday and drew bi-partisan outrage from citizens and other congressional members. Initially, Congresswoman Sheila Jackson Lee, who had sponsored the event, refused to reveal herself publicly. But on Tuesday, after House Minority leader Nancy Pelosi got word of it, Lee withdrew her sponsorship and the presentation was canceled.

The event would have been the first forum in favor of boycotting Israel on Capitol Hill. The event was to be moderated and sponsored by the U.S. Campaign to End the Israeli Occupation, a known anti-Israel organization that garnered controversy after hosting democratic congressman Hank Johnson who compared Israeli settlers to "termites.� The organization has been described by the Anti-Defamation League as "a coalition of anti-Israel groups that promotes divestment from Israeli companies, organizes anti-Israel events, and lobbies the U.S.�

The second anti-Israel undertaking was a one-credit student-run course titled "Palestine: A Settler Colonial Analysis,� which was to be offered at the University of California, Berkeley. On Tuesday, 43 Jewish and civil rights groups wrote a concerned letter to Chancellor Nicholas Dirks claiming that the course was in violation of the UC Board of Regents policy on course content and amounted to political indoctrination.

That same day, Chancellor Dirks suspended the course on the grounds that it "did not receive a sufficient degree of scrutiny to ensure that the syllabus met Berkeley's academic standards.�

The swift response on the part of Congress and the university to take action against displays of bigotry is commendable and will hopefully serve as an example for the future.
UPDATE: Unfortunately, the LA Times is reporting that the UC Berkeley course has been reinstated. Carla Hesse, executive dean of the College of Letters and Sciences and dean of the social sciences division rescinded the suspension saying her concerns have been addressed.

--Karys Rhea, International Letter-Writing Associate
Posted by SC at 12:49 PM | Comments (0)
September 12, 2016
USA Today Image Blurs Reality on Israeli Counterterror Raids

A photograph in USA Today's Aug. 17, 2016 "World In Brief� section showed two Palestinian children peering through a broken glass window but was accompanied by misleading text.
The image, credited to AFP photographer Hazem Bader, appeared under the headline "Through the eyes of children.� A description underneath the photo read:
"Palestinian children peer through a window at Israeli soldiers conducted searches Tuesday in the al-Fawwar refugee camp south of Hebron. Twenty-five Palestinians were wounded in clashes with Israeli soldiers, Red Crescent medics said.�
Yet, the caption does not tell readers what Israeli soldiers were searching for. As The Times of Israel reported, Israeli Defense Forces (IDF) were conducting an overnight operation to "uncover weaponry� in the al-Fawwar refugee camp ("Palestinian teen said killed in clashes with IDF troops in West Bank,� Aug. 16, 2016).
While conducting their mission, IDF soldiers were assaulted by "dozens of Palestinians [who] hurled IEDs (improvised explosive devices), blocks and rocks� at them. In response, the IDF used riot dispersal measures and "fired .22 caliber bullets toward the main instigators,� according to an Israeli military spokesperson.
Confirming their suspicions, "two improvised handguns� were found at the camp along with "other weapons and ammunition.� Perhaps this is unsurprising. According to The Times of Israel:
"The army closed off the Fawar camp for 26 days last month after a gunman belonging to a Hamas terror cell fired on a car carrying an Israeli family on a nearby West Bank road, causing the vehicle to crash.�
As a result of that attack, in which Rabbi Miki Mark was murdered and his wife and two children injured, the IDF has been "clamping down on Palestinian workshops manufacturing arms in the West Bank [Judea and Samaria],� The Times of Israel noted.
However, none of this crucial context was provided to USA Today readers.
That it was omitted is perhaps not surprising when one considers the photographer.
As CAMERA has noted, photos taken by Bader have been propagandistic in nature. For example, one 2012 image, carried by the Wall Street Journal, The Washington Post, and MSNBC, among others, purported to show "an injured Palestinian construction worker� as he screamed "in pain after an Israeli army driver drove a trailer hooked to a tractor over his legs.�
Yet, as CAMERA's Israel Director, Tamar Sternthal, pointed out in a Feb. 7, 2012 Canadian Jewish News Op-Ed:
"…After checking Palestinian, international and Israeli sources, it appears that the 'injured worker,' Mahmoud Abu Qbeita, was, in fact, not actually injured. Moreover, there is no evidence that he was even run over. The Palestinian Center for Human Rights and the United Nations, both of which provide comprehensive reports about West Bank casualties, made no mention of the alleged injury ("AFP Shows Lack of Transparency�).�
Bader's own personal website, as a CAMERA snapshot pointed out, featured a picture of the photographer smiling alongside Yasser Arafat, the now-deceased head of the Fatah and the Palestine Liberation Organization (PLO) ("Canadian Jews News: AFP Flunks on Transparency,� Feb. 9, 2012).
Posted by SD at 03:54 PM | Comments (0)
The Washington Post and Baltimore Sun Highlight U.S. Trade Mission to Israel

The Washington Post's "Hogan plans trade mission to see Israeli start-ups� (Sept. 8, 2016) provided readers with a look at how Maryland is seeking to learn from the Jewish state's culture of business innovation.
The article, by Post reporter Josh Hicks, noted that Maryland Gov. Larry Hogan "plans to embark on a seven-day trade mission to Israel this month with several members of his cabinet and leaders from the state's business, academic and Jewish communities.�
According to The Post, the trip—slated to depart on September 19—will "focus on Israel's robust culture and strong presence in the high-tech fields of cybersecurity, technology and the sciences.�
The governor and those accompanying him will visit Tel Aviv, Beersheba and Jerusalem.
The Washington Post was not the only paper to detail Hogan's trip. The Baltimore Sun ("Hogan plans to lead Israel trade mission this month,� Sept. 8 2016) also covered the story.
Close ties between Maryland and Israel have long existed. More than 20 Israeli companies have offices in Maryland, both papers reported. Additionally, as Hicks pointed out, "every governor of the state has visited the country for trade missions for at least the past 25 years.�
As CAMERA has noted (see, for example "Israel Aids California's Water Conservation,� May 8, 2016), Israeli innovations have helped other U.S. states. Israel's medical, technological and scientific developments have enabled the Jewish state to punch above its weight. For example, as a May 15, 2016 Washington Post story documented ("Cyber-city rises from the desert�), Israel has pioneered cooperation between academia, the government and private companies in the realm of cybersecurity.
Major U.S. news media coverage of Israel is often fixated on the Israeli-Palestinian conflict and related issues. In their articles, The Post and The Sun illustrated that Israel's story is every bit as much about cooperation and innovation.
Posted by SD at 03:41 PM | Comments (0)
Threat from Terrorist Groups is the 'Most Serious since 9/11 Attacks'
Al-Qaeda head Ayman al-Zawahiri

The United States and Europe are confronted with a terrorist threat which is greater than "at any point since the Sept. 11 attacks 15 years ago,� according to a Sept. 9, 2016 Washington Times report by Carlo Munoz ("Terrorist threat at its most serious since 9/11 attacks�).
Munoz cited a Sept. 7, 2016 review of global threats by the United States National Counterterrorism Center chief Nick Rasmussen. Rasmussen warned that both the United States and Europe faced a "bigger, wider and deeper� risk from terrorist groups. The rise of the Islamic State in Iraq and Syria (ISIS), a U.S.-designated terrorist organization, presents a menace which is "considerably less predictable� than those posed by al-Qaeda, the group responsible for, among other acts, the Sept. 11, 2001 attacks on the Pentagon, the World Trade Center in New York City and the downing of Flight 93 in Pennsylvania.
The more decentralized nature of ISIS—which also seeks to inspire attacks via social media—has enabled the group to carry out attacks "much more quickly and with much less warning� than other terror groups, Rasmussen noted.
Additionally, both ISIS's structure and a wider variety of recruits has made it harder for U.S. intelligence officials to monitor the group and target the group. Quoting Rasmussen, The Times highlighted:
"The lack of such linkages, especially by lone wolf attackers who were inspired by Islamic State's impressive online propaganda operation has opened up 'a size and scale of the [U.S.] population' susceptible to radicalization.�
The Times article cited Michael Leiter, a former director of the National Counterterrorism Center, who noted the differences between how al-Qaeda selects targets vs. how ISIS does. Leiter pointed out that massive attacks like September 11th, take "immense amounts of planning, communication, financing and coordination.� Accordingly, they come with a high risk of failure. By contrast, ISIS has pursued more "basic tactics, such as last year's mass shooting as an office party in San Bernardino, California or the July attack in Nice, France, where an Islamic State operative used a truck to run down revelers at the seaside resort town.�
Yet, some terror analysts believe that al-Qaeda is far from down and out.
A recent report for the Hudson Institute by Daveed Gartenstein Ross, a senior fellow at the Washington D.C.-based think tank Foundation for Defense of Democracies, and Nathaniel Barr, a research manager with Valens Global, argued that al-Qaeda is both underestimated by many analysts and a greater long-term threat than ISIS ("How al-Qaeda Survived the Islamic State Challenge,� Aug. 30, 2016). Gartenstein-Ross and Barr said that, "al Qaeda has turned IS's emergence into a strategic opportunity, pivoting off of IS's brutality and doubling down on a more low-profile and sustainable approach to growth. Al-Qaeda has quietly, and yet relatively rapidly, gained ground in conflict zones across the Middle East and North Africa, including Syria and Yemen, where the group has seized territory and embedded itself within local communities.�
As Rasmussen noted in his July 14, 2016 testimony before the U.S. House of Representatives Homeland Security Committee, "…it is fair to say that we face more threats originating in more places and involving more individuals than we have at any time in past 15 years.�
Posted by SD at 03:19 PM | Comments (0)
Rarely Highlighted in the Mainstream Media are Genuine Palestinian Peace-Seekers
Sheikh Abdullah Tamimi
One topic that is rarely covered in the mainstream media are attempts by genuine Palestinian peace-seekers to find a solution to the Arab-Israeli conflict. Unlike PA leader Mahmoud Abbas, who is usually the one the media touts as a peaceful, moderate Palestinian leader, these Palestinians do not believe in nurturing a culture of grievance and victimology, do not believe in boycotting Israel, and do not believe that incitement against Israel and Jews is the answer.
Arab journalist Khaled Abu Toameh highlights Sheikh Abdullah Tamimi, one such Palestinian peace-seeker, in an article for the Gatestone Institute. He points out that:
Tamimi and his colleagues do not believe in boycotts and divestment. They are convinced that real peace can be achieved through dialogue between Palestinians and all Israelis -- not just those who are affiliated with the left-wing. The Israeli left-wing, they contend, does not have a monopoly over peace-making.

For Tamimi, real peace begins between the people and through economic cooperation and improving the living conditions of the Palestinians. This, he explains, is more important than the talk about the establishment of a Palestinian state, which he believes, under the current circumstances, is not a realistic option.
Unfortunately, Tamimi -- "who hails from an influential clan in Hebron"-- has been disowned by his clan. Still, according to Abu Toameh:
Tamimi's is not a lone voice in the desert. He represents an increasing number of Palestinians who have lost confidence in their leaders' ability to improve their living conditions and achieve peace and stability in the region. These Palestinians support the idea of "economic peace" between the two peoples -- a notion that goes against the ideas of the advocates of "anti-normalization" and others in the West obviously acting against the true interests of the Palestinians by promoting boycott, divestment and sanctions (BDS) against Israel.
Read about the honest and courageous cleric here.
Posted by rh at 01:24 PM | Comments (1)
September 11, 2016
Biased Reuters, AFP Captions on Disputed Gaza Death
UPDATE, 5 pm EST: AFP, Reuters Add IDF's Account to Captions on Disputed Gaza Death
Both Reuters and Agence France Presse, major photo services with thousands of clients across the world, published incomplete, tendentious captions Friday concerning a Gaza teen killed under disputed circumstances. While Palestinian sources claim that Israeli troops shot 18-year-old Abdel-Rahman Al-Dabbagh in the head during a border clash, the Israeli army said that it only used tear gas. As a Reuters new story accurately reported:
An 18-year-old Palestinian was killed during a rock-throwing protest near the Gaza-Israel border on Friday and a Palestinian health official said Israeli soldiers shot him, but the Israeli army said troops were not responsible.

Gaza health ministry spokesman Ashraf Al-Qidra said Abdel-Rahman Al-Dabbagh was killed by an Israeli bullet to the head during the border clash in the central Gaza Strip.

The Israeli military said troops had sought to contain the violence on the other side of the border fence and had used only tear gas.

"Dozens of rioters breached the buffer zone and attempted to damage the security (border) fence. ... Forces stationed at the border used tear gas that led to the dispersal of the riot. Following a preliminary review, the Israel Defense Forces did not conduct the reported shooting," a military statement said.
Nevertheless, in violation of Reuters' policy to "take no sides, tell all sides," Reuters' captions about the incident completely ignore the information from the Israeli side. Reuters' handbook further advises journalists:
Our text and visual stories need to reflect all sides, not just one. . . . We have a duty of fairness to give the subjects of such stories the opportunity to put their side.
Examples of Reuters' one-sided captions, which left out the Israeli information, follows:

A man mourns the death of Palestinian youth Abdulrahman Al-Dabag, who medics said was shot dead by Israeli troops on Friday, at a hospital in the central Gaza Strip September 9, 2016. REUTERS/Ibraheem Abu Mustafa
A man mourns the death of Palestinian youth Abdulrahman Al-Dabag, who medics said was shot dead by Israeli troops on Friday, at a hospital in the central Gaza Strip September 9, 2016. REUTERS/Ibraheem Abu Mustafa
AFP's news article from Friday likewise accurately reported the disputed circumstances. Nevertheless, some of AFP's captions also ignored the Israeli army statement that troops used only tear gas. An example of those biased AFP captions follow:
Palestinian Territories, Deir el-Balah : Palestinian men mourn the death of 16-year-old Abdel Rahman al-Dabbagh, who according to the health ministry was shot dead by Israeli troops during clashes near the border fence, at a hospital morgue in the central Gaza Strip, on September 9, 2016. Ministry spokesman Ashraf al-Qodra identified the teenager as Abdel Rahman al-Dabbagh, and said he was killed east of Bureij refugee camp in central Gaza, saying the teenager was hit in the head and taken to hospital where he was pronounced dead./ AFP PHOTO / SAID KHATIB
On the other hand, other AFP captions , like the one below, did accurately note the disputed circumstances Dabag's death.
Relatives of 16-year-old Abdel Rahman al-Dabbagh, mourn during his funeral in Bureij refugee camp in the central Gaza Strip, on September 10, 2016. Israeli troops shot and killed the teenager during clashes the previous day near the border fence with Israel, Palestinian sources said, but the Israeli military denied having used live fire. / AFP PHOTO / MAHMUD HAMS
CAMERA has contacted editors at both AFP and Reuters to ask that they amend the incomplete captions. Stay tuned for an update.
Posted by TS at 07:50 AM | Comments (0)
More BDS Falsehoods in The Toronto Star
Linda McQuiag claims BDS success, ignoring massive increase in foreign investments during last decade since the launch of the campaign
The anti-Israel BDS movement (boycott, movement and divest) campaign has long used misinformation to garner support. It's a shame that Canadian journalist Linda McQuaig follows suit ("Elizabeth May shouldn't run away from BDS: McQuaig," Aug. 22).
The Toronto Star should have learned from its 2013 experience, when CAMERA prompted corrections of false BDS claims that Meg Ryan and Bruce Willis heeded boycott calls and refused to perform in Israel.

Writing last month in The Toronto Star, McQuaig argued that BDS is successful, noting a "2014 UN report [which] found that foreign investment in Israel had dropped by almost half from the previous year, partly because of the campaign." She ignores, though, the United Nation's latest figures, which reflect an increase in direct foreign investment in Israel of over 70 percent in 2015 compared to the previous year.

Moreover, according to Bloomberg ("The Boycott Israel Movement May be Failing," June 2016), "Foreign investments in Israeli assets hit a record high last year of $285.12 billion, a near-tripling from 2005 when the so-called Boycott, Divestment and Sanctions movement (BDS) was started." The 2014 decline coincided with the summer 2014 war between Hamas and Israel. Given the overall growth in the last decade since the launch of BDS, the 2014 downturn cannot logically be attributed as a BDS success.
In another deception, McQuaig quotes Desmond Tutu alleging "racially segregated roads" in the Palestinian territories, echoing the bogus canard that there are "Jewish-only roads" in the West Bank, a falsehood about which CAMERA has prompted correction in numerous media outlets.
Finally, McQuaig misleads with her grossly inaccurate characterization of Israel's occupation of the Gaza Strip. She erred, referring to "the fact that millions of Palestinians have been living under military occupation in the West Bank and Gaza for almost 50 years, with Israel effectively annexing their land." (Emphasis added.)

Her errors are three-fold: Israel's 38-year occupation of the Gaza Strip is not "nearly 50 years old." Nor, contrary to her assertion, are Gazans still living under Israeli occupation. Nor did Israel "effectively annex" the Gaza Strip.

Israel's occupation of the Gaza Strip (formerly under Egyptian sovereignty) lasted from 1967 until 2005, when Israel pulled out every last soldier and civilian (alive and deceased, even uprooting graves) from the Gaza Strip. Far from "effectively annexing" the Gaza Strip, Israel has fully withdrawn. Hamas, listed as a terror organization by Canada, the United States, and the EU, governs the territory.
CAMERA has contacted editors on the last point to request a correction. Stay tuned for an update.
Posted by TS at 04:30 AM | Comments (0)
September 08, 2016
UCC Peacemakers Promote Antisemitic Organization

A so-called "peacemaking" document produced for worship leaders in the United Church of Christ promotes the work of If Americans Knew, an organization led by Alison Weir, who has been condemned by both the Anti-Defamation League and Jewish Voice for Peace. (Screenshot.)
There are a lot of problems with a recent "peacemaking� document produced by the United Church of Christ "peace" activists, but one problem stands out like a sore thumb — it highlights the work of "If Americans Knew� an organization that has been denounced by the far-left group Jewish Voice for Peace (JVP).
The document is produced by the United Church of Christ Palestine Israel Network (UCC PIN), which is affiliated with the Massachusetts Conference of the United Church of Christ. (The Massachusetts Conference processes donations to the UCC PIN.) Titled "Promoting a Just Peace in Palestine-Israel: A Guide for United Church of Christ Faith Leaders,� the text purports to educate UCC pastors about the Arab-Israeli conflict.
Predictably, the document omits crucial information that reasonable people would need to know about the Arab-Israeli conflict before expressing an opinion about it. For example, the text describes Israel as having "conducted full-scale bombardments of Gaza in 2008, 2012 and 2014� without even mentioning the rocket attacks that preceded these wars.
Moreover, the word "Hamas� appears nowhere in the text, which is so indifferent to violence against Israel that it seems as if it is produced with the intent of sparking outrage on the part of American Jews and their leaders.
On page 21 of the document, the UCC PIN encourages UCC faith leaders to visit the websites of a number of well-known anti-Zionist organizations such as Friends of Sabeel North America, the US Campaign to End the Occupation and, amazingly enough, "If Americans Knew,� an organization led by Alison Weir, who comments about Israel have proven so hostile that Jewish Voice for Peace has declared that it will not work with her or the organization she leads. (A screenshot of the section that promotes "If Americans Knew� can be seen at the top of this blog entry.)
In a statement issued on June 15, 2015, Jewish Voice for Peace explained its decision to disaffiliate with Weir and her group as follows:
Weir has been a repeat and friendly guest of white supremacist Clay Douglas on his hate radio show, the Free American. Clay Douglas is concerned primarily with the survival of the White race and sees malign Jewish influence everywhere. His racist, anti-Jewish, and anti-gay rhetoric can be found across the front pages of his multiple websites.

In the course of Weir's appearance with Clay Douglas on August 25, 2010, for example, she was silent when Douglas invoked the Protocols of the Elders of Zion and engaged in a racist diatribe against Jews. Her troubling associations and choices further include giving interviews to a range of far-right outlets including The American Free Press, which the Southern Poverty Law Center has identified as a hate group, and the anti-gay, anti-Jewish pastor Mark Dankof.
Interestingly enough, Rev. Dr, Peter Makari, a UCC staffer, has, like Alison Weir, given an interview to American Free Press, which promotes white supremacism, in 2012.
It took some work, but eventually, CAMERA was able to prompt the UCC's Global Ministries Board to distance itself from this appearance.
For more information about the antisemitic agenda of If Americans Knew and its leader, Alison Weir, go to an ADL article available here. No "peacemaker" worthy of the name would ever invoke If Americans Knew as a reasonable source of information, but that's what UCC activists have done.
Hopefully, leaders within the UCC will take a closer look at the so-called peacemaking document produced by UCC PIN (and which is promoted on the denomination's Twitter feed) and respond appropriately.
(For a list of articles detailing UCC's hostility toward Israel, please go here.) The articles indicate that the denomination has had a problem with the Jewish state for a long time.
Update September 9, 2016
Just in case there's any doubt that the United Church of Christ is "promoting" the document briefly summarized above, and by extension, the work of If Americans Knew, here is a screenshot of part of an email sent out by the denomination's "Justice and Peace Action Network" (or JPAN) on September 8, 2016:
JPAN is described on the UCC's website as "the arm through Justice and Witness Ministries of the UCC carries out its mission statement. It is our denomination's grassroots advocacy network composed of individual members and local UCC congregations across the country."
In other words, JPAN, which promoted UCC PIN's document, is part of the UCC and the denomination is ultimately responsible for what it promotes to its members and to the general public, including this document.
Posted by dvz at 05:00 PM | Comments (1)
NYT's Peter Baker: Word Choices and Attitudes
NYT Jerusalem Bureau Chief Peter Baker
Following Peter Baker's debut as the New York Times Jerusalem bureau chief, CAMERA noted that his first article was disappointing to readers looking for informative and balanced pieces from the region.
His article in today's print edition of the Times is about Soviet documents that indicate Palestinian President Mahmoud Abbas was once a KGB agent in Damascus, known as "Krotov,� meaning 'the mole". Informative and interesting, but Baker injects a note of unjournalistic snarkiness directed at Israel as he introduces the story:

The possibility [of Abbas' role as a KGB agent], trumpeted by the Israeli media on Wednesday night and just as quickly dismissed by Palestinian officials, emerged from a document in a British archive listing Soviet agents from 1983.[emphasis added]
When does reporting a story become "trumpeting"? And what does this word choice imply, if anything, about Baker's attitude toward his subject matter?
Posted by rh at 12:01 PM | Comments (2)
September 06, 2016
New York Times Covers Anti-Coptic Violence Admirably
Rod Nordland speaking at the National Press Club earlier this year. (YouTube screenshot.)
The New York Times offered its readers some excellent reporting about anti-Christian violence in Egypt. In a piece by Rod Nordland published on Sept. 4, 2016, the Times recounts the ongoing violence against Coptic Christians in Egypt and details the varying responses that this violence elicits from different parts of the Coptic Orthodox Church.
The article, titled "Egypt's Christians Say They Are at a 'Breaking Point'� also provides details about how the Sisi regime in Egypt is trying to manage the public relations crisis anti-Christian violence presents to the government.
The article opens with a quote from Imam Mahmoud Gomaa, a Muslim cleric who has been appointed to "keep the peace� in upper Egypt, the scene of regular acts of anti-Christian violence perpetrated by mobs of angry Muslims. "Everything is good,� he said.
Then, Nordland reports about how Bishop Makarios said "just a few hours later� that he has "nothing to do with Mahmoud Gomaa.� It's a brutal counterpoint to of Gomaa's dissembling.
The stark difference in viewpoints between Gomaa and Makarios sets the tone for the rest of the article, which reports that Christians in upper Egypt have "suffered violence and humiliation at the hands of local mobs. "Houses have been burned, Copts attacked on the streets and hate graffiti written on the walls of some churches,� Nordland reports adding that "the turning point came in May when an older Christian woman was stripped naked by a mob…�
A few paragraphs later, Nordland returns to Imam Gomaa. "'No one has been killed,� the imam reports. "No one has been wounded. There's no conflict. The problem is really with the journalists writing about it.�
Nordland also reports that perpetrators of anti-Christian violence in Egypt are oftentimes released without punishment and quotes Bishop Makarios as he details how Copts are oftentimes intimidated into accepting non-judicial settlements by civil society institutions that are ostensibly formed to "reconcile communal differences.�
Nordland's ability to produce such an effective and clear-eyed piece about Islamist violence against Christians may be rooted in his experience reporting and writing The Lovers: Afghanistan's Romeo and Juliet, the True Story of How They Defied Their Families and Escaped an Honor Killing published earlier this year by Ecco. This book tells the true story of two young Afghanis from different Muslim sects who got married over the objections of their families, objections that were rooted in part, in Islamic law.
Hopefully Nordland's article will have a salutary effect on public officials inside and outside of Egypt, prompting them to take the steps necessary to protect Coptic Christians in the land of their birth.

Posted by dvz at 02:44 PM | Comments (0)
September 05, 2016
AFP Misleads Again, This Time About World Vision
In an article today about doubts in Gaza regarding Israel's case against World Vision's Mohammed al-Halabi, charged with diverting tens of millions of dollars in aide to Hamas, Agence France Presse claims ("Gazans, NGO question Israeli charges against aid worker"):
The German and Australian governments, as donors, have additional mechanisms including external audits and they have found no major concerns.
Both the German and Australian governments have suspended their aid to World Vision, a rather unusual response for those who have allegedly cleared the aid organization of significant wrongdoing. While AFP itself noted on Aug. 11 that "Germany and Australia have suspended aid to World Vision," today's story completely omits this fact, leaving readers with the impression that Germany and Australia have cleared the organization.
CAMERA was not able to independently verify the claim that the two governments carried out audits which revealed no significant wrongdoing on the part of World Vision. CAMERA has requested that AFP either substantiate the claim, or correct. In addition, the fact that Germany and Australia cut off aid to World Vision should be added to the story.
In a separate AFP article today ("Jerusalem police kill Palestinian would-be attacker"), the influential wire agency deviates from its standard formulation regarding Palestinian fatalities. Today's article omits the key point that the majority of those Palestinians killed were carrying out attacks against Israelis. The incomplete passage is:
Violence has surged in the Palestinian Territories and Israel since October 2015, costing the lives of 223 Palestinians, 34 Israelis, two Americans and one Eritrean and Sudanese respectively, according to a tally by AFP.
This article omits the following critical information which appears in other AFP articles:
Most of the Palestinians killed were carrying out knife, gun or car-ramming attacks, according to Israeli authorities.
CAMERA has contacted editors to request that they add this key information.
See also from today: "AFP Misleads on Gaza 'Food Shortages'"
Posted by TS at 07:31 AM | Comments (2)
AFP Misleads on Gaza 'Food Shortages'
An Agence France Presse article yesterday about a dog shelter in the Gaza Strip begins:
In an impoverished and war-battered territory suffering food shortages and a scarcity of jobs, Saeed al-Ar knew it was a tall order opening a dog shelter in Gaza.
AFP photo captions about the dog shelter likewise contained the claim about alleged food shortages in the Gaza Strip.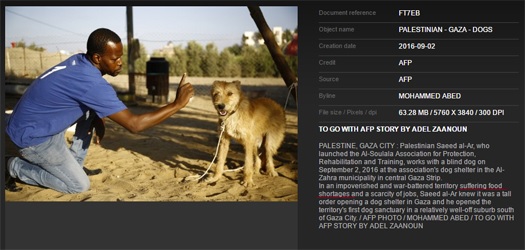 While food security is a major problem in the Gaza Strip due to poverty, the territory is not suffering from food shortages. As the World Food Programme reports, "Though food is readily available in Palestine, prices are often too high for poor families to afford."

As AFP reported on Feb. 10, 2016, "nearly half of the population has insufficient access to healthy food."
According a 2014 joint press release by the Palestinian Central Bureau of Statistics (PCBS), The Food and Agriculture Organization of the United Nations, and the United Nations Relief and Works Agency for Palestine Refugees in the Near East and the World Food Programme:
In Palestine, food insecurity is driven by high rates of poverty resulting from unemployment, which is in part due to ongoing Israeli access and movement restrictions, as well as high prices for food and economic shocks. Food is available in markets, but expensive, so households reduce the variety and nutritional value found in their diet. The majority of Palestinians in the Gaza Strip and the West Bank spend more than half their income on food. (Emphasis added.)
CAMERA has contacted AFP to request a correction. Stay tuned for an update.
Posted by TS at 02:51 AM | Comments (1)