« Christian Group Accuses WCC's Peace Activists of Violating Israeli Law | Main | Updated: Is Yohanna Katanacho Telling the Whole Story About West Bank Travel Restrictions? »
July 15, 2016
List Ignoring Israeli Terror Victims Will Be Updated, CNN Assures CAMERA

July 17 Update Appended to Bottom of Post: CAMERA Success — CNN adds fatal attacks on Israelis


After the deadly terror attack in Nice, France, CNN posted an online feature entitled "30 Days of Terror Around the World," which offered readers "a look at the attacks that have happened from June 14 through July 14."
Glaringly absent from CNN's list, though, were any Israeli victims of Palestinian terror during that time period.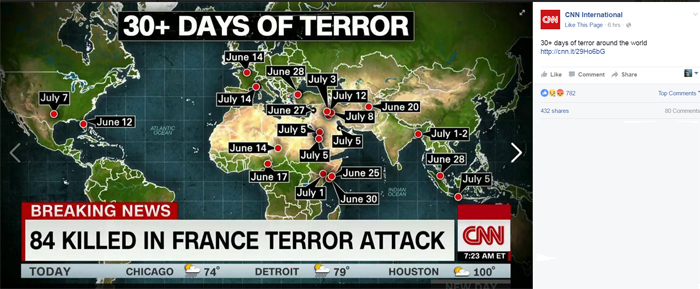 Readers were understandably outraged. Did CNN not consider Hallel Yaffa Ariel, a 13-year-old girl who was murdered in her bed, to be worthy of mention in this discussion of recent terror attacks? And what of Michael Mark, a rabbi killed in front of his wife and two children?
While these attacks were ignored, CNN did make sure to include even attacks that caused no fatalities, such as an attack on a police station in Indonesia …
… and an attack in Malaysia:
CNN has told CAMERA that the omissions were not intentional, and that it will be updating the feature with the attacks against Israelis. Stay tuned.
July 17 Update
As of Friday evening, CNN has included information on the Palestinian terror attacks in which 13-year-old Hallel Ariel and Rabbi Michael Mark were killed. Screen shots of the additions, which CNN included after CAMERA staff contacted editors, appear below.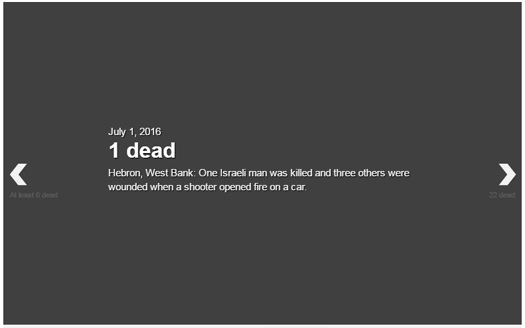 Posted by at July 15, 2016 02:46 PM
Comments
Thank you to CAMERA for making sure that CNN treats Israeli victims of terror with the same respect. CNN seems to think that dead and injured Israelis are less than human and not deserving of mention.
Posted by: Judith Levine at July 15, 2016 06:03 PM
Guidelines for posting
This is a moderated blog. We will not post comments that include racism, bigotry, threats, or factually inaccurate material.
Post a comment