« Haaretz: 'Ramming Car Fled the Scene' | Main | UNHRC Condemns Israelis Defending Themselves Against Palestinian Terrorism »
December 15, 2015
Lost in Haaretz Translation: Saeb Erekat's Relative Shot 2 Israelis
In the past, CAMERA and others have noted how Palestinian leaders and social media have falsely claimed that Palestinians killed as they were carrying out terror attacks were innocent, and that the purported Palestinian victims were killed in cold blood. As previously noted here, "It is precisely the unfounded claims of Palestinian perpetrators' innocence and false charges of 'extrajudicial killings' which fuel additional Palestinian attacks."
Palestinian negotiator Saeb Erekat is the latest to pull this deadly trick, and yesterday he found a helping hand at Haaretz's English print edition. The Dec. 14 page-one article by Barak Ravid ("Obama to HaaretzQ conference: Peace a must for Israel to remain a Jewish state") referred to Erekat's nephew, who had carried out a terror attack on Dec. 3, as follows: "Palestinian negotiator Saeb Erekat, whose 37-year-old nephrew [sic] killed [sic] last week at the Hizme checkpoint . . . "
The print edition article does not include the critical information that Erekat's nephew carried out a shooting attack on Dec. 3, moderately injuring an Israeli Arab man and lightly hurting a soldier. It was then that Israeli forces shot him dead.

The English print edition's omission is all the more glaring in light of the fact that Ravid's original article in the Hebrew print edition appropriately includes the following (CAMERA's translation):
Erekat did not point out that his nephew -- Mazen Erekat, an officer in the Palestinian security forces, was shot after he carried out a shooting attack in which he injured two Israelis.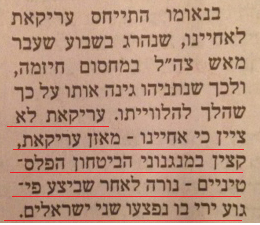 Also, it should be noted that Allison Kaplan Sommer's online article covering Erekat's speech responsibly noted that the negotiator's nephew carried out a terror attack, although Erekat himself ignored that fact. She wrote:


Seemingly choked up, Erekat told his audience that his nephew was shot and killed earlier this month at a West Bank checkpoint, apparently a reference to Mazen Aribeh, who was killed by Israeli security forces after shooting and wounding two Israelis at the Hizmeh checkpoint north of Jerusalem.
Yesterday's English print edition, which omitted critical information about a Palestinian attack which had appeared in the Hebrew print edition, is the latest instance of "Haaretz, Lost in Translation," a phenomenon in which Haaretz's English edition omits or downplays instances of Palestinian violence or other misdeeds noted in the Hebrew edition, or includes erroneous information about Israel that did not appear in Hebrew.
CAMERA calls on editors to publish a clarification in the print edition. Stay tuned for an update.
Update: 5:13 am EST: Barak Ravid Responds
Twitter user Jed Galilee asked Haaretz reporter Barak Ravid, whose story was mangled in the English edition, "Barak, how does this happen? Is there an English censor?" (Hebrew tweets translation by CAMERA.)
Ravid responded: "No censor. I dictated this article by telephone to the Hebrew editors and they didn't pass on this information to the English desk."
Posted by TS at December 15, 2015 03:12 AM
Comments
Sounds like Mr. Ravid is doubling as damage control spokesperson. One would think the English translation is sourced from the written Hebrew; not somebody's fragmented recollection of a telphone call.
Posted by: wsg at December 15, 2015 02:01 PM
Guidelines for posting
This is a moderated blog. We will not post comments that include racism, bigotry, threats, or factually inaccurate material.
Post a comment