« Iran Increases Cyberattacks Against the United States; Where's the Coverage? | Main | Analyst: Palestinian Leadership Behind 'Spontaneous' Attacks »
December 01, 2015
Is the Media Hesitant to Expose the Extent of Iran's Presence in Syria?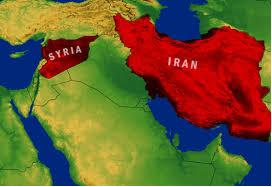 The Western media has devoted extensive coverage to several facets of the war in Syria, in particular, the refugee problem and the growing military involvement of Russia. But media focus lags on the extent of Iranian involvement. Iran has backed the Syrian regime since the civil war broke out. But initially the Islamic Republic acted through proxies, like Hezbollah or exerted influence on the Syrian government behind the scenes.
Non-mainstream media sources, especially those affiliated with the opposition to the Syrian regime, identify numerous Iranian Revolutionary Guards (IRGC) commanders directing the war against insurgents. More recently, they allege the presence and involvement in combat operations of growing numbers of Iranian troops.
One source is the Iranian News Update (INU) which states that its

News and information is provided in cooperation with the National Council of Resistance of Iran (NCRI), the parliament in exile of the Iranian Resistance, and the People's Mojahedin Organization of Iran (PMOI/MEK)
INU claims over a hundred members of the IRGC have been killed in Syria during October and November 2015 and further contends that over 3000 "IRGC forces and agents" have died in Syria since the civil war began. It is likely that this number includes Hezbollah forces, which an Israeli source recently estimated had suffered 1263 fatalities in Syria. Among the fatalities are a long list of senior officers, including more than a dozen who held the rank equivalent of Brigadier General.
If the INU figures are reliable, they attest to the increasingly central role assumed by Iranian and Iranian proxy forces in defending the Syrian regime. It is also consistent with the reported upon trend of disaffection among the decimated Syrian Alawite contingent in the Syrian army. At the outset of the civil war, the Syrian regime counted upon the Alawites, who are 10-12 percent of the Syrian population, but contribute the leadership and the most loyal units in the Syrian armed forces.
There are reasons the Western mainstream media may be inclined to devote less attention to the Iranian role in the civil war. Much of the media has been supportive of the Iranian nuclear agreement proposed by the United States. This agreement includes provisions that would provide Iran with as much as 150 billion dollars and the promise of ending economic sanctions. Escalating Iranian involvement would cast provisions of the agreement in a negative light and vindicate critics of the agreement who warned that funds freed up by the West would be used to support Iranian expansion and aggression in the Middle East.
Posted by SS at December 1, 2015 12:35 PM
Comments
Guidelines for posting
This is a moderated blog. We will not post comments that include racism, bigotry, threats, or factually inaccurate material.
Post a comment