« October 2015 | Main | December 2015 »
November 30, 2015
Iran Increases Cyberattacks Against the United States; Where's the Coverage?
The Supreme Leader of Iran, Ayatollah Ali Khamenei
Iran is again increasing cyberattacks against the United States, although many major news media outlets have not covered the aggression.
The New York Times reported ("Iranian Hackers Attack State Dept. via Social Media Accounts,� Nov. 24, 2015) American officials and private security groups "say they see a surge in sophisticated computer espionage by Iran, culminating in a series of cyberattacks against State Department officials over the past month.�
According to the paper, Iran has been identifying specific State Department employees who focus on Iran and the Middle East and hacking into their email and social media accounts. One anonymous senior U.S. official called the attacks "subtle� noting the Islamic Republic's savvy use of social media, such as Facebook, to target young U.S. officials.
The attacks, the Times notes, are "nothing new,� having begun in the latter years of the Bush administration and proceeded since then to target U.S. agencies, banks and citizens and Saudi and Qatari energy entities, among others.
The New York Times reported Iranian cyber-attacks transitioned in 2014 from attempting to disrupt, degrade and destroy targets to "spear phishing� for espionage.
"Beginning May 2014, researchers found evidence that Iranian hackers were targeting Iranian dissidents, and later policy makers, senior military personnel and defense contractors in the United States, England and Israel, according to a report by iSight Partners, a computer intelligence firm in Dallas.�
The attacks increased, reaching more than 1,500 attempts at the time of their apex in May 2015. Just prior to talks between the U.S. and Iran over the latter's alleged illegal nuclear program, Iranian cyber-attacks began "probing critical infrastructure networks in what appeared to be reconnaissance for cyberattacks meant to cause physical damage,� the Times noted. However, as negotiations between the United States and Iran began, attacks against the United States noticeably dropped off, although attacks against Israel did not.
In August, two weeks after the Iran deal was reached, Iranian cyberattacks resumed. Researchers from Check Point, an Israeli cybersecurity company, were able to hack into the Iranian hackers' target list. It "included 1,600 individuals, from scholars, scientists, chief executives and ministry officials to education institutes, journalists and human rights activists across the globe.�
This renewed flurry of Iranian cyberattacks was predicted in an April 2015 report by American Enterprise Institute scholars Frederick Kagan and Tommy Stiansen (The growing cyberthreat from Iran: The initial report of Project Pistachio Harvest). This study noted that since the beginning of 2014 to March 2015, Iranian cyberattacks had increased by 128 percent.
AEI stated "Iranian companies, including some under international sanctions and some affiliated with the Islamic Revolutionary Guard Corps (IRGC) and global terrorist organizations like Hezbollah, are hosting websites, mail servers, and other IT systems in the United States, Canada, Germany, the United Kingdom, and elsewhere. Simply by registering and paying a fee, Iranian security services and ordinary citizens can gain access to advanced computer systems and software that the West has been trying to prevent them from getting at all.�
The report further noted "hundreds of thousands of domains registered to Iranian people or companies� are "a result of Western failures to enforce IT sanctions and regulations governing technology transfers�—and are sometimes used to conduct cyberattacks against the U.S. and its allies.
News coverage and commentary about renewed Iranian cyberattacks has been sparse.
The Washington Post, in an November 18 online-only column by guest bloggers Dina Esfandiary and Ariane Tabatabai, predicted that attacks will increase ("Iran's cyberattacks are likely to increase. Here's why�). The Wall Street Journal ("U.S. Detects Flurry of Iranian Hacking,� November 4) and The New York Times, alone apparently of major print outlets, reported the Iranian hacking increase.
Publications that had reported on the Iran nuclear deal—and endorsed it editorially, such as The Baltimore Sun and Los Angeles Times, among others, did not cover the Iranian attacks.
USA Today didn't report the renewed attacks, despite having run a prescient op-ed by Ilan Berman of D.C.-based think tank American Foreign Policy Council in 2014 that called for paying close attention to the Islamic Republic's cyber activities ("Sony hack gives cover to Iran; With eyes on North Korea, growing threat from Tehran gets overlooked,� December 30).
A little coverage in three major outlets; where was the rest of it?
Posted by SD at 01:51 PM | Comments (0)
November 29, 2015
Another Palestinian Attack, Another NY Times Whitewash
Dec. 1 Update Appended to Bottom of Post: Editors Improve Headline
For the second time in one week, a New York Times headline casts Palestinian attackers as victims. On Friday, two Palestinians who rammed vehicles into groups of Israeli soldiers in two separate incidents, injuring eight, were killed by troops on the scene. The grossly distorted The New York Times headline for the Associated Press news brief on these attacks was: "West Bank: Palestinians Killed After Hit-and-Run Attacks."
Readers who glance only at headlines and don't bother with the accompanying item would reasonably conclude that Palestinians were the victims of the hit and-run attacks, as opposed to the perpetrators.
The original AP headline for an earlier version of the brief was much more accurate than The Times' headline. It at least referred to an attack on Israelis: "Palestinian killed after West Bank attack on Israeli troops." A later version of the AP story explicitly identified the Palestinians as the attackers: "2 Palestinians killed after attacking troops." (Source: Lexis-Nexis.)
In other words, Times editors discarded AP's relatively sound, if not 100 percent perfect, headlines, and actively replaced them with a headline which obfuscated Palestinian responsibility for violence.
In related news, New York Times Jerusalem bureau chief Jodi Rudoren has announced that after finishing four years in the position, she will be returning to New York to serve as deputy at the paper's foreign desk.
The Times of Israel article on Rudoren's departure reports:
As with The New York Times in general, Rudoren has faced some criticism from pro-Israel activists for her coverage of the region. Pro-Israel media watchdog CAMERA includes dozens of entries on Rudoren's alleged anti-Israel bias on its website.
About Rudoren's arrival at the foreign desk, Times foreign editor Joe Kahn tweeted last week:
With Rudoren at the foreign desk, can we expect to see more or less Times headlines falsely depicting Palestinian assailants as victims? Time will tell.
(Note: As bureau chief, Rudoren was not responsible for headlines. As a deputy at the foreign desk, she presumably would have some responsibility for headlines.)
Dec. 1 Update: Editors Improve Headline
Following communication from CAMERA's Israel office, along with the publication of this post, editors have improved the headline. As of this writing, the amended headline is "West Bank: Palestinians Killed After Attacks on Troops."

The improved headline is not perfect. It does not state that the Palestinians who were killed were the perpetrators of the attacks on the troops, though readers may (or may not) infer that information. Also, it does not identify the targeted troops as Israeli. (As mentioned above, AP's original headline, in contrast, was "Palestinian killed after West Bank attack on Israeli troops.") Again, from the new Times headline, readers may understand that the troops were Israeli, or maybe they won't. And the headline still leads with the killing of the Palestinian (attackers), as opposed to the fact that Palestinians attacked Israelis. Nevertheless, compared to the original headline in which the killed Palestinians appeared to be the victims of the hit-and-run attacks, the change is welcome.

Posted by TS at 04:59 AM | Comments (0)
November 25, 2015
San Francisco Chronicle Headline: Palestinians Attackers Are the Victim
Following the unfortunate lead of The New York Times , Haaretz, BBC and The Los Angeles Times, The San Francisco Chronicle runs a headline which falsely depicts Palestinian assailants as the victim.

"Palestinians shot in assault" is the headline yesterday for the news brief about two Palestinian terror attacks, one fatal, in which assailants were shot dead. In the fatal attack Monday, a Palestinian stabbed to death Israeli Ziv Mizrachi at a gas station on Highway 443, and wounded another soldier. Security forces subsequently killed the Palestinian attacker. Another Palestinian assailant, a teenaged girl, was shot dead after she stabbed a 70-year-old Palestinian, whom she apparently mistook for a Jew, and continued to threaten a member of the security forces.
The San Francisco Chronicle earns itself in the dubious "Bad Writing" Hall of Shame. Stay tuned for news of a correction.
Posted by TS at 04:53 AM | Comments (0)
November 24, 2015
Leaders Encourage Palestinian Children to Murder Jews, Use Sing-Alongs
Fatah Central Committee member Tawfiq Tirawi

A high-ranking Palestinian official, Tawfiq Tirawi, praised his 2-year-old son on official PA TV on Oct. 27, 2015 for the toddler's expressed desire to murder Jews.
According to Palestinian Media Watch (PMW), an organization that monitors Arab communications media from the West Bank, Gaza Strip and eastern Jerusalem, Tirawi expressed "fatherly pride� about his son's singing a song that romanticizes anti-Jewish violence. Tirawi proudly recounted his song singing, "Daddy, buy me a machine gun and a rifle, so that I will defeat Israel and the Zionists� and "escort the Martyr to his wedding� (referring to the Islamic belief that those killed while waging holy war marry 72 virgins in Paradise).
Tirawi is a member of the Fatah Central Committee and former head of the General Intelligence Service. In the latter post, he oversaw Palestinian Authority (PA) intelligence efforts in the West Bank (Judea and Samaria).
Due to his senior positions with the Fatah movement and the PA—both of which are frequently referred to as "moderate� by some media and policymakers—Tirawi has frequently been quoted by Western press. In a July 22, 2013 news brief which appeared in the Boston Globe, Tirawi was the Palestinian official cited in "Officials skeptical on Mideast peace,� who claimed that talks with Israel wouldn't produce progress because "Israelis are not going to stop building in the settlements.�
Tirawi has been accused previously by the Israeli government of funding and supporting terrorist attacks against Israel while simultaneously responsible as a PA official for security cooperation between the PA and Israeli authorities. According to The Washington Times, he has previously admitted to a London-based Saudi-owned newspaper of ordering Palestinian Arabs assassinated for the "crime� of selling West Bank real estate to Jews in 1996 ("Israel ties end of siege to Palestinian's arrest,� Sept. 26, 2002). However at the time Tirawi denied involvement in the murders, saying Israelis "want to harm the Palestinians' reputation with these lies� ("Palestinian Officers Deny Taking Part in Slayings,� Los Angeles Times, June 3, 1997).
In its report on Tirawi's comments, PMW notes the Palestinian children's song in question has been used in the past. In 2006, PA state-run media broadcast a young girl singing it and in 2010, a young boy sang a variation of the song on a Hamas TV children's show.
Tirawi's proud recitation of his son's singing is one of several recent examples of incitement to anti-Jewish violence broadcast on official PA media. On November 6, a young girl recited a poem on PA TV describing Israel as "Satan with a tail.� Upon completion of her recitation of the antisemitic poem, "Visa� by Hesham El-Gakh, the host of the children's program told the young girl, "I really like this poem.�
"Visa� begins with the line, "When I was young I was taught that Arabness is my honor…and that our lands extend from one end to the other, and that our wars were for the Al-Aqsa Mosque.�
The PA's long standing use of state media to incite anti-Jewish violence and to indoctrinate children to hate violates conditions set by the U.S. and others, since the Oslo process—the very process that led to the creation of the PA and the establishment of limited Palestinian self-rule in the mid-1990s. Since then, the U.S. government alone has committed over $4 billion in Palestinian aid. While U.S. assistance is prohibited from going directly to the Palestinian Broadcasting Corporation (PBC), funds spent on other requirements enables the PA to use other revenue to fund its broadcasts.
"Independent� Palestinian news agencies—those that are allowed by authorities to operate provided they echo official lines, have also recently incited violence. As PMW notes, on November 18, the Wattan news agency "celebrated� the first-year anniversary of the Har Nof synagogue massacre, in which six Israeli were murdered, calling it a "heroic operation.�
In describing lessons that he learned in life, Holocaust survivor and acclaimed writer Elie Wiesel has written, "There are no sufficient literary, psychological, or historical answers to human tragedy, only moral ones.� If recent examples from Palestinian media offer any indication, Wiesel's words are unlikely to be reflected by PA media any time soon.
Posted by SD at 01:49 PM | Comments (2)
November 23, 2015
What NBC Copy Editors Should Have Sent Back
In light of NBC's unnecessarily vague article today about a violent attack (by someone, targeting someone), it seems NBC could use some copy-editing help.
The lede said nothing about who attacked whom; the ethnicity of one victim was noted while the other was mysteriously absent; and the piece conveniently left out key information from an Associated Press article that notes, "87 Palestinians have been killed by Israeli fire. Of them, 55 are said by Israel to be attackers and the rest were killed in clashes with Israeli troops."
Here's our attempt to move things toward an informative and precise article.
(You can click on the image below for a bigger copy.)
Posted by at 01:10 PM | Comments (0)
CAMERA Corrects on 'Understanding Palestinians'
The following unpublished letter to the editor was sent to correct a misleading letter in the Richmond Times Dispatch:
"Where Edward Yadlowsky's letter "No peace until we understand Palestinians� does not invoke falsehoods, it misleads by omission and uses a questionable quote.
The purported quote by Israeli leader David Ben-Gurion, "Why should the Arabs make peace?…We have taken their country…� comes from a conversation Nahum Goldmann claimed to have had with Ben-Gurion. However, Yadlowsky omits that Goldmann was a political enemy of Ben-Gurion and only claimed, after the latter's death and without written evidence, that Ben-Gurion made such a statement.
Yadlowsky alleges that recent terror attacks by Palestinian Arabs against Israeli Jews—many of which have targeted civilians, including the elderly and children—are the result of "anger and hatred engendered in the Arab population by the 1948 partition of Mandatory Palestine creating Israel.� However, this ignores numerous terror attacks by Arabs against Jews prior to 1948. Among other instances of organized violence, Arabs in Mandate Palestine—often led by future Hitler collaborator Haj Amin al-Husseini—engaged in attacks in 1920, 1929 in which 133 Jewish men, women and children were killed and 339 wounded and again in 1936-1939. In the latter instance, terror attacks resulted in British officials appeasing Arabs by closing Palestine, created by the League of Nations to assist in re-establishment of the Jewish national home, to European Jews trying to flee Hitler.
Yadlowsky claims that "no Palestinian state exists because Israel has constructed illegal settlements.� This is false. It ignores British creation in the 1920's of Jordan, a country with a Palestinian Arab majority, on three-fourths of the original Palestine Mandate. It also omits any mention of Arab rejection of the 1947 U.N. partition plan, which called for an Arab and Jewish state in the mandate. And it is silent on U.S. and Israeli offers for a "two-state solution� in exchange for peace in 2000 at Camp David, 2001 at Taba and 2008 after the Annapolis conference. All were rejected by Palestinian leaders, as was U.S. Secretary of State John Kerry's proposed framework to restart negotiations in 2014.
Continuing his tendentious claims, Yadlowsky asserts that "Palestinians have accepted Israel's right to exist and desire a state side-by-side with Israel.� However a recent poll by the Palestinian Center for Policy and Survey Research shows that that 58 percent of West Bank Palestinians and 65 percent of Gazans polled said that even if a "two-state solution� is negotiated the "struggle is not over and resistance [terrorism] should continue until all of historic Palestine [Israel] is liberated.� According to the poll, clear majorities of Palestinians polled support the use of violence over peaceful negotiations to achieve this end and believe that Jews have no rights to the land of Israel.
In this rejectionism, they have the support of their leadership. Palestinian Authority President Mahmoud Abbas said on September 16, 2015 "We bless every drop of blood that has been spilled for Jerusalem.� Echoing claims regularly made by his state-run media, Abbas said on October 28 that all of Israel is "occupation.�
He made these claims—which went unprotested—at the U.N.—the same organization Yadlowsky suggests can be responsible for achieving peace.

Sincerely,
Sean Durns
Media Assistant
CAMERA—Committee for Accuracy in Middle East Reporting in America"
Posted by SD at 10:29 AM | Comments (0)
NY Times Headline Bias Again on Display
Eylon A. Levy flagged this egregiously skewed New York Times headline yesterday, tweeting:
Here's a news flash for those who rely on Timesheadlines to keep current: Palestinians carried out three separate terror attacks against Israelis yesterday, stabbings and a car ramming, killing 21-year-old Hadar Buchris in the third attack. The "three Palestinians killed," as The Times headline puts it, were the three assailants. The grossly distorted Times headline gives no indication that the three Palestinian were the perpetrators, not victims, of attacks.
Later yesterday the headline was substantially improved:
This is not the first time in recent months that a Times headline falsely depicted Palestinian attackers as victims.
Last April, when two Palestinians attacked policeman with knifes, the headline was:



And, a year ago, when a Palestinian stabbed Israeli soldier Almog Shiloni to death in a Tel Aviv train station, Times headline writers replaced the original straightforward, accurate headline ("Palestinian Stabs Israeli Soldier at Tel Aviv Train Station") with an obtuse headline which whitewashed Palestinian responsibility ("Palestinians Are Suspected As Two Israelis Die in Knife Attacks").
Posted by TS at 03:56 AM | Comments (2)
November 22, 2015
Reuters: Palestinians 'Died on the Scene' of Attacks
In recent weeks, Reuters has demonstrated great ingenuity in downplaying Palestinian violence, including stabbing, shooting and ramming attacks against Israelis. First, there was the "knife man" killed by Israelis, then there were Palestinians "confronting" Israelis, followed later by Palestinians killed in "street violence."
Most recently, Reuters portrays Palestinian murderers and attempted murderers as innocent bystanders:
Police say 49 of the 80 Palestinians killed in recent weeks died at the scene of attacks on Israelis and most of the rest died in violent protests in the occupied West Bank and near the Gaza border. (Emphasis added.)
Palestinians "died at the scene of attacks on Israelis," as if they were innocent bystanders caught in the wrong place in the wrong time, as opposed to the perpetrators of the said attacks.
Reuters gains itself another entry into the growing list of "bad writing."
Posted by TS at 04:11 AM | Comments (2)
November 20, 2015
Who Killed Five Yesterday? CNN Won't Say "Palestinian attacker."
In two articles about terror attacks that killed an American teen and several others yesterday, CNN assiduously avoided telling readers the identity of the attacker.
This seems to be a selective problem at CNN. The network had no trouble mentioning that "Jewish extremists� were thought to be responsible for a deadly arson in Duma recently. And after a gang of teens beat up a Palestinian in Jerusalem several years ago, CNN mentioned Jewishness no less than six times in one article.
But when Palestinian terrorists killed five people yesterday in Tel Aviv and the West Bank, CNN.com seemingly decided its reporting, and its readers, don't need such detail. Having initially ignored the two fatal attacks, the news organization finally covered the story. But it pinned the West Bank attack on an "unidentified gunman.� And about the Tel Aviv attack, it mentioned only that "two people� — meaning two Jews — "were killed,� with the passive voice covering up the Palestinian identity of the attacker.
If the Jewish identity of attackers was relevant in those earlier reports — it was relevant, and was one of the basic five Ws of the story — then the Palestinian identity of yesterday's attackers are equally relevant.
See also: "CNN Dances Around Palestinian Violence, Refuses to Identify Culprits," Oct. 14, 2015
Posted by at 04:17 PM | Comments (4)
'Huge Differences' Go Unmentioned in Reporting on Syrian Refugees
>
Recent coverage by major news media outlets comparing Syrian refugees seeking entry into the United States to Jewish refugees attempting to flee Nazi Germany has failed to highlight key differences between the two situations.
Washington Post "World View� columnist Ishaan Tharoor claims there are similarities between Syrians fleeing both dictator Bashar al Assad and ISIS, a Sunni Muslim terror group and German Jewish refugees who attempted to flee Hitler's Germany in the 1930's ("Just say no to refugees? We've been here before,� Nov. 18, 2015).
Tharoor, whose analyses regarding Jews and Israel are too often superficial (see "Washington Post Blogger Mystified by Iran Deal and Much More,� July 30, 2015, CAMERA), here correctly states that Jews seeking entry into the United States faced "skepticism or unveiled bigotry.� "Popular sentiment in Western Europe and the United States,� the blogger says, "was largely indifferent to the plight of German Jews.�
Tharoor says that this "mood� is "worth remembering� when talking about the current debate over letting Syrian refugees into the United States, who are, similar to the Jews of 1930s Europe, fleeing a region engulfed in turmoil. Going beyond drawing a comparison, the blogger says: "Today's 3-year-old Syrian orphan, it seems is 1939's German Jewish child.�
Although the Post blogger is correct that there is a prejudice today against admitting large numbers of Syrian refugees, the vast majority of whom do not pose any greater security threat than any other refugees, and that there was similar reaction against Jewish immigrants in the 1930s and 1940s—the comparison is also disingenuous.
Conceding that "there are huge historical and contextual differences between then and now,� Tharoor fails to elaborate on these for his readers.
But as the National Review's Ian Tuttle notes ("There are serious, unbigoted reasons to be wary of a flood of Syrian refugees,� Nov. 18, 2015), Jews are an ethnic group, whereas Syrians are a national one. Tuttle, observing that comparing Syrian Muslims to German Jews is a more accurate "apples-to-apples comparison,� notes another important difference:
"There was no international conspiracy of German Jews in the 1930s attempting to carry out daily attacks on civilians on several continents. No self-identifying Jews in the early 20th century were randomly massacring European citizens in magazine offices and concert halls, and there was no 'Jewish State' establishing sovereignty over tens of thousands of square miles of territory, and publicly slaughtering anyone who opposed its advance.�
Tuttle notes that "the vast majority of Syrian Muslims are not party to these strains of radicalism and violence� yet "it would be dangerous to suggest that they don't exist.� Referring to a recent Arab Opinion Index poll of 900 Syrian refugees showing that one in eight hold some positive view of ISIS [the Islamic State in Iraq and Syria, or simply Islamic State], Tuttle writes: "A non-trivial minority of refugees who support a murderous, metastatic caliphate is a reason for serious concern. No 13 percent of Jews looked favorably upon the Nazi party.�
In addition to omitting the very different security concerns, Tharoor fails to mention other important history. Jewish refugees in the 1930's had no place to go; they had no state of their own. Unmentioned by the Post blogger, Mandate Palestine—which had been set aside after World War I for Jewish settlement—was closed to virtually all new Jewish immigrants by the British after the 1936-1939 Arab revolt, led by future Hitler collaborator Haj Amin al Husseini. By contrast, numerous countries have admitted Syrian refugees—many of whom Tuttle notes are actually from other Middle Eastern countries such as Jordan, Turkey, Lebanon and Egypt.
Jews fleeing Europe in the 1930s, where they were a minority, were long-standing victims of European antisemitism and anti-Jewish violence. By contrast, many Syrian refugees are Muslims fleeing Muslim-dominated lands, the victims of a group with a radical Salafi Islam ideology and/or the Syrian dictator Assad who has often appeased and funded Islamic terror groups.
Tharoor is not the only journalist to make the questionable comparison between Syrian refugees and German Jews in the 1930s.
His Post colleague Dana Milbank writes, "This growing cry to turn away people fleeing for their lives brings to mind the SS St. Louis, the ship of Jewish refugees turned away from Florida in 1939� ("Republicans turning their backs on tolerance,� Nov. 17, 2015).
Except, as noted above, it doesn't, not in the way Milbank assumes. Instead of describing key differences in their stretched comparisons, both Milbank and Tharoor imply that opposition to refugees is solely partisan in nature. Yet, Democratic politicians such as U.S. Sen. Chuck Schumer (D-NY) and New Hampshire Gubernatorial candidate Maggie Hassan have expressed opposition. On Nov. 19, 47 Democratic members of the U.S. House of Representatives joined 242 Republicans in voting for a bill that supports greater security screening of refugees.
Another Washington Post columnist, Petula Dvorak ("Rescued from the Nazis, these Jews believe in helping Muslim refugees,� November 20) falsely conflates the different refugee circumstances. Although she does note "concerns that terrorists might hide among the refugees,� she fails to explicitly detail how this differs from security concerns over Jewish immigrants in the 1930's.
A New York Times article ("They are us,� November 19) and USA Today editorial ("Rejecting Syrian refugees shames USA and aids ISIL,� Nov. 18) also repeat the comparisons made by Post reporters, while similarly failing to note important differences.
Writing about a politically sensitive topic, like Syrian refugees, can be difficult. But potentially misleading comparisons to previous situations does not help reader understanding—in fact, it may hinder it.
Posted by SD at 01:35 PM | Comments (1)
November 19, 2015
Palestinian Leader Admits He Rejected Statehood, Peace in 2008
Palestinian Authority (PA) President and Fatah movement head Mahmoud Abbas finally admitted in an interview with Israel's Channel 10 on Nov. 17, 2015 that he had rejected an Israeli offer of Palestinian statehood and peace in 2008.
As the Times of Israel notes, the 2008 Israeli proposal had been previously reported but had not yet been acknowledged by Abbas ("Abbas admits he rejected 2008 peace offer from Olmert,� Nov. 19 2015).
The PA president admitted that then-Israeli Prime Minister Ehud Olmert presented him with a map that illustrated prospective borders of a future Palestinian state, with Israel giving up 93 percent of the West Bank (Judea and Samaria) and portions of eastern Jerusalem, in addition to all of the Gaza Strip. In the video-taped interview Abbas was asked by Channel 10 reporter Raviv Drucker about the Israeli proposal which included a swap for most of the nearly seven percent of the West Bank Israel planned to return.
"In the map that Olmert presented you,� Drucker asked, "Israel would annex 6.3 percent [of the West Bank] and compensate the Palestinians with 5.8 percent [taken from pre-1967 Israel]. What did you propose in return?�
Failing to answer the journalist's question as to whether the PA made a counteroffer, Abbas stated that he rejected the Israeli offer "out of hand.� Perhaps Abbas did not answer directly because no evidence of his having made a counteroffer exists.
The 2008 Israeli proposal also included an offer of free passage between the Gaza Strip, ruled by Hamas, a U.S.-listed terror group, and the West Bank without any security checks. In the event that Fatah retook the Gaza Strip from Hamas, the offer would have recognized all of the Strip as belonging to the PA as well. In addition, the offer would have included Israel relinquishing control of Jerusalem's Old City.
In the interview, Drucker again pressed Abbas on why he rejected a proposal for a Palestinian state. Abbas seemingly implied that it was due to Olmert only showing him the map reflecting possible borders for a state, but not letting him keep it.
However, as Olmert details, Abbas was offered to keep the map provided that he affixed his initials to it. According to former U.S. deputy national security adviser Elliott Abrams, who participated in Israeli-Palestinian negotiations during the time in question, Olmert likely did not want to give Abbas a copy of a map that wasn't agreed upon—fearing the Palestinian side would use it to extract further concessions, without agreeing to Israeli demands to recognize the Jewish state and desist from supporting terrorist attacks against it (Elliott Abrams, Tested by Zion, Cambridge University Press, 2013).
The day after meeting with Olmert, Abbas called off talks, saying that he had to attend a meeting in Jordan. Subsequently, he never responded to Israel's offer. In a Nov. 28, 2009 interview with The Australian, Olmert noted that Abbas "promised to return with his advisers the next day,� and after going to Jordan said, "let's make it next week.� But "I never saw him [Abbas] again.�
As CAMERA has noted, Olmert later wrote an Op-Ed in The Washington Post where he said, "I cannot understand why the Palestinian leadership did not accept the far-reaching and unprecedented proposal I offered them� ("When Peace Almost Broke Out: A Washington Post Mirage,� Aug. 9, 2013).
This was not the first instance in which Palestinian leaders rejected an offer for statehood and peace with Israel while failing to make a counteroffer. Other relatively recent examples include an U.S. and Israeli offers in 2000 at Camp David, 2001 at Taba and U.S. Secretary of State John Kerry's proposed framework to restart negotiations in 2014.
The Channel 10 interview (in Hebrew) can be found here.
Posted by SD at 02:22 PM | Comments (0)
CAMERA Analyst Speaks at BBC March
On Sunday, November 15, 2015 college students from the Boston area gathered in Cambridge to protest the slanted and biased coverage of the BBC. After a brief rally, just over 100 protesters marched to the British Consulate in Cambridge to protest the BBC's deceptive reporting.
The text of Van Zile's talk is available below.
On Friday night, jihadists killed 129 people in Paris. Most of slaughter took place in the Bataclan, a concert hall known for hosting pro-Israel events. Because of its affiliation with the Jewish people and their homeland, it has been the target of hostility and threats for years.
In 2008, a group of young men wearing Palestinian keffiyehs over their faces came to the concert hall and complained about an event being held in support of Israel's border police.
Apparently, the idea that the concert hall would be used to support people who stand between Israeli citizens and jihadists who want to kill them was simply intolerably to these folks. If the Bataclan continued to host these events, one of the masked thugs said, "the people will not take it any more and you will pay the consequences of your actions. The next time we will not come to talk.�
You can see this confrontation on Youtube. I don't' get it. You put a mask over your head and then you post the video on Youtube. Such is the logic of jihadism.
Jihadists planned an attack against the concert hall in 2011 but the French police thwarted this attack. One of the conspirators told officials after his capture, "We had a planned an attack against the Bataclan because the owners were Jewish.�
He was a member of a group that called itself "The Army of Islam.�
Finally, three days ago, jihadists from Syria made good on these threats, killing scores of people attending a rock concert.
Sadly, we live in a world where one thing we can really bank on is Jihadist threats. Jihadists keep their word. They promise violence, they give us violence. If the people who specifically make the threats cannot make good on their promise, one of their friends and allies will.
If Al Qaeda can't do it, ISIS will.
And to make matters worse, jihadist threats are oftentimes more reliable than the promises and assurances from the captains of media who promise us they will promptly and accurately inform us about world events.
All too often they do not make good on their promises.
The BBC is one of the worst offenders.
For example during Israel's war with Hamas in 2012, the BBC blamed, with little evidence to the contrary, Israel for the tragic death of Omar Misharawi. You remember the photo. He was the little boy who was wrapped in a shroud and held by his weeping father at the hospital in Gaza. It was a terrible scene. It was a huge tragedy.
His father worked for the BBC.
In a piece written by correspondent Jon Donnison, the network pushed a narrative in which Israel invariably was at fault for the boy's tragic death.
Donnison's piece acknowledged that some "bloggers� stated that the damage to Misharawi's house was inconsistent with the destruction caused by Israeli rockets, but to preserve his narrative of Israeli guilt, Donnison wrote "the BBC visited other bombsites this week with very similar fire damage, where Israel acknowledged carrying out what it called "surgical strikes.�
The BBC's correspondent did everything he could to push the narrative of Israeli wrongdoing and the network let him.
Then the United Nations issued a report stating that Omar Misharawi's death was likely the result of a Hamas missile that fell short.
The bloggers, in their pajamas, got it right. The BBC got it wrong. The BBC put a small update at the bottom of Donnison's article telling viewers about the UN report, but the damage has been done. Because of the failure of BCC's journalistic skepticism, millions of viewers have been given the false impression that the Israelis killed the baby son of a BBC employee.
The image of the father weeping, holding his dead child has become an icon of outrage, a prop to be displayed by Israel-haters everywhere to demonize the Jewish state and Jews who regard Israel as their homeland.
Misinformation irresponsibly broadcast by the BBC has become an ideological stone to be picked up and thrown by Israel-haters at their convenience.
This was not the only time the BBC has behaved in such a manner. In its coverage of the deaths of 13 Palestinians, 11 of them children, near Shifa Hospital in Gaza in July 2014, it presented Hamas's version of events – that the deaths were caused by Israeli rockets– as a reasonable explanation for these deaths even though the IDF had video of Hamas fired-rockets falling into the area at the time of the explosion.
In a number of reports the BBC portrayed Israeli and Hamas's explanations for what happened as having equal credibility.
"The BBC would have audiences believe that it cannot possibly tell them which is more reliable, my colleague Hadar Sela reports: the evidence provided by a sophisticated system of radars and trackers which are part of a technologically advanced early warning system, or the unverified word of 'health officials' belonging to a terrorist organization which, if it did not fire the specific missiles itself, is collaborating with the terrorist organization that did.�
Under its charter, the BBC is charged with pursuing a number of goals, one of them is to "sustain citizenship and civil society.� The BBC's website states: "You can trust the BBC to provide high-quality news, current affairs and factual programming that keeps you informed and supports debate about important issues and political developments in an engaging way.�
When it comes to the Jewish homeland, the BBC does not keep this promise.
Apparently, the BBC has concluded that just as long as its stories are engaging and interesting, it is OK to allow its correspondents in Gaza to serve as a propaganda arm for Hamas, an antisemitic totalitarian organization that oppresses its own people and seeks to exercise a veto over Jewish national life in the modern state of Israel. And to pursue this agenda it demonizes Jews everywhere.
As documented by CAMERA's affiliate, UK Media Watch, BBC helps broadcast Hamas's hotile narrative. And you here today know all too well the consequences of this lethal narrative.
You live in the United States, but you live and study under the shadow of this narrative.
Last week, students at Hunter College blamed the school's so-called Zionist administration for high tuitions. Students chanted "Zionists out of CUNY!� and "There is only one solution, Intifada revolution.�
A speaker at the rally yelled to the crowd "Our administration is infected with Zionism and this is the sin that we're fighting against.�
One protester said, Israelis don't belong in Palestine and should go back to L.A.
These folks don't Jews in Israel and they don't them on campus. These folks direct more of their rage at Israel than they do at ISIS. They stage fake Israeli checkpoints but not protest the beheadings. They build fake security barriers to condemn Israel and they hand out mock eviction notices, but where are the mock executions of Christians by ISIS? Where are the mock slave auctions of Yezidi slave victims?
These people are not enemies of ISIS.
And that is the problem.
If you are not an enemy of ISIS, you are no friend of human rights.
You are no friend of freedom.
You are no friend of Israel.
You are no friend of America and you are no friend of the West.
But the sad fact is that college administrators have allowed anti-Israel activists to menace and abuse their fellow students who support Israel on a regular basis for well over a decade.
Jews have been threatened, assaulted and harassed on college campuses in the U.S. because their homeland has been demonized as a monstrous nation by its enemies. And sadly enough, news outlets such as the BBC have all too often cooperated with the demonization.
But the last thing the people who came here today will do is adopt the pose of fragile snowflakes who will cave into this bullying. You are no self-pitying snowflakes.
You are enemies of ISIS.
You're men and women who came to stand up to the lethal narrative directed at Israel and the Jewish people.
Whether you are a Jew or not, you came here to send a message to the British government. The message is you are onto BBC's ugly tendency to slant its coverage in favor of those who seek Israel's destruction and against those who call it their homeland.
It's time for the people who run the BBC to quit with the demonization and start with the honest journalism.
You got a lot of nerve showing up here today so soon after a spectacular jihadist attack. If I were your parents, would have told you to sleep in today, just in case.
But you showed up.
By showing up you declared yourself enemies of ISIS publicly.
You declared yourself to be friends of human rights, an ally of France in her time of trial, proud Zionists and proud Americans.
So may God bless you and keep you.
You are a blessing to your families, to your campuses, to you fellow students and your fellow Americans.
May God make his face to shine upon you and sharpen your minds and strengthen your hearts for the challenges that will surely present themselves in the days and years ahead.
Forward!
March!

Posted by dvz at 01:15 PM | Comments (0)
November 16, 2015
Where's the Coverage? Official PA Media Blames Israel for Paris Terror

An Op-Ed published in the official Palestinian Authority (PA) daily, Al-Hayat Al-Jadida, Nov. 15, 2015, blames the Israeli intelligence service Mossad for the terrorist attacks in Paris that killed at least 129 people and injured hundreds more as well as the bombings in Beirut that preceded them by a day. As translated by Palestinian Media Watch (PMW), the Op-Ed claims:
The wise and correct thing is to look for who benefits. In short: They need to search the last place reached by the octopus arms of the Mossad... It is clear that its 'Mossad' will burn Beirut and Paris in order to achieve [Israeli Prime Minister Benjamin] Netanyahu's goals. He, who challenged the master of the White House, hides in his soul enough evil to burn the world.
It must be noted that the PA press is not a free media operation, printing a wide variety of opinion and viewpoints. It is an official arm of the Palestinian regime, disseminating the narrative of Palestinian leadership. Indeed, PA Security Forces spokesman Adnan Al-Damiri posted a similar claim on his Facebook page:
From Beirut to Paris, terror and explosions, two beautiful and advanced cities, two cities that arouse admiration with their positions regarding Palestine... What is this hatred which attacks beauty and principles, and declares terror against them? ... Does the terror in Beirut and Paris wear masks like those who were in the Al-Ahli hospital in Hebron yesterday [Nov. 12, 2015]?
When Al-Damiri aks if the Beirut and Paris terrorists "wear masks like those who were in the Al-Ahli hospital in Hebron�, he is referring to a raid where Israeli agents in disguise arrested a terror suspect. The allegation is clear: the Beirut and Paris terrorists were also Israelis in disguise.
The Islamic State terrorist group has claimed responsibility for the Paris attacks and French and other European and international investigations corroborate this. Naturally, this has not stopped the Palestinian conspiracy theory machine which perpetually operates in overdrive. Prior to blaming Israel for the Beirut and Paris terror attacks, another Op-Ed in Al-Hayat Al-Jadida, Nov. 11, 2015, blamed Israel and the West for downing the Russian airliner over Sinai:
The explosion of the Russian plane 23 minutes after its takeoff from Sharm el-Sheikh airport in the end of October, was not an ISIS operation but a terror operation orchestrated by international and regional security services…. If the rational estimations point to [the presence of] fingerprints of Western and Israeli security services, that leaves much room for questions...
PMW has long documented the conspiracy theories promoted by Palestinian leadership. However, the media refuse to acknowledge the shameful shifting of blame from the actual perpetrators of terrorism to their favored targets, Israelis and Jews. Here is a blatant and eminently newsworthy item completely ignored by the popular press. Not only should the world be made aware that the PA blames Israel for these deviant attacks, the world should be outraged. And yet… Where's the coverage?
Posted by SC at 09:50 AM | Comments (0)
November 15, 2015
Wall Street Journal Terror Timeline Erases Attacks in Israel
The Wall Street Journal's "Timeline: Terror Attacks Linked to Islamists Since 9/11" lists Islamist terror across the Middle East and around the world, from Tunisia and Egypt, to Pakistan, Indonesia, Kenya, Paris, Mumbai, London, Russia, Brussels, Madrid, Indonesia, and New York.
It is not an exhaustive and comprehensive list, but it is a full, diverse list which very conspicuously omits a country which perhaps more than any other (certainly in relation to its population) has been targeted by Islamist terrorism since the 9/11 attacks. Israel has suffered hundreds of casualties in the last 16 years from Islamist groups like Hamas and Islamic Jihad in the Gaza Strip and the West Bank, Hezbollah in Lebanon and Syria. It also faces a growing threat from Islamic State's Egypt affiliate, Sinai province, among others.
But The Wall Street Journal does not deem even one instance of Islamist terror directed against Israelis since 9/11 worthy of inclusion in its timeline.
It does not mention the March 2002 attack on Jews celebrating the Passover seder in Netanya's Park Hotel, in which Hamas murdered 30, including elderly people.
Nor does it include Islamic Jihad's June 2002 attack on an Egged bus traveling from Tel Aviv to Tiberias in which 17 Israelis were murdered.
Nor does The Journal include the July 2012 bombing attack, reportedly carried out by Hezbollah, targeting a bus of Israeli tourists in Burgas. Seven were killed, including five Israelis.
Nor does it have one word to say about any of the dozens of lethal attacks carried out by Islamists against Israelis in recent years.
The Wall Street Journal's most recent entry in the terror timeline is the Nov. 12, 2015 suicide bombings in Beirut. About this attack, The Journalwrites:
A double suicide bombing in a Beirut suburb kills around 43 people, in an attack that bore the hallmarks of Sunni militants linked to al Qaeda and other extremist groups.
The blurb does not mention that the targeted neighborhood was a stronghold of Hezbollah, itself an Islamist organization. The Journal's inclusion of the Beirut attack against Hezbollah is all the more striking in light of the fact that editors completely ignored all attacks carried out by Hezbollah and other Islamist groups targeting Israel.
Nov. 16 Correction: This post was amended to remove reference to the August 2001 bombing of the Sbarro pizza shop, in which Hamas killed 15, as it took place before the 9/11 attacks. The amended posts adds the March 2002 Park Hotel bombing, in which Hamas was responsible for the murder of 30 during a Passover seder.
Posted by TS at 03:56 AM | Comments (2)
November 11, 2015
Washington Post Fails to Examine Anti-FBI Protests

Recent Washington Post coverage about Muslim American objections to FBI anti-extremism programs failed to highlight the background of some groups involved. Two of the organizations mentioned, the Muslim Public Affairs Council (MPAC) and the Brennan Center for Justice at New York University, have histories that raise questions about bias and suitability to discerning Post readers.
On Nov. 5, 2015 the following letter was sent to Post reporter Michelle Boorstein to inform her of the background of these sources:
"Dear Ms. Boorstein,
Your interesting article "Muslims decry FBI's anti-extremism site for youths, saying it will spur bias� (November 4) featured quotes from two sources whose background you might be unaware of.
MPAC was founded by and is currently led by Salam al-Marayti. According to the Investigative Project on Terrorism, an extremist monitoring organization, al-Marayati's "record on defending terrorist groups and extremists is substantial.� Among other instances, this record has included calling terrorist attacks committed by Hezbollah, a U.S.-designated terror group, "legitimate resistance� ("Profile: Salam al-Marayati,� The Investigative Project on Terrorism). Al-Marayati has attended fundraising dinners for Sami Al-Arian, a leader of the U.S.-listed terror group Palestinian Islamic Jihad.

Al-Marayati also has engaged in 9/11 conspiracy theories while playing to antisemitic stereotypes. He told a Los Angeles radio station on the day of the attack that "we should look to the groups that benefit the most from these kinds of incidents, and I think we should put the state of Israel on the suspect list.� The organization al-Marayati leads has exhibited similar, troubling tendencies.
Only two years after the Sept. 11, 2001 attacks, MPAC advocated the removal of Hezbollah and Hamas from the federal governments listing of terror groups.
CAMERA has previously reported ("CAIR Scholarship Recipient Reports on CAIR in LA Times,� May 8, 2011) that Edina Lekovic, MPAC's director of policy and programming, was previously a managing editor of Al-Talib: The Muslim Newsmagazine at UCLA. While Lekovic was at Al-Talib, the paper published a column saying "When we hear someone refer to the great Mujahid [holy warrior]…Osama bin Laden, as a 'terrorist,' we should defend our brother and refer to him as a freedom fighter.�
Another source quoted in your article, Faiza Patel of the Brennan Center for Justice at New York University has made similarly troubling statements. CAMERA has reported ("The New York Times Doesn't CAIR to Report,� Feb. 6, 2012) that Patel "denounced the NYPD's operation that resulted in the arrest of accused lone-wolf jihadist Jose Pimental.� Patel publically lamented surveillance tactics which led to the arrest of Pimental, who pled guilty in February 2014 to criminal possession of a weapon in the first degree as an act of terrorism.
Patel's employer, the Brennan Center, received an award in 2009 from the Council on American Islamic Relations (CAIR)—an unindicted co-conspirator in the 2009 Holy Land Foundation for Relief and Development retrial. As CAMERA's Special Report, "The Council on American Islamic Relations: Civil Rights or Extremism?� notes, this has been the largest U.S. terrorism-funding case to date. Evidence presented at that trial and in our report illustrates close ties between CAIR and other pro-Islamist groups, such as MPAC. Our special report can be found here.
We trust you will find this information useful in future coverage of related topics.
Sincerely,
Sean Durns
Media Assistant
CAMERA-Committee for Accuracy in Middle East Reporting in America"
Posted by SD at 01:50 PM | Comments (0)
Ignoring Precedent, NPR Station Refuses to Correct Max Blumenthal Errors

In September, an NPR member station in Chicago invited Max Blumenthal to pontificate about Israel. And as has come to be expected from the anti-Israel extremist, he bombarded the credulous audience with a torrent of falsehoods.
NPR listeners, of course, deserve and expect no less than accuracy. So it was left to producers at WBEZ, the station, and Worldview, the program, to clear the record.
Blumenthal claimed "almost every building� in the Gaza town of Beit Hanoun had been "destroyed.� Listeners deserve to know that this is false — according to multiple UN studies, an overwhelming majority even of affected buildings — that is, ignoring undamaged structures — were not destroyed.
Blumenthal severely misquoted the Israeli military, the Associated Press, and the advocacy group Btselem about casualty statistics. Regarding the military, Blumenthal told the audience it said the exact opposite of what it actually said. Listeners deserve to know the truth.
Blumenthal also upended the truth about Palestinian rockets, claiming that the further they fly, the smaller their warhead. Listeners should be told that, in fact, the opposite is true.
He put words in a Hamas leader's mouth to make the silly case that the terrorist group doesn't target civilians. When excitedly describing the prowess of Hamas fighters, he roughly quadrupled the number of Israeli soldiers killed during a particular operation. And on, and on.
By the end of the segment, listeners were substantially less informed than they were 20 minutes earlier.
But WBEZ officials say they will not let their audience know about the false facts they were fed, suggesting that inaccurate statements by guests do not require corrections. In fact, there is a long NPR precedent of correcting guest errors.
We've now informed WBEZ of this precedent. Will it correct? Or will it be the case that Chicago-area NPR listeners are stuck with a lower caliber of ethical, accurate journalism?
A partial list of NPR corrections to guest errors:
All Things Considered
Correction
Oct. 5, 2015
Our guest incorrectly says Catholics who are separated and divorced do not have access to the sacraments. In fact, it is only separated and divorced Catholics who have civilly remarried who are excluded from some sacraments, like Communion.
Fresh Air
Correction
July 6, 2015
In the audio of this story, as in a previous Web version, our guest incorrectly says that the Navajo Generating Station consumes about 22,000 tons of coal each year. In fact, it consumes about 22,000 tons of coal each day.

All Things Considered
Correction
Aug. 30, 2015
In the audio of this story, as in a previous Web version, our guest incorrectly says that participants in the studies had "less than a millisecond to respond." In fact, they had less than a second.

Weekend Edition Saturday
Correction
May 8, 2015
In this conversation, our guest says that pitcher Yordano Ventura of the Kansas City Royals hit the White Sox's Adam Eaton with a pitch. In fact, Eaton was not hit with the pitch. But he and Ventura exchanged words and a brawl ensued. We also say that Ventura had been throwing at opposing players' heads. While he has hit some players and has angered others with inside pitches, it was not correct to say that Ventura was targeting their heads.

Fresh Air
Correction
March 2, 2015
In this story, our guest incorrectly refers to the film Maps To the Stars as Maps Of the Stars. A previous headline also contained the same error.

All Things Considered
Correction
Jan. 2, 2015
We mistakenly refer to Vice President Biden as President Biden, and then our guest makes the same mistake. Additionally, the original transcript incorrectly inserted the title vice where it had not been used.

Pop Culture Happy Hour
Master And Commander
Dec. 30, 2014
One of our panel members said during the franchise discussion that the Master And Commander film came from the Horatio Hornblower books. As has been pointed out to us, it actually came from the Aubrey/Maturin stories of Patrick O'Brian.

Tell Me More
Correction
Sept. 25, 2013
In the audio of this story, our guest refers to Medicare plans offered by private companies as Medicare Exchange. She meant to say Medicare Advantage.
Talk of the Nation
Correction
June 25, 2013
In the audio of this story, a guest included the Black Panthers among groups that often bombed U.S. targets in the '60s and '70s. While a handful of people with links to the Black Panther Party were accused of bombings, it was not an activity generally associated with the group.

Talk of the Nation
Correction
June 17, 2013
Our guest incorrectly stated that actress and dancer Vera-Ellen sang "We Will Meet Again." Actually, singer-songwriter Vera Lynn recorded the song. He also said the film The Big Parade was released in 1926. The correct year is 1925.
Posted by at 11:32 AM | Comments (2)
Phila. Inquirer Headlines Go Easy on Attackers
The following letter to the editor was sent to The Philadelphia inquirer, but went unpublished:
"Dear Editor:
Recent Inquirer headlines "U.S. Educator Dies in Israel� (October 28) and "Israelis Kill 3 Palestinians� (October 27) have the potential to mislead readers by not accurately reflecting the news articles beneath.
The article itself makes clear that American-born Israeli educator Richard Lakin did not just "die� in Israel; he was murdered by Palestinian terrorists. Lakin's son told The New York Times his 73-year old father was the victim of Palestinian "incitement and hate.� Yet, the headline could lead readers to mistakenly infer that Lakin just happen to pass away.
Similarly, Israelis did not just happen to "kill 3 Palestinians� without justification as readers might infer from the headline. Again, as the article beneath the headline notes, three Palestinian Arab terrorists were killed by Israeli security forces after attacking Israelis, both civilian and soldiers, with knives. The headline fails to convey essential facts regarding both the chronology and causation leading to the death of the terrorists.
Space restrictions can make headline writing challenging. However, precise terminology and chronology must be used to prevent readers from drawing false inferences. We trust that in the future Inquirer headlines on contentious issues such as these will accurately represent the stories they summarize.
Sincerely,
Sean Durns
CAMERA--Committee for Accuracy in Middle East Reporting in America"

Posted by SD at 11:28 AM | Comments (0)
Palestinian T.V. Favorite Accuses Israel of 'Harvesting' Terrorists' Organs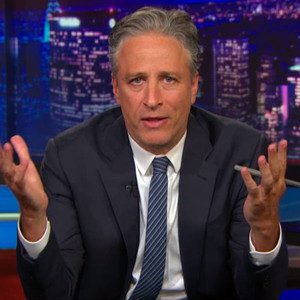 Jon Stewart gave Riyad Mansour a platform on Comedy Central
Riyad Mansour is a Palestinian Authority (PA) diplomat who has served as the Permanent Observer of Palestine to the United Nations since 2005. A regular news media source, he has appeared, both in print and in studio, so frequently that he has his own page on IMDB, a noted online film and television database. He is also the latest in a long-line of antisemites, to push the most recent incarnation of the blood libel, accusing the Israeli government of harvesting organs of terrorists slain while attempting to murder Jews.
On Nov. 3, 2015, Mansour sent a letter to the current president of the U.N. Security Council, British Ambassador Matthew Rycroft. The PA official wrote:
"After returning the seized bodies of Palestinians killed by the occupying forces through October, and following medical examinations, it has been reported that the bodies were returned with missing corneas and other organs.�
Reuters reported that Mansour also told Rycroft that this was confirmation of "past reports about organ harvesting� ("Israel blasts Palestinians after accusations of organ-harvesting,� Nov. 4, 2015).
Like other recent parallel claims by Palestinian Arab leaders, this is false. In its mendacity it echoes the recent claim by PA President Mahmoud Abbas that Israel "executed� a 13-year old boy, Ahmed Manasra. In fact—while Abbas spoke this lie—Manasra was being treated in an Israeli hospital for injuries sustained from being hit by a car while fleeing after he and his cousin stabbed and nearly murdered a 13-year-old Jewish child.
Israel's Ambassador to the United Nations, Danny Danon, said the PA letter is a "blood libel by the Palestinian representative that exposes his anti-Semitic motives and his true colors.�
The early blood libel was the false accusation that Jews murdered Gentile children to use their blood for religious purposes. Born in medieval Europe, the libel, taking various forms, has been used repeatedly in Arab media as CAMERA has noted ("The Global Blood Libel against Israel,� March 23, 2012). Historically the dissemination of blood libels often has been followed by murders of Jews, often in large numbers.
Danon called on the United Nations to "repudiate this sinister accusation and to condemn the ongoing incitement by Palestinian leaders.�
Nevertheless, Mansour seems to be a media favorite.
As the PA representative to the United Nations, Mansour frequently has been quoted as a credible source, which has treated his breathless but unfounded serial allegations of Israeli war crimes as credible (see for example "Palestinians move to join world court,� The Boston Globe, Jan. 3, 2015 or "Netanyahu at Risk of Isolating Israel,� The New York Times, March 19, 2015). One Washington Post article expended nearly 700 words repeating nearly verbatim Mansour's charges ("U.N. Envoy Critical of Gaza Living Conditions,� Feb. 27, 2008).
Mansour even has been quoted uncritically saying that a failure to pursue trumped-up PA charges of Israeli war crimes is "what is impeding the peace process� ("Furor Sends Palestinians Into Shift on U.N. Report,� The New York Times, Oct. 8, 2009).
Mansour often has spoken to reporters about PA desires for greater U.N. involvement, including expressing his gratitude to U.N. Secretary General Ban Ki-Moon for "quickly� forwarding the PA representative's request for membership in the international organization ("Israeli panel drafts $8b social plan,� The New York Times, Sep. 27, 2011).
This blood-libel pusher has a media presence that extends into prime time, including appearances on Sunday talk shows like NBC's Meet the Press and the "comedy-news� show, The Daily Show with Jon Stewart ("Who wants to be a member of the U.N.? Palestine"). On the latter, interviewer John Oliver, treated Mansour's presence humorously.
There is nothing funny about blood-libels. Historically they have resulted in Jewish blood being spilled. Today, invoked against Israel, they help incite sometimes murderous aggression. When it comes to looking for credible sources on the Arab-Israel conflict, media outlets would be well advised to tune out Riyad Mansour.
Palestinian Media Watch, a non-profit Palestinian media monitoring organization, compiled a report on Palestinian leaders' use of the blood-libel that can be found here.
Posted by SD at 10:31 AM | Comments (1)
New York Times: 'Violent Loop' Responsible for Palestinian Attacks
"Strengthen the coverage of Palestinians. They are more than just victims," advised New York Times public editor Margaret Sullivan in her critical column about the paper's coverage of the Israeli-Palestinian conflict almost exactly one year ago today ("The Conflict and the Coverage," Nov. 22).
But, The Times'coverage today is yet another indication that Sullivan's message has yet to penetrate. Today's article depicts young Palestinians who carried out stabbing attacks last month and yesterday not as perpetrators but as themselves victims of "a looplike dynamic of Israeli-Palestinian violence."
The headline says it all: "Violent Loop Engulfs Youths in Jerusalem."
In other words, Palestinian youths who attempt to murder are passive objects of the active agent in the story, the "violent loop." Casting the Palestinian assailants as passive victims is a journalistic phenomenon detailed last year by Matti Friedman, a former correspondent at the Associated Press: "Palestinians are not taken seriously as agents of their own fate. . . . Who they are and what they want is not important: The story mandates that they exist as passive victims of the party that matters."
The Times article defines the culpable violent loop as follows:
The attack on Tuesday [in which a 12-year-old and his 14-year-old cousin stabbed a guard on the Jerusalem light rail yesterday] appeared to reflect a looplike dynamic of Israeli-Palestinian violence: stabbings of Israelis followed by swift, often deadly responses by Israeli security forces and graphic video footage inspiring replica Palestinian attacks against Israelis.
Thus, Israeli efforts to protect innocent individuals from life-threatening attacks and Palestinian efforts to maim and murder are equally culpable for the ongoing violence.
Further chipping away at the agency of the young Palestinians who plunged knives' into other's flesh, Times journalists Isabel Kershner and Rami Nazzal euphemistically refer to "the attacks involving children," as opposed to the attacks perpetrated by children.
In addition, The Times writers enable the distorted Palestinian-assailants-as-victims model by not treating false Palestinian conspiracy claims about police planting knives as just that. Thus, the article states:
In several cases with no video corroboration, Palestinians have insisted that no stabbings took place and have accused the Israeli authorities of planting knives at the scene.
Kershner and Nazzal, however, outrageously fail to note here that also in Palestinian attacks documented by video footage, Palestinians have falsely charged that police planted knives.
To their credit, the writers do point out in one instance that the assailants' relatives doubts about the stabbings are contradicted by video footage:
In the Shuafat refugee camp, where relatives of the Alqam cousins gathered Tuesday evening, many expressed similar doubts about the Israeli reports of the stabbing, although later on Tuesday more video emerged that appeared to show the boys attacking the guard on a train.
It is precisely the unfounded claims of Palestinian perpetrators' innocence and false charges of "extrajudicial killings" which fuel additional Palestinian attacks. When youths like Ali Alqam, 12, and Muawiya Alqam, 14, yesterday's stabbers, watched videos of the 13-year-old assailant Ahmad Manasra being interrogated (as The Times reported they did the night before the attack), believing all the while that Manasra is totally innocent, they are plausibly inspired to attack. Now there's "a violent loop" worthy of Times coverage.
Nov. 15 Update: Shin Bet Report: 'Internal Dynamic Feeding Itself'
The day after we wrote here about the "loop" in which Palestinian media depict youths who carry out attacks and are subsequently killed or wounded, imprisoned and interrogated as "innocent" victims of Israeli abuse or even "extradjudicial killings," fueling yet more attacks, Haaretz reported about a Shin Bet report which identified the same cycle. Haaretz reported:
The report observed that the youths "live on the Web, and are nourished by information sent on the Internet, which glorifies the Palestinian claim that the attackers are victims of 'Israeli aggression,' and that they were in fact 'executed.'" It added, "Likewise, there is an internal dynamic feeding itself (of attack, death of the attacker and then avenging his death)."
Posted by TS at 04:25 AM | Comments (4)
November 10, 2015
Haaretz Headline on Palestinian Attack: 'Palestinian shot dead'
"Palestinian woman shot dead," is the page 2 headline in Haaretz's English edition today, the latest in a series of news headlines obscuring Palestinian terror attacks.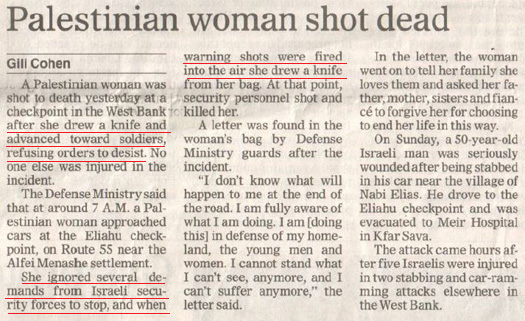 Who is this Palestinian woman, depicted in the headline as a victim, as opposed to a perpetrator?
Those who bother to read the accompanying article learn:
A Palestinian woman was shot to death yesterday at a checkpoint in the West Bank after she drew a knife and advanced towards soldiers, refusing orders to desist. No one else was injured in the incident.

The Defense Ministry said that at around 7 A.M. a Palestinian woman approached cars at the Eliahu checkpoint, on Route 55 near the Alfei Menashe settlement.

She ignored several demands from the Israeli security forces to stop, and when warning shots were fired into the air, she drew a knife from her bag. At that point, security personnel shot and killed her.
But as noted by Adam Levick, managing editor of UK Media, a member of CAMERA's British department:
In our social media obsessed world dominated by Twitter, Facebook and internet memes, the headlines and blurbs of mainstream news stories are often all that news consumers notice.
Could it be that Haaretz's own headline writer notice anything past the first seven words of the accompanying article ("A Palestinian woman was shot to death") before selecting the grossly distorted headline?
The online edition of Haaretz, on the other hand, did much better with its headline about the same incident. Its appropriate headline is: "Stabbing Attack Thwarted at Eliyahu Checkpoint, Defense Ministry Says.'

Posted by TS at 06:20 AM | Comments (3)
November 08, 2015
AP Captions: 'Incidents' in Hebron
Multiple Associated Press photo captions yesterday obscured Palestinian attacks in Hebron Friday by vaguely referring to "three incidents" or "three assaults" without any indication as to who perpetrated what against whom. For example, there were the two captions below:
The caption states:
Israeli soldiers stand guard after the military blocked the road with an earth berm at one of the exits of the West Bank city of Hebron, Saturday, Nov. 7, 2015. Three incidents took place Friday in Hebron, the West Bank's largest city, which has been the main area of friction in recent weeks. Hundreds of combat troops guard about 850 Jewish settlers in the center of Hebron where they live amid tens of thousands of Palestinians.
This caption states:
Israeli soldiers stand outside a Palestinian house during a search near the Tel Rumeida settlement in the West Bank city of Hebron, Saturday, Nov. 7, 2015. Three assaults took place Friday in Hebron, the West Bank's largest city, which has been the main area of friction in recent weeks. Hundreds of combat troops guard about 850 Jewish settlers in the center of Hebron where they live amid tens of thousands of Palestinians.
Who assaulted whom and how? Maybe Israeli soldiers, featured in these images, assaulted the Palestinian residents? Or the Jewish settlers, which the captions make a point to mention, assaulted Palestinians?

In fact, as reported by AP Friday, the "incidents" were as follows:


Back-to-back Palestinian shootings Friday wounded three Israelis, two of them seriously, the military said. The attacks signaled an escalation after a series of Palestinian stabbings and widespread stone-throwing that marked the current round of confrontations with Israel.

Israeli media said the wounded were teens between the ages of 16 and 19.

Earlier Friday, Israeli troops shot and killed a 73-year-old Palestinian woman in what the military said was an attempt to attack them with her car. Her son denied she tried to harm anyone, and that she was on her way to lunch with her sister when she was killed.

Later Friday, an Israeli was shot and seriously wounded by shots to the head fired from a passing car on the outskirts of Hebron, the military said. Israeli media said the victim was 19 years old and critically injured. (Emphases added.)
Space is always a concern, but the caption does include some two dozen words of background information regarding "Hundreds of combat troops guard about 850 Jewish settlers in the center of Hebron where they live amid tens of thousands of Palestinians." Was there not space, on the other hand, to note that "Palestinians carried out multiple shooting attacks as well as an alleged ramming attack in Hebron Friday," (16 words) Palestinian attacks which were, after all, the direct cause of the IDF searches and road blocks pictured and cited in these images and captions, respectively?
See also: "Wave of Palestinian Violence Accompanied by Spate of Bad Writing"
Nov. 11 Updated: Empty Promises of Additions To Add Context
Curiously, following CAMERA's communication with AP editors on Nov. 8, the next day the photo agency republished the images with headings promising "Addition." Many also note "Adds context in second sentence." Yet the new captions do not include the missing critical information about the Palestinian shooting and ramming attacks which precipitated the searches and road blocks. In the new captions, the sentence about the "incidents" or "assaults" is entirely removed. See the following two examples.
Where exactly is the "addition" and the "added context" promised in the new versions of these captions? Will the AP amend the captions to make clear that the army actions shown here are in response to the Palestinian shooting and ramming attacks from the previous day?
Posted by TS at 06:46 AM | Comments (2)
November 05, 2015
Huffington Post Blog Slanders Israel as "Apartheid�
As violent attacks are perpetrated upon Israelis daily, the Huffington Post thought the timing was right for yet another "apartheid� slam on Israel, posting blogger Zack Sabella's piece, "The US Must Accept that Israeli Leadership Wants Apartheid Not Peace.�
Sabella makes inflammatory, broad and unsubstantiated statements, such as:
"Israeli politics and society have regressed to their lowest point in history, with racism flourishing at unprecedented levels.�

"The Israeli government of today is the most racist, most aggressive and most destructive government in Israel's history.�

"Israel has chosen occupation over peace and has normalized the brutal domination of the Palestinian people rather than liberate itself from becoming a modern-day apartheid state.�
Sabella ignores the fact that Israeli Arabs enjoy more rights in Israel than Arabs living anywhere else in the Middle East. Apartheid? Hardly. As South African member of parliament Kenneth Rasalabe Joseph Meshoe has said, "Those who know what real apartheid is, as I know, know that there is nothing in Israel that looks like apartheid.� Meshoe continued, "There is a widespread allegation, really a slander, that Israel is an apartheid state. That notion is simply wrong. It is inaccurate and it is malicious.�
Sabella calls on Presidents Obama and Bill Clinton to follow Jimmy Carter's lead in condemning Israel. As has been well-documented by CAMERA, Carter has been actively engaged in pro-Hamas, anti-Israel dialogue since finishing his last term in office (see here and here). Sabella demands that the US "wield a stick� in dealing with Israel, or "history will judge it for not forcing Israel to change its course of action.�
All this as old women and children are being stabbed in the streets of Israel, civilians are being rammed with cars and Palestinian leaders are encouraging this bloodbath.
Sabella also writes regularly on a personal blog. There, he has covered the last month of terror with a vehemently anti-Zionist, pro-terrorism perspective, rejecting that the Palestinians shot are being stopped mid-attack and embracing the false narrative that children are being killed in cold blood. In an October 2 blog post, "A day in the life of a Palestinian," Sabella wrote, "The killing of Palestinians has become as routine as drinking water in Israeli society." Yet, the Huffington Post gives this individual an international platform.
- Rachel Frommer, CAMERA Intern
Posted by SC at 09:51 AM | Comments (5)
November 04, 2015
USA Today Refuses to Correct, Maintains Jaffa a Separate City from Tel Aviv
The following letter was sent via email to the standards, world and military and the deputy world editors at USA Today on Nov. 3, 2015:
"Dear Editor:
This is to request a correction to 'Preschool in Israel tries to teach peaceful coexistence' by correspondent Shira Rubin. The article appears on page 6A in the October 30 print edition.
The report lists the dateline as "Jaffa, Israel,� which it later describes as being "just 3 miles south of Tel Aviv.� However, Jaffa is in fact part of Tel Aviv and has been since the two cities were unified in 1950.
Jaffa, which has a long history that predates by millennia that of Tel Aviv's and was a separate municipality in the manner that Brooklyn was, for some time, separate from New York City prior to being consolidated in 1898. Yet, since Jaffa and Tel Aviv were unified, the former has been but a large neighborhood or subsection of the latter. Much as it would not be accurate to presently describe Brooklyn as being separate from New York City, your otherwise informative article does not reflect the contemporary reality of Tel Aviv.
Given this important distinction, we request a correction reflecting the above reality. Thank you for your attention to this matter.
Sincerely,
Sean Durns
Media Assistant
CAMERA-Committee for Accuracy in Middle East Reporting in America�
Standards Editor Brent Jones replied the same day and said that USA Today would look into the matter. The following day, November 4, deputy world editor Katharine Lackey contacted CAMERA. She replied that:
"after careful review, we don't believe a correction is needed and support our correspondent's explanation that Jaffa did not merge into Tel Aviv. Rather, it merged to become Tel Aviv-Jaffa and remains 3 miles south of Tel Aviv. In addition, the Israeli tourism site lists Jaffa as a separate town, calling it 'Tel Aviv's older sister.'�
Jaffa is indeed Tel Aviv's "older sister� but since 1950, has incorporated into it and has been for 55 years now, one of "the Big Orange's� more note-worthy neighborhoods.

Posted by SD at 04:10 PM | Comments (1)
November 03, 2015
Where's the Coverage? Palestinian Leader: All of Israel is 'Occupation'
Palestinian Authority (PA) President Mahmoud Abbas appeared to reject the legitimacy of Israel in any borders in an Oct. 28, 2015 speech to the U.N. Human Rights Council (HRC) in Geneva. Abbas, frequently described by some press and policymakers as a "moderate,� made clear that he views the Jewish state's existence as illegitimate. But most media did not report this latest example of a Palestinian leader denying Israel's right to existence.
The remarks of the PA President and head of the Fatah (the word can be translated as "conquest�) movement were transcribed by Palestinian Media Watch (PMW), a non-profit organization that monitors Palestinian communication media.
Abbas told the U.N. HRC: "Mr. President, ladies and gentlemen, haven't you wondered: For how long will this protracted Israeli occupation of our land last? After 67 years, how long? Do you think it can last, and that it benefits the Palestinian people?�
By claiming that Israel's "occupation� began 67 years ago, in 1948 with Israel's declaration of statehood, the PA President was clearly stating that he considers the Jewish state itself to be an occupation and, by Palestinian interpretation, an illegal one.
The PA president went from denying Israel's right to exist to inciting violence against it. Abbas falsely asserted to the UN body that Israel desecrates Islamic holy sites. "[The] holy sites which have been desecrated every other second again and again for seven decades now,� Abbas claimed, "under an occupation that does not quit killing, torturing, looting and imprisoning.�
This is another instance of Abbas employing the "al-Aqsa libel�; falsely charging that Jews hold secret designs on the al-Aqsa mosque which occupies the southwest part of Temple Mount, Judaism's most holy site. The libel has long been used by Palestinian Arab leaders, beginning in 1929 and including 1996 and 2000, to incite anti-Jewish violence. As CAMERA has documented, on Sept. 16, 2015 Abbas exhorted, "The al-Aqsa is ours…they [Jews] have no right to defile it with their filthy feet� ("Incitement over Temple Mount Leads to Palestinian Violence, Again�).
Abbas' false claims that Israel "does not quit� killing and torturing Palestinian Arabs echoes his other recent allegations that Israel had "executed� a 13-year old boy, Ahmed Manasra. In fact, Manasra was being treated in an Israeli hospital for injuries sustained from being hit by a car while fleeing after he and his cousin stabbed a 13-year old Jewish boy.
PMW says that Palestinian official media failed to accurately transcribe Abbas' remarks in Geneva, noting that the "after 67 years, how long?� was removed from reports by state media outlets.
This is hardly the first time that Abbas and/or his Palestinian Authority have claimed that all of Israel is "Palestine.� PMW notes that the PA National Security Forces Facebook page "presents pictures of Israel� where, in the last week alone, Israeli cities Haifa, Acre and Ashkelon are portrayed as "occupied.� CAMERA has shown previously how Palestinian textbooks have depicted all of Israel as Palestine ("Palestinian Textbooks Teach Anti-Israel Hate,� June 1, 1999).
PMW has documented extensively how Abbas, his predecessor Yasser Arafat and other PA officials have used maps that show all of Israel as Palestine.
With his latest attempt to rewrite history and delegitimize Israel, Abbas may have felt he was speaking to a receptive audience in the form of the U.N. HRC, which passed more resolutions in 2014 condemning Israel than all other countries combined, including noted human rights abusers such as Iran, China, North Korea and Russia.
A Lexis-Nexis search reveals that most major media outlets failed completely to report Abbas' October 28 remarks. The sole exception was The Boston Globe, which while noting Abbas' appearance and the subsequent Israeli Foreign Ministry condemnation of the Palestinian leader's statements, failed to detail just what he said ("Palestinian leader asks for UN's help,� October 29).
Where was the coverage?
Posted by SD at 11:47 AM | Comments (3)
Palestinian Cleric: Restore the Caliphate and Murder Jews
A Palestinian preacher, Ali Abu Ahmad, used Jerusalem's al-Aqsa mosque on Oct. 24, 2015 to call for the restoration of the Sunni Muslim caliphate and the destruction of "the Jews, the Americans, and the Russians.�
Ahmad's comments were noted in a report by the Middle East Media Research Institute (MEMRI).
Al-Aqsa mosque on Temple Mount, is a spot that has become increasingly venerated by Muslims—particularly since Israel re-united Jerusalem, including the Old City and Temple Mount, in the 1967 Six-Day War. The mosque often is referred to as Islam's third holiest site. Many Muslims believe it to have been the "farthest mosque,� from which Islamic tradition holds that the Prophet Muhammed rode his horse, Barack, on a night journey to heaven. However, most scholars agree that al-Aqsa mosque was built in the eighth century, decades after Mohammed's death in 632 C.E., five years before Muslim armies seized Jerusalem from Byzantine Christian control.
Ahmad exhorted his followers:
"Oh servants of Allah, the issue of the al-Aqsa mosque is not merely about Jews storming the place of the Prophet's nocturnal journey, and defiling it. It is about an entity that is plundering the lands of the Muslims.�
Claiming that Jews planned to "storm� the al-Aqsa mosque, the Palestinian cleric echoed incitement by Palestinian Authority (PA) President Mahmoud Abbas, who is frequently described by the press and policy makers as a "moderate.� In an August 1 speech Abbas, making use of what CAMERA has noted to be a long-standing libel ("Incitement over Temple Mount Leads to Palestinian Violence Again,� September 16), said Jews planned "to get rid of al-Aqsa and establish their so-called 'Temple.'� On September 16, he exhorted, "The al-Aqsa is ours…and they [Jews] have no right to defile it with their filthy feet…We bless every drop of blood that has been spilled for Jerusalem.�
Ahmad offered a violent solution to his imagined Jewish designs on the mosque, which occupies the southwest Temple Mount, Judaism's holiest site. "The issue,� he threatened, "will only be resolved through the return of the Caliphate, Allah willing….The Caliphate [rule of all Muslims by a religious and temporal leader, the caliph] will be the one to liberate Jerusalem very soon…and annihilate the Jewish entity.�
The MEMRI report on Ahmad's remarks can be found here.
The crowd responded to Ahmad's calls "let us kill them [Jews]� and "make the ground swallow them up, along with their homes,� with cheers of affirmation.
In reference to the Caliphate, Ahmad might have been alluding to the terror group Islamic State of Iraq and Syria (ISIS). CAMERA has noted recent ISIS threats against the Jewish state ("ISIS Echoes Palestinian Calls for Attacking Israelis,� October 22).
Ahmad is not the only Palestinian religious official to use historical falsehoods to deny Jewish connections to the Temple Mount, site of both the First and Second Temples, the former destroyed by Babylonia in 586 B.C.E., the latter by Rome in 70 C.E.
Sheikh Muhammad Ahmad Hussein, the Grand Mufti of Jerusalem, told Israel's Channel 2 on Oct. 25, 2015 that "al-Aqsa is an Islamic mosque since the creation of the world.� Hussein said the mosque was built somewhere between "3,000 years ago and 30,000 years ago.� Thus, according to the chief Islamic religious figure in Jerusalem—an Abbas appointee—the mosque manages the feat of predating by millennia the Islamic religion itself, which most scholars agree was founded in 622 C.E.
This is not the first time that Hussein has indulged in anti-Israel propaganda. Reuters previously, and uncritically, quoted his false allegations that Israeli's had thrown grenades into al-Aqsa ("Top Palestinian Cleric Says Israel Threw Stun Grenades Into Al-Aqsa; Israel Denies,� April 20, 2014).
Like Ahmad, the current grand mufti has also previously incited violence against Jews, seeking to deny any Jewish connection to the land—and thus the very legitimacy of the Jewish state. According to Palestinian Media Watch, a non-profit organization that analyzes Palestinian media, Hussein once preached, "The Hour [of Resurrection] will not come until you fight the Jews.�
Israeli Prime Minister Benjamin Netanyahu's recent charge that a previous grand mufti of Jerusalem, Haj Amin al-Husseini, gave Adolf Hitler the idea for the gassing and incinerating European Jewry, attracted considerable media coverage. Much of it, as CAMERA noted, focused on Netanyahu's exaggeration while overlooking al-Husseini's actual role in inciting anti-Jewish violence and collaborating with the Nazis. ("Bibi, the Mufti, and the Media,� October 23). Will the media again fail to report Palestinian Arab preacher's incitement to murder Jews?
Posted by SD at 11:35 AM | Comments (0)