« Buying Martyrs for Iran's Expanding Proxy War | Main | The Last Time Iran Negotiated in Vienna, Kurdish Leaders Died »
July 21, 2015
Al Arabiya Interview With Secretary of State Kerry on Iran Deal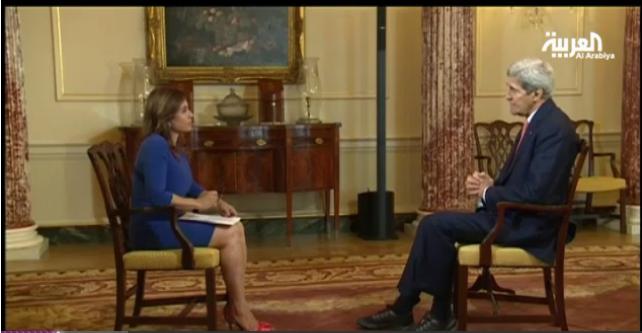 Al Arabiya published an interview with United States Secretary of State John Kerry.
Secretary of State Kerry defended the agreement in the face of Iran's continued aggressive activities in the region by stating:
Well, let me ask you a question... Is it better to push back against those activities against an Iran with a nuclear weapon or an Iran without one? Obviously, without one. So you have to begin somewhere.
In response to the interviewers question about the $100 billion dollar windfall for Iran, Secretary of State Kerry responded:
The point I'm making is that $100 billion is nothing compared to what gets spent every year in the region. Iran's military budget is $15 billion. The Gulf states' military budget is $130 billion. So I am saying ... we think things can be done far more effectively to push back against proxy activities. And most importantly, we would like to encourage people to find an alternative to any of these activities, and we believe there are ways to try to bring about a different set of relationships and, ultimately, absolutely protect the region's security and interests.
Questioned about the continuing hostile statements by Iran's Supreme Leader, Ayatollah Khamenei, Secretary of State Kerry responded:
I don't know how to interpret it at this point in time, except to take it at face value, that that's his policy. But I do know that often comments are made publicly and things can evolve that are different.
On the question of whether Iran will cheat on the agreement, Secretary of State Kerry responded:
I have no idea. I'm not going to accuse somebody of cheating before somebody does, but I will tell you that this agreement is built so that you're not surprised, so that you know you have the mechanisms in place to prevent it.
The full transcript is here. Video is here.
Posted by SS at July 21, 2015 11:15 AM
Comments
If John Kerry SoS for the US has 'no idea' whether Iran will cheat on the Agreement I can give him the answer - 'Yes Iran will cheat on this Deal and the Saudis will set off their own nuclear race to catch up with their Arch-foes'. Plain as the nose on your face Mr Kerry.
Posted by: Anonymous at July 21, 2015 02:40 PM
WOW!
Amazing answers. What is that man smoking!
Posted by: S. Macklin at July 21, 2015 03:03 PM
Guidelines for posting
This is a moderated blog. We will not post comments that include racism, bigotry, threats, or factually inaccurate material.
Post a comment