« March 2015 | Main | May 2015 »
April 30, 2015
Fatwa? What Fatwa? Does Ayatollah Khamenei's Edict Exist?
The Washington Post ("Kerry seeks to assure Arab states over Iran deal,� March 6, 2015) casually referred to an unconfirmed religious ruling by Ayatollah Ali Khamenei that the all-powerful supreme leader of Iran may not have made. Khamenei purportedly issued a fatwa (an Islamic sharia law edict) against nuclear weapons, yet questions about both its very existence and potential meaning go unmentioned in the article.
It's hard to tell what the supposed fatwa says because there is no hard evidence of its publication nor is a clear date given for its issuance. According to a Washington Institute for Near East Policy (WINEP) paper, the fatwa was first reported in October 2003 by Tehran after August 2002 revelations that Iran was secretly building a centrifuge enrichment facility in Natanz.
The WINEP report notes the ayatollah's ability to alter or override fatwas and his shifting rhetoric with regard to earlier declarations. These reportedly condemned the creation of nuclear weapons, but more recent pronouncements explicitly ruled out only their use.
The existence of the edict seems to be entirely of a self-referential nature—it is asserted to exist but no written evidence supports the claim. This is unusual for an order of such importance, as the WINEP report notes.
The Post referred to the supposed fatwa almost in passing: "Iran insists it does not seek nuclear arms, which the country's supreme leader has declared are forbidden by Islam, but wants the capacity to make nuclear fuel for reactors that produce energy and medical isotopes.�
The Post's article is not alone in claiming Khamenei declared nuclear weapons off-limits to Iran under Islamic rule. In a speech to the U.N. General Assembly on September 24, 2013 President Obama stated, "the Supreme Leader has
issued a fatwa against the development of nuclear weapons.�
In November, 2013 Secretary of State John Kerry made a similar claim while in Geneva, Switzerland noting, "the Supreme Leader has indicated there is a fatwa, which forbids them to do this [acquire nuclear weapons].�
Doubts about the fatwa's existence recently appeared in an article by Andrew McCarthy ("The Khamenei Fatwa Hoax is absurd on its face,� National Review, April 16). McCarthy says that disbelief is warranted since fatwas must be written and accessible to be authoritative and the Iranian has a regime history of lying and reversing religious edicts for political expediency.--Sean Durns
Posted by ER at 02:52 PM | Comments (1)
Civil-Rights Veteran Slams the Anti-Israel 'Jim Crow' Smear
In an opinion piece in the New York Post, retired attorney and civil-rights activist Andrew Goldman writes:
In their campaign to smear the Jewish homeland, Israel's enemies regularly raid the history books for the worst examples of human cruelty. Israel has been compared to the former apartheid regime in South Africa and even Nazi Germany.

Now, Israel-haters across America are seizing on a fresh analogy — accusing Israel of replicating the Jim Crow South.

[…]

As a lawyer for the Council of Federated Organizations, an umbrella group that brought a wide array of civil-rights groups together, I was in there on the ground during the famous "Freedom Summer� of 1964.

We civil-rights workers triumphed when the landmark Civil Rights Act was passed in 1964. As we strove to achieve that goal, we never questioned the right of whites to live in the area, unlike the Palestinian leaders who assert that Jews are an alien presence.

We never threatened to drive the whites of the South into the Mississippi Delta, in marked contrast to the bloodthirsty Arab war cry of "driving the Jews� into the Mediterranean Sea.

We didn't have the support of entire nations who send money and arms to Palestinians and back terrorist attacks, as Arabs in the territories do today.

For that reason, I can no longer be a bystander as the noble legacy of the civil-rights movement is hijacked by a campaign whose goal is the destruction of Israel.
The entire piece is worth a read. Find it here.
Posted by SC at 09:48 AM | Comments (0)
April 29, 2015
Where's the Coverage? Israel Sent More Manpower Nepal than Nearly Any Other Country

Israel frequently sends aid teams to countries hit by natural disasters such as post-earthquake Haiti and tsunami-stricken Japan. Nepal is no different. The Times of Israel reports:
Israel's aid team to the earthquake-battered Himalayan nation of Nepal is one of the largest in manpower of any international aid mission.

Over 250 doctors and rescue personnel were part of an IDF delegation that landed Tuesday in the Nepalese capital, Kathmandu, in the wake of Saturday's magnitude-7.8 earthquake that devastated large swaths of the mountainous country, killing at least 5,000 and leaving some 8,000 wounded and tens of thousands seeking shelter and food.

The Israeli group set up a field hospital with 60 beds that began operations on Wednesday in coordination with the local army hospital.
By comparison, according to the BBC, the United Kingdom has sent "a team of more than 60 search and rescue responders and medical experts� and Time magazine reports that the United States is sending "about 70 American personnel�. Remember, Israel has a population of approximately 8 million. The United States is a nation of roughly 350 million. In that context, the magnitude of Israel's efforts is even more staggering.
But instead of lauding Israel's extraordinary response to Nepal's distress, the mainstream media seeks to cast Israel in a bad light, highlighting of all things the fact that a number of Israeli couples employ Nepalese women as surrogate mothers to carry their children. A Time magazine headline states that "Israel Evacuates Surrogate Babies From Nepal but Leaves the Mothers Behind� although, if a reader managed to make it to the sixth paragraph of the article, he would read that, of the women in Nepal still carrying Israeli babies:
The Israeli Attorney General Yehuda Weinstein said he would allow the most heavily pregnant to be flown to Israel to give birth and outgoing Interior Minister Gilad Erdan promised to remove immigration hurdles for the rest.
Newsweek also chose to highlight the surrogacy issue with its article, "Israel Evacuating Babies Born to Surrogate Mothers in Nepal� as did UPI with "Israel evacuates surrogate babies and their Israeli parents but left behind expectant mothers�.
Worse still, instead of clebrating Israel's herculean humanitarian efforts in a country half way around the world, as someone who cares about those in need would be expected to do, the executive director of Human Rights Watch, Kenneth Roth, actually tweeted, "Easier to address a far-away humanitarian disaster than the nearby one of Israel's making in Gaza. End the blockade!�
And here's something else interesting that the media chooses to completely ignore: the commander of Israel's field hospital in Nepal is a Druze, IDF Colonel Dr. Tarif Bader.
To keep abreast of Israel's aid efforts in Nepal, follow Libby Weiss, the Head of the IDF Spokesperson's North American Media Desk, on Twitter. You certainly won't hear about it from the popular press because… Where's the coverage?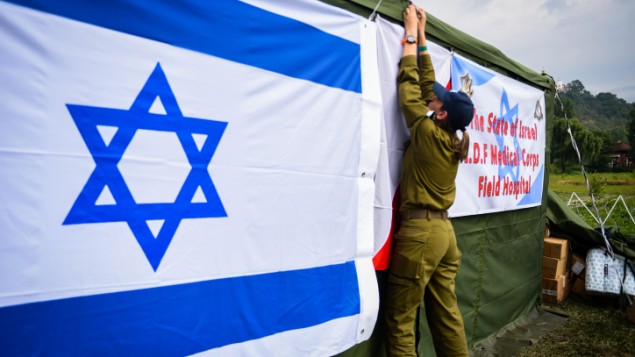 Israeli soldiers set up a field hospital together with the Nepalese army in Nepal following the deadly earthquake on April 29, 2015. (IDF Spokesperson)
May 4 Correction:Based on erroneous information provided by Times of Israel, and incomplete information provided by CNN, this post had originally reported incorrectly that Israel provided the most manpower out of any country for the aid operation in Nepal. In fact, India provided more manpower than Israel. We regret the error.
Posted by SC at 05:40 PM | Comments (10)
April 28, 2015
The Iran Nuclear Deal: What the NY Times Needs to Know
Concerning the terms of the framework nuclear deal between Iran and the six world powers, The New York Times is at odds with the U.S. State Department, the White House and . . . The New York Times. The Gray Lady reported yesterday ("New Amendments Imperil Measure on Iran in Congress"):
The interim agreement reached between Iran and six world powers would dismantle much of Tehran's nuclear program . . .
In fact, according to the U.S. State Department, the agreement will not dismantle much of Tehran's nuclear program. Tellingly, the State Department's April 2 "Parameters for a Joint Comprehensive Plan of Action Regarding the Islamic Republic of Iran's Nuclear Program" does not use the word "dismantle" even once. In fact, just one single element of Iran's vast nuclear program will be destroyed, according to the U.S. administration, which has noted that
The original core of the [Arak] reactor, which would have enabled the production of significant quantities of weapons-grade plutonium, will be destroyed or removed from the country.
As for more than 10,000 existing centrifuges that Iran would not be allowed to use under the framework deal, they would be mothballed. The "Parameters" document states:
All excess centrifuges and enrichment infrastructure will be placed in IAEA monitored storage and will be used only as replacements for operating centrifuges and equipment.
The document adds:
Iran will remove the 1,000 IR-2M centrifuges currently installed at Natanz and place them in IAEA monitored storage for ten years.
Also, "Iran's centrifuge manufacturing base will be frozen and under continuous surveillance," according to the U.S. parameters. In addition, also according to the government's parameters, "All centrifuges and enrichment infrastructure removed from Fordow and Natanz will be placed under continuous monitoring by the IAEA."

Thus, of all of the elements of Iran's nuclear program discussed in the State Department's "Parameters," only Arak's core may be destroyed (or removed).

In addition, the White House, including in its infographics about the deal, also does not assert that the agreement would "dismantle much of Tehran's nuclear program."

Indeed, in an article aptly headlined "The Iran Nuclear Deal: What You Need to Know," The New York Times' own foreign desk correctly reported April 4 ") that Iran:


Is allowed to keep its nuclear facilities, which it insists are for civilian uses only, but they would be subject to strict production limits. Two facilities will be converted into research sites without fissile material.

Cuts the number of its centrifuges, which are used to enrich uranium, by two-thirds to 5,060, and reduces its stockpile of low-enriched uranium from 10,000 kilograms to 300 kilograms -- not enough for a nuclear weapon -- for 15 years. Thousands of centrifuges will be put into storage.
On what basis does The Times assert this week, that contrary to official documents released by the U.S. government as well as its own earlier reports, that the interim agreement "would dismantle much of Tehran's nuclear program"?
Posted by TS at 07:27 AM | Comments (0)
April 26, 2015
More Palestinian Stabbings, Another NYT Headline Whitewash
Last November, when two Palestinians killed two Israelis in stabbing attacks, The New York Times took a clear, precise headline about the Palestinian violence ("Palestinian Stabs Israeli Soldier at Tel Aviv Train Station") and carefully edited it so as to blur Palestinian culpability ("Palestinians are suspected as 2 Israelis Die in Knife Attacks").
This weekend, two more Palestinians attacked Israeli police with knives, and once again The Times opts for a headline which whitewashes Palestinian responsibility for violence. The Times headline is "Israeli Officers Kill 2 Palestinian Men."

Similarly, the skewed headline in today's print edition is "Palestinian teenager killed by Israeli police."
But, as the accompanying article by Diaa Hadid itself makes clear in the first paragraph:
Two Palestinian men were fatally shot by the Israeli police after attacking officers with knives, one at a contested shrine in the West Bank and the other at a checkpoint near East Jerusalem, a police spokeswoman said Saturday.
Why report the effect without the cause? Why continue to depict Palestinians as "just victims," something that the paper's own public editor has cautioned against? What has The Times accomplished in the paper's supposed efforts to enhance its coverage if it has hired a new reporter, a native Arabic speaker (Diaa Hadid) "who can penetrate Palestinian society with understanding and solid news judgment," as public editor Margaret Sullivan put it, when the headline accompanying that reporter's article is so helplessly biased?
CAMERA has contacted Times' editors, urging them to provide a more informative, complete headline such as "Palestinians stab Israeli police, shot dead." What is so hard about that straightforward headline accurately depicting the nature and chronology of events?
See also "After Suspected Terror Attack Against Israelis, Early AP Headline Reported: 'Israeli Police Shoot Man in East Jerusalem'"


Posted by TS at 07:06 AM | Comments (1)
April 22, 2015
Human Rights Voices Chronicles Shocking Litany

Hangings in Iran

The important Web site, Human Rights Voices, carries out the daunting but critical task of exposing the deep and pervasive hypocrisy of the United Nations where Israel is concerned.
Founded and written by Professor Anne Bayefsky, Director of the Touro Institute on Human Rights and the Holocaust, the site chronicles the UN's relentless attacks against the Jewish state and the free pass it gives to many of the world's worst human rights abusers.

Despite Israel's tolerant culture that guarantees basic rights to all its citizens, the country is subject to an unrelenting process of denunciation in UN committees tasked with promoting human rights. Meanwhile, countless instances of flagrant abuses carried out by surrounding Muslim countries are ignored or dispensed with in a hum-drum and toothless manner by committees on which some of the worst human rights abusers sit in judgement.

Recent posts on the Human Rights Voices web site include:
International Criminal Court will investigate Israel, but not genocidal Isis
UN Security Council holds debate on "the Situation in the Middle East," but focus is on Israel
Christian and Jewish leaders criticize UN for failure to act to protect Christians from global persecution
A series of articles on a spate of hangings in Iran are a reminder of the silence of the media as well in the face of gross abuses in Iran. Iran's barbaric treatment of women, including sentencing several to death, has not stopped the Islamic Republic from winning a seat in the UN Women's Agency, making a mockery of the UN's campaign for international women's rights.
Posted by AL at 06:55 PM | Comments (3)
April 21, 2015
Violent Antisemitic Attacks Up 40 Percent -- Where's the Coverage?
Holocaust Memorial Day 2015 came one day after the release of a Tel Aviv University report detailing a dramatic increase in violent antisemitic attacks around the world. USA Today and The Washington Times provided prominent coverage for example of the report, but The Washington Post and The New York Times made no mention of it. The New York Times did run a feature pegged to Holocaust Remembrance Day, on preservation efforts at Auschwitz.
USA Today covered the university's Kantor Center report on page three of its April 16, print edition ("Violence against Jews surges�). The newspaper said the study detailed 766 recorded attacks against Jews in 2014, compared to 554 incidents in 2013, a 40percent surge. This increase included direct attacks against persons or institutions such as synagogues, community centers or private properties and vandalism at cemeteries or religious sites.
The report noted that "the overall feeling among many Jewish people is one of living in an intensifying anti-Jewish environment that has become not only insulting and threatening, but outright dangerous, and that they are facing an explosion of hatred toward them as individuals, their communities and Israel, as a Jewish state.�
The front page of The Washington Times' World section ("Rising Anti-Semitism,� April 16) also covered the Tel Aviv University report, under the headline "Rising Anti-Semitism.� The Washington Times noted, as did USA Today, that 2014 was the second worst year for attacks against Jewish people since 2009 when 1,118 assaults were recorded.
The paper quoted Ronald Lauder, president of the World Jewish Congress, saying "you don't have to be a mathematician to see an obvious trend here.� Maybe not, but that obvious trend did not rate a news brief in The Washington Post or New York Times.
The New York Times feature, detailing efforts to preserve the site of the Auschwitz concentration camp in Poland ("Preserving the Ghastly Inventory of Auschwitz,� April 16), appeared in its international arts section. An Associated Press dispatch datelined Jerusalem ("Netanyahu likens Iran, Nazis as he assails deal,� The Baltimore Sun, April 16) reported that "as Israel marked its Holocaust Remembrance Day, Prime Minister Benjamin Netanyahu compared Iran to the Nazis ... and warned Tehran must be prevented from obtaining nuclear weapons. Netanyahu linked the Nazi genocide of 6 million Jews in World War II to Iran's contested nuclear program and some of the Islamic Republic leaders' repeated references to the destruction of Israel.�
The newsworthiness of the Tel Aviv University survey of rising antisemitism, the historical connection and contemporary echo in Holocaust Day remembrances, and Netanyahu's warning seem obvious. But not, apparently, in The Washington Post and The New York Times newsrooms.
Where was the coverage? -- by Sean Durns
Posted by ER at 02:37 PM | Comments (2)
April 19, 2015
Stone-Throwing, Lost in Haaretz Translation
A Palestinian throws rocks at Israeli troops April 10, in Bet Omar, following the funeral of Jafar Awad (Photo by Abed Al Haslhamoun/EPA)
"Haaretz, Lost in Translation," that enduring phenomenon of Haaretz's English translators deleting information about Arab violence or wrongdoing which had appeared in the Hebrew original, strikes again.
This time, Haaretz translators transform a Palestinian stone-thrower who was fatally shot as he was engaged in violence against Israeli troops into a non-violent marcher who was shot for no offense greater than feeling rage over his cousin's death.
The English version of Gideon Levy's article Friday reads ("In death as in life"):
Two days later, last Friday, with the whole family at his side, Jafar died. His funeral took place the same day, and was attended by thousands.

Afterward, hundreds of enraged young people started to march toward the IDF checkpoint at the edge of the town. Troops from the Golani infantry brigade lay in ambush for them in the skeleton of an old Israeli bus that was abandoned long ago in the town. The mourners were in the street, the remains of the bus stood on the slope below.

Ziyyad Awad was distraught at the death of his beloved friend and cousin; he had been with him until his final moments.

The soldiers shot at Ziyyad. He was hit in the stomach and died, the rounds apparently fired with a .22-caliber Ruger rifle. Three other people were wounded, two of them in their upper body. The Military Police launched an investigation.
The original Hebrew version of Levy's article Friday notes that the crowd of Palestinian mourners had been throwing stones. It states:
The relevant sentence, underlined in red, means (CAMERA's translation):
Thousands accompanied him on his final journey and at the end hundreds of enraged youth approached the checkpoint at the exit of the city, and threw stones.
For some reason, this violence on the part of the Palestinian crowd was does not appear in the English article.
About the circumstances of Ziyyad's death, Reuters had reported:


Israeli troops killed a Palestinian stone-thrower and wounded several others in the occupied West Bank on Friday after a militant's funeral turned violent, hospital officials and witnesses said.

An army spokeswoman confirmed soldiers opened fire during the incident at Beit Omar, near the Palestinian city of Hebron, saying they had feared for their lives as protesters threw rocks and petrol bombs and rolled burning car tyres at them. (Emphasis added.)
Likewise, Associated Press reported on April 10:
After the funeral, Palestinians threw rocks at soldiers manning a watchtower on a road near the town, according to witnesses.

Israel's military said Palestinians threw rocks and firebombs, and rolled burning tires toward soldiers. It said troops used tear gas at first, but fired low-caliber bullets at the legs of four men after the soldiers felt their lives were in danger.
Haaretz reported the same day:


According to the Israeli military, about 700 Palestinians clashed with security forces following a funeral on Friday for a man who died from medical complications shortly after his release from Israeli prison. The mourners threw stones and firebombs at the Israeli troops, who responded with gas canisters and later the bullets. According to the Golani Brigade unit on the scene, four Palestinians were wounded by the Ruger rifle bullets that were fired at their legs.
CAMERA has contacted editors of Haaretz's English edition and requested a clarification noting that Awad had been throwing rocks when he was shot, and that according to the army, the crowd had also been throwing fire bombs. Stay tuned for an update.
UPDATE, 7:04 am EST -- Haaretz Adds Stone-Throwing
Following communication from CAMERA's Israel office, Haaretz editors have added in the information that some of the mourners at Jafar Awad's funeral were throwing rocks. The amended text now states:
Afterward, hundreds of enraged young people started to march toward the IDF checkpoint at the edge of the town and began throwing stones.
In addition, the following note was appended to the end of Levy's article:
This article was amended on 19/4/2015 to add the fact that some mourners at Jafar Awad's funeral threw stones at IDF forces.
Posted by TS at 04:47 AM | Comments (3)
April 14, 2015
Ya'alon: Israel Does Not Want War with Iran
Writing in The Washington Post ("Current Iran framework will make war more likely,� April 9, 2015 online, "A risky deal with Iran,� April 10 in print), Israeli Defense Minister Moshe Ya'alon refuted accusations his country would like to see the United States attack Iran on its behalf.
"The claim that the only alternative to the framework is war is false,� Ya'alon insisted. "It … stifles honest and open debate by suggesting that if you don't agree, you must be a warmonger. It also feeds and reflects the calumny that Israel in particular is agitating for war.�
The Israeli defense minister pointed out that Iran's Supreme Leader (a term that a few writers have said echoes Adolf Hitler's self-designation as der fuehrer, the leader), Ayatollah Ali Khamenei and his nuclear negotiators already were disagreeing with the White House over the framework's terms.
As Ya'alon and others observed, this was hardly surprising given the nature of the regime and history of hiding its illegal nuclear program. Disagreement over the framework's requirements almost as soon as they had been announced further highlighted the risk inherent in trusting Iran's revolutionary Islamic Republic to keep its word.
Not only did Israel not want to drag the United States into a war, as some critics have alleged, the reverse is true. His country has a vested interest in avoiding war with the Iranian regime, Ya'alon wrote. Alluding to Iranian leaders' oft-stated insistence Israel must be annihilated and Tehran's supply of tens of thousands of rockets to its Hezbollah surrogate in Lebanon and Hamas in the Gaza Strip, Ya'alon said Israel would "pay the highest price if force is used by anyone.�
Ya'alon, a retired three-star general (Israel's highest military rank) and former chief of staff, wrote that he has seen war personally and been "forced to bury some of my closest friends.� For such reasons, he opposed a deal he said makes war more likely.
Israelis know, Ya'alon stressed, that "the United States is Israel's greatest friend and strategic ally.� Rather than war with Iran, Israel seeks a better deal that actually achieves what negotiators set out to: rolling back Iran's nuclear infrastructure, he said.
A better deal, according to Ya'alon, would link "lifting of restrictions on its nuclear program to an end of Iran's aggression in the region, its terrorism across the globe and its threats to annihilate Israel.� He noted Iran's aggressive arming, financing, and training of terrorist and proxy groups in Lebanon, Syria, Yemen, throughout the Middle East and beyond. Not taking an expansionist Iran under its messianic theocracy at its word on nuclear negotiations but maintaining and increasing preexisting pressure, according to Ya'alon, would be the best bet to prevent conflict.
Indirect support for Ya'alon's position preceded his Post Op-Ed. Surveying threats on the horizon, General David Petraeus, former director of the CIA and U.S. commander in Iraq during the "surge� of American troops there, stated in a recent interview "…when it comes to Iraq, I frankly worry less about Islamic State than I do about the Iranian-backed Shia militias.� Petraeus also expressed his mistrust of Iranian claims regarding the purportedly peaceful purposes of its nuclear program. Petraeus said that underlying such skepticism "isn't just a U.S. or Israeli judgment,� but one shared by the International Atomic Energy Agency.
—Sean Durns

Posted by ER at 04:07 PM | Comments (0)
Low-Hanging Fruit: Human Rights Watch and Palestinian Child Laborers
"Israel's a sort of low-hanging fruit" a Human Rights Watch (HRW) board member acknowledged in an illuminating 2010 interview, and the organization's latest report "Ripe For Abuse: Palestinian Child Labor in Israeli Agricultural Settlements in the West Bank" exemplifies HRW's skewed and distorted treatment of Israel.
Take, for example, the report's accompanying publicity video, which got picked up by the Sydney Morning Herald. In the video, HRW researcher Bill Van Esveld claims that Palestinian children "have no option to work on Palestinian farms. Most of them don't exist anymore."
But this claim is belied by the facts. The Palestinian date sector has enjoyed significant growth in recent years. According to a report published by Paltrade and the Ministry of National Economy, among others ("The State of Palestine National Export Strategy 2014-2018"):
Palestinian fresh fruit exports have grown at a rate of 52%, compared to global import growth of 21% over the same time period.

The main fruit exports from the State of Palestine are nuts, dates, grapes, strawberries and almonds. The bulk of export growth for the sector has been driven by a rise of exports of dates. Palestinian exports of dates have risen from US$324,000 in 2007 to US$1.2 million in 2010, reflecting an absolute growth of over 250%.
Indeed, Nakheel Palestine for Agricultural Investment, located in the Jordan Valley, "cultivates a total of six Date Palm farms in Jericho, on the Palestinian side of the Jordan Valley, with a total number of 20,000 trees stretched along an area of 3000 Dunums."
CAMERA has asked HRW to correct Van Esveld's erroneous assertions that Palestinian children have no choice but to work in Israeli settlements and that "most" Palestinian farms "don't exist anymore" and to explain why Palestinian children would choose to work in Israeli settlement farms when Palestinian farms are situated nearby.
In fact, our colleagues at UK Media Watch, a CAMERA affiliate, note that David Elhayani, head of the Jordan Valley regional council, denied HRW's allegations, insisting tha "there were no children among the 6,000 Palestinians" employed by the regional council And they further point out that the photo used on the cover of the HRW report to illustrate the alleged illegal use of child labor by Israeli settlement farms in the Jordan Valley is actually a Reuters photograph by Mohamad Torokman, taken in 2010, that illlustrates work at a Palestinian farm, and not an Israeli settlement.
April 15 Updates: "UK Media Watch prompts correction to Human Rights Watch photo illustrating child labor report" and "UK Media Watch prompts correction to misleading photo illustrating HRW child labor report"
Posted by TS at 08:07 AM | Comments (1)
April 13, 2015
Haaretz, Abbas, Israel and Yarmouk Refugees
"Palestinian President Mahmoud Abbas is trying to aid the besieged Palestinians by creating secure escape routes from the camp," a Haaretz editorial last week praised the Palestinian leader for supposedly trying to assist Palestinian refugees residing in the Syrian Yarmouk refugee camp ("Politics aside: Israel must help Yarmouk's Palestinian refugees"). Haaretz simultaneously called upon Israel:
Israel must do its part in this international effort. It should sit down with Abbas to evaluate ways and means of helping these refugees, some of whom are related, very closely in some cases, to Arabs in Israel.

Among other things, Israel could offer Abbas the possibility of absorbing some of the refugees into the Palestinian Authority, defray some of the costs involved and provide medical services to those who manage to come. Political considerations and disputes with the PA should be set aside at this time. This is a humanitarian task of the first order that Israel cannot shirk.
Haaretz contributor Oudeh Basharat today echoes the sentiment that Israel must make an effort to assist the Palestinians of Yarmouk ("Why Doesn't Israel Help Palestinians in Yarmouk?"):
Why doesn't Israel coordinate with Palestinian Authority President Mahmoud Abbas and the Israeli Arab leadership to absorb Yarmouk refugees in the PA-controlled territories and among Israeli Arabs, as was suggested in the Haaretz editorial on Thursday ("Help Yarmouk's refugees,� April 9)?

Instead of running to the end of the world to show the beautiful face of Israel, extend a hand to your neighbor. Learn something from Jordan, a country that has no moral or political obligation to Syria yet has already absorbed more than a million refugees from there.
Newsflash to Haaretz: Over a year ago, it was the Palestinian leader, Abbas, who refused to put politics aside and agree to Israel's conditional acceptance of 150,000 Palestinians refugees from Syria into West Bank and Gaza so long as they gave up the "right of return" to Israel. As the Associated Press reported on Jan. 28, 2013:
Palestinian President Mahmoud Abbas said he asked U.N. chief Ban Ki-moon last month to seek Israeli permission to bring Palestinians caught in Syria's civil war to their homeland. Last week, he said that Israel agreed to allow 150,000 Palestinians refugees from Syrian into the West Bank and Gaza as long as they relinquished the right of return to what is now Israel. Abbas said he refused.
AP's Mohammed Daraghmeh reported on Jan. 10, 2013:
Abbas said Ban was told Israel "agreed to the return of those refugees to Gaza and the West Bank, but on condition that each refugee ... sign a statement that he doesn't have the right of return (to Israel)."

"So we rejected that and said it's better they die in Syria than give up their right of return," Abbas told the group. Some of his comments were published Thursday by the Palestinian news website Sama.
Does Haaretz have any words to spare on Abbas' death wish for his own people, whose entrance into the West Bank and Gaza he has rejected? Or was all of its righteous indignation about the welfare of the Yarmouk refugees spent on exhorting Israel to put aside politics to try to help the refugees, meanwhile ignoring that Israel had tried to do just that? Far from "creating secure escape routes from the camp," Abbas has blocked them.
Posted by TS at 06:33 AM | Comments (3)
April 10, 2015
Why Hasbara is Necessary
The director of CAMERA's Washington office, Eric Rozenman, has written a prescient article, "The Theory and Practice of Hasbara," that was published by the Jewish Policy Center in inFocus magazine. Rozenman emphasizes the important role played by Hasbara not only in countering immediate misinformation but in reversing the pervasive influence of the Palestinian narrative that portrays "Zionists as imperialists, Jews as colonialists, and Palestinian Arabs as oppressed, indigenous people."
Rozenman recounts that in September 2000, when the Second Intifada broke out, the Israeli government's media arm was caught flatfooted. Nothing exemplified this more than the Mohammed al-Dura affair. This was the incident where a Palestinian boy was caught on video tape pinned against a wall with his father during a gunfight between Israeli soldiers and Palestinian terrorists and allegedly shot and killed by Israeli fire.
According to Rozenman,

Images of the "martyred" youngster, Mohammed al-Dura, traveled across the globe. They turned up as partial, implicit justification in an al-Qaeda montage of the Sept. 11, 2001 attacks on New York City's World Trade Center, in images of Wall Street Journal reporter Daniel Pearl's beheading and in mass marches in European cities that featured "Down with Israel" and "Death to the Jews" banners.

Much later, after independent examinations cast doubt on the French television account and even whether al-Dura had been present during the firefight, an IDF re-enactment concluded that if any bullets struck the child and his father, they quite likely had been fired by Palestinian gunmen. This was far too late.
Since then, Israel has taken significant steps to improve its response to opposing propaganda. Rozenman describes the "nearly real-time checks instead of indefinite 'we'll get back to you' handling of press queries" and rapid web postings along with utilization of social media releases and battlefield video showing the IDF calling off attacks when civilians were present. In this way anti-Israel charges ranging from exaggerations to inventions were not allowed to "take on lives of their own" in the media.
Rozenman also addresses the broader question of why Hasbara is necessary. He asks and then answers, "so who is hasbara for?"
First, for supporters of the Jewish state. At a minimum, it's vital to prevent demoralization. Positively, it informs and encourages.

Second, for the undecided. Without a constant, sophisticated information effort—always factual and appropriately targeted—many originally in the "I don't know" category may succumb to delegitimization campaigns.

Only third come news and other communications media, from encyclopedia and textbook publishers through Hollywood to specialty outlets dealing with everything from religion to travel and fashion... [W]ithout it, Americans would end up with European-style media such as Britain's The Guardian and Independent, self-righteous in their hostility, eager enlistees in the anti-Israel psych war.
Rozenman adds that there is an often ignored fourth reason.
It is the past and the future. As George Orwell wrote in 1984 about the Party's compulsion to revise history, tossing inconvenient truths down the memory hole: "He who controls the past controls the future. He who controls the present controls the past."
Read the whole article.
Posted by SS at 03:22 PM | Comments (1)
April 05, 2015
Daily Beast's List of Admonitions to Staff is Missing an Important Entry
The Daily Beast's editor-in-chief, John Avlon, appeared as a guest on C-SPAN's Washington Journal (April 2, 2015) from his New York office. Plainly in view on the wall behind Avlon is a list of admonitions (only two) to staff:
1. DON'T BE BORING.
2. DON'T BE STUPID.
The omission of an obvious third admonition for journalists, "DON'T BE INACCURATE� (and perhaps also a fourth, "DON'T BE BIASED BY OMISSION�) may reveal more than intended about the mind-set, even if subconscious, at a number of media outlets. The Web site has become a frequently-quoted source of news reporting and opinions. As CAMERA continually documents, many print, broadcast and Web sites frequently are short on both accuracy and providing even minimum context including, if not especially, about the Arab-Israel conflict.
The Daily Beast's pair of warnings, however, raises a question about the performance of C-SPAN's Washington Journal hosts: Given their chronic tolerance of, if not pandering to, mendacious anti-Israel and sometimes antisemitic callers – is this journalistic failure due to being "stupid,� too "boring" to challenge such callers, or willful acceptance of defamation of Israel and Jews?

Posted by MK at 02:10 PM | Comments (0)
April 02, 2015
Where's the Coverage? Iranian Defector: U.S. Negotiators Argue Iran's Side

The United Kingdom's The Telegraph has reported:
A close media aide to Hassan Rouhani, the Iranian president, has sought political asylum in Switzerland after travelling to Lausanne to cover the nuclear talks between Tehran and the West.

Amir Hossein Motaghi, who managed public relations for Mr Rouhani during his 2013 election campaign, was said by Iranian news agencies to have quit his job at the Iran Student Correspondents Association (ISCA).
In a subsequent television interview, Motaghi described the talks he'd been witnessing, saying, "The U.S. negotiating team are mainly there to speak on Iran's behalf with other members of the 5+1 countries and convince them of a deal.�
Some blogs and niche publications have covered this, but major mainstream American news outlets have been silent on this enormous story. The U.S. negotiators are arguing Iran's side to our allies instead of trying to get the toughest deal possible, a deal which would block all of Iran's possible pathways to nuclear weapons, let alone nuclear weapons capability.
The U.S. negotiating team are mainly there to speak on Iran's behalf with other members of the 5+1 countries and convince them of a deal. Again, the U.S. negotiating team are mainly there to speak on Iran's behalf with other members of the 5+1 countries and convince them of a deal.
Where's the coverage?
Posted by SC at 07:40 AM | Comments (0)