« Moderate Rouhani or 'Moderate' Rouhani? News or Opinion? | Main | Haaretz Headlines, From Rock-Throwing 'Incidents' to Water-Pouring 'Attacks' »
March 03, 2015
Things to Know About USA Today's "Things to Know" on Iran Talks

There are two important things to know about USA Today's "5 things to know about the U.S.-Iran nuclear talks."
1) The Feb. 28 article, by Oren Dorell, understates the number of Iranian centrifuges to which the Obama administration has agreed. The piece errs:
The U.S. wants the current number of machine -- 19,000 with 10,000 running -- reduced to under 5,000.
In fact, it has been widely reported that the U.S. is willing to accept up to 6,000 Iranian centrifuges.

For instance, The Los Angeles Times reported:
The Obama administration has agreed to allow to operate 6,000 centrifuges to enrich uranium, up from a proposed ceiling of 4,000 reported two weeks ago, as part of negotiations for a nuclear deal, according to a website approved by the Iranian government.
Eugene Robinson, who is in favor of the deal, wrote in The Washington Post last week:
Negotiators are reportedly headed toward a deal in which Iran would keep around 6,000 relatively inefficient enrichment centrifuges, limit stockpiles of potentially fissile materials and submit all its nuclear facilities to rigorous inspection.
Likewise, David Ignatius wrote, also in The Post: "The deal taking shape would likely allow Iran about 6,000 IR-1 centrifuges at Natanz."
Also, Ignatius reported in The Post on Feb. 16:
The decision to reduce the exchange of sensitive information about the Iran talks was prompted by concerns that Netanyahu's office has given Israeli journalists sensitive details of the U.S. position, including a U.S. offer to allow Iran to enrich uranium with 6,500 or more centrifuges as part of a final deal.
In addition, Rep. Ted Deutch, a ranking member of the Middle East subcommittee, said in a Feb. 25 House Committee on Foreign Affairs:
So the frustration that some have -- and when you look at a deal that may ultimately include as many as 6,000 or 7,000 centrifuges, is trying to understand why Iran would need that many since currently there is one reactor . . .
In a CNN interview with President Obama on Feb. 1, Fareed Zakaria stated:
But if you listen to what people are saying in Congress about the prospective deal. I think everyone knows where it is, somewhere in the range of 5,000 to 6,000 centrifuges, it seems almost any deal you're going to bring to this Republican Senate, they are not going to go for.
2) In a second error, the article doubled the number of years that the Obama administration has said the agreement should last, erring: "Iran has said the agreement should last fewer than 10 years, while the Obama administration has said 20."
In fact, the Obama administration has agreed to a deal which would last just 10 years. About its interview with the President yesterday, Reuters confirmed:
Iran must commit to a verifiable freeze of at least 10 years on sensitive nuclear activity for a landmark atomic deal to be reached, but the odds are still against sealing a final agreement, U.S. President Barack Obama told Reuters on Monday ("Exclusive: Obama says Iran must halt key nuclear work for at least a decade").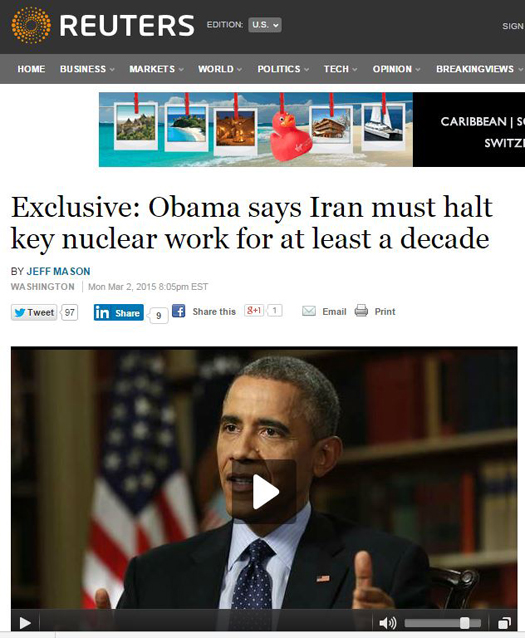 This information was available also before Dorell's Feb. 28 report.

The AP reported on Feb. 26:
Netanyahu hopes his speech will strengthen opposition to a potential nuclear deal with Iran, President Barack Obama's signature foreign policy objective. U.S. and Iranian officials reported progress in negotiations this week on a deal that would clamp down on Tehran's nuclear activities for at least 10 years but then slowly ease restrictions.
CAMERA has contacted editors to request corrections. Stay tuned for an update.
Posted by TS at March 3, 2015 07:43 AM
Comments
Guidelines for posting
This is a moderated blog. We will not post comments that include racism, bigotry, threats, or factually inaccurate material.
Post a comment