« Reuters Botches UN Human Rights Council Story | Main | PLO Fabricator Gets Washington Post Soapbox »
March 26, 2015
The Shiite-Sunni War Expands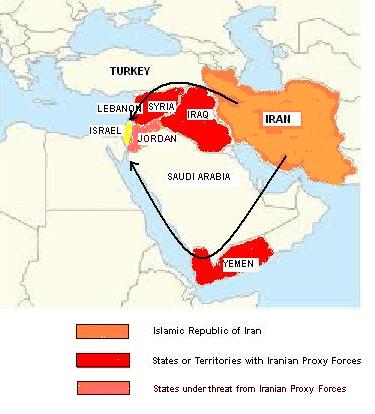 While much of the American media focuses on the Israeli elections and the fraying of U.S.- Israeli relations, the proxy war between Sunni and Shiite Muslims passed another marker on the road to a full-blown regional confrontation. Saudi Arabia has pulled together a coalition of ten Sunni Muslim regimes, including Pakistan, a non-Arab state that possesses nuclear weapons, and on March 25 initiated military action against the Iranian-backed Houthi rebels in Yemen. More than 100 Saudi aircraft reportedly conducted air strikes and Al Arabiya reports the Saudis have mobilized 150,000 troops.
Meanwhile, on March 24, a number of Middle East media sources reported the alleged comments by Iranian general, Qassem Soleimani, that Iran has the ability to control events in Jordan as it does in Lebanon and Syria. Iranian media outlets quickly denied these reports as "pure lies."
Iranian influence over Iraqi Shiite militias leading the Iraqi state's offensive against ISIS forces in the Sunni stronghold of Tikrit is widely acknowledged. The United States and other Western countries are reportedly providing air support to the Iraqi government forces (including Shiite militias) against ISIS.
So far, Turkey and Israel remain on the sidelines. But that may change as Iran and its proxies push on.
Posted by SS at March 26, 2015 10:52 AM
Comments
Guidelines for posting
This is a moderated blog. We will not post comments that include racism, bigotry, threats, or factually inaccurate material.
Post a comment