« Where's the Coverage? Israeli Elections Overseen by… Israeli Arab | Main | The Shiite-Sunni War Expands »
March 23, 2015
Reuters Botches UN Human Rights Council Story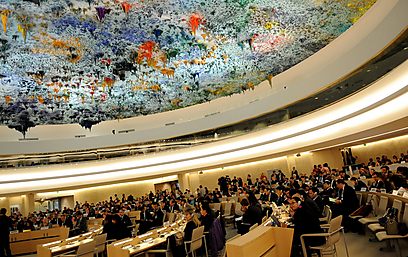 When the US representative indicated it would not take part in today's meeting United Nations Human Rights Council's semi-annual meeting on Palestine, or as UN Watch fairly describes it, Hate Israel Day, Reuters was quick to connect the dots, reporting:
The step is unprecedented at the 47-member state forum, where Washington has unfailingly defended Israel since US President Barack Obama became president in 2009.

The decision not to appear follows signals that the Obama administration is undertaking a "reassessment" of relations with the Jewish state.
The wire service, though, was a bit too quick to connect the dots. The move was not, in fact, unprecedented, nor did it portend anything bigger.
The American ambassador to the council, perhaps as a response to spin casting the US absence evidence of the threatened "reassessment," put out a statement indicating that "Our non-participation in this debate underscores our position that Item 7 lacks legitimacy, as it did last year when we also refrained from speaking." An Israeli foreign ministry source was quoted in Ynet indicating that the Jewish state requests its allies refrain from participating in the anti-Israel session.
Reuters later removed the word "unprecedented" from the language, and ultimately changed the text to note that the move was "part of a previous agreement not to speak."
"The decision not to talk since then was part of an agreement in October 2013 when Israel resumed participation in the U.N. Human Rights Council," the amended article now reads.
Reuters did not send the changes out as a "correction" even though the change was so significant that it completely reversed the premise of its initial story. In response to a question on a a Twitter discussion about the Reuters changes, one journalist suggested a correction would have been the appropriate way to go. We agree.
@GileadIni I hope so. If it had been my story, I would have pushed for a correction.

— Matt Lee (@APDiploWriter) March 24, 2015
Posted by at March 23, 2015 07:45 PM
Comments
Botched or Routine? So many blaming one country was cliche and now is hysterical. We mimick authority and seek approval from authority but mostly it becomes frenzied chatter between peers absent authority and restraint.
Posted by: Anonymous at March 24, 2015 03:25 PM
Guidelines for posting
This is a moderated blog. We will not post comments that include racism, bigotry, threats, or factually inaccurate material.
Post a comment