« Things to Know About USA Today's "Things to Know" on Iran Talks | Main | AFP Rewrites Netanyahu's Speech »
March 04, 2015
Haaretz Headlines, From Rock-Throwing 'Incidents' to Water-Pouring 'Attacks'
When a Haaretz English edition page-one headline last month referred to the rock-throwing attack which left a toddler permanently, gravely disabled as a "stone-throwing incident," Jerusalem Post Op-Ed editor Seth Frantzman tweeted: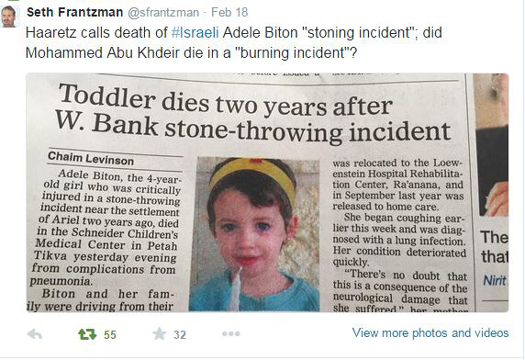 The online headline for the same article was: "Toddler dies two years after stone-throwing incident left her critically injured." (Only the subheadline online refers to the "attack which also left her mother and two sisters wounded." Emphasis added.)

The article itself also adopts the term "incident" to describe the attack which left Adele Biton permanently wounded and which apparently led to her death. It began: "Adele Biton, the 4-year-old who was critically injured in a stone-throwing incident . . ."
Frantzman's criticism is particularly relevant again in light of the front-page headline in Haaretz's English edition today about an event yesterday in which right-wing protesters dumped a cup of water on the head of MK Haneen Zoabi. The headline is: "MK Haneen Zoabi attacked by right-wingers at political panel." (Emphasis added.)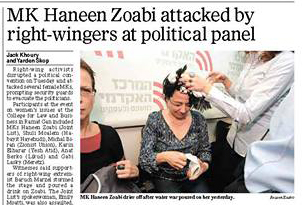 Likewise, the online headline is "MK Haneen Zoabi attacked at political panel." (Emphasis added.)

Regarding the incident targeting MK Zoabi, the article explained: "Witnesses said supporters of right-wing extremist Baruch Marzel stormed the stage and poured a drink on Zoabi." (The photo caption refers to the drink as water.)
Why is dumping water on someone's head, an act which did not cause any bodily harm, described as an "attack," but the hurling of rocks at a vehicle, which left a little girl permanently, seriously disabled labeled an "incident"?
In a separate but not totally unrelated inconsistency, the perpetrators (right-wingers) of the water "attack" are identified right in the print headline today and the very first words of the article (print and online).
In contrast, Adele Biton's attackers ("youths from the neighboring village of Kif el-Hares," ie Palestinians) were identified only in the very last paragraph of the story, and definitely not in the headline.
CAMERA has contacted Haaretz editors for comment, and will make it available if any is received. CAMERA staff have also requested a clarification regarding today's headline about an "attack" on MK Zoabi.
See also "In Haaretz News, 'Extremist' Marzel Vs. 'Outspoken' Zoabi'"
Posted by TS at March 4, 2015 03:27 AM
Comments
Guidelines for posting
This is a moderated blog. We will not post comments that include racism, bigotry, threats, or factually inaccurate material.
Post a comment