« January 2015 | Main | March 2015 »
February 24, 2015
Moderate Rouhani or 'Moderate' Rouhani? News or Opinion?
Is Iranian President Hassan Rouhani a moderate, or a "moderate�? In The Washington Post, he can be either, and within 24 hours. It depends on whether one is reading the news or opinion pages.
In the Feb. 9, 2015 print edition, under the headline "Kerry rules out extending Iran nuclear talks without an outline of deal soon; 'Fundamental decisions' have to be made in coming weeks, he says,� Post diplomatic correspondent Carol Morello wrote:
"The nuclear talks, which began a decade ago with Iran and were revived after Hassan Rouhani, a moderate [emphasis added], was elected president in 2013, have been the subject of much concern.�
But in the next day's editorial, "The message of Iran's actions; The country's foreign minister hopes a jailed Post reporter is 'cleared,' but his words aren't enough� the newspaper said:
"Some analysts of Iran have speculated that the persecution of Mr. [Jacob] Rezaian [Post Tehran bureau chief] is an attempt by 'hard-liners' and their allies in the judiciary to undermine the 'moderate' [single quotation marks in original, italics added] government of President Hassan Rouhani and the nuclear negotiations being conducted by Mr. [Mohammad] Zarif [Iran's foreign minister].�
Looking at the case of its imprisoned reporter in the framework of Western negotiations with Iran about its presumptive nuclear weapons program, the newspaper wasn't certain "whether there is a power struggle in Tehran or not …�
However, one can be pretty sure Rouhani is no moderate in Western political terms. CAMERA pointed out soon after his election ("Hassan Rouhani—The Extremists' 'Moderate',� June 21, 2013) that Rouhani has a career-long record as a loyal and sometimes deceptive, brutal servant of the Islamic Revolutionary Republic's messianic founder, Ayatollah Ruhollah Khomeini and his successor as supreme leader—Iran's ultimate decision-maker—Ayatollah Ali Khamenei. That record includes apparently presiding over authorization of deadly terrorist attacks on Americans and Argentine Jews.
Rouhani, like the similarly misidentified "moderate� Mahmoud Abbas, head of the Palestinian Authority, Fatah and the Palestine Liberation Organization, appears to be a pragmatist instead. That is, in each case, someone willing to use limited, "moderated� tactics in pursuit of broad, extremist strategies. (See, for example, CAMERA's "Those Intransigent 'Moderates' of Fatah,� May 6, 2014, in particular the last five paragraphs.)
In spite of Rouhani's record and The Post editorial page's doubts, Rouhani the unsubstantiated moderate reappeared in the paper's news coverage on February 19. A one-paragraph news brief, "Iran schedules 2016 parliamentary elections,� said, "the vote will be a key test for moderate [emphasis added] President Hassan Rouhani, who is looking for his allies to win the majority.�
The possibility that two factions of Islamic revolutionaries, one that speaks softly and the other that shouts, struggle for power under the gaze of Iran's top revolutionary, Ayatollah Khamenei, seems too subtle for the news pages.

Posted by ER at 05:01 PM | Comments (0)
Palestinian Propagandists Elicit Hate With Lies
Earlier today a number of news outlets fell for an atrocity story that blamed Israel for flooding in the Gaza Strip. The most notable outlet that fell for the story is AFP.
CAMERA contacted AFP to tell the organization that the story they broadcasted was false. In response AFP and a number of other news outlets pulled the videos of the flooding falsely blamed on Israel from their websites.
But the damage was done as was evidenced by a number of comments on a Facebook page showing a video of a flood that was falsely blamed on Israel.
Below are three screenshots of the comments that people posted in response to the false propaganda story. Some of the comments are downright antisemitic.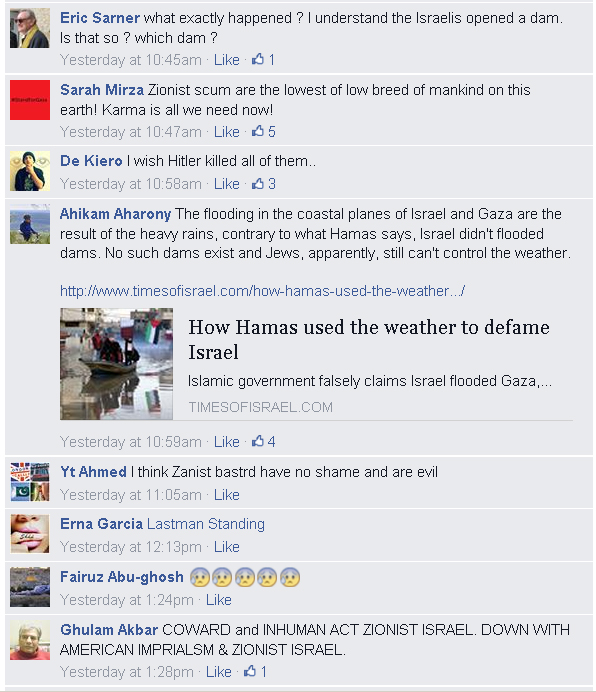 Posted by dvz at 03:24 PM | Comments (0)
Where's the Coverage? Half the "Journalists" Killed in Gaza Conflict Were Actually Terrorists

A recent CAMERA article, "The Associated Press Demonstrates Its Bias Against Israel,� demonstrates how the media manipulate casualty figures from the summer's Gaza conflict to unfairly indict Israel. On the other hand, when real information on Gaza casualties casts a negative light on Hamas, the press ignores it.
The Meir Amit Intelligence and Terrorism Information Center has done a study of the seventeen names provided by the Palestinian Journalists Syndicate purported to be journalists killed in Operation Protective Edge. The list was published by the Palestinian Authority's Wafa News Agency, which received it from the Hamas-controlled Gaza office of the ministry of information.
The Jerusalem Post reports:
"The study, not yet complete, found that eight out of the 17 names were operatives who belonged to Hamas and Islamic Jihad, or who worked in Hamas media outlets,� the report, published Thursday, stated.

[…]

Dr. Reuven Erlich, head of the Intelligence and Terrorism Information Center, compared the operatives to Islamic State cameramen who film the beheadings of hostages.

"To call them journalists is completely absurd. The fact that there are those in the world who bought into these lies is scandalous,� Erlich stated.
The fact that the casualty numbers are manipulated in every possible way to make Israel look like it is targeting civilians and journalists is indeed scandalous. And the fact that when the truth is exposed, the media neglect to report it, is journalistic malpractice. So, knowing that nearly half of the "journalists� killed were instead terrorists… Where's the coverage?

Posted by SC at 02:59 PM | Comments (0)
USA Today Re-Scoops Jerusalem Mayor's Heroics
The Washington Post reported it first, in a one-paragraph wire service news brief. The New York Times followed the next day with one sentence at the end of an online Israeli-Palestinian wrap-up that led with a fatal shooting by Israeli troops of a Palestinian man. That left the big front page color photograph and large caption, "Jerusalem Mayor Hailed As Hero; Jerusalem mayor Nir Barkat gestures as if firing a gun as he talks with Avraham Goldschmidt, 27, the victim of a stabbing attack. Barkat and his security team helped subdue the attacker� to USA Today.
Under "Jerusalem mayor wrestles Palestinian attacker in street,� set in the smallest headline type it uses, The Washington Post's February 23, 2015 item read, in its entirety:
"The mayor of Jerusalem said he and his bodyguard apprehended a Palestinian who stabbed an Israeli near city hall. Nir Barkat said he was riding in his car when his entourage spotted a 'terrorist' with a knife. He said he and his bodyguard leaped from the car, the bodyguard drew a weapon, and they held the man until police arrived. He said the Israeli who was stabbed was 'lightly injured.'�
USA Today, by contrast, used its large front-page display to tease to a February 24 article on page A-3 headlined "Jerusalem mayor praised as hero; Barkat helps stop man with knife� by correspondents Michele Chabin and Jane Onyanga-Omara. The lead paragraphs said, "Mayor Nir Barkat earned plaudits Monday—and won comparisons to a superhero—for his courage in helping apprehend a man who stabbed and wounded an Israeli in the street.
"Video footage showed Barkat, 55, and his bodyguard wrestling the attacker to the ground in Tzahal Square on Sunday, then helping the victim, an ultra-Orthodox Jewish man in his 20s. The attack was near the Old City, a major tourist destination.�
Among other things, the USA Today article said "it's not the first time Barkat, who has been mayor since 2008, helped victims of a terror attack in Jerusalem. Eleven years ago, he helped evacuate people from a bus targeted by terrorists, giving first aid and saving a woman's life, The Jerusalem Post reported.�
Barkat also said " 'terror will not frighten us. When you look at the statistics, Jerusalem is one of the safest places in the world, safer than New York, London, [or] Paris.' �
Kudos to USA Today and a query for The Washington Post and New York Times: If an important Palestinian official and his bodyguard helped apprehend an Israeli terrorist who had just stabbed an Arab, would you have covered it the same way?
Posted by ER at 02:20 PM | Comments (0)
February 20, 2015
Alarmed By Domestic Jihadis, Der Spiegel Piece Reconsiders Israel's "Wall"
As Europe is waking up to homegrown jihadi terrorism, some are reconsidering their criticism of Israel for the measures the Jewish state took in combatting Palestinian terrorism. An opinion piece in Germany's Der Spiegel recalls that
Israel is the first democracy to have extensive experience with Islamist terrorism. Before recent attacks on our own soil, Europeans loved nothing better than scorning the Jewish state's efforts to address terror. In the future, we may need to turn to the Israelis for advice.
Author Jan Fleischhauer observes,
The new Greek finance minister once called the West Bank security fence, built by Israel to protect its people from terrorist attacks, a "concrete monster." The barrier is always a key issue when critics of the Jewish state launch into their tirades.
The jump from "outrage over the wall to sympathy for terrorism is a small one," according to Fleischhauer. He recalls,
In 2005, left-wing superstar Giannis Varoufakis said we shouldn't be surprised when Palestinians strap on explosives belts. It's the kind of thing people say whose only experience with terror are occasional blowups with the spouse at home.
But times have changed, and at least some in Europe are taking a second look at how Israel dealt with Palestinian terrorists infiltrating into Israel and slaughtering its civilians. Fleischhauer writes,
In the two years prior to the erection of the controversial border installations, Israeli authorities counted 89 attacks, with 305 deaths and 4,942 injuries -- a significant number for a country with a population of just over 8 million. The number of casualties only began to fall after the construction of the wall. It's a success story that has never been viewed as such outside of the embattled country itself.
It's too soon to say whether Fleischhauer's exposure of the lifesaving successes of Israeli measures against terrorism, rather than the usual condemnation of "the Wall" that characterizes much of the discourse among influential elements of the media in Europe, will catch on. But at least it's a start.
Posted by SS at 12:39 PM | Comments (0)
February 18, 2015
On Swedish National Radio, Journalist Asks Why Jews Shouldn't Be Blamed for Antisemitism
File this as another reminder of why Americans must hold their media accountable so that it doesn't sink to the lows too often seen in Europe.
Here we see journalist Helena Groll asking, on a Swedish public radio station, whether Jews should be blamed for antisemitism, and demanding her Jewish guest make a case for why they should not.
The radio station has apologized.
Last month, BBC's Tim Willcox similarly informed a Jewish citizen of France (and countless thousands of viewers) that European antisemitism and the murders at a kosher market near Paris should be understood in the context of Israeli behavior.
Posted by at 11:14 AM | Comments (7)
Is an Iranian Assault on Israel Drawing Near?
A comprehensive report by MEMRI (Middle East Media Research Institute) warns of Iran's accelerated preparations for a massive attack on the Jewish state.
According to the report, Iran has established substantial forces within striking distance of Israel's border. The Iranians can call upon regional Shiite forces, including Hezbollah in Lebanon and a new Hezbollah force formed out of local Syrian militias numbering 70,000 that is made up of Syrian Alawites, Shiites and collaborating Sunnis.
However, to supplement this force, Iran has "130,000 trained Iranian Basij fighters waiting to enter Syria."
These forces only represent the first line. Iran, with a population of over 70 million and the allegiance of regional Shiites, has enormous manpower reserves that could be mobilized in time of war.
MEMRI quotes Yahya Rahim Safavi, former IRGC commander and security affairs advisor to Supreme Leader Ali Khamenei, who boasted in May 2014: "Our strategic depth reaches to the Mediterranean, and above Israel's head."
The MEMRI report continues,
"As part of this implementation, the Syrian Golan has become an Iranian theater of operation as well. This strategic Iranian presence in the Golan was at first clandestine... but later became public, and was accompanied by open threats to target Israel from the Syrian border."
The report identifies the arming of Palestinians in the West Bank and even sympathetic Israeli Arabs as one of the next steps.
The report does not discuss new revelations about advances in Iran's ballistic missile program, the introduction of new fighter jets or the recent disclosure of an Iranian built submarine capable of launching ballistic missiles. Nor does it mention Iran's ability to utilize its newly acquired strategic base in Yemen.
The MEMRI report concludes,
"Israel faces a fateful crisis. As much as it feared the Iranian nuclear program, it never imagined that Iran would be standing on its border even before its nuclear agreement with the Americans was complete. The Iranian threat to Israel is no longer theoretical, nor does it have anything to do with Israel's deterrent of using its nuclear weapons, which cannot be used considering the international power balance. The threat has become direct, practical and conventional."
One conclusion that is implied, though not spelled out, is the importance to Iran of completing an agreement on its nuclear program that leaves its capability intact. With a capacity to rapidly deploy nuclear weapons, Iran could nullify any Israel threat of using un-conventional weapons with one of its own.
One only hopes that MEMRI underestimates the foresight of the Israeli defense establishment and that Israel has been actively developing the means to counter the imminent and escalating Iranian threat.
Posted by SS at 10:34 AM | Comments (1)
In Haaretz News, 'Extremist' Marzel vs. 'Outspoken' Zoabi
"Zoabi and Marzel should not be treated equally," posited the Feb. 15 Haaretz editorial ("Israel's ban of Arab lawmaker from election is unjust"), referring to last week's decision by the Central Elections Committee to disqualify MK Haneen Zoabi (Balad) and Baruch Marzel from the upcoming Israeli elections.
Haaretz's English news writers apparently agreed. That alone is not a problem. Haaretz news reporters and translators, along with the editorial writers, are entitled to their personal opinions on every subject.
But it is a problem when Haaretz journalists inject their personal views into news articles. Which is just what happened in a Feb. 12 news article which began:
The Central Elections Committee on Thursday disqualified a Jewish far-right extremist and an outspoken Arab lawmaker from running in the March election. (Emphasis added.)
Israel Press Council's "Rules of Journalistic Ethics" states: "A newspaper and a journalist shall distinguish in the publication between news items and opinion."
By what criteria, did the translators/English writers determine that Haneen Zoabi is "outspoken" (which carries a positive connotation), as opposed to "extremist," like Baruch Marzel?
The article's headline -- "Jewish extremist, Israeli Arab lawmaker disqualified from Knesset run" -- contains the same double standard. (Marzel, a member of the outlawed Kach party, is identified as extremist, and Zoabi, who has said that the Palestinians who kidnapped and murdered three Israeli teens are not "terrorists" and whose writing has appeared on Hamas' Web site, is not subject to any qualitative description. Just her profession is noted.)
Moreover, in what way does this language comply with the Israel Press Council's call for objectivity? Specifically, its guidelines state that "A newspaper and a journalist shall distinguish in the publication between news items and opinion." By applying inconsistent language, Haaretz mixes news and views.
Posted by TS at 04:15 AM | Comments (3)
February 17, 2015
Iranian Encirclement of Israel Procedes Apace
Iran continues to implement its encirclement of Israel. In the past week we have learned of the following developments:
Shiite militias are taking over from the Iraqi army as the main military force in Iraq opposing the Islamic State (ISIS). The growing and increasingly effective Shiite militias outnumber the disintegrating Iraqi army by two and a half to one. The Washington Post reports that senior Iranian Revolutionary Guard official Abu Mahdi al-Muhandis has assumed the role of coordinating these Shiite forces. He has been linked to terrorist attacks against the United States.
Iranian Revolutionary Guard and Hezbollah forces have assumed the main role of fighting Syrian rebels as the Assad regime's Syrian army forces continue to diminish. Iranian general Qassem Soleimani is frequently mentioned as having taken charge of the war in Syria. Soleimani also reportedly visits Iraq and appears to have overall command of Shiite forces in both Iraq and Syria.
Meanwhile the Washington Post reports that Hezbollah chief Hassan Nasrallah has publicly acknowledged that Hezbollah forces are fighting in Iraq.
Iran and its surrogates now control the most important military forces aligned with the states of Syria and Iraq and the most powerful military force in Lebanon. With the takeover of Yemen by another Iranian proxy, the Shiite Houthis, Iran can threaten Israel from three directions.
An article in the Israeli newspaper Yedioth Ahranoth reporting on the appointment of a new chief of staff for the Israeli Defense Forces discloses that the Israelis now recognize a looming "major conflagration" against Iran and Hezbollah on Israel's northern front.
Iran has maneuvered itself into a favorable position diplomatically as well. The United States is reportedly keen on making a deal with the Islamic Republic on its nuclear program. Israel considers the proposed agreement to be a capitulation to Iranian demands. Angered by the outspoken Israeli opposition to the proposed deal, the Obama administration has reportedly decided to cut Israel out of the loop on its discussions with the Iranians.
Meanwhile, the United States and other western powers continue to bomb ISIS, effectively serving as an airforce for the Iranian-backed forces that oppose the Sunni extremists.

Posted by SS at 12:30 PM | Comments (1)
February 11, 2015
Where's the Coverage? NY Times Correction Undermines Anti-Netanyahu Narrative Promoted by… NY Times

The Tower Magazine reported:
A correction published in The New York Times on Friday shows that a key report was mistaken in earlier reporting on Israeli Prime Minister's Benjamin Netanyahu's acceptance of House Speaker John Boehner's (R – Ohio) invitation to address a joint session of Congress in March. This, despite the fact that Boehner's office released a detailed timeline two days earlier. The report played a central role in the widespread controversy that ensued about the propriety of Netanyahu's acceptance of the invitation.

The original article reported that Netanyahu had explained why he accepted the invitation from Boehner "without first notifying the White House.�

The correction states that the White House had indeed been informed prior to Netanyahu's acceptance.
Indeed, here is the correction in The Times:
Correction: January 30, 2015 An earlier version of this article misstated when Prime Minister Benjamin Netanyahu of Israel accepted Speaker John A. Boehner's invitation to address Congress. He accepted after the administration had been informed of the invitation, not before.
American Thinker notes that the protocol followed in arranging Netanyahu's speech this year is no different than protocol followed in 2011:
In 2011, Boehner sent a notice to the WH stating his intention to invite Netanyahu to speak before a joint session of Congress. The White House never responded (spite? incompetence?) and Boehner proceeded to extend the invitation to Netanyahu. Netanyahu accepted the invitation and spoke. The White House did not express any outrage in 2011.

[…]

Boehner clearly assumed the same series of events was occurring when the White House failed to respond this time to the notice given to the White House before he sent an invite to Netanyahu. (Hat Tip: CJL and LR).

However, the correction, and the fact that it completely undermines "speechgate,� has only been reported in some blogs, Jewish, Israeli or niche media.
Indeed, even after the correction, Times columnist Thomas Friedman continued to flog the false narrative.
Where are the journalistic ethics? Where's the fact-based reporting? And, at the very least, when it comes to the correction of the record on the issue of Netanyahu's upcoming speech… Where's the coverage?
Posted by SC at 06:35 PM | Comments (4)
February 10, 2015
CNN's Zakaria Puts Foot in Mouth Again with Israel-ISIS Analogy
Fareed Zakaria's take on Feb. 9, 2015 cited the Irgun, a covert Jewish group in British Mandatory Palestine, as an inspiration for ISIS' (Islamic State in Iraq and Syria) terrorism. Irgun was one of three Jewish underground military organizations in 1945-1948 that fought to bring about the end of the U.N. Mandate and the establishment of a Jewish state. Zakaria has demonstrated a compulsion to see Israel darkly, regardless of facts (examples here, here, here), and this is one more piece in the pattern.
Here, Zakaria implicitly equates ISIS to Irgun — Islamic fundamentalists who commit mass murder of children, trade captured minority women as "wives" and "execute" prisoners by beheading and immolation to Jewish nationalists who usually attempted to avoid non-combatant casualties.
ISIS slaughters and enslaves as many as it can of those opposing its ideology bent on establishing a world wide caliphate under sharia (Islamic law). The Irgun aimed primarily at destroying property, typically targeting British and British-affiliated facilities, although there are historical accounts of it killing and wounding Arabs in reprisal attacks that were criticized by many Palestinian Jews.
It used violence to attempt to compel Great Britain either to fulfill its responsibility under the League of Nations/U.N. Mandate for Palestine and let Jewish refugees, particularly those in Europe displaced by the Holocaust, in or to terminate the mandate and get out. The Irgun was not trying to force non-Jews to convert or, unlike ISIS's dreams of a regional if not worldwide "caliphate," impose Jewish rule over the Middle East and beyond.
Zakaria said, "The group [ISIS] well understands that the primary purpose of terrorism is to induce fear and overreaction… The Irgun knew that they could not defeat the mighty British Army so they decided to blow up buildings and create the appearance of chaos.�
On Irgun, Zakaria scavenges a 40-year-old article by historian David Fromkin. Writing in Foreign Affairs ("The Strategy of Terrorism� in July, 1975 issue). Fromkin recounted what an Irgun founder said in 1945 at a meeting in New York:
"His organization would attack property interests. After giving advance warning to evacuate them, his small band of followers would blow up buildings. This, he said, would lead the British to overreact by garrisoning the country with an immense army drawn from stations in other parts of the world. But postwar Britain could not afford financially to maintain so great an army either there or anywhere else for any extended period of time... the plan of attacking property without hurting people proved to be unrealistic. Accidents inevitably occur when violence is unleashed …The bloodshed caused by the Irgun isolated it politically and alienated the rest of the Palestinian Jewish community... Yet despite its flaws, the strategy was sufficiently ingenious so that the Irgun played a big part in getting the British to withdraw.�
The Irgun did play a part in raising the cost to Great Britain — depleted of manpower, impoverished by World War II and facing challenges in colonies such as India — of hanging on to its Palestine Mandate. But in doing so, its tactics were far from ISIS' use of self-publicized wholesale and retail barbarism to outdo its parent, al-Qaeda, in imposing sharia, harsh Islamic religious law, on as much territory as possible. Zakaria's Irgun-to-ISIS analogy, hijacking Fromkin's article that essentially dealt with other issues in the rise of modern terrorism, is one more symptom of his underlying Israel-obsessive syndrome.
What's the secret of Zakaria's charmed life on CNN? Viewers see what CNN management still won't; in addition to past plagiarism and insufficiently cited sources, his misplaced appeals to authority and tortuous analogies do not make Zakaria a foreign policy expert. Rather, they undermine his pretense to being one.
Posted by MK at 07:20 PM | Comments (1)
Church of England Lowers the Boom on Stephen Sizer
Rev. Dr. Stephen Sizer, a profligate purveyor of hostility toward Jews and Israel, has finally been held to account in a meaningful way. It took a lot longer than it should have, but when the Church of England finally decided to act, it really lowered the boom, extracting a promise from Rev. Sizer that he would bring his antisemitic antics to an end or resign. In a letter to his bishop, Sizer promised not to post any more links or even make any more public statements about the Middle East – ever – and to stay off social media for the next six months. Sizer said that if he breaks his promise, he will resign as vicar an Anglican Church in Virginia Water, England.
Sizer made this promise to Right Reverend Andrew Watson, the newly appointed Bishop of Guilford, who is shown in a video above making the announcement about Rev. Sizer's promise.
Bishop Watson's decision to lower the boom was a long time coming. For more than a decade, Rev. Dr. Stephen Sizer has been attacking the doctrine of Christian Zionism, a theology he regards as heretical. That's his right as a Christian theologian, but as he has assailed Christian Zionism, he has demonized Israel and promoted hostility toward its Jews, portraying them as undermining the democratic process, particularly in the United States.
And in his vitriolic and hyperbolic attacks on Christian Zionism and its alleged influence on the American government, Rev. Sizer has also promoted anti-Americanism, portraying the U.S. as doing the bidding of the Jewish state and in so doing, bringing disaster onto Arab and Muslims in the Middle East (as if their leaders have not themselves brought disaster onto the countries they govern).
Sizer has brought his message of contempt to audiences in that bastion of freedom and democracy, Iran, speaking at an anti-Israel conference held in that country in 2014. He has also made numerous appearances on Iran's antisemitic television station, Press TV. In 2009, he told Alan Hart that that Israeli Jews might face exile because of their inability to make peace with the Palestinians, as if Israel can bring a unilateral end to its conflict with Hamas. Sizer also spoke at an Iranian-organized Holocaust denial conference held in Jakarta in 2008 at which conference organizers said hateful things about Jews and Israel.
Sizer himself has even suggested that Jews were responsible for the attack on September 11, 2001, which resulted in the deaths of more than 3,000 U.S. citizens. Osama Bin Laden took credit for the attack but that's not good enough for Rev. Sizer.
In his 2004 book on Christian Zionism, Rev. Sizer suggested that it was Jews, and not Al Qaeda that perpetrated the attack. It's right there in a footnote on page 251 of his text Christian Zionism: Road Map to Armageddon (Inter-Varsity Press, 2004) highlighted by the indefatigable blogger at Hurry Up Harry, which also quotes a now-hidden 2010 entry on Sizer's blog, in which he promotes the same theory that blames Israel for 9/11.
On one hand, the editors at Inter-Varsity, who published Sizer's 2004 book, should be ashamed of themselves for printing a text that promoted such a baseless conspiracy theory. (The book has been translated into Farsi for Iranian audiences, by the way.) But on the other hand, maybe there was something providential about the feckless incompetence of the folks at Inter-Varsity Press.
By publishing a 2004 book in which Rev. Sizer promotes the notion that the Jewish state perpetrated 9/11, Inter-Varsity helped give lie to a recent statement in which the vicar denied that he ever believed such theories. "I have never believed Israel or any other country was complicit in the terrorist atrocity of 9/11, and my sharing of this material was ill-considered and misguided.�
If Rev. Sizer never believed that Israel perpetrated 9/11, then why did he repeatedly draw attention people who said it was responsible for the attack? His denial just doesn't make any sense. Any reasonable person would conclude he agreed with the accusations against Israel; that's why he repeated them.
Sizer made this statement on January 30, 2015 after his superiors at the Church of England finally indicated that they had enough of his antics. They lost their patience with Sizer after he posted on Facebook a link to an article accusing Israel for 9/11. That was the straw that broke the camel's back.
After some deliberation, the Bishop of Guilford placed Rev. Sizer under a cone of silence under which he will "refrain entirely from writing or speaking on any theme that relates, either directly or indirectly, to the current situation in the Middle East or to its historical backdrop." He is also barred from attending any conferences related to the subject. He cannot even recruit others to speak on his behalf about issues related to Israel.
In response to this decision, Rev. Sizer's supporters in the 9/11 Truther community (and they are legion) have complained that his right to free speech has been usurped.
Not by a long shot.
Sizer is an ordained minister on the Church of England. As a result of his ordination, Rev. Sizer is obligated to speak and behave in a manner that does not bring scandal or shame onto the church he serves – an obligation that he has failed to fulfill for quite some time.
In response, the Church of England finally acted. If Rev. Sizer wants to keep promoting hatred and contempt, he can do it, just not as an Anglican vicar.
Sizer, a man of the cloth, has lent credence to naked Jew-hatred and for that he and his church should be ashamed.
Thankfully, his actions have finally received the rebuke they deserve.

Posted by dvz at 01:23 PM | Comments (6)
February 06, 2015
Iranian Statements Taunting the United States Ignored by Most of the Media
According to conservative media sources, officials of an increasingly emboldened Iran have taken to delivering derisory statements about the United States and its handling of negotiations over the Islamic State's nuclear program.
The Washington Free Beacon reports on Feb. 5, 2015,
Mohammad Reza Naghdi, the commander of the Basij, a paramilitary group operating under the wing of the Iranian Revolutionary Guard Corp (IRGC), recently claimed that the "Americans are begging us for a deal on the negotiation table,� according to comments published in Persian and independently translated for the Washington Free Beacon.
Naghdi added that American officials routinely "plead� with Iran in talks and that the United States is negotiating from a position of weakness, according to his comments, which follow earlier reports claiming that Iran's leading negotiator "frequently shouts� at U.S. officials.
The Free Beacon also cites Associated Press dispatches indicating that the United States is "conceding ground to Iran in talks" and that "regional experts say that the Iranians feel that they are in a position of power in the talks and believe that the Obama administration is desperate to ink a deal."
Separately, Iran's PressTV (the English language mouthpiece of the Islamic Republic) on Feb. 5, 2015 carried the translated comments of Deputy Chief of Staff of the Iranian Armed Forces Brigadier General Massoud Jazayeri, who stated, "Gone are the days when the U.S. was a superpower, but some still haven't realized it."
The Washington Post published an editorial on Feb. 5, 2015, acknowledging a perceived loss of resolve in the American negotiating position, writing,
First, a process that began with the goal of eliminating Iran's potential to produce nuclear weapons has evolved into a plan to tolerate and temporarily restrict that capability.
But a Google search using key words The New York Times and words relating to the above-mentioned stories, did not turn up coverage of these comments by Iranian officials by the Times. Instead, the Times' coverage of the Iranian nuclear program overwhelmingly consists of extensive criticism of Israeli Prime Minister Benjamin Netanyahu's acceptance of an invitation to speak before the United States Congress and related criticism of the Congress for "sabotaging" the Obama administration's negotiating gambit with the Iranians by threatening to impose more stringent sanctions on Iran against the President's wishes. In contrast to the Free Beacon's piece, the Times published an article on Feb. 5, 2015, "Iran's President Accuses the West of Distorting Atomic Plans," quoting Iranian President Hassan Rouhani that Iran "neither covets nuclear weapons nor aspires to have them."
The World's largest media organization, the BBC, also exhibits little interest in the comments reported by the Free Beacon or PressTV. A review of the BBC World web site finds little recent discussion of Iran, although, the web site advertises a special program hosted by Middle East editor, Jeremy Bowen, known primarily for his antagonism toward Israel, on life in Iran, that airs on Feb. 6, 2015. It will be interesting to see if the BBC perspective differs in any substantial way from the Times. These two major news organizations often reflect the same political agenda and priorities when it comes to their handling of the Middle East.

Posted by SS at 10:46 AM | Comments (2)
February 05, 2015
Where's the Coverage? PA Official Calls Netanyahu a Nazi

The Palestinian Authority is run by Fatah, the political party of President Mahmoud Abbas. Fatah Central Committee deputy secretary and the head of the Palestinian Supreme Council for Sport and Youth Affairs, Jibril Rajoub, recently compared Israeli Prime Minister Benjamin Netanyahu to Adolf Hitler, saying the Likud prime minister follows "the Nazi model.� The Times of Israel reported that Rajoub:
…charged in a Russia Today TV interview that Israel "practices official terrorism, violates human rights, and ignores all UN resolutions.�

"Netanyahu is a distorted replica of the Nazism of the 1940s,� Rajoub said in the interview, translated by US-based media watchdog MEMRI. "He has found himself isolated, because people realize the danger that his racism and fascism poses to peace and global stability. He reacts to the crisis in this fascist, Nazi, racist manner.�
Even coming as we mark the 70th anniversary of the liberation of Auschwitz, the media has completely ignored this outrageous statement. Why?
If there's an argument that Rajoub is not an important Fatah minister and therefore his comments should be disregarded, that's not the case. Only a few weeks ago, a media student criticized Rajoub after the Palestinian soccer team lost a game. Palestinian intelligence services arrested him for "insulting a public official". That's clout.
Or, perhaps one could contend that this comment is out of character for Rajoub. This is also not the case. This remark is by no means the first outrageous statement from the Fatah official who once said, regarding Israel, "We as yet don't have a nuke, but I swear that if we had a nuke, we'd have used it this very morning.� This, too, was ignored by the news media.
Jibril Rajoub has been called "moderate� by many major news outlets. Perhaps the fact that his comments do not in any way support this "moderate� description and do not fit with the media narrative is the answer to our question… Where's the coverage?
Watch video of Rajoub's comments:
Posted by SC at 05:15 AM | Comments (4)
February 04, 2015
Vaccines, Racists, and the Discriminatory Standard
Some politicians are saying some things about vaccines and the role the government plays in public health. And here's what The Wall Street Journal stated yesterday on that subject:
Government doesn't "force" parents to vaccinate children. The states impose penalties (such as barring attendance in public schools) on those who pose a risk to public health by refusing vaccinations against infectious diseases.
Yes, in the United States, government often penalizes those who don't vaccinate their children. It's been that way for a long time. Why, then, hasn't US immunization policy been described as racist in the pages of major newspapers? You see, The New York Times and The Wall Street Journal have both relayed the absurd charge that Israel's policy penalizing families that don't immunize children amounts to anti-Arab discrimination.
Again and again, The Times has treated as credible the comically absurd list of supposedly discriminatory laws promulgated by the anti-Israel advocacy group Adalah. Israel has "50 discriminatory Israeli laws," a recent Op-Ed claimed, citing Adalah. Same thing on the news pages. Wall Street Journal fact-checkers also gave a pass to the same charge.
But even a cursory examination of the charge would show that Adalah's list includes, along with other completely innocuous statutes, Israel's law that withholds certain benefits from families (of any ethnicity or religion) that don't immunize their children. (You can read more about those charges here.)
Discriminatory? Of course not. And it's safe to say that no other country is slurred in this way for policy meant to ensure immunizations. Israel is singled out with rhetorical abuse for rather mundane public health policy. Editors at major newspapers are playing along. How's that for discriminatory?
Posted by at 11:52 AM | Comments (0)
February 03, 2015
'Medical Marijuana without the High'? Washington Post Gets It
It's the kind of feature article one is unlikely to read, see or hear in many major news outlets, but The Washington Post gave the top half of its first "The World� section page on Feb. 2, 2015 to "Medical marijuana without the high; Israel is at forefront of research, but export of plant doesn't appear to be on the horizon�. And The Post was two years behind The New York Times, which ran a major feature on the topic, "Safed Journal: Studying Marijuana and Its Loftier Purpose," by Jerusalem correspondent Isabel Kershner, on Jan. 1, 2013.
A four-column by five-inch Reuters color photograph, with the cutline "A worker tends to cannabis plants at a plantation where researchers say they have developed a marijuana that will not get patients high� illustrates this latest coverage by The Washington Post, correspondent Anne-Marie O'Connor's 1,120-word report. It told readers that "in a greenhouse in the mountains of the Galilee, a technician in a lab coat is coddling a marijuana seedling that is coveted for life-saving medical benefits for epileptic children, doctors say—without the high.
"Named 'Rafael,' for a healing angel called upon by Moses, this varietal of cannabis is for people who don't want to be under the influence, and it is available in oral doses in Israel.�
The Jewish state, The Post adds, "has become a world leader in science on the medical uses of marijuana�—including treatment of Crohn's disease, basal cell carcinoma, Parkinson's and other illness. One of Canada's leading producers of medical marijuana, "MedReleaf, is tapping Israel's expertise in a 2014 partnership it signed in May 2014 with Tikun Olam, whose name means 'Healing the World' in Hebrew.�
But, according to the dispatch, the Israeli government has not yet allowed producers to export their products, only their expertise. While agricultural officials are said to favor product exports, their security counterparts do not. Nevertheless, "Israel's medical cannabis research and development is drawing global interest, including an Australian firm and a leading American researcher.
A newsworthy Israeli story that had nothing to do with the Palestinian Arabs, and both The New York Times, frequently criticized by CAMERA for a chronic anti-Israel tilt in coverage and commentary, and The Washington Post,, itself sometimes prone to filter news through "the Palestinian narrative," recognized and played it prominently.
Correction: An earlier version of this SNAPSHOT said The Post's medical marijuana report was the kind of Israel-related coverage readers were not likely to see in The New York Times, among other media. The Times covered the story on Jan. 1, 2013. We regret the error.

Posted by ER at 04:39 PM | Comments (3)
Updated: New York Times Understates Hamas Rocket Attacks, Relocates Hezbollah Attack
Update: NY Times Corrects: Thousands, Not Hundreds, of Rockets Targeted Israel
In recent days, The New York Times has misreported attacks by both Hamas and Hezbollah directed at Israel. Today, The Times grossly understates the number of rockets that Palestinians in Gaza fired at Israel during this summer's conflict ("Leader of War Crimes Inquiry Into 2014 Gaza Conflict Resigns"). Somini Sengupta refers to "the Gaza conflict, in which Palestinian militants fired hundreds of rockets into Israel."
In fact, Palestinians launched thousands, not hundreds, of rockets at Israel during this summer's conflict. Israel identified 3,852 rocket hits on Israeli territory. The Iron Dome intercepted another 735 rockets. These figures do not include the hundreds of mortars that Palestinians fired at Israel. Nor does it include the rockets that Palestinians fired at Israel, but which fell short, landing in the Gaza Strip.

Last week, The Times' Isabel Kershner correctly cited the number of rockets that Palestinians fired at Israel this summer, writing on Jan. 28 ". . .Hamas and other militant groups fired thousands of rockets into Israel . . . "
In a separate article last week, The "Paper of Record" incorrectly reported that Hezbollah's fatal attack on Israeli soldiers last Wednesday took place on the disputed strip of land called Mount Dov/Shabaa Farms, next to the border with Lebanon. In fact, the attack took place near, but not on, Mount Dov.

The Times reported ("Hezbollah Kills 2 Israeli Soldiers Near Lebanon," Jan. 29):


Hezbollah antitank missiles killed two Israeli soldiers as they drove in a disputed area along the Lebanese border on Wednesday . . .

The Israeli soldiers were killed at Shebaa Farms -- known in Israel as Mont Dov -- a strip claimed by Israel, Lebanon and sometimes Syria near the intersection of all three and adjacent to the Golan Heights.
A photograph accompanying the article also had a caption identifying last week's attack as having taken place in a "disputed area."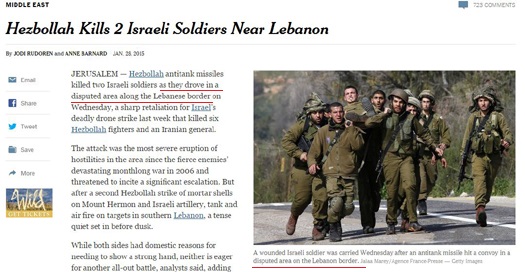 In addition, a Times correction yesterday inaccurately states:


An article on Thursday about the death of two Israeli soldiers in a missile attack by Hezbollah, the Lebanese Shiite movement, as they drove in a disputed area near the Lebanese border misstated the surname of one of the soldiers in some editions. . . .
The map (below), provided by Israeli army spokesman Peter Lerner, shows the location of the attack on Route 999, near, but not on, Mount Dov.
Thus, the attack did not take place in a "disputed area," nor did it occur on Shebaa Farms. Lerner has confirmed this information with CAMERA by telephone. Also, on its Web site, the IDF notes that the attack took place "near Mt. Dov."
The Associated Press accurately reported Jan. 28:
The Israeli military said five anti-tank missiles hit the soldiers as they were traveling near Mount Dov and Chebaa Farms, along a disputed tract of land where the borders of Israel, Lebanon and Syria meet.

The soldiers were in two unarmored white vehicles without military insignia when they were struck from a distance of about three miles (five kilometers) away, according to Lt. Col. Peter Lerner, an Israeli military spokesman.
On a separate note, while the article states that Mount Dov is a strip "claimed by Israel, Lebanon and sometimes Syria," it omits mention of the fact that the United Nations agrees with the Israeli view that the territory is part of the Golan Heights, and thus had been part of Syria, not Lebanon.

UPDATE, 8:30 a.m. EST: The New York Times has informed CAMERA that the understated figure for the number of Palestinian rocket attacks against Israel is an editing error, and will be corrected. Editors are also considering a correction on the location of the Hezbollah attack last week.
UPDATE, 12:15 p.m. EST: The Times has fixed the online article and commendably appended the following correction to the bottom of the article:
We expect that a correction in the print edition will appear in the coming day or so.
Posted by TS at 06:33 AM | Comments (1)