« That Porous 'Siege' of the Gaza Strip | Main | UN Claims 191,369 Killed in Syrian Civil War »
August 21, 2014
Has New York Magazine Learned Its Lesson Not to Rely on Biased Reporters?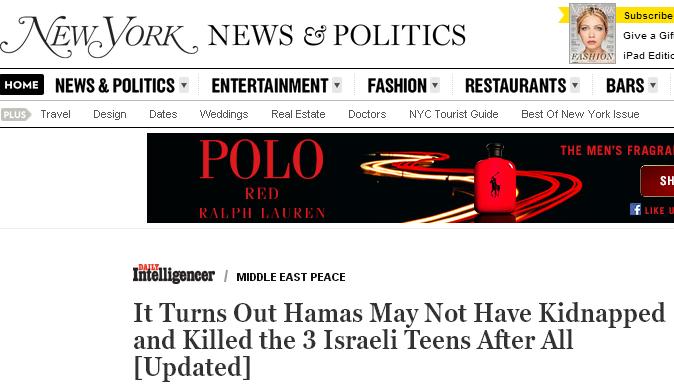 On July 25, New York Magazine published an article by Katie Zavadski casting doubt on Israeli assertions that Hamas was responsible for the kidnapping and murders of three Israeli teens, Gilad Shaar, Naftali Frenkel, and Eyal Yifrach, in June, 2014. Now that Hamas has publicly come out and admitted they did it, Zavadski has had to backtrack, repeating the statement issued by Hamas itself on Aug. 21, 2014,
"The popular will was exercised throughout our occupied land, and culminated in the heroic operation by the Qassam Brigades in imprisoning the three settlers in Hebron," al-Arouri said at a conference in Istanbul. "This was an operation from your brothers in Qassam undertaken to aid their brothers on hunger strike in (Israeli) prisons."
Zavadski placed the responsibility for her initial misinformed piece on the sources she relied upon, Sheera Frankel of Buzzfeed and Jon Donnison of the BBC, writing on Aug. 21,
The circumstances of the incident, which sparked Israel's Operation Protective Edge, have been subject to much debate. Israel immediately blamed the militant group, which controls the Gaza strip, but Qatar-based Hamas leader Khaled Meshaal denied that the group's involvement. Veteran correspondents Jon Donnison and Sheera Frenkel both reported that Israeli intelligence had no concrete links between Hamas and the kidnappers, who are said to belong to a clan that frequently operates outside of Hamas control. Yet later, Israeli officials said they had concrete evidence of the link between the group and the kidnapping.
It is to Zavadski's credit that she posted the Hamas admission and did not try to brush over her initial article. She had already begun to walk back her July 25 piece in an update on Aug. 7, 2014 discussing proof offered by Israel. Zavadski has written some of the more insightful pieces for the New York Magazine on the conflict. Her article on why so many of the casualties in Gaza are children offered the important point that those under 18 represent nearly half the population and that if Israel was firing indiscriminately they would account for half the casualties, which they clearly don't.
However, there is still the lingering issue of why she relied upon Frankel and Donnison in the first place, as both have displayed a consistent anti-Israel bias that undermines their credibility as reporters. This speaks to a media culture that is all too willing to ascribe credibility to journalists who inject their anti-Israel bias into their reports.
Frankel's Buzzfeed tweets are frequently misleading and based on unsubstantiated sources.
Donnison's anti-Israel bias was exposed in March 2013 when he rushed to accuse Israel of killing the baby son of Omar Mashrawi, a Palestinian BBC staffer. After the UN Human Rights Council - itself a serial basher of Israel - investigated and concluded that Israel was not responsible for the baby's death, Donnison refused to retract his accusation against Israel.
The New York Magazine article on July 25 cast doubt on Israel's claim that Hamas was behind the kidnappings and pinned the blame for the escalation of violence on Israel implying that Israel used the incident as a pretext to escalate hostilities with Hamas. This was the line pushed by Frankel.
Now that she has egg on her face for relying on the two biased journalists, will Zavadski continue to rely on Frankel and Donnison? Or will she buck the pressure to slant stories against Israel and get her information from reliable correspondents who don't inject their anti-Israel agenda into their reports.
Posted by SS at August 21, 2014 11:54 AM
Comments
Guidelines for posting
This is a moderated blog. We will not post comments that include racism, bigotry, threats, or factually inaccurate material.
Post a comment