« AP Grossly Understates Iron Dome Interceptions | Main | UPDATE: The New York Times Changes Problematic Web Article »
August 04, 2014
NY Times Speaks Up on Censorship in Gaza Conflict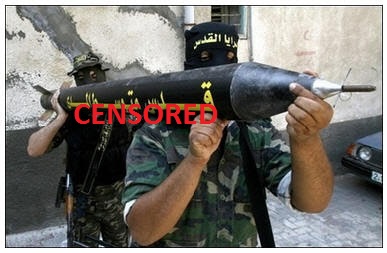 Much has been made recently about Hamas intimidating journalists into keeping silent about the terrorist organization's activity within civilian facilities and into refraining from publishing images of Hamas fighters or weapons. Journalists have deleted tweets about Hamas' exploitation of Shifa hospital. In a Los Angeles Times photo gallery about the conflict now close to 100 images, not a single photo shows Hamas fighters or weaponry. Not a single caption even mentions Hamas.
The New York Times, too, has not escaped scrutiny for its failure to include images depicting Hamas.
Uriel Heilman of JTA helpfully provides a response from Eileen Murphy, The Times' vice president for corporate communications, on the lack of Hamas images in the "Paper of record":
Our photo editor went through all of our pictures recently and out of many hundreds, she found 2 very distant poor quality images that were captioned Hamas fighters by our photographer on the ground. It is very difficult to identify Hamas because they don't have uniforms or any visible insignia; our photographer hasn't even seen anyone carrying a gun.

I would add that we would not withhold photos of Hamas militants. We eagerly pursue photographs from both sides of the conflict, but we are limited by what our photographers have access to.
Hamas terrorists have fired over 3,000 missiles at Israeli civilians since the start of this conflict, many of them from very densely populated neighborhoods where foreign photographers are endlessly photographing devastation. If New York Times' photographers aren't given "access" to shoot these Hamas rocket launching teams, The Times should be saying so loudly and clearly. But it's not.
Finally, though, over the weekend The Times does speak up about censorship in the Gaza conflict. Steven Erlanger reports:
Lieutenant Goldin is a relative of Mr. Yaalon, the defense minister. Mr. Yaalon's grandfather and the grandmother of the lieutenant's father were brother and sister. Mr. Yaalon lectured at Lieutenant Goldin's school.

Israel's military censor had blocked publication of that detail of their family relationship until the death was announced Sunday, concerned that Hamas might try to profit from that knowledge. International journalists must agree in writing to comply with the censorship system to work in Jerusalem; Friday was the first time in more than six years that the censor had contacted The New York Times.
Erlanger, a former Jerusalem bureau chief for The Times, is no stranger to Hamas and its tactics. When he reported from the region, he virtually ignored the story of Palestinian incitement against Jews and Israel. Days after he safely arrived in Paris, he published a serious article on the hate indoctrination taught to Palestinians of all ages, a key element of the conflict.
By treating the two sides with a double standard, by standing by silently as one side relentlessly threatens and intimidates reporters, and at the same time clearly noting (as is reasonable) when Israeli censorship is at play, The Times' continues to demonstrate it has abandoned the basic tenents of serious, professional journalism.
Posted by TS at August 4, 2014 10:52 AM
Comments
Thank G-d for CAMERA and the vital work you do. Is it possible for CAMERA and other groups to organize public demonstrations against the gross inaccuracies and falsehoods reported by U.S. journalists from the Middle East? Or perhaps we can demand a Congressional investigation into the abject failure of news organizations to uphold journalistic standards and responsibly serve the citizenry? The media could not legitimately hide behind the skirt of the 1st amendment, because Congress would not be investigating news coverage of our government. There would be no conflict of interest. How long must we take this!
Posted by: Anonymous at August 6, 2014 10:18 AM
Guidelines for posting
This is a moderated blog. We will not post comments that include racism, bigotry, threats, or factually inaccurate material.
Post a comment