« Updated: United Steel Workers 8751 – A Bus Drivers Union That Supports People Who Blow Up Buses | Main | NY Times Speaks Up on Censorship in Gaza Conflict »
August 04, 2014
AP Grossly Understates Iron Dome Interceptions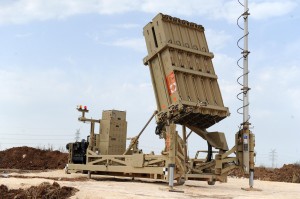 As of Saturday, the Iron Dome intercepted more than 550 rockets fired by Palestinians since the start of "Operation Protective Edge" (Photo from Israel's Ministry of Defense)
In an Aug. 1 Associated Press article, Bradley Klapper grossly understates the number of Palestinian rockets fired at Israel that have been intercepted by the Iron Dome. He wrote:
The money will go to restocking Israel's Iron Dome, which has been credited with shooting down dozens of incoming rockets fired by Palestinian militants over three and a half weeks of war.
As of Saturday (Aug. 2), the Iron Dome has shot down 552 rockets, the army reported.

Following the congressional vote to approve an additional $225 million for the Iron Dome, U.S. Congressman David N. Cicilline (D-RI), a member of the House Foreign Affairs Committee, released the following statement:
Israel has the right to defend itself against any assault on its sovereignty and its people. This emergency funding will help replenish Israel's Iron Dome to safeguard the Israeli people from Hamas rocket fire. Since the beginning of the escalation of violence the Iron Dome has intercepted hundreds of Hamas rockets and saved the lives of innocent civilians. . .
Stating that the Iron Dome shot down "dozens" of rockets, not "hundreds" is a substantive misrepresentation. While AP editors have declined to publish a clarification, they agree that the future reports should correctly reflect that that hundreds of rockets have been intercepted.
Unfortunately, in its live blog Saturday (Aug. 1), the Times of Israel relied on the misleading AP report alleging that the Iron Dome shot down "dozens" of rockets. (Screen capture below.)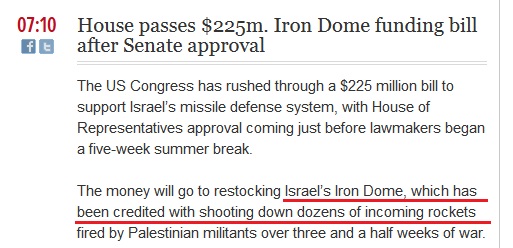 Another post on the same live blog later in the day (17:35) correctly reports that, as of Saturday, the Iron Dome shot down 552 Palestinian rockets. Times of Israel editors have yet to correct the erroneous reference to "dozens" of intercepted rockets.
Posted by TS at August 4, 2014 09:27 AM
Comments
Posted by: Barry Meridian at August 5, 2014 09:08 AM
Guidelines for posting
This is a moderated blog. We will not post comments that include racism, bigotry, threats, or factually inaccurate material.
Post a comment