« Every Jew Should Be Shot, Hamas Teaches Children | Main | Where's the Coverage? Hamas Video Promotes Destruction of Israel, Murder of Jews »
May 07, 2014
Press TV, Like Haaretz, Pushes Bogus PM Quote on Home for Jews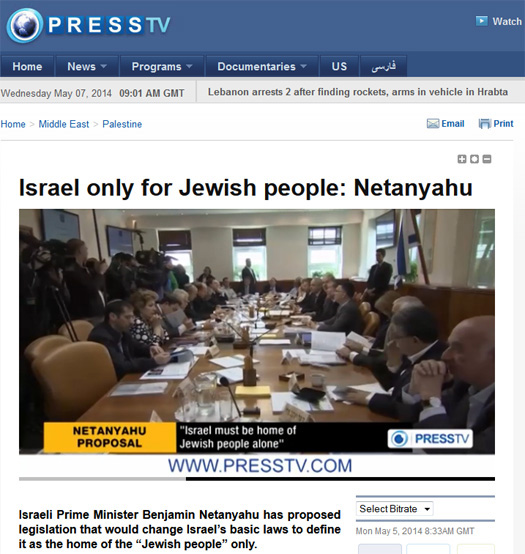 Iran's Press TV, along with Israel's Haaretz, falsely reports that earlier this week Israeli Prime Minister stated that Israel is home only for the Jews.
In fact, as we noted Monday, the prime minister said in the weekly cabinet meeting Sunday that Israel is "the nation-state of the Jewish people -- and no other," and ensured "full equal rights to each and every citizen." Read here for his whole statement.
The difference is vast. If Netanyahu said Israel is "home" only to the Jewish people, then he was indicating that 20 percent of Israel's population -- or nearly 1.7 million Israeli Arabs -- are not welcome or entitled to live freely in Israel as citizens with equal rights.
This false picture suits Iran's Press TV just fine.
Israeli Prime Minister is pushing ahead with plans to change basic laws in order to define Israel as the home of the Jewish people alone. . . .

The PM added that although all people are equally treated in Israel, it primarily remains a place of Jews and no other people.
In addition, much of the broadcast includes the false banner at the bottom: "Netanyahu proposal: Israel must be home of Jewish people alone."
Meanwhile, Haaretz editors have yet to correct their false headlines and social media items.
May 11 Update: CAMERA Prompts Haaretz Correction on Netanyahu Quote
Posted by TS at May 7, 2014 05:17 AM
Comments
Guidelines for posting
This is a moderated blog. We will not post comments that include racism, bigotry, threats, or factually inaccurate material.
Post a comment